Portland teachers strike | Open enrollment | UN blasts Walmart, Amazon et al.
Thursday, November 2, 2023
---
LOCAL
► From the (Everett) Herald — Snohomish & Island County Labor Council honors labor leaders — The Snohomish and Island County Labor Council held its second annual Champions Dinner last month to honor the accomplishments of local labor leaders. Eighteen local unions, community leaders and a group of labor-friendly elected officials attended the event Oct. 10 at the Edward D. Hansen Conference Center in Everett. The Mike Sells Labor Champion Award went to John Traynor, legislative director for the Washington State Labor Council, AFL-CIO.
The Stand (Oct. 19) — Snohomish & Island CLC celebrates its Labor Champions
---
SOUTH OF THE BORDER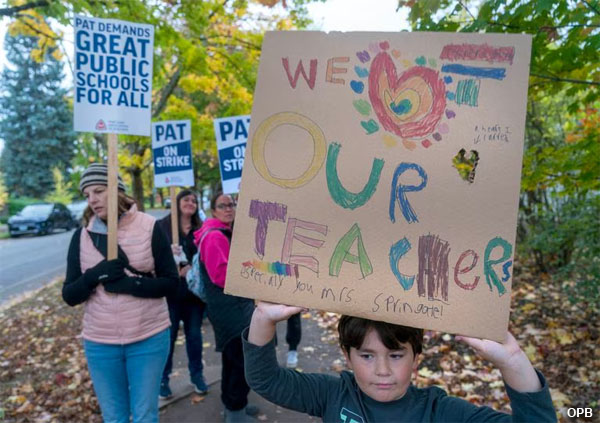 ► From OPB — On the inaugural day of strike, Portland teachers, families and students rally on the picket line — The Portland Association of Teachers formally began their strike Wednesday morning. This is the first teachers' strike in the history of Oregon's largest school district. Actions are taking place across the city. The historic strike has led PPS to close its 80-plus school campuses. It could last days; it could last weeks. The district announced midday Wednesday that schools would remain closed on Thursday.
► From Willamette Week — Legislative aides ratify first-in-the-nation union contract — The aides who staff Oregon's 90 lawmakers (60 in the House, 30 in the Senate organized by IBEW Local 89) have voted to accept a contract that will make Oregon's legislative staff the first in the nation to unionize. The process took longer than many staffers wanted. But when votes were counted Oct. 31, about 80% of those who cast ballots voted to accept management's offer.
EDITOR'S NOTE — ICYMI, the Washington State Standard reported this week that the Washington state labor relations office just released recommendations to the state Legislature that they allow certain legislative staffers and aides to unionize and restrict others from doing so, and require no-strike language, among other things.
---
THIS WASHINGTON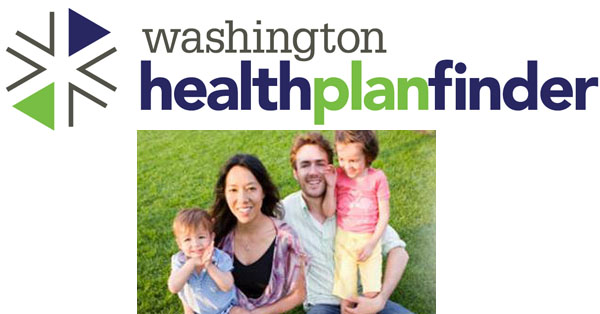 ► From the Cascadia Daily News — It's time to start shopping for most Obamacare insurance plans — For millions of Americans who buy their own health insurance through the Affordable Care Act marketplace, the end of the year brings a day of reckoning: It's time to compare benefits and prices and change to a new plan or enroll for the first time. Open enrollment started Wednesday, Nov. 1 for the ACA's federal and state exchanges. Consumers can go online, call, or seek help from a broker or other assister to learn their 2024 coverage options, calculate their potential subsidies, or change plans.
EDITOR'S NOTE — In our state, visit Washington HealthPlanFinder.
► From Crosscut — WA opens health insurance exchange to undocumented immigrants — Washington's health insurance exchange is expanding access to health and dental plans to every state resident regardless of citizenship or immigration status.
► From the Washington State Standard — Rents in Washington show signs of stabilizing — However, housing advocates point to data that show people still falling behind payments.
---
AEROSPACE



► From Reuters — Boeing says 'cyber incident' hit parts business after ransom threat — Boeing said on Wednesday it was investigating a cyber incident that impacted elements of its parts and distribution business and cooperating with a law enforcement probe into it. Boeing acknowledged the incident days after the Lockbit cybercrime gang said on Friday it had stolen "a tremendous amount" of sensitive data from the U.S. planemaker that it would dump online if Boeing didn't pay ransom by Nov. 2.
---
THAT WASHINGTON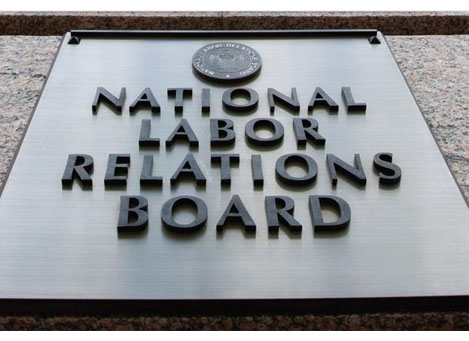 ► From the People's World — Labor Board: 'Common law'—and common sense—defines joint employers — Attempting to put an end, once and for all, to a controversy that has swirled for more than a decade, the NLRB issued what it calls "a common law"—and common sense—rule on when joint employers are jointly responsible for obeying or breaking labor law. The mandate, to take effect December 26, says that when two employers—think a local McDonald's franchise and McDonald's headquarters in Chicago—control a worker's toil, from wages and hours to duties and work rules to hiring and firing to uniforms and training, then both are responsible for obeying or breaking labor law. That means it should be easier for workers to organize and bargain without being bounced from pillar to post when it comes to whom to bargain with or complain about. Using that same "basic common sense" explanation, AFL-CIO President Liz Shuler called the new rule "an important win" for workers.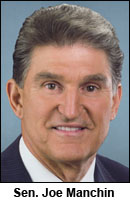 ► From HuffPost — Democrat Joe Manchin wants to kill a major pro-union reform — Democratic Sen. Joe Manchin (W.Va.) wants to kill the NLKRB's new rule on joint employers announced last week, and he's teaming up with Republicans to try to do it. The regulation makes it more likely that big companies like McDonald's will be held responsible for unfair labor practices involving their franchisees or subcontractors, or even forced to bargain with a workers' union. Manchin would need to rally at least one other non-Republican on his resolution to kill it.
► From Roll Call — Senate passes three fiscal 2024 spending bills in 'minibus' — The Senate on Wednesday voted 82-15 to pass the first three of its fiscal 2024 appropriations bills in a "minibus" as the House tees up votes this week on three of its remaining seven fiscal 2024 appropriations bills.
► Today in Supreme Court-supported gerrymandering from Roll Call — Race ratings: New map erases Democrats' edge in North Carolina — Races for three seats held by Democrats now rated Likely Republican. The state's delegation could shift from a post-2022 split between seven Republicans and seven Democrats to a delegation that includes 10 or 11 Republicans and just three or four Democrats.
---
NATIONAL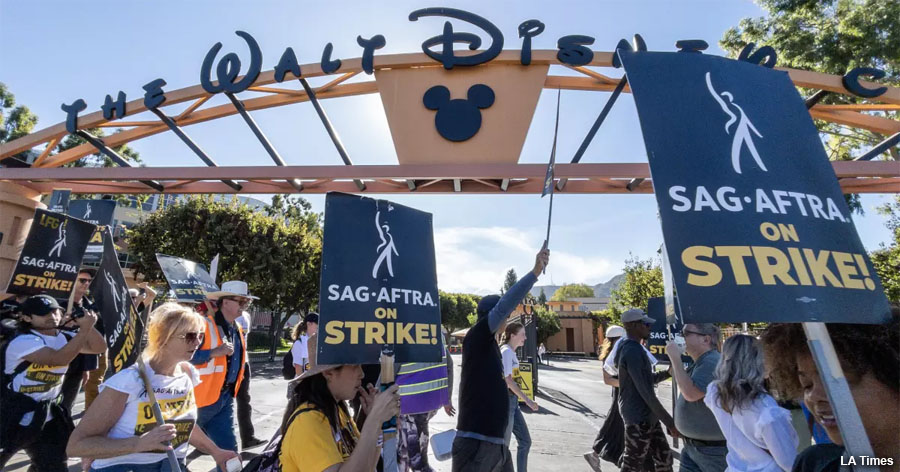 ► From LA Times — Striking actors hold massive rally in Los Angeles as negotiations progress closer to a deal — As more than 3,000 striking actors and supporters united Wednesday at a massive rally in Los Angeles, the performers union, SAG-AFTRA, and the major Hollywood studios appeared to make progress on key issues and inch closer to a deal. SAG-AFTRA and the AMPTP have convened frequently over the past couple weeks in an effort to reach an agreement that would end the months-long work stoppage that has ground much of the entertainment industry to a halt.
EDITOR'S NOTE — You can support striking SAG-AFTRA members by donating to the SAG-AFTRA Foundation, an emergency assistance program available to SAG-AFTRA members in urgent financial need due to the strike. Also, consider making a contribution to the Entertainment Community Fund, which supports all workers in the entertainment industries and gives living expense grants to those in need.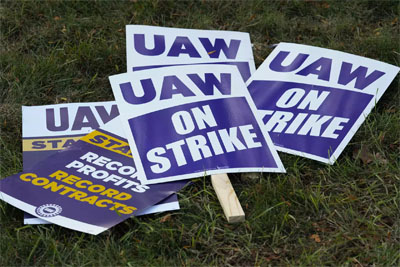 ► From Reuters — Toyota hikes wage of U.S. factory workers after UAW labor deals — Toyota Motor said on Wednesday it is raising the wages of nonunion U.S. factory workers just days after the UAW won major pay and benefit hikes from the Detroit Three automakers. Hourly manufacturing workers at top pay will receive a wage hike of about 9% effective on Jan. 1, the company confirmed. Other nonunion logistics and service parts employees are getting wage hikes.
EDITOR'S NOTE — You're welcome. Now, do you want to get real wage and benefit increases — and to get them in writing? Get more information about how you can join together with co-workers and negotiate for better wages and working conditions. Or go ahead and contact a union organizer today!
► From Reuters — Uber, Lyft to pay $328 million to settle New York wage theft claims — NY Attorney General Letitia James said Uber will pay $290 million and Lyft will pay $38 million to resolve her office's multi-year investigation into the companies, calling it the largest wage theft settlement in her office's history.
► From Reuters — New York Times tech workers to strike over return-to-office rules — Tech workers at the New York Times plan to strike for half a day on Monday, accusing the publisher of attempting to unilaterally force them back to the office.
---
INTERNATIONAL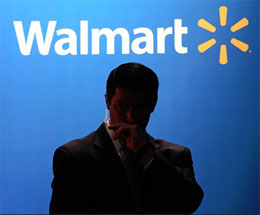 ► From The Guardian — UN blasts Amazon, Walmart, DoorDash for 'shameful' wages and union-busting — The UN special rapporteur on extreme poverty and human rights has called on the CEOs of Amazon, Walmart and DoorDash and the U.S. government to address allegations that top US corporations pay such low wages that they trap workers in poverty, forcing them to rely on government-assistance programs to survive. Olivier De Schutter has written to the three major U.S. corporations and the U.S. government, requesting responses to numerous allegations. They include a 2020 Government Accountability Office report that found Amazon and Walmart were listed among the top 25 employers with workers relying on the Supplemental Nutrition Assistance Program, formerly known as food stamps, or Medicaid in nine states studied, with Walmart ranked 1st  and Amazon ranked 6th.
EDITOR'S NOTE — When poverty-wage workers need public assistance to meet their families' basic needs, we are all subsidizing these profitable corporations and the billionaires who run them.
---
The Stand posts links to Washington state and national news of interest every weekday morning by 10 a.m.
WASHINGTON IS A UNION STATE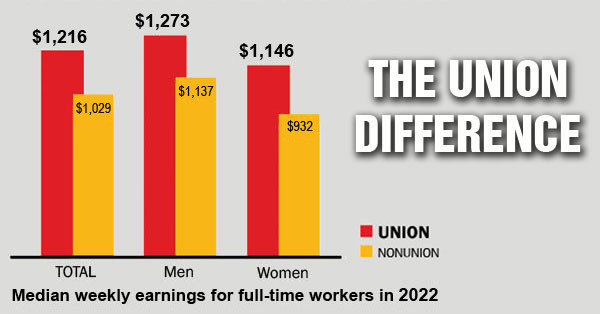 CHECK OUT THE UNION DIFFERENCE in Washington state: higher wages, affordable health and dental care, job and retirement security.
FIND OUT HOW TO JOIN TOGETHER with your co-workers to negotiate for better working conditions and respect on the job. Or go ahead and contact a union organizer today!