IAM 751 has leverage | GOP targets Social Security | SAG-AFTRA reviews offer
Monday, November 6, 2023
---
LOCAL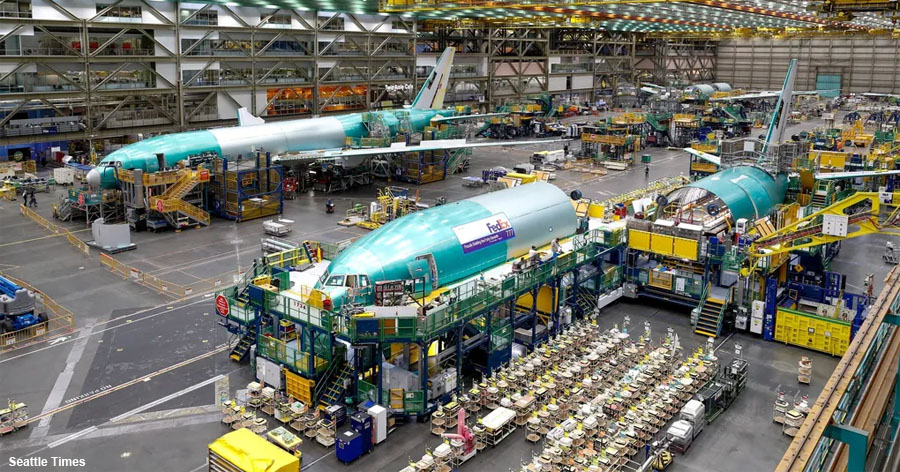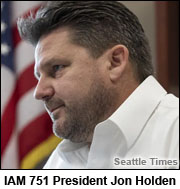 ► From the Seattle Times — As Boeing Machinists contract talks near, union savors new labor power — Boeing's contract with the Machinists who build the jets in the Renton and Everett assembly plants runs out in 10 months. The union leadership is preparing now for a high-stakes confrontation — with a careful eye on the successful tactics of the autoworkers union in Detroit. Labor is resurgent nationwide and for the first time in 16 years the IAM's 30,000 Boeing employees in District 751 have leverage they lacked in the previous two contract rounds. After 10 years of wage stagnation, IAM members certainly expect to win a huge pay increase, as high as 40% over four years. Another priority is to head off future threats to move jobs elsewhere by demanding that Boeing commit to build its next new jet in the Puget Sound region.
► From the (Everett) Herald — Providence Everett nurses give 10-day strike notice — Nurses at Providence Regional Medical Center Everett gave the hospital a 10-day strike notice Friday after what they characterized as a long, unsuccessful day of contract negotiations. The strike notice comes after over six months of negotiations with the union representing nearly 1,400 nurses. Last month, 97% of voting union members authorized a potential strike if the two sides didn't strike a deal by Friday.
TODAY at The Stand — Nurses at Providence Everett announce plans for ULP strike
► From KING 5 — 1,300 Providence Everett nurses will walk out over chronic understaffing — UFCW 3000 said 600 nurses have left the hospital or retired since 2021. The hospital's chief nursing officer said they'd have to hire about 400 more nurses to be at what they would consider a solid staffing level.
► From the Yakima H-R — Construction underway at Goose Prairie Solar near Moxee; other projects on the way in Yakima County — There wasn't a solar panel in sight Wednesday morning as construction was underway at the Goose Prairie Solar site 8 miles east of Moxee, but it won't be long before the 80-megawatt project will be providing green energy for local and regional power companies. Goose Prairie is one of four solar projects that have been approved for the SR 24 corridor of northeast Yakima County, and the first to begin construction.
---
SOUTH OF THE BORDER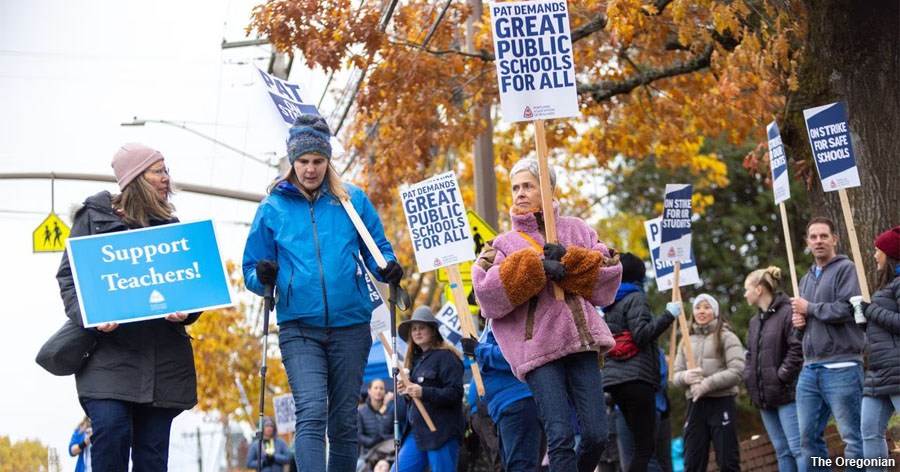 ► From the Oregonian — Portland Public Schools strike closes schools Monday as negotiations continue — There will be no school for students at Portland Public Schools again on Monday, after negotiations between the district and its teachers union continued this weekend in an attempt to end the strike that started Wednesday. The Portland Association of Teachers struck an upbeat note in its public-facing statements on Saturday, calling conversations "constructive" and saying that the two sides discussed class size, planning time, building conditions, student supports and safety concerns.
► From the union-busting Columbian — Evergreen, Camas educators advised Portland teachers union before walkout — Last month, leaders from the Portland Association of Teachers invited key organizers from the Evergreen Education Association and Camas Education Association to lend advice on how they led strikes earlier this fall.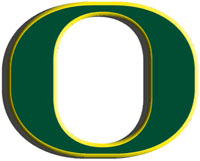 ► From the Northwest Labor Press — UO undergrad workers vote overwhelmingly to unionize — Undergraduate student workers at University of Oregon voted to unionize by an extraordinary 97% margin in online ballots tallied Oct. 24. They'll now be part of UO Student Workers, an independent union with a bargaining unit of 3,922 student workers with jobs in the libraries, dorms, dining halls, and recreation centers.
► From the Northwest Labor Press — Reed College workers vote to join OPEIU Local 11 — Student workers in the Reed College dorms voted 36-2 to unionize in ballots counted Oct. 27. The 44 workers are known as housing advisors. They live in the dorms, plan social events, and connect dorm residents with resources on campus.
EDITOR'S NOTE — For more great labor news in Oregon and Southwest Washington, subscribe to the Northwest Labor Press!
---
THIS WASHINGTON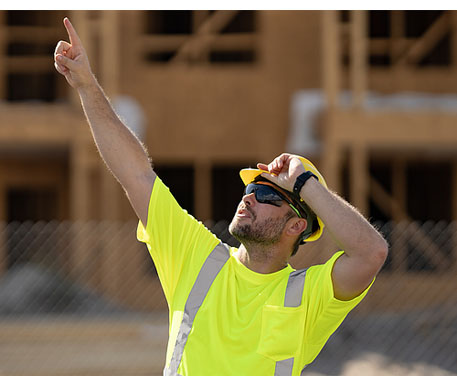 ► From the Northwest Labor Press — Washington sick leave for construction workers, too — Washington state is updating its mandatory paid sick leave program to cover construction workers who have historically missed out on the benefit. The change, prompted by SB 5111, would allow construction workers to use accrued sick leave before the 90-day waiting period outlined in the sick leave law. It also requires employers to pay out any unused leave on a construction worker's final check. It closes a loophole in the 2016 mandatory paid leave law.
► From the Northwest Labor Press — $1 billion for Northwest hydrogen infrastructure — Roughly $1 billion in federal money will help pay for new hydrogen infrastructure in Washington, Oregon, and Montana, and the work will be done by union members. WSLC President April Sims is on the Pacific Northwest Hydrogen Association Coalition's board and traveled to Washington, D.C., in August to take part in the interview process that the U.S. Department of Energy set up to evaluate grant proposals.
The Stand (Oct. 13) — 'This is a big deal.' Pacific NW wins hydrogen hub funding
---
THAT WASHINGTON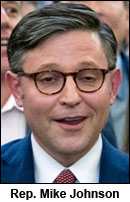 ► From The Hill — Johnson embraces deficit fight, setting up battle over Medicare, Social Security — House Speaker Mike Johnson's (R-La.) fervent support for trillions of dollars in cuts to Medicare and Social Security during his time as chairman of the Republican Study Commission could be a blueprint for GOP budgets if they win control of the government.
► From the Washington Post — Johnson's first moves show he'll stick with House GOP hard-liners — His first full week in office was marked by measures that drove a wedge not just between liberals and conservatives — but also between the House and Senate. And with less than two weeks before a potential government shutdown, Johnson's early moves foreshadow a difficult path to bipartisan agreement.
► From the Washington State Standard — As industry struggles, federal, state offshore wind goals could get tougher to meet — Eleven states across the country, mostly along the Eastern Seaboard, have set aggressive targets for offshore wind development.
---
NATIONAL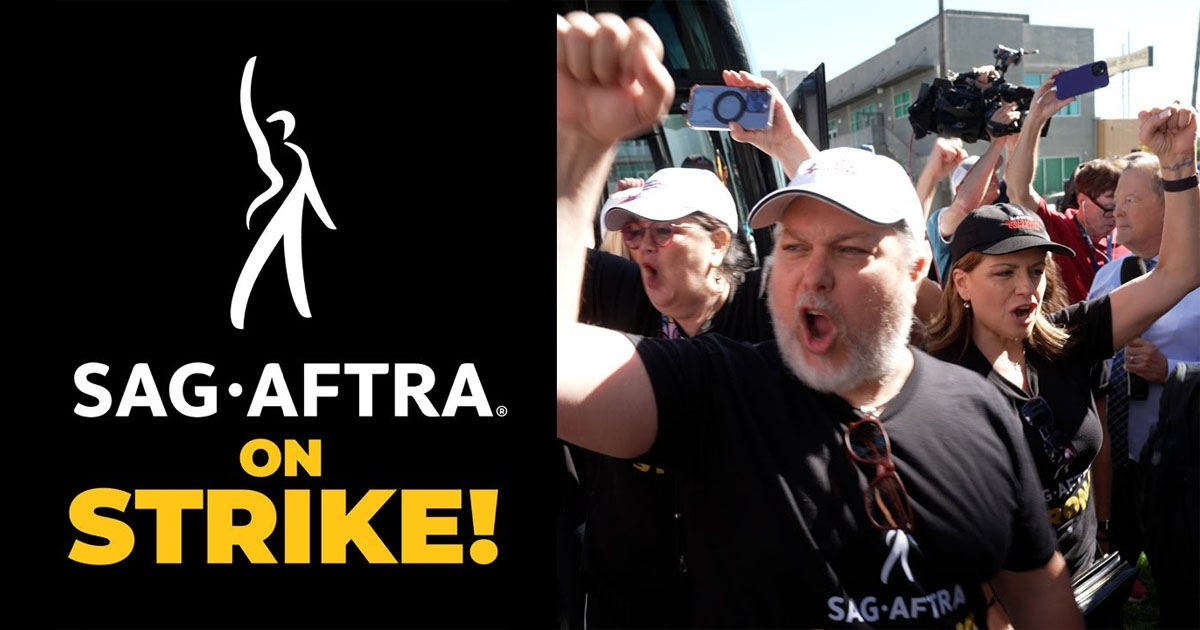 ► From the LA Times — SAG-AFTRA reviewing what studios say is their 'last, best and final offer' to end strike — SAG-AFTRA is taking time to review what the alliance representing the major Hollywood studios described as its "last, best and final offer" to end the actors' strike, the union announced this weekend. The guild and the alliance have been going back and forth at the bargaining table for nearly two weeks in an effort to resolve the walkout that began mid-July. The strike has effectively ground production to a halt and put thousands of performers and crew members out of work.
EDITOR'S NOTE — You can support striking SAG-AFTRA members by donating to the SAG-AFTRA Foundation, an emergency assistance program available to SAG-AFTRA members in urgent financial need due to the strike. Also, consider making a contribution to the Entertainment Community Fund, which supports all workers in the entertainment industries and gives living expense grants to those in need.
► From NBC News — Tens of thousands of Las Vegas Strip hotel workers at 18 casinos could on go strike this month — The Culinary Workers Union said about 35,000 members are ready to walk off the job at 18 casinos if deals aren't reached by Nov. 10.
► From NPR — A potential Las Vegas workers strike could throw a wrench in the upcoming F1 race — What could possibly be the largest hospitality worker strike in U.S. history comes as the city is being transformed into a giant racetrack ahead of the Formula 1 Las Vegas Grand Prix scheduled to take place later this month.
► From Jacobin — After an impressive campaign, flight attendants might strike for the first time since 1993 — Union flight attendants at American Airlines (AFA-CWA) recently delivered a strike authorization vote of 99%, with 93% turnout. The staggering total was the result of not only a membership itching to walk out but a campaign that engaged rank-and-file members.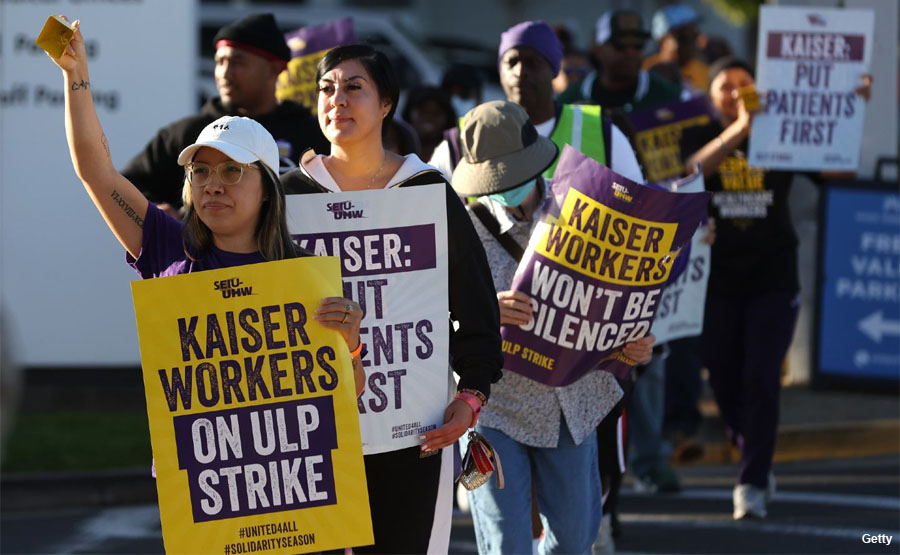 ► From the Nation — What's powering the healthcare worker strike wave? (by Jonathan Rosenblum) — Thus far in 2023—with still two months to go—more than 102,000 healthcare workers have hit the pavement, over double the previous year's number. These strikes are much more than fights over wage and benefit levels; the source of the conflict lies in the fundamental problem of the for-profit healthcare system. Overwhelmingly, safe staffing is the central issue motivating healthcare workers to walk. And by exercising their labor power, they are achieving breakthroughs.
EDITOR'S NOTE — Ready for a voice at work? Get more information about how you can join together with co-workers and negotiate for better wages and working conditions. Or go ahead and contact a union organizer today!
► From the AP — New vehicles from Detroit's automakers are planned in contracts that ended UAW strikes — Under the new agreements, the three companies will significantly boost pay and benefits and improve job security. But the agreements also provide a blueprint for which cars and trucks they intend to build in the coming years and where they will do so. Many of the plans will continue the manufacture of vehicles that the automakers already build. But the production of some new vehicles over the next few years is being planned, too.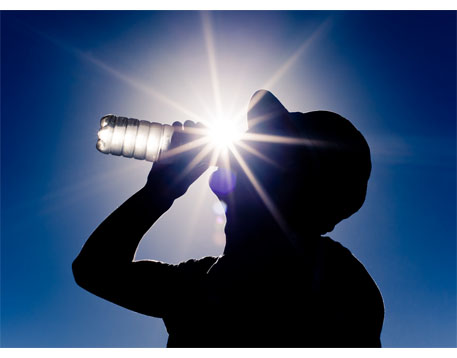 ► From the Washington Post — This county could create the strictest workplace heat rules in the U.S. — As climate change ratchets up global temperatures, most of the roughly 32 million people who work outdoors in the United States are not protected by any workplace heat safety regulations. There are no federal rules, and only three states — California, Washington and Oregon — require companies to give outdoor workers breaks to cool down on hot days. On Nov. 7, Miami-Dade County commissioners will vote on whether to pass the first county-level workplace heat protections in the U.S.
► From the LA Times — Disneyland workers primed for big salary bump after winning living-wage legal battle — The boost to eligible workers' paychecks starts this week, after a major legal victory handed down last month by the California Supreme Court.
---
The Stand posts links to Washington state and national news of interest every weekday morning by 10 a.m.
WASHINGTON IS A UNION STATE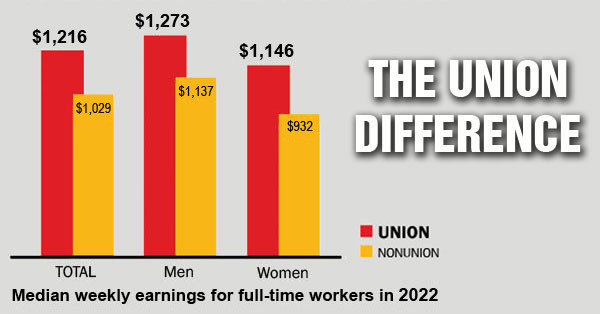 CHECK OUT THE UNION DIFFERENCE in Washington state: higher wages, affordable health and dental care, job and retirement security.
FIND OUT HOW TO JOIN TOGETHER with your co-workers to negotiate for better working conditions and respect on the job. Or go ahead and contact a union organizer today!