VOTE TODAY | Starbucks doubles down | Shameless Freedom Foundation
Tuesday, November 7, 2023
---
IT'S ELECTION DAY!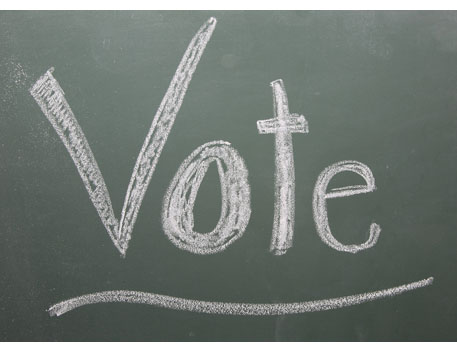 ► From the (Everett) Herald — Local elections more important than you might think (editorial) — You're not picking a president this year, but the decisions are no less significant to your daily life. For those who have a pretty good record of voting but wait until Election Day, here's your reminder to mark and return your ballot today.
► From Crosscut — It's Election Day in Washington — and it's not too late to vote — Voters across the state have until 8 p.m. Tuesday to choose new local leaders, including seven of nine Seattle City Council seats.
The Stand — VOTE: There are no 'off-year' elections — The deadline to get ballots in is TODAY. Dropboxes and voting centers are open until 8 p.m. Check out the Central Labor Council endorsements and VOTE!
► From the AP — Ohio is the lone state deciding an abortion rights question, providing hints for 2024 races — Ohio becomes the latest flashpoint on Tuesday in the nation's ongoing battle over abortion access since the U.S. Supreme Court overturned a constitutional right to the procedure last year. Voters will decide whether to pass a constitutional amendment guaranteeing an individual right to abortion and other forms of reproductive healthcare.
---
STARBUCKS UNION-BUSTING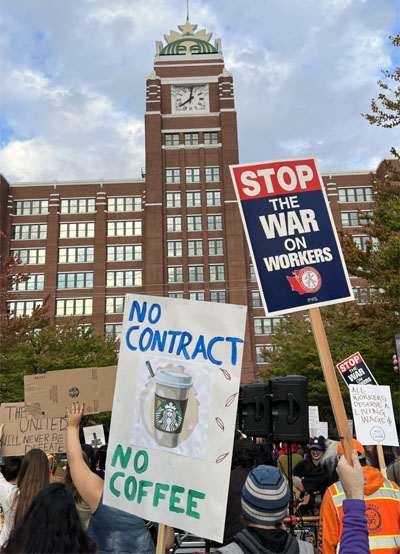 ► From the Seattle Times — Starbucks increases U.S. hourly wages and adds other benefits for non-union workers — Starbucks is increasing pay and benefits for most of its U.S. hourly workers after ending its fiscal year with record sales. But the company said Monday that unionized workers won't be eligible for some of those perks, a sign of the continuing tension between the Seattle coffee giant and the union trying to organize its U.S. stores.
EDITOR'S NOTE — An NLRB judge has already ruled that Starbucks is violating federal labor law when it previously increased wages and offered new perks and benefits only to non-union employees. While the company appeals that ruling, it is doubling down and breaking the law all over again. But even with its illegal tactics designed to discourage its employees from organizing, Starbucks workers continue to join together…
► From KOMO — Redmond Starbucks store files to unionize — "We will no longer stand for poor scheduling and wages. We deserve to be paid a livable wage, and we deserve to consistently get the hours we need," Starbucks workers in Redmond wrote in a letter to Starbucks CEO Laxman Narasimhan.
As we get even closer to next week's #RedCupRebellion, more and more partners are standing up to demand a better workplace!

WELCOME the Starbucks partners of Avondale & 116th in Redmond, WA who just filed for a union! ✊🔥 pic.twitter.com/pR3P97lvwA

— Starbucks Workers United (@SBWorkersUnited) November 6, 2023
The Stand (Nov. 1) — 'Red Cup Rebellion' to support Starbucks workers is Nov. 16 — Join the Red Cup Rebellion mobilization call at 5 p.m. Pacific time on Thursday, Nov. 9 and learn how you can show solidarity with union Starbucks workers. Sign up for the call here and check out #RedCupRebellion on social media.
---
LOCAL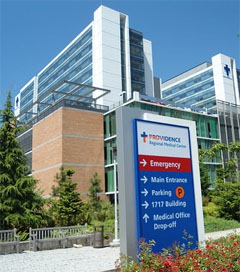 ► From the (Everett) Herald — Providence Everett nurses plan to walk out Nov. 14 — More than 1,300 nurses (UFCW 3000) are set to walk out and picket Providence Regional Medical Center Everett starting Nov. 14. Union nurses announced Monday they will strike for five days to protest Providence's "unfair labor practices" and refusal to consider a contract that enforces staffing standards at the hospital.
The Stand (Nov. 6) — Nurses at Providence Everett announce plans for ULP strike
► From the Skagit Valley Herald — Union votes to authorize strike in Anacortes School District — SEIU Local 925, which represents transportation department staff, food and nutrition service workers, health room personnel, custodial teams, maintenance crews, groundskeepers, and a utility driver for the district, have voted to authorize a strike.
🚨 STRIKE AUTHORIZATION ALERT🚨

Anacortes School District Support Staff have voted 96% YES to authorize a strike if necessary! 🗳️ 🪧

📉 Reduced staffing and dwindling compensation will not hold us down any longer! We're STRONGER TOGETHER! #UnionsForAll #SolidaritySeason pic.twitter.com/IaheOajZkt

— SEIU Local 925 (@SEIU925) October 31, 2023
---
SOUTH OF THE BORDER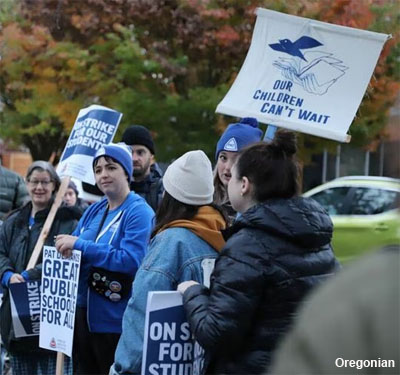 ► From the Oregonian — Negotiations continue, but forecast turns bleak for a quick end to Portland Public Schools strike — Odds that students will return to public schools in Portland any time soon appeared to dim Monday, though representatives of striking teachers and district administration continue daily negotiations. Even after months of back and forth, the two sides cannot seem to agree on anything, from how much money is available to fund the union's salary and class size cap requests to when employees might lose their district-paid health insurance. And union negotiators said they were "enraged" by the district's most recent proposals on how much time will be set aside for lessons planning, grading and time to communicate with families.
► From the WA State Standard — Oregon lawmakers say they met Portland school demands for money as teachers strike — State Democratic senators said they gave schools $10.3 billion, a record high, during the spring session.
---
THAT WASHINGTON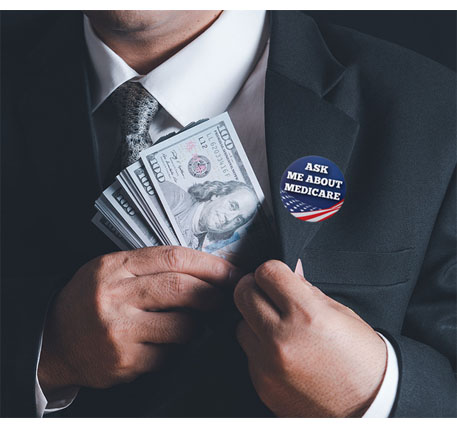 ► From the Seattle Times — Biden administration seeks to crack down on private Medicare health plans — The Biden administration is proposing a fresh crackdown on private health plans that have grown to cover half of the people on Medicare, restricting marketing practices as part of an effort to help consumers in the federal insurance system for older and disabled Americans get the health services they need.
The Stand (June 1) — The bipartisan push to privatize Medicare (by Wendell Potter)
► From Reuters — Cigna explores shedding Medicare Advantage business — Health insurer Cigna Group is exploring the sale of its Medicare Advantage business, which manages government health insurance for people aged 65 and older, a move that would mark a reversal of its expansion in the sector.
► From The Hill — Senate eyes huge 'maxi-bus' to address year-end spending crunch — Senate leaders and appropriators are carefully considering a proposal to combine the remaining nine unpassed Senate appropriations bills into one large "maxi-bus" to be brought to the floor to avoid a government shutdown or long-term stopgap measure.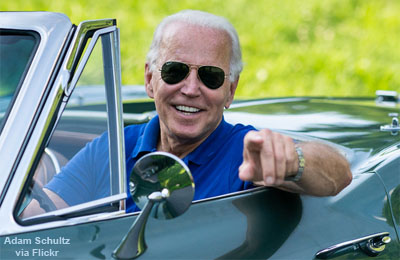 ► From the LA Times — The continuing riddle of why Biden doesn't get credit for an improved economy (by Michael Hiltzik) — Economic indicators point to a fundamental shift in the character of government economic policy, so-called Bidenomics. "Bidenomics didn't just promise economic growth," wrote economists at the progressive Roosevelt Institute; "it promised a transition from the era of trickle-down, neoliberal economics to a new paradigm that focused on improving the wages and livelihoods of working- and middle-class people." They titled their post: "It's working." Yet all this winning seems to have infused the American public with a sense of doom. Polls depict voters as walking around with a dark economic cloud over their heads and worse on the horizon.
---
NATIONAL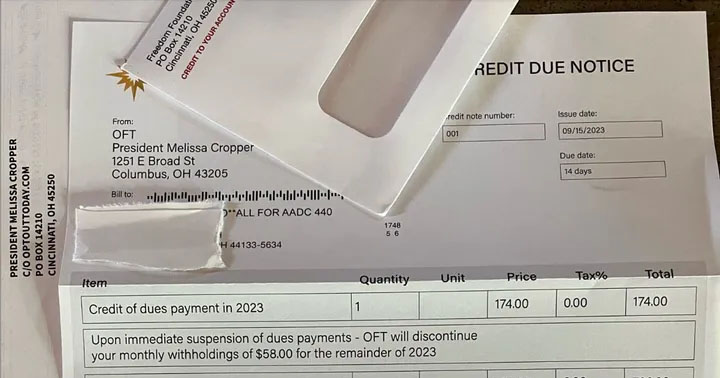 ► MUST-READ from HuffPost — Union says right-wing group used 'trickery' to try to get teachers to drop membership — Public school teachers in Ohio recently got some surprising news in the mail: They were due a "credit" from their union. Melissa Cropper, president of the 20,000-member Ohio Federation of Teachers, was listed as the sender of the "CREDIT DUE NOTICE." All educators had to do was fill out the attached form and mail it back for an apparent refund. Mailers from the Freedom Foundation dangling a dues "credit" looked like they came from a union president. There was just one problem. The notice didn't actually come from Cropper or the union ― it came from the Freedom Foundation, a conservative group whose mission is to get teachers and other public sector workers to drop their union membership. Anyone who carefully read the form would see that by signing it, a teacher would be authorizing the Freedom Foundation to submit it to their union and employer on their behalf to renounce their membership.
The Stand (Nov. 6) — 5 years after Janus, unions still going strong
► From Reuters — UAW members at General Dynamics plants ratify new tentative agreement — The UAW on Monday said members at the General Dynamics plants at Ohio, Michigan and Pennsylvania have voted to ratify a new tentative agreement. The vote was ratified with 74% members in favor of the new four-year deal, which provides a 14% wage hike, protection against inflation, reduces the time it takes to get to top pay and "beats back the company's proposed healthcare concessions," UAW previously said.
EDITOR'S NOTE — Ready for a raise? Get more information about how you can join together with co-workers and negotiate for better wages and working conditions. Or go ahead and contact a union organizer today!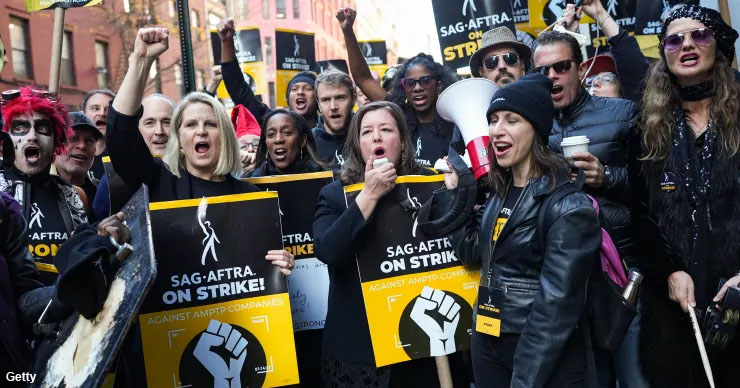 ► From CNBC — SAG-AFTRA says studios' latest offer falls short of union's AI demands — SAG-AFTRA said there were still "several essential items" that they couldn't agree with during their negotiations with the AMPTP, including artificial intelligence guidelines. Studios put forth this "last, best and final offer" over the weekend, with top executives making clear that they would not make further concessions. SAG-AFTRA spent time Sunday and Monday evaluating the deal.
► From Deadline — SAG-AFTRA, studio CEOs end tonight's talks with no deal; more negotiations in works for Tuesday
EDITOR'S NOTE — You can support striking SAG-AFTRA members by donating to the SAG-AFTRA Foundation, an emergency assistance program available to SAG-AFTRA members in urgent financial need due to the strike. Also, consider making a contribution to the Entertainment Community Fund, which supports all workers in the entertainment industries and gives living expense grants to those in need.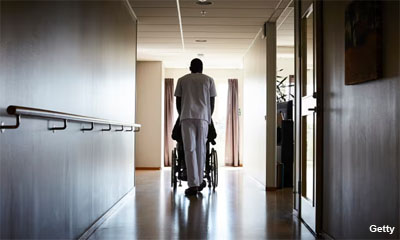 ► From the Guardian — Nursing home workers face 'catastrophic crisis' of understaffing — For Linda Long, who has worked in nursing homes since 1997, working at the same facility outside of Tacoma since 2003, understaffing has always been a problem. It only got worse during the COVID-19 pandemic where she said coworkers were turning over due to the short staffing, constant COVID outbreaks, and the immense workloads that staff were left with to fill in the void. But, workers and labor experts say, short-staffing in the crucial U.S. industry has persisted after the pandemic, with grave impacts on patient care, on residents' wellbeing, and seeing spiraling burnout that has become pervasive in the care industry.
► From the Wall Street Journal — Your pilot has a new job—and a bigger plane to fly — The industrywide battle for pilots has jolted the slow, methodical career progress to which many were accustomed; regulators and industry officials are monitoring potential safety risks.
---
The Stand posts links to Washington state and national news of interest every weekday morning by 10 a.m.
WASHINGTON IS A UNION STATE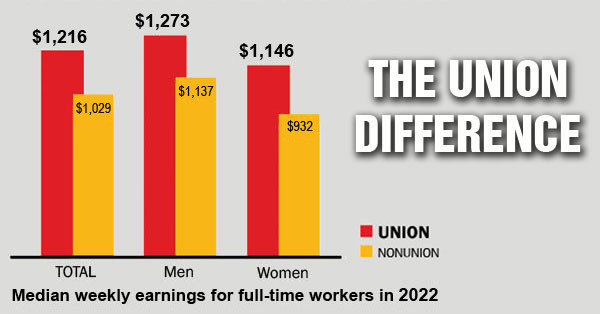 CHECK OUT THE UNION DIFFERENCE in Washington state: higher wages, affordable health and dental care, job and retirement security.
FIND OUT HOW TO JOIN TOGETHER with your co-workers to negotiate for better working conditions and respect on the job. Or go ahead and contact a union organizer today!