Boeing contract, bipartisan cuts, UI actions today…
---
BOEING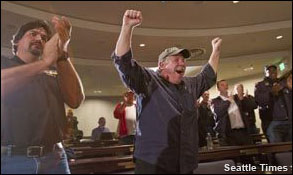 ► In today's Seattle Times — Big day at Boeing: Contract flies— Boeing's Machinists voted overwhelmingly Wednesday to approve the deal announced a week ago, providing an immediate economic boost and the prospect of aerospace job security in the Puget Sound region. The vote was 74% in favor, sealing five years of labor peace for Boeing by extending the current Machinists contract to September 2016. In that period, Boeing plans to pump out jets at unprecedented rates. Beyond that, the deal commits Boeing to build the new version of its single-aisle jet due to enter service in 2017 — the 737 MAX — in Renton.
► In today's (Everett) Herald — Union ratifies Boeing deal — "As a result of this vote, we have the strongest commitment to the future of aerospace jobs in Washington state that we've ever had," said IAM 751 President Tom Wroblewski.
► In today's News Tribune — Boeing workers approve groundbreaking pact— "This is just good news for the working families in the Northwest," said Mark Blondin, aerospace coordinator for the union.
► In today's Seattle Times — Boeing bonuses to give a little boost to local economy — The $5,000 signing bonuses in the new Boeing contract will make for some extra-nice holidays for the families of Machinists union members, and likely for at least some area retailers.
---
STATE GOVERNMENT
► In today's Wenatchee World — Parks are paying price as state cuts into budgets — The top State Parks position in North Central Washington was eliminated Tuesday along with roughly 160 other managers and field staff in a budget-cutting decision by the Parks and Recreation Commission.
► At TheOlympian.com — Budget negotiators aim for partial solution— An "early-action" plan in the works might carve out $400 million or $500 million that both parties can agree on, said the House GOP's lead budget negotiator. He hopes they can reach a deal by next week that can be presented to the public and the Senate.
► In today's Seattle Times — Legislature leaning to make cuts next year — State lawmakers, who kicked off a 30-day special session Nov. 28, are talking about leaving by Dec. 20 or earlier.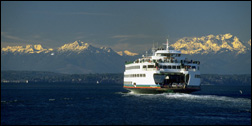 ► In today's Kitsap Sun — New report on Washington State Ferries finds what many others also found— The system needs to overhaul its management structure and some of its union contracts, a consultant tells the state transportation committees. In its final report due in January the consultant will likely recommend basing all promotions on performance instead of seniority, trimming overtime costs, cutting minimum call-up time from eight to four hours, and removing peer review committees. These changes would require renegotiating union contracts.
► In today's Tri-City Herald — Kennewick asserts bond rating will not be hurt by Wenatchee default— Kennewick officials refute the state treasurer's assertion that the Wenatchee debacle has dinged their recent efforts to refinance the Three Rivers Convention Center.
► At TheOlympian.com — 2nd lawsuit filed vs. Costco's liquor plan — A second lawsuit was filed to block I-1183 on behalf of a Longview resident who leases commercial space to a state liquor store that will close in May, a businessman who runs two Red Apple groceries, and the Washington Association of Substance Abuse and Violence Prevention.
► At Washington Policy Watch — Kids love cake… so let them eat it (Brendan Williams column) — A proposal is before the Legislature to shortchange learners by subtracting 4 days from the school year. Because this would also reduce school employees' salaries by 2.2%, it is also the sort of back-door attack on collective bargaining becoming common in our state. We're more subtle than Scott Walker, but no less anti-labor.
---
LOCAL
► In today's News Tribune — Tacoma councilman calls for time-out before police, fire cuts— Layoffs of 100 city police and fire employees may be delayed by a month while the city negotiates with Tacoma's public safety labor unions about ways to reduce planned budget cuts.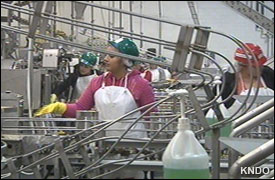 ► In today's Yakima H-R — Snokist files for bankruptcy — Amid a pile of debt and safety concerns over its products, Yakima-based Snokist Growers filed for bankruptcy Wednesday, leaving the fate of the food-processing operation and hundreds of seasonal employees in the air.
► From AP — Former Hertz drivers in Seattle sue over firings— The lawsuit filed Wednesday in King County Superior Court claims Hertz Corp. terminated them after they refused to clock out for prayers. The lawsuit claims they had not been required to clock out previously and the rules were changed to target Somali Muslims.
ALSO SEE — Hertz terminates 25 Muslim workers; Teamsters file ULPs
---
NATIONAL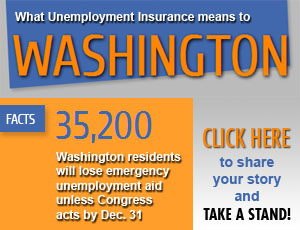 ► At AFL-CIO Now — Join Day of Action and Prayer to extend unemployment benefits now — Today in a prayer vigil on Capitol Hill and at actions at dozens of congressional offices around the nation, workers, activists and people of faith will demand Congress act now to extend long-term unemployment insurance benefits that expire Dec. 31. As many as 6 million people could lose their benefits next year if Congress does not act.
ALSO SEE — Tell Congress to extend UI benefits now! (The Stand, Dec. 7) — Thursday at 10 a.m., the M.L. King County Labor Council is urging union members and all advocates for unemployed workers to join them as they visit Rep. Dave Reichert's Mercer Island office, 2737 78th Ave. SE, to urge his support for the extension. Can't make it? Click here to sign an emergency petition to Congress urging support for the UI benefit extension.
► At Huffington Post — Republican: Drug test the jobless
► At Politico — Big liberal money may skip moderates— The Senate Democratic majority may hinge on the reelection of vulnerable moderates like Ben Nelson, Claire McCaskill and Jon Tester, but deep-pocketed liberal groups say they won't go to the mat for them in 2012.
► At TPM — Poll: Elizabeth Warren leads Scott Brown by 7 points
► In Time — Wage woes: Why raises have become to rare — The cost of fat is rising faster than your paycheck, about five times as fast. And it's not only the price of butter and oil at the supermarket that are making your pay increases — if you are getting any at all — look slim. In the past year, the prices of clothing, public transportation and even trash collection are all up more than the earnings of the average American worker
---
TODAY'S MUST-READ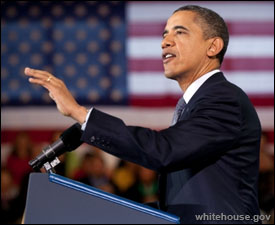 ► In today's Washington Post — Obama's new square deal (Harold Meyerson column) — The president's speech on Tuesday in Osawatomie, Kan., the site of Theodore Roosevelt's legendary "New Nationalism" speech 101 years ago, was the Inaugural address Obama never gave. It was, at once, a clear philosophical rationale for his presidency, a straightforward narrative explaining the causes of the nation's travails, and a coherent plan of battle against a radicalized conservatism that now defines the Republican Party and has set the tone for its presidential nominating contest.
---
The Stand posts links to Washington state and national news of interest every weekday morning by 9 a.m. These links are functional at the date of posting, but sometimes expire.
Short URL: https://www.thestand.org/?p=8014
Posted by
David Groves
on Dec 8 2011. Filed under
DAILY LINKS
. You can follow any responses to this entry through the
RSS 2.0
. Both comments and pings are currently closed.