Olympia's jobs bill, Boeing-NLRB, port protests, jobless benefits extension…
---
STATE GOVERNMENT
► In Sunday's Olympian — Legislators' plan to aid economy: revenue bonds — With jobless rates hovering near 9% in the Evergreen state, a few Washington lawmakers say they are zeroing in on a way to fire up the regional economy. Their idea is a new way to pay for government construction projects: Issue revenue bonds, just like the state does now to pay for state highway and bridge projects with gas taxes. But this construction package would rely on the state's toxics taxes, public works trust funds, and perhaps other streams of money that roll into the state's capital budget.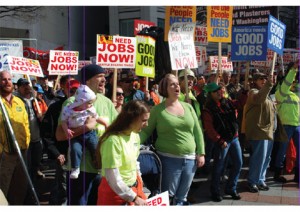 ALSO SEE — JOBS will cure for what ails Washington state (The Stand, Dec. 12) — The clearest way for state government to create jobs is to hire people. Right now, budget cuts are doing the opposite: taking away thousands of public-sector jobs from Washington families. There's insufficient revenue in the general fund to maintain those jobs and services. But capital budget revenue can be leveraged to support substantial job creation. Washington is in position to frontload that money and create real jobs NOW by investing in public buildings and infrastructure.
► From AP — $400 million in state cuts could be around corner— State lawmakers are in advanced discussions to make $400 million in budget cuts next week as a preliminary fix to the state's $1.4 billion shortfall, top budget negotiators said Friday.
► In the Tri-City Herald — Senator concedes defeat on Wenatchee bailout plan— Sen. Linda Evans Parlette (R-Wenatchee) expresses concern that the effect of the default in the Wenatchee area will make it more difficult for local governments to borrow money.
► In the Columbian — Pridemore 'disgusted' with special session's lack of action
► In the (Everett) Herald — Jay Inslee faces challenges in race for governor (Jerry Cornfield column) — If you're Jay Inslee, right about now you've got to be thinking, "Do I want to keep serving in Congress or do I want to get out and focus on becoming governor?"
---
BOEING
► In the (Everett) Herald — NLRB drops labor case against Boeing — The National Labor Relations Board dropped its case against the Boeing Co. following a settlement between the company and its Machinists union. On Friday, NLRB General Counsel Lafe Solomon said that the agreement between Boeing and the union was the best resolution for everyone. "There is job security in the Puget Sound region and there is job security in South Carolina," Solomon said.
► In the NY Times — Labor Board drops case against Boeing after union reaches accord — Solomon said critics had misconstrued the board's intentions. "This case was never about the union or the NLRB telling Boeing where it could put its plants. This was a question for us of retaliation, and that remains the law."

► In the (Everett) Herald — Boeing, engineers talking, not yet negotiating — Will the Boeing Co. and its engineering and technical workers union ink a labor contract early like the company's Machinists did? "Our focus is on getting a good contract," said Ray Goforth, executive director of the Society of Professional Engineering Employees in Aerospace. "If we could get one quickly, that would be good for everyone." Boeing hasn't approached SPEEA with a contract extension like it did with the Machinists union, he said.
► From AP — Etihad Airways buys 12 more Boeing jets in $2.8B deal
---
OCCUPY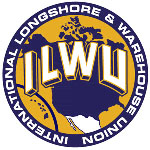 ► In today's Seattle Times — Maritime union oppose Occupy Seattle's port shutdown — Occupy Seattle and at least seven other Occupy movements attempting similar shutdowns along the West Coast lack the crucial support of the longshoremen and maritime-trades union leadership. "Support is one thing, organization from outside groups attempting to co-opt our struggle in order to advance a broader agenda is quite another and one that is destructive to our democratic process," wrote ILWU President Robert McEllrath. Locally, King County Labor Council Executive Secretary David Freiboth said ILWU Local 19 asked the labor council not to participate at the Port of Seattle.
► From AP — Occupy protesters seek to shut down West Coast ports

► In the Seattle Times — Arm of union latches on to Occupy Seattle — Before the "99 percent" started protesting in Westlake Park, volunteers from Working Washington went door to door looking for them. They visited more than 100,000 homes this summer in South King County and South Seattle to talk to the disenfranchised, introducing themselves as members of a new nonprofit group called Working Washington and inviting people — many of them inexperienced in politics — to meetings. Working Washington is an arm of the SEIU and has support from other labor and consumer groups, too, including the Teamsters and Washington Community Action Network.
► In the (Longview) Daily News — Occupy Longview is 'people-powered,' organizer says
---
LOCAL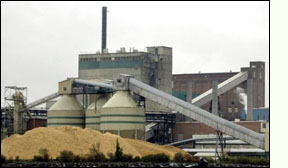 ► In the (Everett) Herald — Kimberly-Clark's Everett mill to close after talks fail — Most of the 700 or so employees will soon be out of a job after negotiations with Atlas Holdings Inc. broke down, officials announced Thursday. A company spokesman couldn't discuss details of the negotiations with Atlas but added that a problem that could not be resolved involved environmental issues relating to Everett's East Waterway.
► In the (Everett) Herald — Some 700 let go at Kimberly-Clark could land at Boeing — The Workforce Development Council of Snohomish County has been working with K-C employees about their options after the company's Everett paper plant closes, and some could find a home at Boeing, counselors say.
► From AP — New concerns about Hanford nuclear waste plant— The federal government says a one-of-a-kind plant that will convert radioactive waste into a stable and storable substance that resembles glass will cost hundreds of millions of dollars more and may take longer to build, adding to a string of delays and skyrocketing price tag for the project.
► In the Tri-City Herald — Controversy continues to surround vit plant safety culture— A recent independent review of the safety culture at the Hanford vitrification plant shows that the culture is flawed, which is contrary to the conclusion drawn by the panel that conducted the review.
► In the Columbian — Financial troubles deepen for parks department — The already beleaguered Vancouver-Clark Parks & Recreation Department is facing its biggest budget shortfall since the recession began, with a 10% budget cut, program reductions and layoffs on the horizon.
---
NATIONAL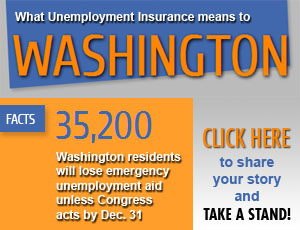 ► In the Pittsburgh T-R — Thousands of unemployed people worry as Congress dallies— "I have two children, and I have rent, gas, electric … the usual bills to pay," says a 47-year-old Port Authority bus driver who got laid off. "I am worried."
► In the IBT — Unemployment extension 2012: 'Millions hanging by a thread'— Nearly seven million Americans, sustained by government unemployment (extension) checks, are "hanging on by a thread," stated a recent National Employment Law Project paper.
TAKE A STAND! — Tell Congress to extend jobless benefits now!
► At AFL-CIO Now — House Republican plan attacks 99%, benefits 1% — House Republican leaders unveiled a budget plan on Friday in which "once again rushed to the rescue of the 1 percent" by insisting that millionaires should not have to pay one penny in taxes, according to AFL-CIO President Richard Trumka.
► From AP — San Francisco becomes first U.S. city to top $10 minimum wage
---
TODAY'S MUST-READ
► At NYTimes.com — Let's not talk about inequality (by Thomas Edsall) — How does the laid-off 55-year-old factory employee "who worked hard and played by the rules," looking for a job in a market where there are 4.2 applicants for every opening, find comfort when he turns on the TV to see Newt Gingrich declare that "you've got to become more employable" or Mitt Romney arguing that
the American people, edified by American principles, will rise to the occasion again, securing our safety, our prosperity and our peace.

One of these principles is a merit-based society. In a merit-based society, people achieve success and rewards through hard work, education, risk taking and even a little luck.
The conservative response to crisis offered by Gingrich and Romney fails to address the anxiety and anger of those millions of Americans who suddenly find themselves with no job, no health insurance and no money to pay the mortgage.
---
The Stand posts links to Washington state and national news of interest every weekday morning by 9 a.m. These links are functional at the date of posting, but sometimes expire.
Short URL: https://www.thestand.org/?p=8068
Posted by
David Groves
on Dec 12 2011. Filed under
DAILY LINKS
. You can follow any responses to this entry through the
RSS 2.0
. Both comments and pings are currently closed.