Hurry up and wait, Mitt's labor backlash, Sandy vs. Katrina…
Monday, November 5, 2012
---
STATE ELECTIONS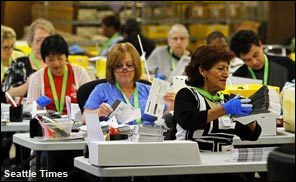 ► In today's Seattle Times — Election results? Get ready to wait — With one of the country's most competitive governor's races, other close matchups and a pair of potentially historic too-close-to-predict ballot measures, state officials and political insiders are preparing for a long night — or week — of ballot counting after Tuesday's voting deadline. More than 1.5 million ballots have been returned in Washington state, but with another 1.5 million or more expected in the run-up to Tuesday's deadline, officials say they'll only be able to report about 60% of the total vote on Election Day.
► In today's Seattle Times — Complaints follow Republicans' offer to deliver ballots — A Republican Party offer to deliver voters' ballots to official drop-off centers has caused a kerfuffle. The King County elections director advises against giving your ballot to anyone you don't know.
► In today's Wenatchee World — Obama an easy winner in student mock election — Never mind what their parents might think, Wenatchee High School students would re-elect President Barack Obama in a heartbeat. They also strongly support gay marriage and more cautiously approve of marijuana legalization.
---
LOCAL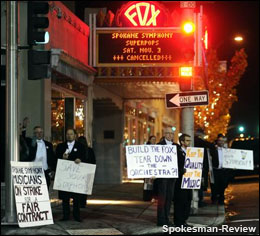 ► In Sunday's Spokesman-Review — Picket replaces symphony performance — Musicians of the Spokane Symphony Orchestra took to the picket lines Saturday instead of the stage. The musicians, who announced Friday night they were going on strike after months of contract negotiations with the Spokane Symphony Society, picketed outside Martin Woldson Theater at The Fox on Saturday evening. The group, several dozen strong, also included musicians' families, audience members and supporters from other unions.
► In today's Spokesman-Review — Orchestra, board hope to talk soon — Both sides in the Spokane Symphony Orchestra's first-ever strike say they hope to meet again this week to resolve a dispute that's already canceled one performance.
ALSO in The Stand — Spokane Symphony Orchestra musicians go on strike
► In the Kitsap Sun — Navy, contractors have much to lose if cuts kick in— The Navy stands to lose $12 billion next year in across-the-board cuts if Congress can't agree to a deficit-reduction plan by the end of the year. Adm. Mark Ferguson said there would be "difficult choices" regarding fleet maintenance, ship purchases and base support services.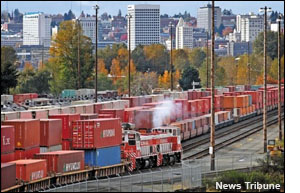 ► In the News Tribune — Tacoma Rail rolls past hard times — As the City of Tacoma grapples with its $63-million recession hangover with layoffs and cutbacks, one branch of city government, its municipal railroad, Tacoma Rail, may be putting hard times behind it. Credit a combination of a rush of new business as well as timely deals to shed expenses for the turnaround. While the city plans to lay off 217 workers in other departments, Tacoma Rail is hiring. While general government revenues have declined, Tacoma Rail's are rising.
► In the (Longview) Daily News — Small ports in peril; federal cuts mean less dredging — Operators of small harbors across the nation, including those in Ilwaco and Chinook, are worried about silting harbors as a result of drastic cuts to the federal budget. Last week, the U.S. Army Corps of Engineers told officials in Port Orford that its budget for maintaining small harbors was cut in half this year and is not expected to improve next year or anytime soon.
► In the Peninsula Daily News — Port Angeles fire union leader fears staff cuts — The president of the union representing Port Angeles' firefighters is concerned that a cut now included in the 2013 proposed city budget could lead to one less firefighter/paramedic position.
► In the (Ellensburg) Daily Record — Study: Jobs, wages increase during wild fires — Research found that local employment and wages in rural counties generally increase during large wildfires as government agencies spend sometimes millions of dollars on suppression efforts.
---
PRESIDENTIAL ELECTION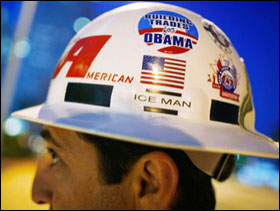 ► At TPM — Unions say Romney paying price for labor fights in Ohio, Wisconsin — The fights picked with organized labor by the Republican governors of Wisconsin and Ohio are coming back to haunt Mitt Romney in the final days of the presidential race, unions say. Labor groups say their internal polling shows labor support for President Obama in the all-important battleground state of Ohio and the electoral vote cash cow of Wisconsin is as high or higher than it was in 2008. They attribute the numbers to residual fallout from the 2011 SB 5 collective bargaining fight in Ohio and the Wisconsin battle between labor unions and Gov. Scott Walker.
► In today's NY Times — Unions recruit new allies for Obama in battleground states — With labor's political influence having fallen short in the 2010 elections and with membership declining, unions are hoping that two new strategies will strengthen their efforts this time around. They have welcomed members of outside groups like MoveOn.org, the N.A.A.C.P. and Planned Parenthood to join their canvasses and phone banks. And for the first time, union members — as a result of the Supreme Court's Citizens United decision — can call and visit not just union households, but nonunion ones too.
► In today's NY Times — Republican tax priorities (editorial) — If Congressional Republicans get their way, expiring cuts in the estate tax for America's wealthiest families will be extended in 2013. But under their cruel plan, enhancements to tax credits for low- and moderate-income working families, which are also set to expire at the end of the year, would end.
► In The Hill — Romney win would be victory for shameless cynicism (by Juan Williams) — If Romney defeats Obama, it will mark the success of one of the most deeply cynical political campaigns in history.
► In today's NY Times — Sandy versus Katrina — The response to Sandy, like the success of the auto bailout, is a demonstration that President Obama's philosophy of government — which holds that the government can and should provide crucial aid in times of crisis — works. And conversely, the contrast between Sandy and Katrina demonstrates that leaders who hold government in contempt cannot provide that aid when it is needed. This storm probably won't swing the election — but if it does, it will do so for very good reasons.
---
NATIONAL
► At AFL-CIO Now — Union members help during and after Sandy — As Americans all across the country pitch in, most of the work repairing and rebuilding the storm-ravaged areas will be done by talented and hardworking union members. Many of the organizations dealing with Sandy's devastation emphasize the importance of union workers' expertise and skill, as well as of sufficient government financial support for rebuilding physical structures and roads and, in many cases, people's lives.
ALSO in The Stand — IBEW 77 linemen in New Jersey to help restore electricity
---
TODAY'S MUST-SEE

► An important election message for some of you…
---
The Stand posts links to Washington state and national news of interest every weekday morning by 9 a.m.
Short URL: https://www.thestand.org/?p=18238
Posted by
David Groves
on Nov 5 2012. Filed under
DAILY LINKS
. You can follow any responses to this entry through the
RSS 2.0
. Both comments and pings are currently closed.