VOTE & volunteer, retirement insecurity, Dear America…
Election Day, Nov. 6, 2012
---
STATE ELECTION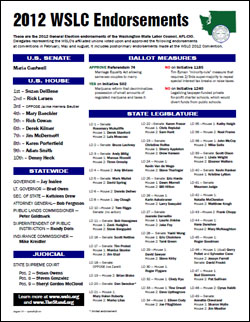 ► Um… VOTE! Visit the state's MyVote page to find your nearest ballot drop box, where it must be delivered by 8 p.m. TODAY.  You can also mail it in, but it must be postmarked today to be counted. Delegates representing hundreds of unions affiliated with the Washington State Labor Council, AFL-CIO voted at conventions in February, May and August to make endorsements for the 2012 election. Download a one-page printable list of WSLC endorsements.
► Um… VOLUNTEER to get out the vote today! Get the details.
► In today's Olympian — Don't delay getting ballots in — About half of Washington 3.9 million registered voters have already returned ballots for today's general election, and state elections staffers are urging everyone else to get ballots in early.
► In the Columbian — Election office: Don't allow others to deliver your ballot
► In today's (Everett) Herald — Party observers keep close watch on count — Anticipating a nip-and-tuck battle for governor, the state's Democratic and Republican parties are deploying volunteers and lawyers to election offices around the state to keep watch on the counting of ballots cast in today's election.
---
NATIONAL ELECTION

► At AFL-CIO Now — Election 2012 LIVE! — The AFL-CIO is covering the 2012 election live on the AFL-CIO Now blog all day Nov. 6, starting at 6 a.m. PT.
► In today's NY Times — Costly, bitter race is down to voters — From makeshift voting sites in East Coast communities devastated by Hurricane Sandy to the more typical voting booths set up in school gyms, libraries and town halls across the rest of the country, people began lining up before dawn to cast their ballots — collectively writing the ending to a bitter, expensive presidential campaign in which the candidates, parties, and well-heeled outside groups were on pace to spend some $2.6 billion.
► In The Atlantic — Are unions Obama's secret weapon in Ohio? — President Obama appears to be in good shape to win Ohio and other Rust Belt states on Tuesday, in large part due to white working-class voters' distrust of his opponent, Mitt Romney. But that impression didn't take hold on its own, nor was it the sole creation of the Obama campaign. It had a lot of help from AFL-CIO President Richard Trumka and his minions.
► In today's NY Times — The battle for the U.S. Senate (editorial) — Republican hopes for control of the United States Senate have been curtailed by rigid or unappealing candidates.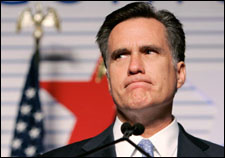 ► In today's NY Times — The real loser: Truth (by Kevin Kruse) — To be sure, the Obama campaign has certainly had its own share of dissembling and distortion. But nothing in it — or in past campaigns, for that matter — has equaled the efforts of the Romney campaign in this realm. Its fundamental disdain for facts is something wholly new. The voters, of course, may well recoil against these cynical manipulations at the polls. But win or lose, the Romney campaign has placed a big and historic bet on the proposition that facts can be ignored, more or less, with impunity.
---
LOCAL

► In today's Columbian — Talks between dockworkers, grain shippers continue — Negotiations are continuing this week between the Pacific Northwest Grain Handlers and ILWU Locals 4, 8, 19 and 23 under the auspices of the Federal Mediation and Conciliation Service.
► In today's Spokesman-Review — BPA crews among region's Sandy aid — Several utility crews from the Bonneville Power Administration have been sent to Long Island, N.Y., to assist crews trying to get the lights back on.
ALSO at The Stand — IBEW 77 linemen in New Jersey to help restore electricity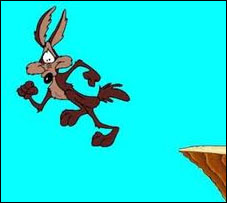 ► In today's Columbian — Ignoring fiscal cliff will leave our children in free fall (by AWB President Don Brunell) — The National Association of Manufacturers recently reported that, if Congress fails to avert the "fiscal cliff" by the end of December, six million jobs will disappear over the next two years, sending the unemployment rate soaring to near 12%. NAM says companies are bracing now for the fallout by laying off workers, leaving jobs vacant and postponing major purchases.
EDITOR'S NOTE — "P.S. We here at the Association of Washington Business are very sorry that our increasingly ideological right-wing parent organization, the U.S. Chamber of Commerce, strongly advocated for setting up this stupid 'fiscal cliff' in the first place," Brunell didn't write. "Our bad."
---
NATIONAL
► In today's Washington Post — Young workers' retirement hopes grow bleaker amid economic downturn — Corporations have been slashing pensions for decades, but such cuts are common now in the public sector, where retirement benefits were traditionally much better. In both cases, employers frequently reach for the same tool — preserve benefits for current employees but make severe cuts for new ones.
► In today's (Everett) Herald — For more boomers, work has become part of 'retirement' plan — A new survey finds that 70% workers said they plan to work for pay even after they retire. And the age at which workers expect to retire continues to rise.
---
TODAY'S MUST-READ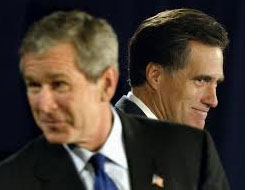 ► At Huffington Post — Dear America, Please don't fall for this sh*t again (by Funny Or Die co-founder Adam McKay) — Billions have been spent for one purpose and one purpose only: to obscure and distract from the fact that Mitt Romney is backing the identical agenda George W. Bush did. It's really and truly that simple. Objections to Obama are nonsense and lies at best. This isn't a "liberal" POV. It's just the truth. Obama does have real failings as a president, but being a socialist big spender is not remotely one of them.
We've been having the same argument for 30 years and the evidence is clear: Cutting taxes for the rich, deregulating all the rules set up after the Great Depression and needless wars don't even remotely work, whether it's George W. Bush or Romney who's at the wheel. Seriously, America. Take a beat, think and look hard at the numbers. You're better than this crap. And we've got real stuff to work on together.
---
The Stand posts links to Washington state and national news of interest every weekday morning by 9 a.m.
Short URL: https://www.thestand.org/?p=18279
Posted by
David Groves
on Nov 6 2012. Filed under
DAILY LINKS
. You can follow any responses to this entry through the
RSS 2.0
. Both comments and pings are currently closed.