CenturyLink strike, Inslee on jobs, SPEEA vote…
♥

  Thursday, February 14, 2013  

♥
---
LOCAL

► From AP — CenturyLink workers in West closer to striking — Unionized CenturyLink workers in 13 western states are moving closer to striking. The CWA announced Thursday that its executive board has authorized the union's president to set a strike date. Setting a date would be the final step in going on strike but that hasn't happened yet. Nearly 90% of workers voted to authorize a strike in October. The union and CenturyLink have been unable to reach a new contract to cover 13,000 employees who formerly worked for Qwest Communications. The employees include customer service agents, network technicians and Internet support workers.
► In the NW Labor Press — Oregon, SW Wash. grocery workers ratifying new contracts — Grocery workers at major supermarkets in Oregon and Southwest Washington are voting on new collective bargaining agreements this month, bringing an end to nearly two years of negotiations that was steering toward a strike. UFCW Local 555 represents approximately 14,000 grocery clerks, meat cutters, and central checkout clerks at Fred Meyer (Kroger), Safeway, Albertsons, and QFC stores in the area.
► In today's News Tribune — Tacoma lowers city employees' pay targets — Tacoma's City Council unanimously dropped the pay ceiling for most city workers about 10 notches Tuesday — from a standard that paid them better than about 70% of employees doing similar work to one that's now above 60 percent of the market.
► In today's Seattle Times — Holland resigns from Port position — Port of Seattle Commissioner Rob Holland announced Wednesday he will resign March 15, eight months before the end of his first term.
► In the NW Labor Press — Sick leave ordinance gets first hearing at Portland City Council — Portland City Council is on the verge of passing an ordinance giving workers the right to sick leave — a far-reaching advance that would improve working conditions for more than a quarter million workers.
---
TRANSPORTATION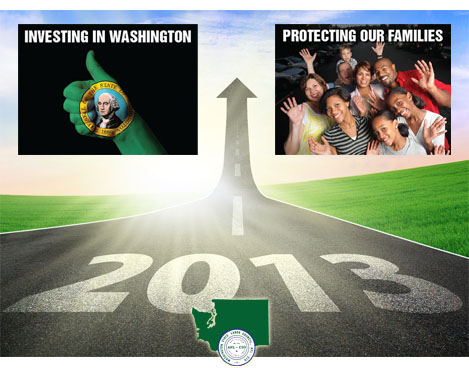 ► In today's Bellingham Herald — Linville, other mayors call for gas tax hike for transportation — Mayor Kelli Linville of Bellingham joined more than 40 civic leaders across Washington who sent a letter to Gov. Jay Inslee and legislative leaders, urging them to consider an 8 cent per-gallon gas tax as a way to help pay for transportation needs. In addition to the gas tax increase, the letter suggests a motor vehicle excise tax increase of up to 1.5% that counties could enact by public vote or by a vote by County Councils, and the expansion of the vehicle license fee from $20 to $40. The license fee could also be increased either by public vote or by a vote of local councils.
ALSO at The Stand — A united push for transportation investment
► In today's (Everett) Herald — Stanwood voters OK sales tax hike for roads — Sales tax in the city is set to rise by 0.2 percent in July, with revenues going to a city transportation benefit district approved by voters on Tuesday night.
---
MORE STATE GOVERNMENT
► In today's Seattle Times — Senate Republicans seek to repeal Seattle's new sick leave law — State Senate Republicans, who have already proposed repealing the state's never-implemented family-leave requirement, are now targeting Seattle's sick-leave law. SB 5728 would take Seattle's law off the books by declaring that the Legislature has the sole responsibility for sick-leave requirements. SB 5726 would scale back Seattle's law by prohibiting cities from requiring sick leave for employers based outside the city. The Republican-sponsored bills are supported by Senate Majority Leader Rodney Tom (D-Medina).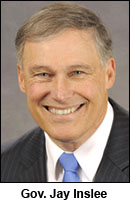 ► From AP — Inslee offers proposals for 'a working Washington' — Gov. Jay Inslee on Wednesday unveiled a $120 million jobs package that would provide tax breaks for new companies in certain fields, create 500 new slots in aerospace-training programs, and assemble a commission to ensure that the state's colleges and universities are turning out students with math- and science-based skills relevant to the economy's needs.
MORE coverage of Inslee's jobs package in today's Spokesman-Review and Olympian.
► In today's Seattle Times — Support the unpaid-wages bill (editorial) — The state Department of Labor and Industries is asking the Legislature for increased authority to collect unpaid wages owed to Washington workers. The department has made a strong case for this authority, and the Legislature should grant it.
ALSO at The Stand — It's time to deal with our underground economy — HB 1440 aims to address our state's underground economy, wage theft and employee misclassification, and it should be considered a win-win proposal for labor, business and all levels of government.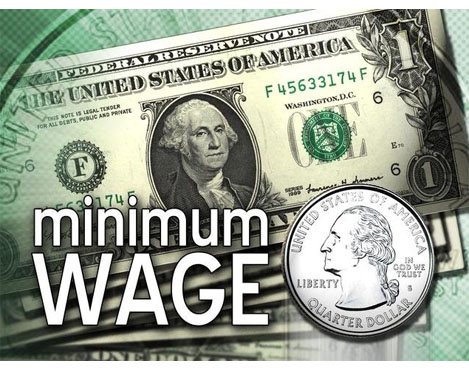 ► In today's News Tribune — Address flaws in bill creating 'training wage' (editorial) — Supporters are promoting the bill as a way to provide more job opportunities for young, inexperienced people. But SB 5275 doesn't specify that the lower wage it would allow — 75% of Washington's $9.19 hourly minimum wage (or $6.89 per hour) — would only apply to young or inexperienced workers. There are just too many problems with this bill the way it's written, leaving loopholes for employers to keep replacing some of their workers with ones earning much lower wages.
EDITOR'S NOTE — "Address it's flaws" by killing it. SB 5275 is nothing more than an attempt to allow employers to defy the voters and pay sub-minimum wages. It has nothing to do with training, it's all about lowering the minimum wage. Voters aren't calling for lower wages. Legislators who support this, do so at their own peril.
► In the Seattle Times — Sen. Ed Murray offers bill that would ask voters to approve capital-gains tax — It's not clear, though, if SB 5738 will get a hearing. Senate Republicans control the Senate and have made it clear they're opposed to any new taxes, outside of a potential gas-tax increase for transportation.
► From AP — Fraud suspected in initiative signatures — Three paid signature gatherers apparently committed extensive fraud while collecting support for two Washington initiatives, elections officials said Wednesday.
---
BOEING
► From KING 5 — SPEEA contract vote could be very close — Will SPEEA go out on strike against Boeing? Tuesday marked the halfway point in contract voting on an offer that the union's leaders don't like.
► In today's (Everett) Herald — Inslee seeks millions for aero education, training — "If you are a company that maybe can see some opportunity in Washington state, I want to be your best friend," Inslee told about 400 industry representatives. "If you're considering doing work elsewhere … then we need to talk right away."
► In today's (Everett) Herald — Talk of aerospace conference: Boeing 777X — Key 777 customers want the updated version to enter the market by 2019 or earlier. But Boeing's chief executive has indicated the company won't introduce the 777X until sometime in the next decade.
► From AP — Poland's LOT to keep 787s grounded through October — The late date suggests some airlines are growing skeptical about the plane's chances of resuming flight soon.
---
IMMIGRATION
► In today's Tri-City Herald — Job fair in Mexico reportedly a success — An attempt by the Washington Farm Labor Association to recruit Mexican workers to help harvest the state's crops this year is off to a good start. About 3,600 Mexican workers already have submitted applications to work for Washington farmers through the federal H-2A temporary agricultural program after a job fair in Mexico.
► At Politico — Labor-Chamber immigration talks stall — Officials from the U.S. Chamber of Commerce and the AFL-CIO have been meeting privately for the past two months to hash out a deal on one of the most controversial pieces of immigration reform — visas for low-skilled workers. But recent talks have stalled, leaving the two influential groups far apart on the same issue that helped sink reform in 2007.
► In today's Washington Post — Effort to change immigration law sparks internal battle within GOP — A new battle has flared inside the Republican Party in recent days as supporters of more-liberal immigration laws wage a behind-the-scenes campaign to discredit the influential advocacy groups that have long powered the GOP's hard-line stance on the issue.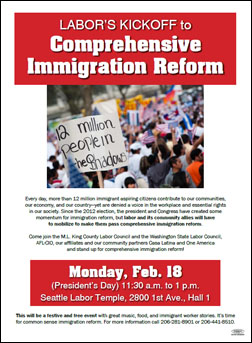 ALSO at The Stand — Labor's immigration kickoff Feb. 18 in Seattle — Join the M.L. King County Labor Council and the Washington State Labor Council, AFL-CIO, our affiliates and our community partners Casa Latina and One America and stand up for comprehensive immigration reform. It will be Monday, Feb. 18 (President's Day) from 11:30 a.m. to 1 p.m. in Hall 1 of the at the Seattle Labor Temple, 2800 1st Ave.
---
FEDERAL GOVERNMENT

► In The Hill — Dems skirmish over Reid's sequester plan — A large group of liberal Democrats are pushing back against Senate Majority Leader Harry Reid's plan to replace the sequester with an even balance of spending cuts and tax revenues. They want the package to raise substantially more through taxes and cut less in spending.
► In today's Washington Post — Postmaster takes case for 5-day delivery to skeptical senators — Rep. Elijah E. Cummings (Md.), the ranking Democrat on the House Committee on Oversight and Government Reform, told the Senate panel that after two months of negotiations, "we are close, very close" to agreement on a bipartisan, bicameral bill.
ALSO at The Stand — Congress broke USPS, now must fix it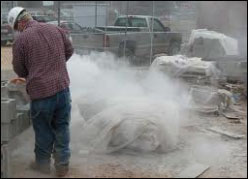 ► At Huffington Post — White House inaction on silica is deadly for workers (by Richard Trumka) — Every year, silica dust takes hundreds of American lives and makes thousands more, mostly construction workers, sick. But it doesn't have to be that way. Two years ago tomorrow, Feb. 14, OSHA submitted a draft proposed rule to reduce exposure to life-threatening silica dust to the White House's Office of Management and Budget. The review was supposed to take 90 days — but two years later, the draft rule is still there, languishing in regulatory limbo while workers continue to be exposed to the deadly dust.
► In The Hill — White House opposes, but will not veto, bill to extend federal pay freeze — The White House said that it opposed a House bill that would prevent federal employees from receiving the half-percentage point pay raise set to go into effect next month, but the administration stopped short of issuing a formal veto threat.
► From AP — Social Security chief: Program fraying from neglect — Outgoing Social Security Commissioner Michael J. Astrue said benefit cuts and tax increases are inevitable — despite fierce opposition to both. Yet he questions whether Congress is up to the task.
► At Politico — Boehner: No minimum wage increase — President Obama urged Congress to hike it to $9 an hour and "tie the minimum wage to the cost of living, so that it finally becomes a wage you can live on." But House Speaker John Boehner (R-Ohio) said he is opposed to the idea.
► From AP — Obama again nominates pair to NLRB — On Wednesday, Obama sent to the Senate the nominations of Sharon Block and Richard Griffin, both of whom he placed on the labor board by bypassing the Senate last year.
---
NATIONAL
► In the WSJ — Broad trade deal on table — The U.S. and European Union are launching negotiations to pursue one of the most complex trade pacts ever, aiming to reshape global standards by uniting two international economic powers. Officials from both sides of the Atlantic say it could take two years to work through thorny regulatory divisions, but that ultimately the talks could lead to a far-reaching agreement that serves as a model for international trade deals.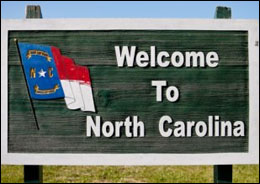 ► In today's Washington Post — North Carolina's jobless face double-whammy of aid reductions — An estimated 170,000 jobless workers in North Carolina — which at 9.2% has the nation's fifth-highest jobless rate — will be thrown off the unemployment benefit rolls in July. State lawmakers also reduced the maximum number of benefit weeks from 26 to 20, reduced the maximum weekly benefit from $535 to $350, and changed how benefits are calculated, reducing the average weekly benefit from about $296 to the low $200s.
► In today's NY Times — American, US Airways announce $11 billion merger plan — Ending a yearlong courtship by US Airways, American Airlines agreed to merge with the smaller carrier, paving the way for the creation of the nation's largest airline.
► At AFL-CIO Now — New Hampshire House calls out 'right to work' — The House decisively defeated (212-141) a "right to work" for less bill sponsored by former New Hampshire House Speaker William O'Brien (R), who no longer holds the speaker's post.
---
TODAY'S MUST-READ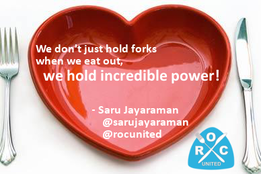 ► At AFL-CIO Now — Love the hands that feed you this Valentine's Day — Have reservations for a romantic dinner this Valentine's Day? You are not alone. Valentine's Day is the highest-grossing day for the $600 billion restaurant industry. This year, when you eat out on Valentine's Day, you can share the love with the folks who will be feeding and serving you — and you can tell the world about it. There are more than 10 million restaurant workers in the United States — one in 12 people work in the restaurant industry. But these workers earn some of the lowest wages in our nation and very few have access to benefits. This Valentine's Day, here's how you can encourage restaurants to do better.
---
The Stand posts links to Washington state and national news of interest every weekday morning by 9 a.m.
Short URL: https://www.thestand.org/?p=20844
Posted by
David Groves
on Feb 14 2013. Filed under
DAILY LINKS
. You can follow any responses to this entry through the
RSS 2.0
. Both comments and pings are currently closed.