Legislative cutoff, IAM's Bill Johnson passes, Obama's offer, I-Squared…
Thursday, March 14, 2013
---
STATE GOVERNMENT
Today's WSLC Legislative Update in now available. Also, check out the WSLC Legislative Tracker™ for status updates on working families legislation.

► At News Tribune — Facing deadline, lawmakers rush to pass bills — Lawmakers nearly went down to the wire to pass one of Gov. Jay Inslee's marquee bills on climate change as the House and Senate raced toward their 5 p.m. deadline for passing bills to the opposite chamber.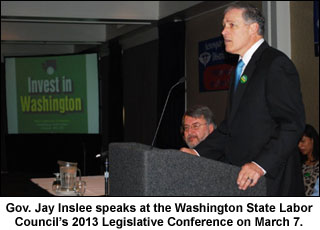 ► In today's Seattle Times — Inslee: Close tax breaks to boost money for education — "We clearly need to make significant investments that have been ordered by the state Supreme Court. We will make a proposal on how to make a downpayment on that this year. We'll be proposing closing some tax loopholes to make a downpayment in that regard instead of general tax increases on people," Inslee said. "We think it's better to have fairness in our tax system."
► In today's Columbian — Local lawmakers have mixed success as bill cutoff date passes — Those rooting for the revival of two-thirds majority votes of the Legislature in order to raise taxes won't get their wish any time soon, as proposals to impose that rule appeared lifeless Wednesday, a pivotal deadline in the Legislature.
► In today's Seattle Times — State version of 'Dream Act' passes House — The state House approved a measure making young illegal immigrants eligible for state college financial aid. The measure's bipartisan 77-20 vote was highlighted by impassioned speeches by Republicans who broke ranks with their party to vote in favor of the bill.
► In today's Kitsap Sun — Ruling says bridge toll increases must be passed by Legislature — The Washington State Transportation Commission no longer has the authority to raise tolls on the Tacoma Narrows Bridge, or anywhere else, according to a ruling by the Office of Financial Management.
► In today's Seattle Times — Fund Highways 167, 509 to keep our state competitive in global trade (by Auburn Mayor Pete Lewis) — A comprehensive plan to fund and complete Highway 167 and Highway 509 during this legislative session will not only help our ports compete in the global marketplace, but will safeguard Washington's place as an important trade-industry hub in an ever competitive world.
---
BOEING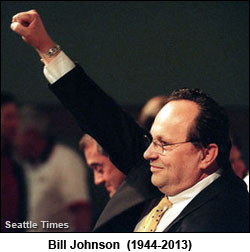 ► In today's Seattle Times — Obituary: Bill Johnson, 69, led Machinists union — Bill Johnson was a natural bargainer, intimidating when necessary and able to plead when he saw fit, a trait that made him a successful labor-union leader. "He was a tough negotiator," said Ed Lutgen, his longtime friend and co-worker. "But he would adapt to the situation. It was eye-opening for me to see him humble himself and do whatever it took to keep people employed." Bill Johnson, the president of the Machinists union at Boeing from 1992 to 2000, died at his Seattle home March 8 after a fight with cancer. He was 69.
ALSO see Johnson's obituary at the IAM District 751 website.
IAM District 751 is holding a memorial service at the Seattle Union Hall, 9135 15th Pl. S, on Saturday, March 23 at 2 p.m.
► In today's (Everett) Herald — Congress, Air Force hope to preserve Boeing KC-46 project funding — Air Force wants to "protect the tanker no matter what," Lt. Gen. Charles Davis, who leads Air Force acquisition, said on Tuesday. The 'no matter what' refers to the across-the-board budget cuts, known as sequestration, the federal government is facing.
► In today's NY Times — Initial tests of 787 battery by Boeing fell short — In an age of sophisticated computer modeling, Boeing engineers relied on the same test used for tiny cellphone batteries to gather data about the safety of the heftier lithium-ion battery on its new 787 jets: they drove a nail into it to see what happened.
---
CONGRESS

► In today's Washington Post — Democrats challenge Obama on Medicare, Social Security cuts — While Democratic leaders are offering quiet support for Obama's renewed campaign to strike a grand bargain with Republicans that would include cuts to Social Security and Medicare,  significant number of Democratic lawmakers are digging in their heels and vowing to protest any reduction in promised benefits. That sentiment was on display Wednesday, as Senate Budget Committee Chairman Patty Murray (D-Wash.) announced a budget blueprint that proposes only minor trims to Medicare and Medicaid, and vows to make the cuts "without harming beneficiaries."
► At TPM — Obama to GOP: I'm serious about cutting social safety net — President Obama is seeking to push Republicans to work with him on a grand deficit bargain by first assuring them he's willing to cut Medicare and Social Security, and then attempting to scrape off enough of them who will in turn agree to raise new revenues. The two major changes Obama has publicly proposed so far include cutting future Social Security benefits — a reform known as Chained CPI — and making higher income Americans pay a bigger share of their Medicare premiums.
► Which brings us to… at Politico — Poll: Government dissatisfaction highest since Watergate — More Americans cite dissatisfaction with government as the biggest problem facing the country than at any other time since the months leading up to the Watergate scandal, a new poll finds.
EDITOR'S NOTE — Finally… something we can all agree upon.
► At Politico — Senate Dems block Tea Party attempt to repeal Obamacare — On a 52-45 vote, the majority quickly dispatched a tea-party-led bid to cut off funding for President Barack Obama's signature health care reforms.
► In The Hill — House budget panel approves Ryan plan on 22-17 party-line vote — All committee Republicans voted for the fiscal 2014 plan, which now heads to the full House for floor consideration next week.
EDITOR'S NOTE — Last year, two Republicans on the panel had the temerity to vote against Ryan's budget. Both were removed from the committee.
► In The Hill — Murray unites panel Dems behind budget — Gaining the support of all 12 committee members who caucus with Democrats – including Sens. Bernie Sanders (I-Vt.) and Angus King (I-Maine) — was a key first goal for Murray. A single defection would stop the budget in its tracks if GOP panel members, as expected, all vote "no."
► In today's Washington Post — Paul Ryan's cruelly radical vision (by E.J. Dionne) — Sen. Patty Murray has done a service by asking for more revenue than Obama did in his most recent offer. This should help make clear that the "center" in this debate is not between Obama's position and the Ryan plan but roughly where the president is right now. He and his party can't move too far away from what he has proposed without abdicating principle.
---
IMMIGRATION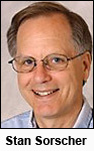 ► At Huffington Post — I-Squared Equals I'm Screwed (by SPEEA's Stan Sorscher) — This January, Senators Hatch and Klobuchar introduced The Immigration Innovation Act, known as "I-Squared." It will triple the number of foreign temporary workers from about 800,000 to over 2.3 million. This will distort the labor market for jobs in science, technology, engineering and math (STEM), which has only 4 million workers all told. I-Squared will seriously depress the domestic STEM labor market.
► At Politico — CEOs want high-skilled immigrants — Cisco Systems CEO John Chambers emphasized the need Thursday for Congress to advance a "total immigration package" that would increase the ranks of high-skilled workers available to U.S. technology companies.
---
The Stand posts links to Washington state and national news of interest every weekday morning by 10 a.m.
Short URL: https://www.thestand.org/?p=21747
Posted by
David Groves
on Mar 14 2013. Filed under
DAILY LINKS
. You can follow any responses to this entry through the
RSS 2.0
. Both comments and pings are currently closed.