Boeing's thanks, CRC's funding, House's budget, coal dock's PLA…
Thursday, April 11, 2013
---
BOEING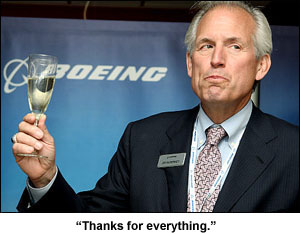 ► In today's Seattle Times — Boeing email warns 787 tech staff of layoffs — An email from a senior manager thanked them for saving the troubled jet program, and then announced layoffs are coming. These manufacturing engineers act as a critical link between the engineers who design the jets and the mechanics who build them. SPEEA's Ray Goforth said he's heard from members who reacted "with anger and dismay at the dismissiveness" of the message. He summarized the note as "thank you very much, we don't need you anymore."
► In today's (Everett) Herald — Qatar CEO: Boeing close to FAA approval on 787 battery — The company is "very close" to getting approval from regulators for a fix to its 787's batteries that would let flights resume, said Qatar Airways Ltd. CEO Akbar Al Baker.
---
TRANSPORTATION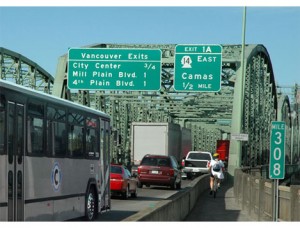 ► In today's (Longview) Daily News — Transportation chief urges lawmakers on CRC funds — U.S. Secretary of Transportation Ray LaHood told Washington state lawmakers Wednesday that they must commit hundreds of millions of dollars toward the estimated $3.1 billion Columbia River Crossing project this year or risk losing up to $1.2 billion in federal support.
ALSO at The Stand — Contact state lawmakers to urge their support of CRC
► In today's Columbian — Rally at State Capitol urges support of I-5 bridge project — "This is the year; megaprojects require a great deal of time and money, and we can't afford to do it all over again," state Sen. Annette Cleveland (D-Vancouver) said at the event. Oregon has offered its share of the $3.4 billion project, while Washington legislators have yet to dedicate Washington's $450 million share. Democrats have a majority in the House and support a transportation revenue package that would dedicate $450 million to the CRC.
---
STATE GOVERNMENT
► In today's (Everett) Herald — House Democrats' budget spend more on schools — Majority Democrats in the House rolled out a budget Wednesday that would haul in more tax revenues and spend more money on public schools than either the governor or the Republican-controlled Senate.
► From AP — House budget plan is similar to Gov. Inslee's — Democrats in the state House proposed a budget plan Wednesday that would eliminate a variety of tax breaks to help pay for education and avoid some of the cuts to social services recently approved by the Senate.
► In today's (Everett) Herald — House Democrats keep Dream Act alive in budget — House budget writers apparently didn't get Sen. Rodney Tom's memo that the Dream Act is dead this legislative session. They've included $100,000 for implementation of HB 1817 which would make undocumented immigrant students eligible for state financial aid.
---
LOCAL
► In today's (Longview) Daily News — Millennium announces deal to use local construction labor if coal dock approved — Millennium Bulk Terminals officials announce an agreement to hire local union workers to build a proposed $643 million coal export dock west of Longview, solidifying the support of a major ally for its upcoming political battle with environmentalists. "I know we have some heavy lifting to do for you guys, and we're ready," Dave Myers of the Washington Building and Construction Trades Council at a signing ceremony at company headquarters.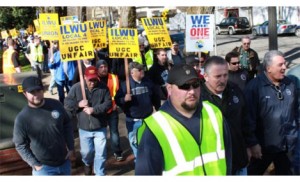 ► In today's Columbian — Union worker seeks delay of civil lawsuit — A former union worker accused of sabotaging operations at United Grain Corp. during a labor dispute in December has asked Clark County Superior Court to delay the company's civil lawsuit against him until a criminal investigation is resolved. The sabotage allegation intensified the bitter labor dispute between United Grain and union members. On Feb. 27, United Grain locked out 44 union workers. Since the lockout, picketers have stood vigil outside the entrance to the Port of Vancouver and outside United Grain's Vancouver office.
ALSO at The Stand — Charge: Mitsui-United Grain lockout illegal (March 5)
► In today's Columbian — More than 14,000 apply for longshore jobs at Tacoma port — A much-anticipated Tacoma longshore jobs lottery is done, but it may be as long as three weeks before the winners' names are announced. ILWU 23 President Scott Mason said that more than 14,000 people submitted cards to become one of the 226 people eligible to become unidentified longshore casual workers.
► In The Stranger — The war on cabs in Seattle — There's a civil war of sorts brewing within the city's highly regulated taxi, for-hire, and limousine industry, and drivers on both sides worry that the dispute could escalate to violence. Still, if there's one thing these drivers agree on, it's that the city is to blame.
---
OBAMA'S BUDGET
► At AFL-CIO Now — Trumka: Budget cuts to Social Security, Medicare are 'wrong, indefensible' — The AFL-CIO President also says that while budget calls for major sacrifices by seniors and federal workers, its "revenue neutral" approach to corporate taxes means, "it fails to ask big, profitable corporations to pay their fair share of taxes." Trumka and others also faulted the budget for failing to invest in enough jobs.
► In today's NY Times — Obama budget opens rift for Democrats on social benefits — By his gamble in proposing budgetary concessions to Republicans on Social Security and Medicare, Obama has provoked angry supporters on his left to ask whether he is a progressive at all.
► In today's NY Times — The President's Budget (editorial) — The Social Security proposal remains a bad idea… it could hurt vulnerable retirees and stymie better ideas to improve the system, like raising the wage cap subject to the payroll tax. But it seems unlikely to happen if Obama holds to his demand for more revenues in exchange, given the Republican intransigence. For now, it has served its purpose — no one will be able to accuse Obama of refusing to touch entitlements, and no one can credit Republicans for being at all serious about a deficit-reduction compromise.
► And speaking of not-at-all-serious Republicans… In The Hill — House GOP campaign chief: Obama budget is 'shocking attack' on seniors — The head of the House Republican campaign arm blasted President Obama for including Social Security and Medicare cuts in his budget on the same day Speaker John Boehner (R-Ohio) welcomed them and called for more.
► From AP — Obama budget calls for $2.2 billion for Hanford — The budget calls for $521 million to empty tanks, up from $442 million in 2012. The additional money for that project comes after word earlier this year that six tanks there are leaking.
---
IMMIGRATION REFORM
► In today's NY Times — Broad outlines of Senate immigration agreement emerge — A bipartisan group of senators has largely agreed on a broad immigration bill that would require tough border measures to be in place before illegal immigrants could take the first steps to become American citizens, according to several sources.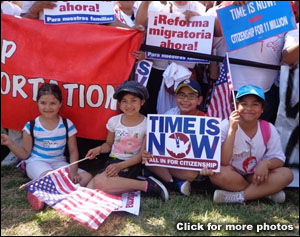 ► In today's NY Times — Hope leaves the shadows at the Capitol (by Lawrence Downes) — A rally for the rights of undocumented immigrants adds heat, and pressure, to the reform struggle.
► At Politico — Poll: 64% back path to citizenship — Nearly two-thirds of Americans support a pathway to citizenship to undocumented immigrants, according to a poll released Thursday, and that number spikes to 76 percent once told what the pathway to citizenship may involve.
---
NATIONAL
► In today's Washington Post — Postal Service backs down from 5-day delivery plan — The U.S. Postal Service backed away Wednesday from its plan to end Saturday mail delivery in August, bowing to bipartisan congressional opposition that the postmaster general said two months ago he had the authority to bypass.
ALSO at The Stand — USPS backs off plan to cut Saturday service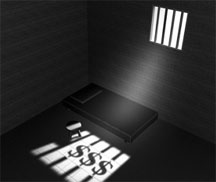 ► At Think Progress — In 18 months, nation's first privately owned state prison has declined rapidly — In an unprecedented experiment fueled by budget concerns, Ohio sold a state prison to Corrections Corporation of America, one of the largest private prison corporations in the country, in 2011. Within a year, a state audit of Lake Erie Correctional Institute, the nation's first privately owned state prison, found rampant abuse and abysmal conditions well below state standards. The CCA prison was given another chance to pass, but flunked another inspection four months later. Independent reports continue to illuminate filthy, broken facilities, as well as much higher rates of crime and violence in and around the prison.
► In today's Washington Post — Survey shows huge gap between federal leaders and workers — The survey gap between Senior Executive Service (SES) members and the rest of federal workers hit a whopping 31.1 points (79.7 to 48.6) on the "fairness" question: "Arbitrary action, personal favoritism and coercion for political purposes are not tolerated." Seems like most federal workers think those things are indeed tolerated.
► In today's Spokesman-Review — Fewer small companies offer health insurance — Between 1999 and 2011, health insurance coverage doubled in cost, and a growing share of the nation's workers no longer could obtain it from their employers. The lack of health coverage is particularly acute at the nation's small employers and among those who earn lower wages. With Americans standing at the threshold of federal health care reform, the Robert Wood Johnson Foundation report is intended, the authors say, to "establish a baseline" for future analysis of the federal law's results. The law does not take full effect until next year.
---
TODAY'S MUST-READ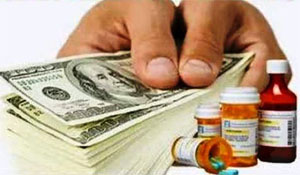 ► At Huffington Post — Big Pharma pockets $711 billion in profits by robbing seniors, taxpayers — Big Pharma has been systematically price-gouging the Medicare program for seniors and people with disabilities — and raking in billions in excessive profits. The 11 largest global drug companies made an astonishing $711 billion in profits over the 10 years ending in 2012, and they got a turbo-charged boost when the Medicare Part D prescription drug program started in 2006, according to an analysis of corporate filings by Health Care for America Now.
The drug companies, of course, say they have no choice and need to charge outrageous prices to pay for research that enables them to innovate and develop new drugs that save our lives. But that's not true. Half of the scientifically innovative drugs approved in the U.S. from 1998 to 2007 resulted from research at universities and biotech firms, not big drug companies. And despite their rhetoric, drug companies spend 19 times more on marketing than on research and development.
---
The Stand posts links to Washington state and national news of interest every weekday morning by 10 a.m.
WASHINGTON IS A UNION STATE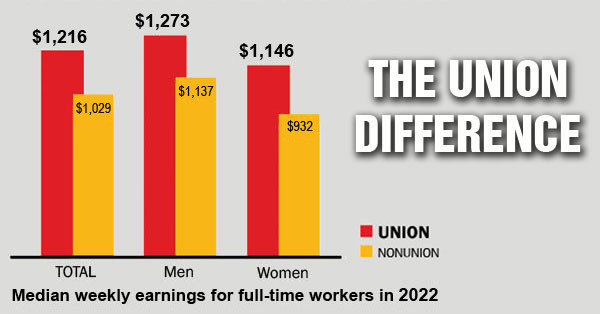 CHECK OUT THE UNION DIFFERENCE in Washington state: higher wages, affordable health and dental care, job and retirement security.
FIND OUT HOW TO JOIN TOGETHER with your co-workers to negotiate for better working conditions and respect on the job. Or go ahead and contact a union organizer today!