Boeing's going, shortchanging transportation, Obama's good will…
Wednesday, April 10, 2013
---
BOEING
► In today's Seattle Times — Washington worries as Boeing pours $1 billion into S.C. — The company can add 2,000 jobs in Charleston with its already announced shift of IT work from here, and with the expected increases in 787 production. The number does not suggest that Boeing's next big jet project, the 777X, will go outside this region. However, the assembly of future airplanes beyond the 777X — which should begin passenger service around 2020 — is definitely up for grabs.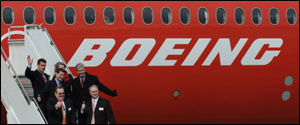 ► In today's Seattle Times — Boeing's going — We have a decade or so to prepare for the transition. But it's coming. And we couldn't prevent it even if the Boeing employees here decertified their unions and we racked back our wage levels to those of the South. It doesn't matter that Ray Conner, chief of commercial airplanes, is "a good guy" who joined the old Boeing as a mechanic. His bosses came from General Electric, sat at the feet of Neutron Jack and carry the McDonnell Douglas toxic culture — and American employees that are not expendable teammates are simply liabilities. At the moment, the executive suite needs our world-class engineers, machinists and technicians to fix the dog's breakfast their outsourcing made of the Dreamliner. Don't expect any such dedication in return. By the way, neither should South Carolina. That's the Chicago way.
---
STATE GOVERNMENT

► In today's Spokesman-Review — Budget plans fall short of pressing transportation needs (editorial) — Bare bones. Band-Aid. Nothing new. Those are terms lawmakers are using to describe the transportation budgets that emerged from the House and Senate last week. The House plan for the 2013-15 biennium totals $8.4 billion; the Senate plan comes in at $8.7 billion. Both fall short of the previous biennium's $9.8 billion. Neither plan calls for new revenue, yet.
► From AP — State retirement officials examining late raises that boosted pensions — Marcie Frost, the director of the Department of Retirement Systems, said the agency has started conducting reviews and collecting information on each of the cases identified in a recent AP investigation.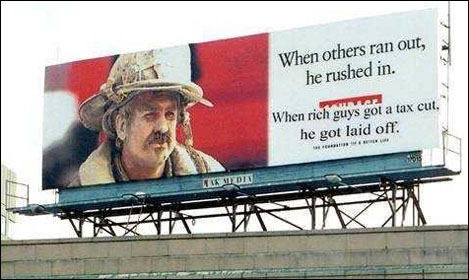 ► At LEOFF-member.com — Ink by the barrel and the same tired old story — Why is it that a story outlining some of the abuses made by members of this long-closed pension system (LEOFF 1) becomes a blockbuster front page newspaper story in 2013, almost 36 years later, spreading via the AP to papers all across the country and igniting public outrage toward current-day law enforcement officers and firefighters whose bare-bones pensions bear little resemblance to the one abused by some of their LEOFF 1 predecessors?
Lifetime medical, the ability to "spike" pensions benefits, disability pensions that were more lucrative than service pensions; those things all went away with the creation of LEOFF Plan 2 in 1977. But incomplete, sensationalistic reporting would have the public believe that something needs to be done, and it needs to be done immediately!
► In today's Yakima H-R — Dems blister GOP leader over Dream Act's fate — Top Democrats in Olympia admonished Senate Majority Leader Rodney Tom on Monday for not doing more to save the Dream Act this session and for suggesting Senate Democrats were to blame.
EDITOR'S NOTE — Headline writers don't have the space for political wordsmithing, which is why the Yakima H-R copy editors called Sen. Tom what he really is: GOP leader.
---
LOCAL
► In today's Yakima H-R — Yakima, bus drivers head into mediation — Yakima and the union representing the city's bus drivers and other transit workers will enter mediation next month after direct negotiations failed to produce a new labor agreement.
---
IMMIGRATION REFORM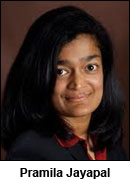 ► In The Nation — Immigration reform: Good for immigrant women, good for American feminism (by Pramila Jayapal) — If there is one thing that resonates for women, it is that regardless of where we come from or what we look like, we want to be fully recognized for the breadth of our contributions. For immigrant women, the very act of immigration is about opportunity, equality and freedom.  Women immigrants come to America to care for their families, escape gender-based violence, or express their sexual identity.  The women's movement has always fought for these kinds of core values and principles—from ending slavery to the right to vote and the ability to work — and needs to lead again on immigration.
► From Reuters — Gang of Eight: Immigration deal is close — Senate negotiators on Tuesday were putting the finishing touches on a bipartisan immigration bill as labor and agriculture groups argued about restrictions on immigrant farmworkers and their pay, lawmakers and officials involved in the negotiations said.
► At MSNBC — Thousands expected to march for immigration reform Wednesday — Thousands of advocates are expected to descend on the nation's capital Wednesday afternoon to press for comprehensive immigration reform and a path to citizenship.
---
NATIONAL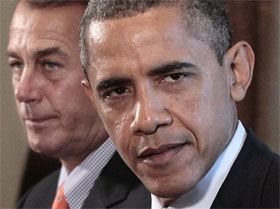 ► In today's NY Times — Obama unveils budget meant to draw GOP to the table — President Obama once again has put forward a fiscal mix of investments in infrastructure, education and research with further deficit reduction through tax increases and spending cuts. But for the first time he has included changes to Medicare and Social Security intended to entice Republicans back to the bargaining table.
► At Politico — President Obama's risky goodwill gambit — So far, there is scant evidence that Republicans view Obama's "chained-CPI" proposal as a sign of good will. And there are plenty of people on the left who regard it as a sign of bad will — a departure from the message that won Obama a second-term and new occasion for doubting the president's negotiating skills.
► In today's NY Times — Obama nominates 3 to serve on NLRB — President Obama announced three nominations to the National Labor Relations Board on Tuesday to complete a package of five nominees — three Democrats and two Republicans — that the administration hopes Senate Republicans will approve to end the board's unusual limbo.
► In today's Seattle Times — Obama nominee to labor board criticized action against Boeing — Philip Miscimarra criticized the board's acting general counsel, Lafe Solomon, for issuing a complaint against Boeing in an unfair-labor-practice case tied to building a factory in South Carolina.
► In today's Washington Post — Who will get spoils of improving economy: Workers or shareholders? — There are two big forces at work that will together determine the future of the stock market, corporate profits and workers' pay. And as Corporate America starts to report how it did at the start of 2013, we will learn a whole lot more about which of those forces is winning — with implications for us all.
---
The Stand posts links to Washington state and national news of interest every weekday morning by 10 a.m.
Short URL: https://www.thestand.org/?p=22506
Posted by
David Groves
on Apr 10 2013. Filed under
DAILY LINKS
. You can follow any responses to this entry through the
RSS 2.0
. Both comments and pings are currently closed.