Tell your legislators to pass budgets, go home
OLYMPIA (June 6, 2013) — A day after Gov. Jay Inslee called for legislative action on the budget to end the special session, House Democratic leaders responded Wednesday by presenting a new operating budget that represents a significant compromise intended to resolve the stalemate at the Capitol. But the leaders of the Republican-controlled Senate continue to demand bills unrelated to the budget that failed during the regular session — bills that would harm the interests of middle-class families in Washington State.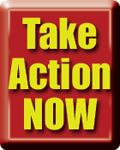 TAKE A STAND — Enough is enough! Click here to send your legislators a message that it's time to set aside contentious policy bills that didn't have enough support to pass during the regular session. It's time to pass the three budgets needed maintain our public and transportation infrastructure. Don't hold these budgets hostage for contentious policy bills and force yet another special session!
During the regular session, the House and Senate approved 2013-15 biennial budget plans that were roughly $1.2 billion apart in spending. The new House budget proposal is a $790 million reduction from its earlier version and includes no new taxes, according its authors. In fact, as sought by Senate Republicans, it allows businesses taxes to drop for service-sector employers and breweries. And yet, it adds a minimum of $704 million to the state's K-12 schools and $93 million for higher education. It also closes the estate-tax loophole opened up by a recent Supreme Court decision that will otherwise cost the education system about $160 million.
"We've been meeting every day and working hard, in good faith," said House Majority Leader Pat Sullivan (D-Covington). "To finish our work and avoid a Washington D.C.-style shutdown of state government, it's time to start voting. This proposal is a significant compromise."
"The House has responded dramatically in trying to move toward the Senate's position," said Sen. Jim Hargrove (D-Hoquiam), the ranking member of the Senate Ways and Means Committee.
Washington State Labor Council President Jeff Johnson had this to say about the new House proposal:
I want to compliment the House Democrats for finding another creative solution for funding a responsible operating budget that invests in our children and protects the most vulnerable amongst us. I know that this compromise was not and is not easy for many members. And while we would have preferred that the Public Works Trust Fund had not been swept into the operating budget, at least the sweep is temporary and not permanent. Our hope is that the Majority Coalition Caucus in the Senate will recognize this movement towards their position and will muster the will to pass a significant Capital Budget and the Transportation Funding package. With great infrastructure needs, historically low interest rates and high unemployment it is the perfect time to invest in our state's economy and put tens of thousands of people back to work. It is time to put controversial policy bills down, and pass three responsible budgets with bipartisan support.
But while Democratic leaders from both houses were focusing on budget agreements that would allow legislators to end the session, leaders in the Republican-controlled Senate were responding to Gov. Inslee's call for action by repeating that they won't agree to a budget unless they get some of the 33 policy bills they are demanding.
"We need to make some fundamental changes," said Senate Majority Leader Rodney Tom of Medina at a news conference, specifically mentioning a controversial workers' compensation bill that would expand lump-sum buyouts of injured workers. "There are a lot of those things that we need to do, that (the House) seems reluctant to do, if we're going to move forward… with budget negotiations."
Senate Republican leaders are also attempting to leverage a new estate tax break that will benefit a few hundred of Washington's richest families.
Labor unions from across Washington wrote state lawmakers this week urging swift action on the operating, capital and transportation budgets, and for them to set aside the Senate's list of 33 contentious policy bills left over from the regular session. None of these controversial bills were included in the new House-proposed compromise budget. Among the bills said to be on that list are:
ESSB 5127: Structured Settlements/Workers' Comp — Further erodes the workers' comp system by reducing the age restriction on settlements, and removing the ability for the board to look out for the best interest for workers with attorneys. Learn more.
SSB 5851 and 5856: Defined Contribution Plan — Creates a 401(k)-type savings plan to replace the defined benefit pensions for new state employees. The Senate hopes putting more financial risk on workers will save the government money. Learn more.
ESB 5726: Prohibiting/Restricting on Local Paid Sick and Safe Leave — Puts restrictions on the right of local jurisdictions to implement family and medical leave insurance. Learn more.
SSB 5905: Part-Time State Employee Health Benefits — Eliminates health care for part-time public employees without a guarantee for alternative coverage options. Learn more.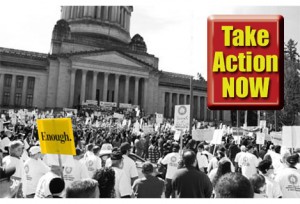 See the letter co-signed from Washington State Labor Council President Jeff Johnson and dozens of labor organizations throughout the state for a list of other bills unrelated to the budget that the Senate is demanding action on before allowing a budget to pass.
TAKE A STAND — Click here to contact your legislators telling them NOT to hold budgets hostage for contentious policy bills and force yet another taxpayer-funded special session!
Short URL: https://www.thestand.org/?p=24383
Posted by
David Groves
on Jun 6 2013. Filed under
STATE GOVERNMENT
. You can follow any responses to this entry through the
RSS 2.0
. Both comments and pings are currently closed.