BTC strike expands, party crasher, Xmas in DC, pursuit of happiness…
Thursday, September 26, 2013
---
LOCAL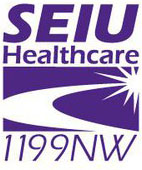 ► In the PS Business Journal — SEIU 1199NW adds 800 new members to its union ranks in Washington — Workers at PeaceHealth's St. Joseph Medical Center in Bellingham voted join the union. The employees include medical technologists, dietary aides, housekeeping staff, X-ray technicians, nursing assistants, and laboratory staff.
ALSO TODAY at The Stand — 800-plus St. Joseph MC workers form union
► In today's Bellingham Herald — Second union votes to strike at Bellingham Technical College — Classes at Bellingham Technical College remain in limbo as a second union has voted to strike against the college. The Bellingham Education Support Team, the union that represents the college's classified clerical, technical, instructional and retail support staff, voted this week to authorize a strike. It has been in negotiations with the college since May, according to BTC officials.
► In the Skagit Valley Herald — Guards removed from Sakuma camps — Sakuma Brothers Berry Farms was ordered to remove security guards posted in or near three housing camps for workers Wednesday through a restraining order issued by Skagit County Superior Court.
ALSO TODAY at The Stand — Farmworkers win round in court; Sakuma Bros. must end surveillance
► In today's Seattle Times — Study says SeaTac's Prop. 1 would boost economy by $45 million — A $15-an-hour minimum wage for hospitality and transportation workers in SeaTac would help the local economy, according to a just-released study. With more spending money, those workers in turn would create at least 400 new jobs and $14 million in additional income for the region, the study found.

► In today's Seattle Times — Coalition of small businesses urges Microsoft to end its offshore tax dodging — Hundreds of small business owners are urging Microsoft to end its practice of avoiding certain U.S. taxes by keeping much of its cash hoard overseas. About a half-dozen members of Main Street Alliance, a network of state-based small-business coalitions, went to Microsoft headquarters in Redmond today to deliver an open letter signed by more than 200 local small business owners.
► In today's Seattle Times — Most Seattle firms comply with sick-leave law but startup flawed, study says — A year after city's new mandatory paid sick-leave law went into effect, a majority of businesses are providing benefits to their employees, but the initial implementation was often confusing and time-consuming, a study has found.
---
STATE GOVERNMENT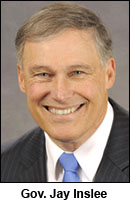 ► In today's Olympian — Looking for wellness, Gov. Inslee, unions back at negotiating table on health care — Negotiators for Gov. Jay Inslee and more than two-dozen labor unions are back at the bargaining table this month in a bid to settle outstanding health-care issues. After healthcare talks broke down in 2012 under the previous governor, the two sides agreed to contracts on pay while leaving health care alone.
► In today's News Tribune — Labor groups weigh in favoring narrower environmental review of coal export proposals — Spokesmen for three national labor groups sounded off Wednesday against the state Department of Ecology's plan to subject the Gateway Pacific coal-export proposal at Cherry Point to a more stringent environmental review than the Army Corps of Engineers plans.
► In today's Spokesman-Review — Longview coal port skeptics want thorough study — Inland Northwest residents turned out in force in Spokane on Wednesday evening to persuade officials that a proposed West Side shipping terminal's potential environmental impacts reach far beyond its site on the lower Columbia River.
► In today's Seattle Times — Dems' former campaign official charged in $250K donation theft — In a politically charged case creating ripples from the state Capitol to the Seattle mayoral race, the former executive director of the state Senate Democratic Campaign Committee (SDCC) has been charged with embezzling at least $250,000 in campaign donations to fuel his alcohol and gambling problems. Michael King faked polling results and other expenses and wrote himself checks from the Democrats' campaign account between 2011 and early 2013, according to charging papers.
► At Slog — Party Crasher: How one man's gambling addiction may have cost Democrats control of the Senate — The quarter of a million dollars Michael King allegedly embezzled from the Washington State Senate Democratic Campaign Committee (SDCC) to feed his gambling habit arguably cost Democrats control of the state senate, and with it, the opportunity to pass major legislation, including the Reproductive Parity Act, the State Dream Act, and a multi-billion-dollar transportation funding package that included desperately needed local taxing authority for King County Metro.
---
AEROSPACE

► At SPEEA.org — SPEEA members at Triumph accept 3-year contract — Members at Triumph Composite Systems voted 35 to 4 to approve a three-year contract offer Tuesday. "We were able to achieve what we believe to be a fair contract," the SPEEA Negotiation Team said in a statement to members with a recommendation to accept the offer. The team negotiated several improvements to the contract, such as guaranteed and selective wage increases and two annual lump-sum bonuses, along with contract improvements regarding vacation accrual and contractor language, for example.
► In today's Seattle Times — 787 problems stir complaints from Norwegian, Polish airlines — Boeing's Ray Conner traveled to Oslo to meet with executives of Norwegian Air, which has complained about repeated technical problems with its 787s. Meanwhile the Polish airline LOT found missing fuel filters in some 787 engines.
---
LET THEM EAT CAKE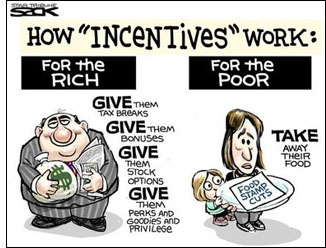 ► In today's (Everett) Herald — Those who use food stamps worry about cuts — Krista Nichols said she uses the $440 she gets each month in food stamps to buy groceries for her husband and their four adopted children. She and her family are among the estimated 1.1 million people in Washington who would see cuts in their monthly food stamp allotments if the budget cut approved by the House of Representatives goes into effect. Nichols, 41, and her family moved to Snohomish in June 2012 after her husband, who has a master's of divinity degree, lost his job at a church in southern Oregon. The job loss occurred just a few months after they bought a house in Oregon, losing equity they had built up from previous home purchases.
ALSO at The Stand — House Republicans vote to slash food assistance for poor — Washington's GOP Reps. Cathy McMorris Rodgers, Dave Reichert and "Doc" Hastings all voted to approve the cuts. (Rep. Jaime Herrera Beutler did not vote.) All of Washington's Democratic representatives voted "no."
---
GOVERNMENT SHUTDOWN
► At Politico — Republicans shun shutdown, but flirt with default — Many Republicans were highly dubious — if not downright furious — at Ted Cruz's threat to use a government shutdown as leverage to gut Obamacare. But employing similar tactics for hiking the debt ceiling? Well, that's a different question entirely.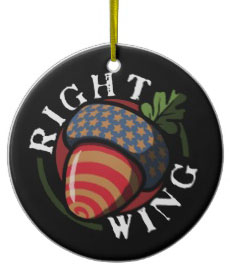 ► At TPM — GOP's dangerous debt-limit demand: A Christmas tree of conservative goodies — A draft of the GOP leadership's proposal to lift the debt ceiling through December 2014 is circulating and it's the equivalent of a letter to Santa for the party's base. The bill, obtained by the National Review, tacks on items including a one-year delay of Obamacare; tax reform in the image of Rep. Paul Ryan (R-WI); approval of the Keystone pipeline; expanded offshore drilling and other pro-oil and coal energy reforms; increases in military spending coupled with deeper cuts to domestic programs; repealing a fund in the financial regulatory reform bill; means testing for Medicare; repealing the Obamacare prevention and public health fund and medical malpractice reform.
► In The Hill — Tea Party support falls to record low — Public support for the Tea Party has fallen to a near-record low, with just 22 percent of people supporting the grassroots conservative movement, according to a new Gallup poll released Thursday.
EDITOR'S NOTE — I've said it before and I'll say it again. The Tea Party doesn't exist. Another survey — by a Republican pollster — found that just 8% of Americans consider themselves Tea Party members. This group is what used to be called the far right-wing of the Republican Party. The Tea Party is a media construct being financed by a handful of super-rich individuals who are part of that 8% of extreme right-wingers. They are exploiting the Citizens United decision to set up non-profits that are immune from campaign disclosure and exempt from paying taxes, even though their purpose is primarily political. The IRS should be targeting these @ssholes. They and their Congressional lapdogs like Sen. Ted Cruz are dangerous people who don't care how much damage they do to our country and its citizens in the pursuit of their extreme ideology and personal gain.
► At The Onion — President Cruz fondly recalls 21-hour speech that started it all — "It was a gamble, but it paid off," President Cruz said. "I knew I was doing something special, and I knew that the American people would definitely take me and the Republican Party seriously if I compared my speech to the Bataan Death March in which nearly 10,000 Filipino POWs died before they could reach their destination at Camp O'Donnell… 'They did not like Obamacare in a box, with a fox, in a house, or with a mouse,' he added, recalling an excerpt from the historic speech. "Strong words, absolutely. No wonder they rocked our nation to its core."
---
NATIONAL

► In today's Wall Street Journal — Student group is first to partner with AFL-CIO — The AFL-CIO signed its first partnership deal under a plan to build closer ties with outside groups, saying Wednesday that it signed an agreement with United Students Against Sweatshops. The groups have partnered on projects before but now have a formal agreement that demonstrates "a longer and deeper commitment."
ALSO TODAY at The Stand — United Students Against Sweatshops, AFL-CIO announce partnership
► A related story in today's NY Times — Fed up in Bangladesh (editorial) Millions of workers earning less than $40 a month need higher wages and union protection.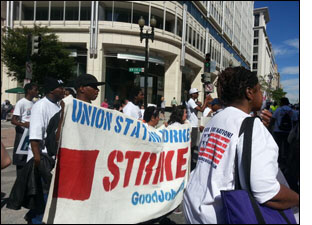 ► At AFL-CIO Now — Low-wage federal workers call on Obama for living-wage ordinance — Federal workers employed by contractors at low wages to operate concessions and clean federal buildings walked off the job Wednesday to urge President Barack Obama to use his executive authority to establish a living wage requirement for contractors that do business with the government.
► From AP — Bill boosts California minimum wage to $10 — Calling it a "matter of justice," Gov. Jerry Brown put his signature on a bill that will hike California's minimum wage to $10 an hour within three years, making it one of the highest rates in the nation.
► At Roll Call — Trade policy hardly on labor's fast track — While negotiators met at the office of the U.S. Trade Representative late last week in their latest bid to thrash out the many details in the Trans-Pacific Partnership, a boisterous collection of union organizers and other activists made clear there is only one detail that matters to them: jobs.
► At AFL-CIO Now — Oklahoma Republicans step up attacks on public employee pensions — Gov. Mary Fallin (R) and Republican legislative leaders are pushing a plan to switch pensions for state workers from defined-benefit plans to defined-contribution plans.
---
TODAY'S MUST-READ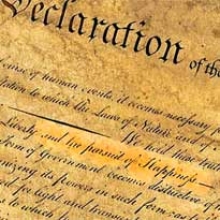 ► At CNN — Western nations with social safety net happier — The battle in Washington over the budget is not mere partisan squabbling. What we are debating is the perennial argument between right and left: Do we as a society prefer to leave the well-being of our people to the indifference of the market economy, or do we believe that government also has an important role to play? We are accustomed to thinking of the argument between left and right as an ideological or philosophical debate, so it has no "correct" answer. But there is an answer: We are entirely capable of knowing what policies best contribute to people leading positive and rewarding lives.
So what conditions best promote more rewarding lives? The answer is simple and unequivocal: Happier people live in countries with a generous social safety net, or, more generally, countries whose governments "tax and spend" at higher rates, reflecting the greater range of services and protections offered by the state.
---
The Stand posts links to Washington state and national news of interest every weekday morning by 10 a.m.
Short URL: https://www.thestand.org/?p=26891
Posted by
David Groves
on Sep 26 2013. Filed under
DAILY LINKS
. You can follow any responses to this entry through the
RSS 2.0
. Both comments and pings are currently closed.