'A piece of crap,' no Thanksgiving, Hall & CeeLo…
Friday, November 8, 2013
---
BOEING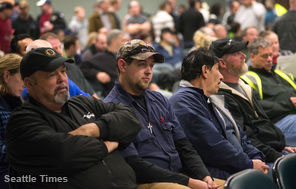 ► In today's Seattle Times — Machinists union leader: Boeing offer 'a piece of crap' — In a dramatic end to a meeting with hundreds of disgruntled Machinists at the Seattle union headquarters Thursday night, District 751 President Tom Wroblewski tore up a copy of Boeing's contract proposal and said he would try to have it withdrawn. The local union leader spoke from the podium as the intense and raucous meeting came to an end. He told members he'll check whether the union's bylaws allow the proposal to be pulled so there is no vote next Wednesday. Boeing did not comment on the meeting except to say in a statement:
All of our options are still on the table, including those within Boeing and interest we have received from outside. We chose to engage in Puget Sound first, but without full acceptance by the union and Legislature, we will be left with no choice but to open up the process competitively and pursue other options for locating the 777X work.
► In yesterday's Charleston (S.C.) Post-Courier — South Carolina 'never really in the mix' for Boeing 777X — Although speculation mounted that the new plane could be built in North Charleston, there hasn't been a hint of any deal from the Palmetto State to lure the job-creating, plane-making operation away from the Northwest.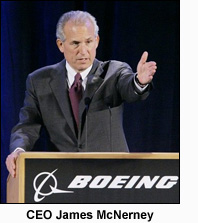 EDITOR'S NOTE — This is what democracy looks like. Boeing executives in Chicago appear to have overreached in terms of what they thought their employees would swallow. But the fact that they haven't yet engaged South Carolina in the 777X "competition" doesn't mean they won't do so now.
Moving forward, here are their choices:
— Adopt a "take it or leave it" posture with their employees, ignore the clear business case for building the 777X in Washington state, and launch another risky 787-like experiment in another state that exposes the company to much higher development costs and delays, or…
— Acknowledge that their skilled, efficient and productive workforce in Washington — the one that bailed them out of their 787 debacle and is the company's cash cow as they experience record profits — is their most precious asset, not a long-term liability. They could simply maintain the existing contract or, if they want more labor stability, renegotiate a more reasonable long-term deal that has a chance at passage because it recognizes and rewards the skill and dedication of their employees.
But none of that changes a fact that should be obvious to all Boeing customers and shareholders by now: if the company wants to deliver a quality, reliable product — on time — the 777X work belongs in Washington state.
Just my opinion… :)
---
STATE LEGISLATURE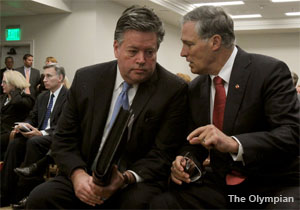 ► In today's Olympian — Bill to woo Boeing's 777X work gains early speed in Legislature — An $8.7 billion tax-break bill aimed at keeping Boeing's new 777X jet liner work in Washington for at least a quarter-century began its fast track movement through the Washington Legislature on Thursday. It was not clear what impact a Machinists rebellion has on the Legislature's moves to improve the business environment for Boeing.
► In today's (Everett) Herald — Lawmakers seek an airtight tax break for Boeing — Washington lawmakers set out Thursday to extend a tax break worth billions of dollars to the Boeing Co. to convince the firm to build its next jetliner in the state. But they don't want to get burned like last time.
► In today's News Tribune — With Jan Angel's victory, state Senate majority will grow — A new alignment in the state Senate calls for some new math. The controlling coalition that runs the Senate will welcome Republican Jan Angel as the group's 26th member. "The difference between 25 and 26 isn't one," said Senate Majority Leader Rodney Tom. "It's exponential."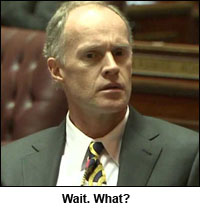 EDITOR'S NOTE — Yep. Now that the Senate's Democratic majority is just 25-24, Republicans only need one Democrat who's willing to vote Republican, something they've had for as many years as Sen. Tim Sheldon ("D"-Potlatch) has been in office. Sen. Tom's vote — and title — just got "exponentially" more expendable.
► In today's News Tribune — Two want to lead Wash. Senate Democrats — As Democrats try to retake the majority in the state Senate, they are looking for a new leader. Sen. Ed Murray won the job of Seattle mayor on Tuesday. Two state senators say they are running to replace him as Democratic leader: Sharon Nelson and Karen Keiser.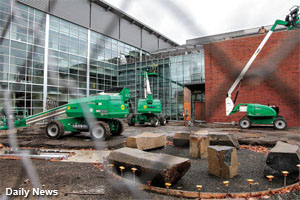 ► In today's (Longview) Daily News — Buzz builds at LCC as $38 million science and health building takes shape — Excitement is increasing at Lower Columbia College as the new health and science building — due to open this summer — draws closer to completion. The 140-seat, two-story lecture hall at the southwest end of the campus "is going to be a real showcase," said Nolan Wheeler, LCC's vice president of administration. "I envision a lot of community use of this auditorium."
EDITOR'S NOTE — This project was part of the 2012 "Jobs Now" infrastructure bonds legislation pushed by organized labor and sponsored by then-state Sen. Derek Kilmer and Rep. Hans Dunshee.
---
LOCAL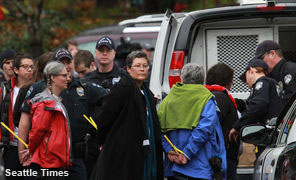 ► In today's Seattle Times — Seattle mayor's wife among women arrested in immigration protest — Seeking to draw attention to stalled immigration talks in Congress, immigrants and their supporters have prayed and fasted — and in some cases gotten themselves arrested. That's what happened to 33 women — including Peggy Lynch, the wife of Seattle Mayor Mike McGinn — who Thursday occupied the Bellevue headquarters of the Washington State Republican Party, refusing to leave after being ordered to by the building's owner.
ALSO TODAY at The Stand — WSLC's Dodson, 32 other women arrested outside GOP HQ calling for immigration reform NOW
► In today's Seattle Times — Voters may be asked to raise car-tab fee to block Metro cuts — King County voters could be asked to pay more for car tabs for the sake of preserving full service at Metro Transit, even if lawmakers punt on transportation issues.
► In today's Spokesman-Review — Spokane County files labor complaint against deputies — More than two years of contract negotiations between Spokane County and the Spokane County Deputy Sheriffs Association have been put on hold after the county filed an unfair labor practice complaint against the deputies.
---
NATIONAL



► From AP — Obama apologizes to people losing health insurance — "I am sorry that they are finding themselves in this situation based on assurances they got from me," the president said. "We've got to work hard to make sure that they know we hear them, and we are going to do everything we can to deal with folks who find themselves in a tough position as a consequence of this." Officials said the president was referring to fixes his administration could make on its own, not legislative options proposed by congressional lawmakers.
EDITOR'S NOTE — Here's one fix he could start with.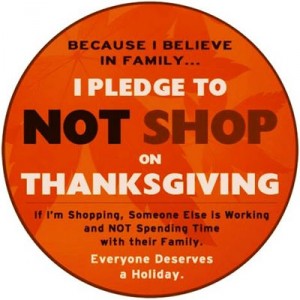 ► At Think Progress — Workers lose Thanksgiving as stores extend Black Friday shopping — In the race for holiday season profits, stores are moving up their hours for the biggest shopping day of the year to cut into the Thanksgiving holiday. One of the more aggressive companies is Kmart, which will keep its stores open at 6 a.m on Thanksgiving, although Macy's, Kohl's, and others have also bumped up their hours. Kmart and its defenders point to the fact that no one is being forced to work on Thanksgiving and stores will be staffed mostly with seasonal hires. However, the reality is that few workers have much of an option when it comes to holiday scheduling, both because the U.S. lacks benefits like guaranteed paid vacation and the reliance on a temp or part-time workforce is growing.
► At Huffington Post — Senate votes to outlaw LGBT workplace discrimination — The Senate voted Thursday to approve the Employment Non-Discrimination Act, landmark civil rights legislation that would make it illegal to discriminate against LGBT individuals in the workplace. The final vote was 64-32, with 10 Republicans joining Democrats. House Speaker John Boehner (R-Ohio) opposes the measure, and senior aides say it's unlikely to even come up for a vote in the House.
► In The Hill — Democrats gird for minimum wage battle — Sen. Tom Harkin (D-Iowa) is spearheading the push to raise the minimum wage to $10.10 an hour, but not all Democrats are yet on board. The biggest question mark is President Obama, who has yet to publicly endorse Harkin's proposal, despite heavy lobbying from labor groups.
► From AP — Voters repudiate Koch group on local Iowa election — A powerful conservative group's efforts to sway a normally sleepy city election in Iowa may have backfired, with the mayor-elect on Wednesday calling the election results a victory for locals over outside interests.
---
T.G.I.F.



► The Entire Staff of The Stand™ presents Daryl Hall and CeeLo Green…
---
The Stand posts links to Washington state and national news of interest every weekday morning by 10 a.m.
Short URL: https://www.thestand.org/?p=28015
Posted by
David Groves
on Nov 8 2013. Filed under
DAILY LINKS
. You can follow any responses to this entry through the
RSS 2.0
. Both comments and pings are currently closed.