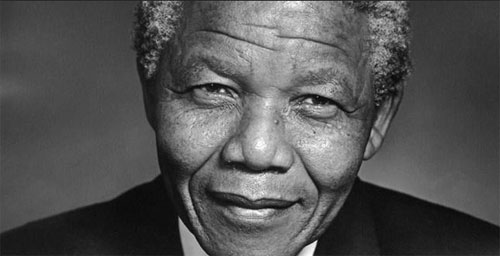 Nelson Mandela — a freedom fighter and prisoner, a global symbol of the struggle against racial oppression, and a passionate advocate for labor unions and the struggle to end poverty — died Thursday, Dec. 5 at the age of 95.
► In today's NY Times — Mandela's death stirs sense of loss around the world — As flags flew at half-staff across South Africa, a sense of loss, blended with memories of inspiration, spread from President Obama in Washington to members of the British royal family and on to those who saw Mr. Mandela as an exemplar of a broader struggle.
► In today's NY Times — Nelson Mandela (editorial) — The man who led a people to end apartheid in South Africa and set a moral example for the world.
► At Think Progress — Six things that Nelson Mandela believed that most people won't talk about — As the world remembers Mandela, here are some of the things he believed that many will gloss over.
1. Mandela blasted the Iraq War and American imperialism.
2. Mandela called freedom from poverty a "fundamental human right."
3. Mandela criticized the "War on Terror" and the labeling of individuals as terrorists, even Osama Bin Laden, without due process.
4. Mandela called out racism in America.
5. Mandela embraced some of America's biggest political enemies.
6. Mandela was a die-hard supporter of labor unions.
► At AFL-CIO Now — Nelson Mandela 'was a gentle yet determined man who fought for his convictions' — AFL-CIO President Richard Trumka: "His quiet dignity earned respect for him and his cause across the globe. He once said, 'After climbing a great hill, one only finds that there are many more hills to climb.' We in the labor movement must take Mandela's words and continue to strive for equality and fairness for all working people around the globe."
EDITOR'S NOTE — R.I.P., Mr. Mandela. You're free at last. (From the likes of Dick Cheney.)