Boeing dissent, $15 deadline, 'insane' pay, our oligarchy…
Wednesday, April 16, 2014
---
AEROSPACE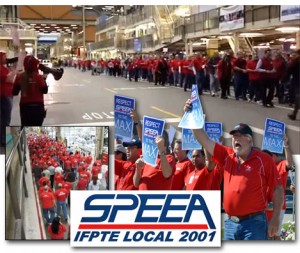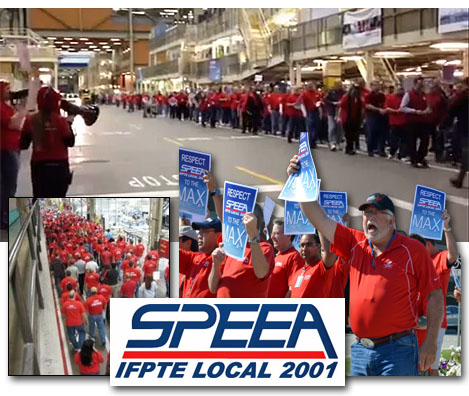 ► In today's Seattle Times — Boeing managers say transfer of engineer jobs damaging talent, morale — Boeing's December disclosure that it will transfer about 1,000 research engineering jobs out of Washington state has sown widespread internal dissent, distrust and confusion, according to internal employee feedback. The major realignment has prompted managers to warn that Boeing could lose top talent as both veteran and early-career engineers scramble to hunt for jobs elsewhere. Meanwhile, managers within the Commercial Airplanes division are "telling their executives how this repositioning is going to be disastrous," according to one document.
Ray Goforth, executive director of the Society of Professional Engineering Employees in Aerospace, said the documents show company leaders are struggling to convince employees that Boeing has a sound business case for moving the work:
According to the company's own documents, no one in the workforce, management or labor, is believing what they are being told. And it seems to be having a very detrimental effect upon the company.
---
LOCAL



► In today's Seattle Times — Mayor to wage panel: Reach a deal on $15 plan or I'll do it — Seattle Mayor Ed Murray told members of his Income Inequality Advisory Committee on Tuesday that if they can't break their current impasse between business and labor, he will introduce his own proposal next week for a $15 minimum wage. The committee has just one scheduled meeting remaining before Murray's April 24 deadline, and participants say that a deal still could emerge in the eleventh hour.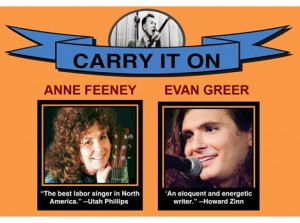 ► In the Olympian — Folk singers to perform Pete Seeger tribute concert in Olympia on Wednesday — Pete Seeger is remembered for so many things, in fact, that it's easy to forget just what a consummate live performer he was. Two people who haven't forgotten are renowned folk artists Evan Greer and Anne Feeney, who will kick off their Carry It On Tour to honor the legacy of Pete Seeger at Olympia's Davis Williams Building on Wednesday evening.
ALSO at The Stand — Sing like Seeger! Legacy tour begins tonight
► In today's Tri-City Herald — Murray visits Walla Walla VA facility —  The Walla Walla VA Medical Center went from being scheduled for closure to opening a $71.4 million outpatient clinic in less than a decade. But more needs to be done to assist veterans at the campus, said U.S. Sen. Patty Murray (D-Wash) during a visit there Tuesday.
► In today's News Tribune — Evergreen president, Les Purce, to retire — Thomas "Les" Purce, president of The Evergreen State College in Olympia, announced Tuesday that he will retire in August 2015.
---
STATE GOVERNMENT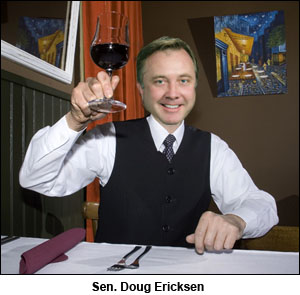 ► In the Olympian — Ethics board hears call to end free meals for lawmakers — In wake of news reports showing some lawmakers getting more than $1,000 of free meals in a single legislative session, the Legislative Ethics Board is looking at tightening rules. State law allows "infrequent" freebies but don't define the term. (Sen. Doug Erickson, R-Ferndale, pictured in the photo illustration, reportedly accepts the most free meals, one about every other day.)
► In today's News Tribune — For lawmakers, there is such a thing as a free meal (editorial) — State legislators have given themselves a nice 33 percent bump in their per diem — the daily stipend that's supposed to compensate them for such expenses as meals and lodging during session. At $120 a day, those legislators who take per diem will make an extra $3,150 during the 105-day session in 2015. Even so, they couldn't be bothered to put any limits on the number of free meals they can accept from lobbyists.
► In the Seattle Times — Initiative 1351: Pay the bills, and sign class-size petition (by Brendan Williams) — The Washington Supreme Court has ruled the state is falling unconstitutionally short on funding K-12 education. Despite that, some, including The Times, have embraced further "reforms" — including a charter-school initiative — adding new costs to an unmet price tag… I can't blame advocates for wanting action, not more debate (however "thoughtful"). Voters should sign I-1351.
---
FEDERAL GOVERNMENT



► From AP — Congress is giving states the transportation blues — On the road in a tour bus this week, the U.S. transportation secretary is spreading some bad news: the government's Highway Trust Fund is nearly broke. If allowed to run dry, that could set back or shut down projects across the country, force widespread layoffs of construction workers and delay needed repairs and improvements.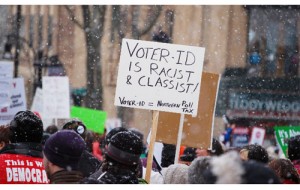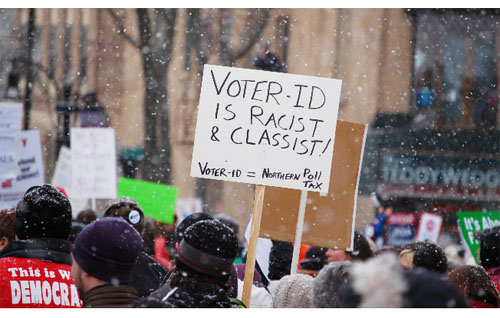 ► In The Hill — Clock ticking on fix to the Voting Rights Act — The Supreme Court last year struck down major parts of the voting law, and a bipartisan fix has stalled in Congress. If the bill were signed into law soon, it would be in effect for this November's elections.
► From Politico — Uninsured drops in key states, poll finds — States that have expanded Medicaid and opened their own exchanges have seen a higher rate of decline in the number of uninsured, compared to other states, a new poll shows.
► From Reuters — Americans increasingly prefer Democrats on healthcare — Americans increasingly think Democrats have a better plan for healthcare than Republicans, according to a Reuters/Ipsos poll conducted after the White House announced that more people than expected had signed up for the "Obamacare" health plan.
---
NATIONAL



► At AFL-CIO Now — PayWatch: CEO pay hits 'insane level' — According to the 2014 AFL-CIO Executive PayWatch, released today, CEOs make 331 times more than an average worker. PayWatch finds that the average CEO of an S&P 500 company pocketed $11.7 million in 2013, while the average worker earned $35,293. Says AFL-CIO President Richard Trumka: "Calls attention to the insane level of compensation for CEOs, while the workers who create those corporate profits struggle for enough money to take care of the basics."
► At Huffington Post — Postal union fights Staples partnership: 'A big step toward privatization' — What has infuriated postal union members is a new arrangement struck between USPS and the office supply retailer. Under the premise of a pilot program, a limited number of Staples locations are now offering most of the same services provided at post offices, to be handled by Staples employees rather than postal workers.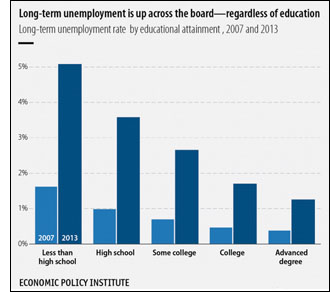 ► At Daily Kos — If inadequate skills cause long-term joblessness, why does it plague all educational levels? — Some 3.7 million Americans are now counted among the long-term unemployed, out of work for 27 weeks or more, three times what it was in January 2008, the last tally before the Great Recession really got under way. Some argue that workers are at fault for not having the right skills. But if there were really a major mismatch between available jobs and available workers with the right skills, wages for filling those jobs would rise. And there is no evidence for that.
► In today's NY Times — Pension deal edges Detroit a step closer to recovery — The deal calls on municipal retirees' pension checks to be reduced 4.5 percent, far less than the cut of at least 26 percent that had been announced by the city. Retired police officers and firefighters would see no cuts to their current pension checks.
► At AFL-CIO Now — Maryland passes responsible contractor law — Maryland Gov. Martin O'Malley (D) signed a bill that protects taxpayers by prohibiting private contractors who have broken the law from obtaining contracts with the state. SB 669 will prevent companies from signing contracts with the state if they have been convicted of a variety of offenses, including tax evasion, conspiracy to defraud the federal government, or willful violation of state prevailing and living wage rates, state wage and hour laws or state occupational safety and health laws.
EDITOR'S NOTE — Similar bills have failed to gain traction in Washington state, where law-breaking contractors continue to win taxpayer-funded projects.
---
TODAY'S MUST-READ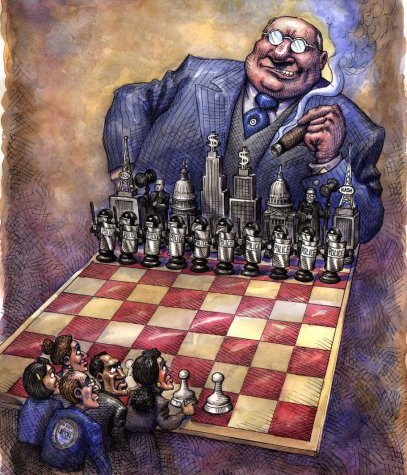 ► At Daily Kos — Scientific study says United States is an oligarchy — A new study appearing at Princeton's website provides grim vindication of what we already know: the United States of America is no longer a democracy, but rather an oligarchy. The anecdotes are plentiful, from modest gun control proposals that saw 90% public support, to unemployment compensation, to infrastructure spending, to women's rights; where a plurality exists even across party lines, the median public interest seems to hold no sway in policy making. Now science has proven this to be correct.
"The central point that emerges from our research is that economic elites and organized groups representing business interests have substantial independent impacts on U.S. government policy, while mass-based interest groups and average citizens have little or no independent influence," the study found.
Distilled down into simple terms: The U.S.A. is now provably an oligarchy; we are a democracy in name only.
---
The Stand posts links to Washington state and national news of interest every weekday morning by 10 a.m.
WASHINGTON IS A UNION STATE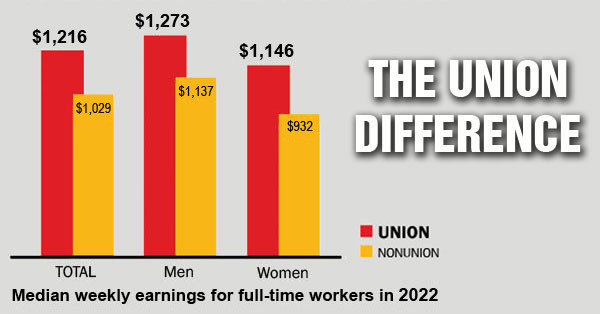 CHECK OUT THE UNION DIFFERENCE in Washington state: higher wages, affordable health and dental care, job and retirement security.
FIND OUT HOW TO JOIN TOGETHER with your co-workers to negotiate for better working conditions and respect on the job. Or go ahead and contact a union organizer today!