Boeing NLRB, inhumane wages, Kochs un-kooked…
Thursday, April 17, 2014
---
LOCAL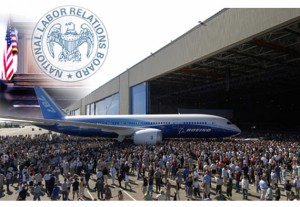 ► In the P.S. Business Journal — NLRB ruling could still upset Boeing contract that won 777X — Some Boeing Machinists haven't given up on the idea that the Jan. 3 contract vote that won the 777X but lost their pensions could be nullified. Current actions by the NLRB Region 19 office, based in Seattle, suggest that this story may not be over. After many weeks of investigation, the NLRB regional office has turned to its headquarters office for advice, an official part of the agency's process if regional offices are unable to reach a conclusive decision.
► In the P.S. Business Journal — Unions protest… and then protest some more at three Franciscan Health hospitals — Unions (SEIU HealthCare 1199NW and UFCW 21) at three different Franciscan Health System hospitals (Highline Medical Center, Harrison Medical Center, and St. Joseph's Medical Center) have been organizing picket lines this month, primarily objecting to changes in their health plans and unsatisfactory compensation.
► From AP — OSHA fines Portland port terminal operator — The company that operates the Port of Portland's container terminal has been fined $18,360 following an OSHA safety inspection. The federal agency levied the penalty last week after an inspector found ICTSI Oregon to be in violation of more than a dozen worker safety codes.
► In the P.S. Business Journal — Amazon German workers to strike again — Workers in Amazon.com Inc. facilities in Leipzig and Bad Hersfeld in Germany will hold a one-day strike on Thursday. The union expects between 400 to 500 employees to strike at each location, and workers are striking because they want pay similar to German retail workers, and not paid at logistical sector worker wages.
ALSO at The Stand — Support Germany's Amazon workers in Seattle (Dec. 12, 2013)
---
MINIMUM WAGE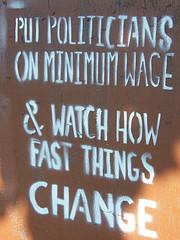 ► At PubliCola — Potential minimum wage compromise — Seattle city council member Bruce Harrell, one of three council members on Mayor Ed Murray's minimum-wage task force, says he expects the group to come up with a compromise. He predicts it will include the (labor-reviled) "tip credit" and "total compensation" exemptions, allowing businesses to pay workers sub-minimum wages if those workers make a total of $15 an hour once tips and other benefits like health care are included, but would phase those credits out over time so that, eventually, all businesses would have to actually pay $15 an hour.
► At KPLU — Licata calls for new Seattle department to enforce labor laws — This may be the year that Seattle adopts one of the highest minimum wages in the country. But labor advocates and Seattle City Council member Nick Licata say without tough enforcement, a new wage law will be toothless.
► In today's Seattle Times — The way we treat workers won't work (by Jerry Large) — Dehumanizing people for the sake of profit is an old phenomenon that seems to have a huge capacity for adapting, using whatever guise is necessary to blend into the times. There is something about the way we look at work and workers, whether Boeing engineers or fast-food restaurant employees, that can involve diminishing their humanity.
► In today's NY Times — Minimum wage, maximum outrage (by Charles M. Blow) — No one should ever endure the kind of economic humiliation that comes with working a full-time job and making a less-than-living wage. There is dignity in all work, but that dignity grows dim when the checks are cashed and the coins are counted and still the bills rise higher than the wages.
---
STATE GOVERNMENT



► In today's Seattle Times — State gains 6,700 jobs in modest pickup from fall slump — Employers in Washington state added 6,700 new jobs in March — the fourth straight month of solid hiring — suggesting that the economic recovery is gaining traction, data released Wednesday show. Hiring was especially strong among temporary staffing agencies, computer-systems design firms and online retailers.
► In today's Seattle Times — Progress, challenges as Medicaid rolls swell in state — One of the most successful initiatives in the Affordable Care Act has been the effort to sign up patients to be covered by Medicaid under an expanded program. Now comes the hard part: facing up to challenges brought on by having so many more people in the program.
► In today's News Tribune — State budget is balanced only on paper — Rep. Ross Hunter says that lawmakers might need to revisit the details of the four-year balanced-budget requirement they passed in 2012 at the urging of Republicans.
---
STOP STAPLES



---
NATIONAL



► At Huffington Post — More proof that American health care prices are sky high –The latest data from the International Federation of Health Plans, an industry group representing health insurers from 28 countries including the United States, once again illustrates that American patients pay the highest prices in the world for a variety of prescription drugs and common procedures like childbirth and hospital stays.
► In today's NY Times — Pensioners in Detroit rejoice, though a deal is far from over — "My pension is my life," Thomas Berry, a retired police detective, said in reaction to tentative deals that were struck between Detroit, the city's pension funds and a retirees' group that would mean no cuts to his current pension checks, though a reduction in annual cost of living increases. "I'm O.K. with that," Berry said, "because a month ago, we were going to lose everything."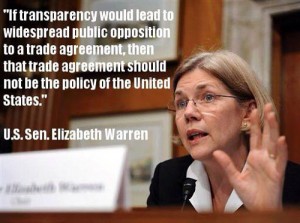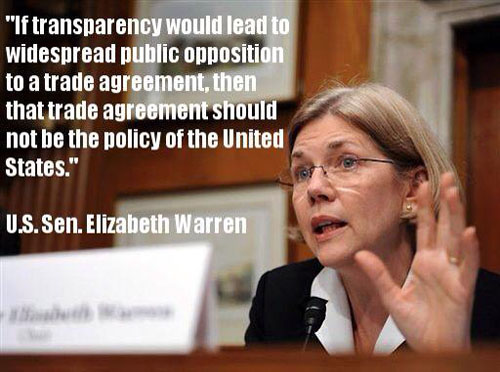 ► In The Hill — AFL-CIO's Trumka calls Warren the 'prototype' of a good president — "In my opinion she is the prototype of a person we would want to be president of the United States," AFL-CIO President Richard Trumka wrote of Sen. Elizabeth Warren (D-Mass.)  in a Reddit "Ask Me Anything" session Tuesday. "She has a very well defined set of values and unlike many politicians, she actually sticks by those values and fights to implement them. In short, it don't get no better."
► In today's NY Times — Court deportations drop 43% in past five years — The statistics present a different picture of President Obama's enforcement policies than the one painted by many immigrant advocates, who have assailed the president as the "deporter in chief" and accused him of rushing to reach a record of two million deportations. While Obama has deported more foreigners than any other president, the pace of deportations has recently declined.
► In The Hill — Obama: Immigration will 'haunt' Congress — President Obama warned that failure to act on comprehensive immigration reform would "haunt" members of Congress, and accused Speaker John Boehner (R-Ohio) of being unwilling to "spend the political capital" necessary to move legislation through the House.
► At AFL-CIO Now — One year after 15 died in preventable Texas fertilizer blast, safety rules stalled — When the West Texas, fertilizer plant, where 30 tons of highly explosive ammonium nitrate — stored in wooden sheds without sprinkler systems and near other combustible material — caught fire, exploded and killed 15 people, including 10 emergency responders, the state of Texas had virtually no regulations governing ammonium nitrate and other hazardous chemicals. A year later, it still doesn't.
---
TODAY'S MUST-READ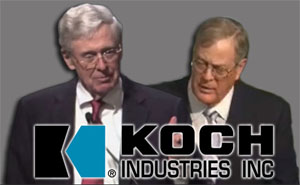 ► At Huffington Post — Who are the Koch brothers, and what do they want? (by U.S. Sen. Bernie Sanders) — The Koch brothers are the second wealthiest family in America, making most of their money in the fossil fuel industry. According to Forbes Magazine, they saw their wealth increase last year from $68 billion to $80 billion. In other words, under the "anti-business", "socialist" and "oppressive" Obama administration, their wealth went up by $12 billion in one year.
It is not widely known that David Koch was the Libertarian Party vice-presidential candidate in 1980. He believed that Ronald Reagan was much too liberal. Koch ran on a platform that called for the elimination of the minimum wage, the abolition of Medicare and Medicaid programs, and "the repeal of the fraudulent, virtually bankrupt, and increasingly oppressive Social Security system." Despite Koch putting a substantial sum of money into the campaign, his ticket only received 1 percent of the vote. Most Americans thought the Libertarian Party platform of 1980 was extremist and way out of touch with what the American people wanted and needed. Fast-forward 34 years and the most significant reality of modern politics is how successful David Koch and like-minded billionaires have been in moving the Republican Party to the extreme right. Amazingly, much of what was considered "extremist" and "kooky" in 1980 has become part of today's mainstream Republican thinking.
---
The Stand posts links to Washington state and national news of interest every weekday morning by 10 a.m.
Short URL: https://www.thestand.org/?p=31201
Posted by
David Groves
on Apr 17 2014. Filed under
DAILY LINKS
. You can follow any responses to this entry through the
RSS 2.0
. Both comments and pings are currently closed.