$15 on the ballot, ACA beats goal, new nutbags, Chic's chops…
Friday, April 18, 2014
---
LOCAL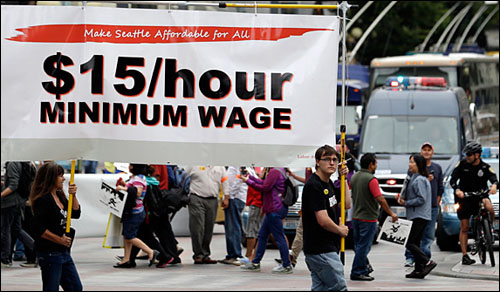 ► In The Stranger — The $15 movement lays down a trump card: A ballot initiative — The fight for a $15 minimum wage in Seattle could be headed to the ballot box this year, instead of just churning through city hall. For the last few months, the idea has been floated repeatedly by 15 Now, the organization backing a raise to $15 with a quick timeline and few loopholes. On April 14, they announced real plans to take the fight straight to voters if politicians, scrambling to find a compromise between labor and business interests, produce a watered-down version of the wage hike.
► At Slog — How to enforce minimum wage: A Seattle Office of Labor Standards Enforcement — Enforcement of any future minimum-wage law is going to be incredibly important. And yesterday, Seattle City Council Member Nick Licata and the labor-backed Working Washington laid out a potential model: a city Office of Labor Standards Enforcement, like San Francisco has, contracting with a community-based nonprofit to do outreach and education.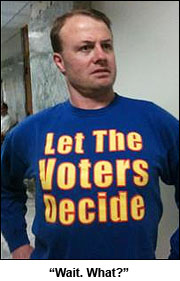 ► In today's Seattle Times — Poll: Voters support taxes for roads, schools, parks — Washington state voters are willing to pay higher taxes to support a variety of community services, including roads and public transportation, according to a public poll released Thursday. The Elway Poll reported that 74 percent of voters surveyed last week said they supported higher local taxes for roads and 60 percent said they supported higher taxes for transit. Other popular services included fire protection (75 percent), schools (73 percent), libraries (64 percent) and parks and recreation (61 percent).
► In today's Seattle Times — Boeing to close its last machine shop doing military work here — The last Boeing machine shop doing military work in the Puget Sound area will close this summer. In the future, the company will send its short-notice, metal-machining work — a critical capability — to Huntington Beach, Calif. A team of about a dozen of Boeing's most senior and highly skilled machinists work at the shop. A team lead in the shop said the company will find jobs for all the displaced employees.
---
AFFORDABLE CARE ACT



► In the P.S. Business Journal — Covered! More Washingtonians buying health insurance in independent market — The number of people who have purchased health coverage in Washington state has risen to 325,000 — an increase of 47,000 compared with before the state exchange's open-enrollment period began Oct. 1.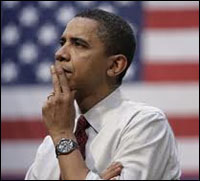 ► In today's NY Times — Enrollments exceed Obama's targets for ACA — President Obama announced Thursday that eight million people have signed up for health insurance under the Affordable Care Act, including what the White House said were a sufficient number of young, healthy adults, a critical milestone that might counter election-year attacks by Republicans on the law's success and viability. The total number of enrollees exceeds by a million the target set by the administration for people to buy insurance through government-run health care exchanges. In particular, the number of young people signing up appears to have surged during the final weeks of enrollment.
EDITOR'S NOTE — Thanks, Zack Galifianakis!
► At TPM — Obama urges Dems to defend ACA — "Democrats should forcefully defend that millions of people … we're helping because of something we did," Obama said. "I don't think we should apologize for it. I don't think we should be defensive about it. I think there is a strong, good, right story to tell."
► At Think Progress — GOP congressman confronted over his repeated efforts to repeal ACA — A Florida voter had harsh words for Rep. Dennis Ross (R-FL) at a town hall Tuesday, admonishing the congressman for his repeated efforts to repeal Obamacare and its bevy of benefits. Ross conceded that his party should have worked to offer an alternative health reform policy to preserve benefits for newly insured Americans.
---
NATIONAL



► In today's NY Times — No Spring Break for the unemployed (editorial) — While Congress is away, 2.3 million Americans are left to worry about whether lawmakers will ever act to renew unemployment benefits.
---
TODAY IN NUTBAGGERY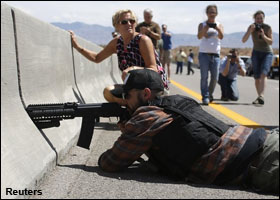 ► In today's NY Times — Deadbeat on the range (by Tim Egan) — Most ranchers honorably play by the rules. Then there's Cliven Bundy, the Nevada rancher who owes the government about $1 million for grazing his cattle on public land for more than 20 years… This phony event has brought out the worst of the gun-waving far right, and the national politicians who are barely one degree of separation from them. Hundreds of heavily armed, camouflaged supporters of the scofflaw turned out Saturday in Nevada, training their rifles on public employees who were trying to do their job. The outsiders looked like snipers ready to shoot the police. If you changed that picture to Black Panthers surrounding a lawful eviction in the inner city, do you think right-wing media would be there cheering the outlaws?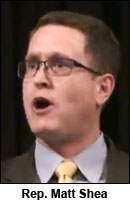 ► In today's Spokesman-Review — State Rep. Matt Shea travels to Nevada to support defiant rancher — Spokane Valley state legislator Matt Shea traveled to Nevada last weekend to support defiant rancher Cliven Bundy's stand that he doesn't have to pay grazing fees on federal land.
► In today's Spokesman-Review — Rep. Matt Shea should know better than to support lawbreaking Nevada rancher (editorial) — Voters in Legislative District 4 should be concerned that Rep. Matt Shea would venture off to Nevada to support a scofflaw engaged in a dangerous standoff. To law-abiding ranchers, Bundy's just a moocher who doesn't want to pay his fair share. Lawmaker Shea should know better than to condone lawbreaking and inflame a volatile situation.
---
T.G.I.F.



► A new generation of fans has discovered disco/funk guitarist Nile Rodgers, thanks to his guest appearance on Daft Punk's new album. When he started out, Rodgers was just half of a legendary guitar and songwriting combo in the band Chic. His partner was Bernard Edwards, a groundbreaking bass player who helped create multiple hits — like "Good Times" featuring bass lines mimicked on such songs as Queen's "Another One Bites the Dust" and The Sugar Hill Gang's "Rapper's Delight" — not just for Chic, but for artists from Diana Ross ("Coming Out") to Sister Sledge ("We Are Family"). In the 1980s, Edwards became a sought-after producer for bands like The Power Station, Adam Ant and ABC.
In 1996, Edwards was named Superproducer of the Year in Japan, and was invited to perform there with Chic. Although he was ill with pneumonia, he refused to back out of the gig — even though he blacked out more than once — and still played great (watch a touching clip from that performance). After the show, Bernard Edwards went back to his hotel room, where he was later found dead at the young age of 43.
Today, on the 18th anniversary of his passing, The Entire Staff of The Stand presents Edwards showing his chops at the start and again at about 2:58 of "Everybody Dance." Enjoy.
---
The Stand posts links to Washington state and national news of interest every weekday morning by 10 a.m.
Short URL: https://www.thestand.org/?p=31245
Posted by
David Groves
on Apr 18 2014. Filed under
DAILY LINKS
. You can follow any responses to this entry through the
RSS 2.0
. Both comments and pings are currently closed.