Full-port press, tax the rich, miracle at the Clink…
Monday, January 19, 2015
---
STATE GOVERNMENT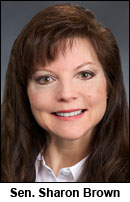 ► In the Tri-City Herald — State legislators told to expect longtime hits from export slowdown — "There is no doubt that this ongoing dispute and the resulting slowdown at our ports is having a devastating impact on our economy and jobs, especially for our agricultural community in Central and Eastern Washington," said Sen. Sharon Brown (R-Kennewick).
► In the P.S. Business Journal — Lawmakers look for solutions as negotiations at port cripple economy — Two Republican state senators (Brown and Baumgartner) are making a plan that would stop negotiations from causing traffic at ports to slow the next time a labor contract needs renewal.
EDITOR'S NOTE — Once again, private companies succeed in bring media and legislative pressure to bear on workers to give up wages, benefits and job security. Blame for a "slowdown" is squarely placed on workers, rather than the shippers' short-sighted cost-cutting moves and their aggressive bargaining approach demanding takeaways. Even after shippers admitted workers weren't at fault, have laid off workers, and cut shifts! THIS is why The Stand exists. And this is why everyone should attend this…
ALSO TODAY at The Stand — ILWU, community rally Thursday in Tacoma
► In the Spokesman-Review — Misunderstand and the case of the dropped 'S' — PMA reps had been invited, accepted, then canceled the night before the hearing on port woes, Baumgartner said. Turns out Baumgartner was texting with the PMSA's lobbyist not the PMA. (Doh!)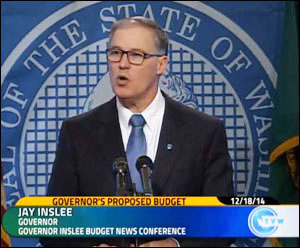 ► In the Seattle Times — Inslee's capital-gains-tax pitch: good idea or risky move? — In most of the country, state governments reap windfalls from the profits off big stock sales by the wealthy. But Washington is one of nine states with no capital-gains tax. So last October, when Bill Gates sold 20 million shares of Microsoft stock for about $930 million, zero dollars flowed to the state treasury. Gov. Jay Inslee wants to change that.
► In the (Everett) Herald — Carbon cap and trade in Olympia — Polling shows voters are conflicted by a desire to reduce emissions of carbon a worry the governor's approach won't pan out quite as nicely as forecast. They aren't alone. Lawmakers are wrestling with similar questions and divided on the answers. The schism, which is mostly but not entirely along party lines, is dimming prospects for passage this year of the centerpiece of Inslee's environmental agenda.
► In today's Seattle Times — State opts for low-profile Highway 520 span over Portage Bay — The state has dropped the idea of building a tall cable-stayed span for the Portage Bay stretch of Highway 520, choosing a less-expensive and lower-profile design for the as yet unfunded project.
► In today's Peninsula Daily News — Rep. Van De Wege's new legislation seeks jail time for illegal campaign contributions
► In today's Yakima H-R — Five business-related bills to follow in the Legislature
---
LOCAL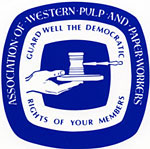 ► In the (Longview) Daily News — Paper workers union continues to prepare for KapStone strike — AWPPW officials are upping the ante in contract talks with KapStone, saying they will contact the company's customers and investors about the possible consequences of a labor dispute. The two sides met Friday, just a week after KapStone reportedly withdrew offers for retroactive pay hikes and a high-deductible Kaiser health insurance option. The company's insistence that the traditional Kaiser plan be eliminated is a key issue for the rank and file.
► In today's (Everett) Herald — Everett-built carbon fiber wings key to Boeing's future — The new 777X marries the technology of the popular 777 with the material advances of the fuel-efficient Dreamliner. When the first 777X rolls off the factory floor sometime around 2020, it will be the largest and most efficient twin-engine jet in the world. That efficiency largely comes from the wings that will be fabricated from a super light and strong carbon fiber composite material.
► In the News Tribune — South Sound businesses still hoping to stave off cuts at JBLM — Businesses, nonprofits and civic groups fear a loss of thousands of jobs in Pierce and Thurston counties.
► In the Bellingham Herald — Lummis reject 'standing offer' to negotiate approval of Whatcom County coal terminal — Lummis decline "standing offer" from Gateway Pacific Terminal to resolve a dispute over coal terminal's impact on fishing grounds.
► In today's Seattle Times — Seattle city workers to participate Tuesday in support of police reform — Some Seattle city employees are planning to walk off work for a half-hour Tuesday to demonstrate their support for police reform and are urging colleagues to do the same.
► In the News Tribune — Pierce County has several corrections jobs but few applicants — The Pierce County Sheriff's Department is trying to hire 12 corrections deputies to work in the jail but it's been a struggle to draw a large pool of strong candidates.
► In the P.S. Business Journal — 10 months after fatal KOMO helicopter crash, still no changes to Seattle helipad regulations
---
INCOME INEQUALITY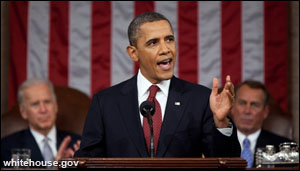 ► In the Washington Post — Obama budget proposal will take aim at the wealthy — President Obama plans to propose raising $320 billion over the next 10 years in new taxes targeting wealthy individuals and big financial institutions to pay for new programs designed to help lower- and middle-income families. New tax credits would help those in need of child care and households with two earners, they said, while other proposals — such as covering community college tuition — would help students.
► In The Hill — Obama's approval rating at 18-month high
► In The Hill — Senate Dem: Tax plan comes amid 'obscene' levels of inequality — Sen. Bernie Sanders (I-Vt.) says Obama's plan to raise taxes on the wealthiest taxpayers and the largest financial firms "moves us in the right direction."
► In today's NY Times — Richest 1% likely to control half of world's wealth by 2016, study finds — The type of inequality that currently characterizes the world's economies is unlike anything seen in recent years, the OxFam report explained. "Do we really want to live in a world where the 1 percent own more than the rest of us combined?" said Winnie Byanyima, Oxfam's executive director.
---
NATIONAL

► At Think Progress — Home care workers denied right to minimum wage, overtime pay — That was supposed to change this year after the Department of Labor issued a rule change that would have closed the loophole. But U.S. District Judge Richard Leon issued a decision vacating that change. In his decision, he ruled that the DOL doesn't have the authority to redefine the companionship exemption that has excluded this workforce despite the fact that they perform tasks beyond keeping clients company.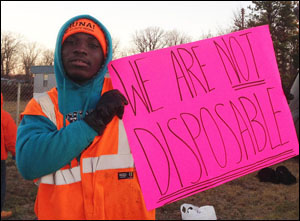 ► At AFL-CIO Now — Trash haulers strike and stand together, win new contract — After a 13-day strike, followed by two meetings with a federal mediator, trash haulers employed by Unity Disposal in Montgomery and Howard counties in Maryland have ratified a new four-year collective bargaining agreement. The new contract provides immediate pay raises for all Unity drivers and helpers, increases overall paid time off, ensures employees who work extra routes will now get paid more for that extra work, and provides a grievance procedure that puts into writing a fair disciplinary policy.
ALSO at The Stand — MLK: Champion of unions, economic justice — King was murdered at the age of 39 in April 1968 in Memphis, Tenn., where he was supporting AFSCME sanitation workers who were experiencing not only racial discrimination, but disregard, disrespect and refusal by local government officials to recognize their union.
► In The Hill — Lawmakers reflect on MLK Day 'no' votes — There are only six current members of Congress, all Republicans, who voted against creating a national holiday for King: Sens. Richard Shelby (Ala.), Chuck Grassley (Iowa), John McCain (Ariz.) and Orrin Hatch (Utah), plus Reps. Jim Sensenbrenner (Wis.) and Hal Rogers (Ky.).
► At AFL-CIO Now — Kentucky working families file lawsuit to block local 'right-to-work' ordinance — One of the newest tactics pushed by anti-working family extremists is to attempt to pass "right to work" laws at the local government level, and Kentucky is one of the first battlegrounds for this new approach to attacking workers. Hardin County's working families aren't taking the attacks without fighting back, and are taking the recently passed county law to court, arguing that it is illegal.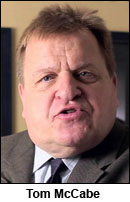 ALSO at The Stand — Right-wing Freedom Foundation swept, but still suing away (Oct. 17, 2014) — The Freedom Foundation has now gone 0-for-4 in its campaign to politicize city governments' collective bargaining negotiations and to weaken unions. But the litigious right-wing think tank has only just begun its legal assault on the targeted cities, as it attempts to accomplish in court what has been unanimously rejected by elected city leaders, including many conservatives, throughout the state.
► MUST-READ in today's NY Times — Hating good government (by Paul Krugman) — On issues that range from monetary policy to the control of infectious disease, a big chunk of America's body politic holds views that are completely at odds with, and completely unmovable by, actual experience… It strikes me that the immovable position in each of these cases is bound up with rejecting any role for government that serves the public interest.
► At AFL-CIO Now — The secret to happiness? Joining a union — That's the result of a study that AFSCME points us to — a study with data from 14 countries that concluded "union members are more satisfied with their lives than those who are not members, and that the substantive effect of union membership on life satisfaction is large and rivals other common predictors of quality of life."
---
GO HAWKS!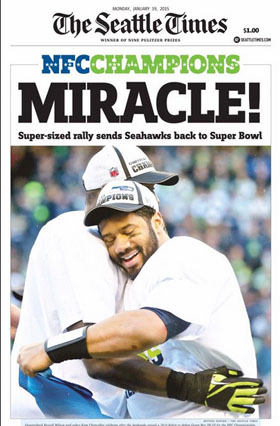 ► Congratulations once again to the incredible Seattle Seahawks, who are affiliates of the Washington State Labor Council via the NFL Players Association, on earning a return trip to the Super Bowl. Sunday's NFC Championship win was one for the ages, a game fans will always remember, as the Seahawks overcame many mistakes and persevered to stun the Green Bay Packers — and the world — in overtime, 28-22, at CenturyLink Field.
► In today's Seattle Times — Seahawks rally shows their incredible resolve, toughness (by Jerry Brewer) — And at the end, for the Seahawks to return to the Super Bowl, Wilson had to throw deep to Jermaine Kearse — a futile connection on this day — ignoring that all four of his interceptions occurred while targeting Kearse, including two picks that went through the wide receiver's hands. Kearse caught it. Later, Kearse wept. Wilson did, too. In an NFC Championship Game that felt like a replay of the Seahawks' entire, strenuous season, Seattle had staged an amazing comeback that embodies the redemptive charm of this team.
---
The Stand posts links to Washington state and national news of interest every weekday morning by 10 a.m.
Short URL: https://www.thestand.org/?p=37049
Posted by
David Groves
on Jan 19 2015. Filed under
DAILY LINKS
. You can follow any responses to this entry through the
RSS 2.0
. Both comments and pings are currently closed.