Aerospace accountability, trade deficit, 'Stamp Out Hunger'…
Tuesday, May 5, 2015
---
STATE GOVERNMENT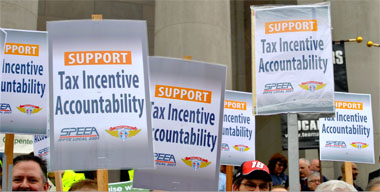 ► MUST READ in today's Seattle Times — Hold Boeing accountable for job losses (by Jon Holden and Ryan Rule) — The aerospace tax rate is roughly 60 percent of the amount paid by other manufacturers. The projected price tag to Washington taxpayers is $8.7 billion. This comes at a time when our state, our schools and our communities cannot meet existing needs… Continuing tax breaks to companies that move good jobs and expertise out of our state makes no sense. South Carolina, Missouri, Alabama, Oklahoma and other states require a specific number of jobs for aerospace companies to qualify for tax incentives. Washington must do the same… Adding accountability to the aerospace tax preferences can't wait. It's critical to protecting jobs today and Washington's competitiveness in the future.
TAKE A STAND! — ACT NOW to save Washington aerospace jobs. Click here to send a message to your state legislators urging them to advance and support stalled legislation to add accountability to these tax incentives and stop the bleeding of aerospace jobs from Washington.
► In today's Spokesman-Review — State capital gains tax wins favor at 'people's hearing' — The "People's Hearing" – which had the feel of an official legislative committee hearing but none of the authority – was an indictment of the state's tax system and a plea for more money for schools and state services. One speaker from each of the state's 49 legislative districts got two minutes to explain something he or she thought lawmakers should do. The most common theme was to ease the tax burden on the poor and increase it on the wealthy through a capital gains tax. "We are united in the call for a fair solution to unfair taxes," Janie Hauff, a home health care worker from the Spokane Valley, told legislators.

ALSO at The Stand — 49 for Fairness: People's hearing calls for fair revenue package
► From the Kent Reporter — People's hearing in Olympia features Kent-area mom — "I have three children in Kent public schools, and every year it's so uncertain," said Kent-area mom and activist Mary Howes. "My children could be in a reasonable class size, or not, have proper classroom materials, or not. We hear over and over that we can't fund smaller class sizes and still support social services. I disagree. If we can find a way to give billions in tax breaks to Boeing in one day, we can find a fair revenue solution that addresses the needs of our students, especially those living in poverty."
► In today's Yakima H-R — Local lawmakers confident of quick budget wrapup — "I remain optimistic because I know there have been discussions. Offers and counteroffers are being made," said Rep. Bruce Chandler (R-Granger). "I think at this point most of the differences are manageable in negotiations."
► More teachers in Seattle, Franklin Pierce, and Washougal vote to stage one-day walkouts in protest of the Legislature's failure to fully fund K-12 public schools.
---
FAST TRACK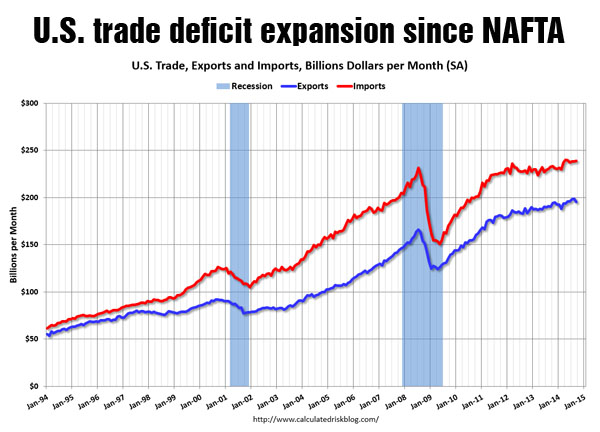 ► From AP — U.S. trade deficit jumps to $54.1 billion, six-year high — The U.S. trade deficit in March ballooned to the highest level in more than six years, propelled by a flood of imports from autos to cellphones. The result suggests that international trade played a major role in the U.S. economy's anemic growth in the first quarter. It could even force the government to further revise down its gross domestic product estimate for the period, possibly into negative territory.
ALSO at The Stand — NO Fast Track: Responding to the response (by Stan Sorscher) — Let's look at one of the Congressional response letters to constituents who oppose Fast Track, which is a good starting point for understanding the talking points from our trade negotiators. That should help us see through some of the fog in the larger discussion around good trade policy and bad trade policy.
► From Huffington Post — Reid plans to block trade deal until Senate deals with surveillance reform, highway funding — Senate Minority Leader Harry Reid (D-Nev.) is putting the brakes on a Senate effort to push through a controversial trade deal, saying that Democrats will block the measure until the Senate deals first with a stalled infrastructure bill and a package of reforms to the Foreign Intelligence Surveillance Act, known as FISA.
► From April 16 Fast Track hearing — "You can't 'fast track' fast track" — Sen. Sherrod Brown: "Today we are meeting for a hearing that was noticed 12 hours before it began on a bill we haven't seen… Why? So we can rush through a bill that will expedite consideration of the largest trade agreement we have ever negotiated…. You can't 'fast track' fast track. That's a complete abdication of our responsibilities." Also: "We (staff) can get access to DOD documents, to Iran sanctions documents, to CIA briefings, but we can't get access to Trans-Pacific Partnership text."
---
LOCAL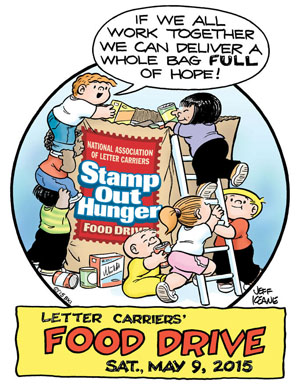 ► From Main Street — Get ready to help Letter Carriers 'Stamp Out Hunger' — You can help "Stamp Out Hunger" by joining with the National Association of Letter Carriers union on Saturday, May 9, in its 23rd annual food drive — the largest one-day food drive in the nation. All you need to do is collect canned goods and dry food, such as tuna, canned meat, soups, pasta, rice and cereal, and leave them in a bag or box by your mailbox. Your letter carriers will pick them up as they deliver your mail.
► In the (Everett) Herald — Mailbox drive provides half of food banks' annual supply (by Brian Sullivan and Leonard Kelley) — This food drive is a national event, and here in Snohomish County it is organized by NALC Local 791, Volunteers of America Western Washington, United Way of Snohomish County and the Snohomish County Labor Council. Last year, 248,506 pounds of food were collected for this event, providing 194,145 meals for Snohomish County families. Our goal is to surpass 250,000 pounds of food this year, and with your help, we can do it.
---
FEDERAL GOVERNMENT
► From Huffington Post — White House moves closer to major executive action on overtime pay — The Obama administration on Tuesday morning put in motion one of the last major elements of the president's economic agenda, a reform to overtime rules that could result in a pay bump for millions.
► From The Hill — Dems bet 2016 on $12 minimum wage — Democrats are doubling down on their push for a national minimum wage hike ahead of the 2016 presidential election, as they look to make a campaign issue of an effort that met a stinging legislative defeat last year.
► At Think Progress — Scott Walker says he would crush what's left of unions if elected president — Republican Gov. Scott Walker said he would champion a federal version of the controversial 'right-to-work' law he signed in Wisconsin earlier this year.
---
NATIONAL

► From AFL-CIO Now — Make it a union-made Mother's Day — Mother's Day is less than a week away (May 10), so you have no excuse for waiting until the last minute to find a nice tribute for mom that also carries the union label.
► In today's NY Times — For top 25 hedge fund managers, a difficult 2014 still paid well — The top 25 hedge fund managers reaped $11.62 billion in compensation in 2014, according to an annual ranking published on Tuesday. That collective payday came even as hedge funds, once high-octane money makers, returned on average low-single digits.
---
TODAY'S MUST-READ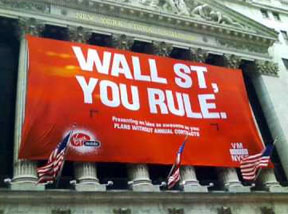 ► From Salon — America's economy is a nightmare of our own making (by Robert Reich) — The answer to this conundrum is not found in economics. It is found in politics. The changes in the organization of the economy have been reinforcing and cumulative: As more of the nation's income flows to large corporations and Wall Street and to those whose earnings and wealth derive directly from them, the greater is their political influence over the rules of the market, which in turn enlarges their share of total income… Ultimately, the trend toward widening inequality in America, as elsewhere, can be reversed only if the vast majority, whose incomes have stagnated and whose wealth has failed to increase, join together to demand fundamental change. The most important political competition over the next decades will not be between the right and left, or between Republicans and Democrats. It will be between a majority of Americans who have been losing ground, and an economic elite that refuses to recognize or respond to its growing distress.
---
The Stand posts links to Washington state and national news of interest every weekday morning by 10 a.m.
WASHINGTON IS A UNION STATE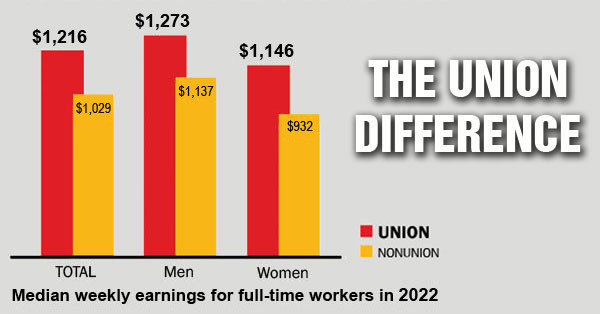 CHECK OUT THE UNION DIFFERENCE in Washington state: higher wages, affordable health and dental care, job and retirement security.
FIND OUT HOW TO JOIN TOGETHER with your co-workers to negotiate for better working conditions and respect on the job. Or go ahead and contact a union organizer today!