Fast Track derailed, OT pay vs. CEO pay, what we're building…
Wednesday, May 13, 2015
---
FAST TRACK

► From The Hill — Senate deals stinging defeat to Obama trade agenda — Senate Democrats on Tuesday delivered a stinging blow to President Obama's trade agenda by voting to prevent the chamber from tackling fast-track legislation. A motion to cut off a filibuster and proceed to the trade bill fell short of the 60-vote hurdle, failing 52-45.
ALSO at The Stand — WSLC: Senate Democrats send 'strong message' on Fast Track
► From AFL-CIO Now — Richard Trumka statement on failed Senate vote on TPA
► From Politico — Obama's war on the left — His recent skirmishes with Elizabeth Warren on trade are part of a larger campaign against what he considers calcified thinking.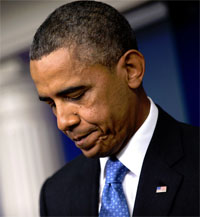 ► In today's Washington Post — Feud with Warren breaks open amid 'fast track' vote — Allies of Sen. Elizabeth Warren were taken aback by the personal nature of the president's remarks. "I think the president was disrespectful to her, the way he did that. I think the president has made this more personal than he needed to," Sen. Sherrod Brown (D-Ohio). Brown said that some of Obama's comments were perceived as insults directed not only at Warren but also at other Democratic opponents of the trade deal.
► In today's Washington Post — Obama's trade deal: Why he's in danger of losing (by Dana Milbank) — Let's suppose you are trying to bring a friend around to your point of view. Would you tell her she's emotional, illogical, outdated and not very smart? Would you complain that he's being dishonest, fabricating falsehoods and denying reality with his knee-jerk response? Such a method of a persuasion is likelier to get you a black eye than a convert. Yet this is how President Obama treats his fellow Democrats on trade — and why he's in danger of losing. The vast majority of lawmakers in his own party oppose him on trade legislation. Yet rather than accept that they have a legitimate beef, he shows public contempt for them.
► From Huffington Post — Trade abuse (by Leo W. Gerard) — American workers no longer are willing to engage in this abusive relationship with trade fanatics. They no longer believe the promises of change. They don't want the federal money TPP fanatics promise them to pay for retraining as underpaid burger flippers after their middle class-supporting factory jobs are shipped overseas. They're over trade pacts that benefit only multi-national corporations like Nike.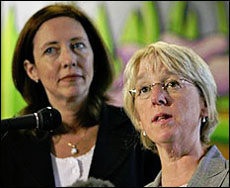 ► In today's (Everett) Herald — Our senators better nix TPP (letter to the editor) — If Murray and Cantwell believe the American people would reject this deal if they got to see it, then they should be adamantly opposed to fast track and be working to either reject the deal outright or change it to an acceptable one. That's their job. Not selling out the American people to big corporate interests. That job's already been done.
EDITOR'S NOTE — On Tuesday, both Murray and Cantwell voted against advancing the Fast Track legislation on a procedural motion.
► In today's Oregonian — Ron Wyden joins fellow Democrats in blocking trade bill; says GOP leaders abandoning deal with him
---
LOCAL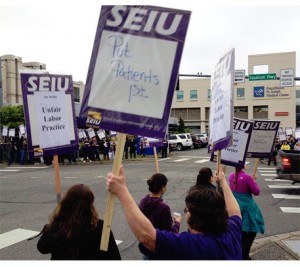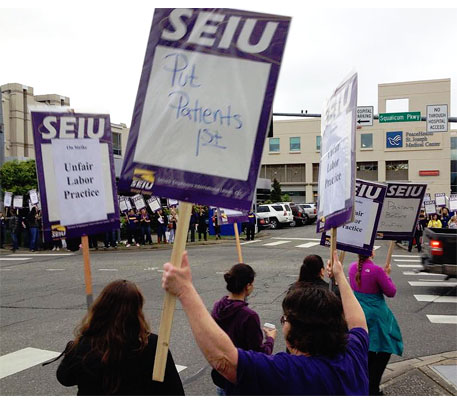 ► In today's Bellingham Herald — PeaceHealth workers to strike for one day Wednesday over wages and benefits — Hundreds of workers at PeaceHealth St. Joseph Medical Center and its labs will strike Wednesday after a breakdown in negotiations over wages and health benefits for a three-year contract.
ALSO at The Stand — 900 on strike today at PeaceHealth in Bellingham
► In today's News tribune — Tacoma mayor picks Minimum Wage Task Force members — Tacoma Mayor Marilyn Strickland named members of a Minimum Wage Task Force during Tuesday's council meeting. The group will advise the council on next steps toward a ballot measure that would compete with one activists hope will raise the minimum wage to $15 per hour.
► In the PSBJ — Foss moves ahead with Shell Oil plans despite city, port call for delay — On Tuesday, the five Port of Seattle Commissioners told Foss Maritime Co. to delay the presence of Shell Oil at Terminal 5 until the permitting was worked out. Foss, however, is appealing the decision and said the first of Shell's ships will arrive this week.
► In today's (Longview) Daily News — A banner year for Port of Longview revenues — Port of Longview posted a record year in revenue in 2014, boosted by imports of calcined coke and exports of grain and scrap steel.
---
STATE GOVERNMENT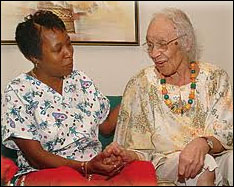 ► In today's Olympian — Home care workers deserve to retire (editorial) — A modest retirement benefit for state-paid home care workers risks getting hung up at the Legislature. We think care workers who tend to the bathing, cooking, cleaning, laundry and shopping needs of elderly and disabled people in the Medicaid program are deserving of some kind of retirement benefit.
► In today's (Everett) Herald — Second shot to reduce carbon (editorial) — While there was merit in the governor's proposal to use the carbon tax revenue for transportation projects, the Legislature, specifically Republicans, seem content to fund the transportation budget through an increase to the gas tax. Assuming that is a method legislators will stick with, it does free up the revenue to go elsewhere. Education, jobs and a gradual approach to the carbon tax seems an appropriate mix.
► In today's Columbian — Walkout by local teachers set for today — Nearly 2,500 teachers in four Clark County school districts are participating in a one-day walkout today. As a result, school buildings will be shuttered for almost 38,000 students. That means almost half of the 80,000 K-12 students in the county's public schools won't be in school today.
---
AFFORDABLE CARE ACT
► In today's Spokesman-Review — Statewide coverage expands under Affordable Care Act (editorial) — Before the Affordable Care Act, which also expanded Medicaid eligibility, 13 percent of Spokane County residents were uninsured. As of February, that figure was 3 percent. Nationwide, an estimated 16.4 million Americans have gained health care coverage.
► From AP — No fallout for congressional health plan — Members of Congress, staffers and dependents get their health insurance under a little-known provision of "Obamacare." But if the Supreme Court strikes down government health care subsidies for millions of people in more than 30 states, legal and benefits experts say coverage for lawmakers won't be affected.
---
FEDERAL GOVERNMENT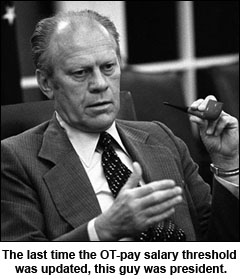 ► From Daily Kos — Voters want overtime pay expanded. By a lot. — Currently, workers who make as little as $24,000 a year can be denied time-and-a-half if they're considered managers — even if most of the work they do isn't managerial. Obama has promised to raise that threshold to cover more salaried workers, but hasn't said how high it will go. New polling shows 65% of voters think workers making up to $75,000 a year should be allowed to receive overtime pay regardless of job classification, compared to only 23% opposed to a change to that level. This is a pocketbook issue that creates little division across party lines — 68% of Democrats, 66% of Republicans, and 58% of independents favor moving the overtime pay threshold to that level.
► From Politico — As appropriations battle kicks off, another fiscal cliff? — The heart of the batting order is due up in the House Appropriations Committee beginning Wednesday: four major spending bills that will capture all the contradictions in the new Republican budget over the next month.
---
NATIONAL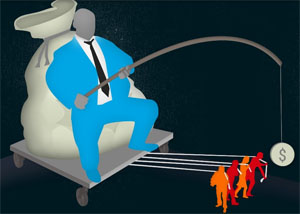 ► From AFL-CIO Now — Executive PayWatch 2015: CEO pay continues to skyrocket — CEOs of the nation's largest corporations received a 16% pay raise in 2014, and the pay gap between CEOs and the typical worker widened to 373-to-1, according to the latest data from the AFL-CIO Executive PayWatch. Top executives of the Standard & Poor's 500 Index companies received, on average, $13.5 million in 2014, even as the average production and nonsupervisory worker earned only $36,000 in annual salary in 2014. The data from the AFL-CIO's updated 2015 Executive PayWatch underscore the work that needs to be done to combat the nation's persistent income inequality and push for higher wages for working families.
► From AP — Union workers vote to end strike at BP refinery in Indiana — USW members at a BP refinery in northwest Indiana have voted to approve a new contract and end a strike lasting more than three months.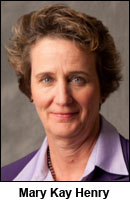 ► From Huffington Post — A game-changing moment for fast-food workers (by Mary Kay Henry) — Two and half years ago, 200 fast-food workers went on strike in New York City demanding $15 an hour and union rights. Most people, including many in the labor movement, thought the cooks and cashiers from restaurants like McDonald's, Burger King and Wendy's had no chance to win. But nine strikes later, and having sparked a global movement for higher pay, $15 doesn't seem so crazy anymore.
---
TODAY'S MUST-SEE

► From AfroPunk — #ManifestJustice art exhibit in Los Angeles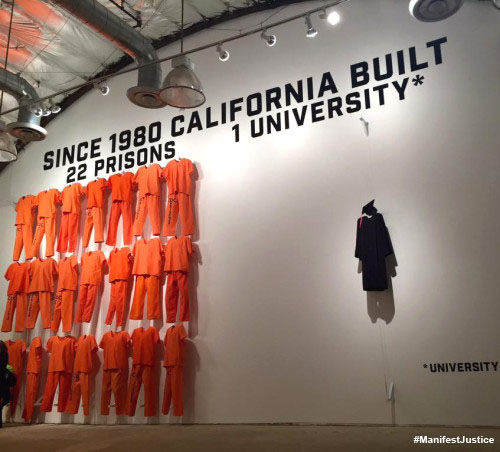 ---
The Stand posts links to Washington state and national news of interest every weekday morning by 10 a.m.
Short URL: https://www.thestand.org/?p=40256
Posted by
David Groves
on May 13 2015. Filed under
DAILY LINKS
. You can follow any responses to this entry through the
RSS 2.0
. Both comments and pings are currently closed.