Democrats yield, legislators get big raises, too big to punish…
Thursday, May 14, 2015
---
FAST TRACK

► From Politico — Democrats yield in Senate trade deal — The Senate's trade war lasted just about a day. After Democrats engineered a stunning defeat of President Barack Obama's push for new trade deals on Tuesday, negotiators hashed out a compromise that offered both parties a way to save face without scuttling the administration's trade agenda. At the least, the agreement means the Senate is likely to pass new powers for the president to fast-track trade pacts through Congress.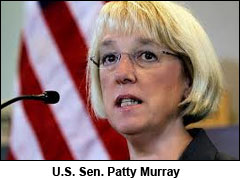 ► From Politico — Naming names helped Obama get fast-track back on track — After resistant Democrats scuttled a vote Tuesday to move forward on one of Obama's signature goals — authority to negotiate details of an upcoming Pacific trade pact — the president called resistant Democrats to the White House. Then his aides took the unusual step of releasing a list of which senators attended. (The list included Sen. Patty Murray.) In the end, the dramatic gesture of voting against their own president got Democrats little beyond delaying the vote to open debate on Obama's trade agenda to Thursday, instead of Tuesday.
► From Huffington Post — Senate trade compromise may doom efforts against currency manipulation, forced labor — Senate leaders on Wednesday found a way to revive Obama's controversial trade agenda, but in the process may have doomed numerous trade reforms — including provisions to thwart forced labor and currency manipulation — that may be essential to its survival in the House.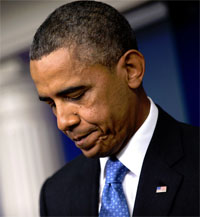 ► From The Hill — Obama's Warren attacks backfire — President Obama's sharp rebuke of Sen. Elizabeth Warren (D) over his ambitious trade agenda is backfiring in the House, where the personal attacks are alienating the same Democrats the president is courting for votes.
► In today's NY Times — Stalled trade bill highlights chasm between Obama, congressional Democrats — Obama's decision to criticize Democrats opposed to the trade measure as misinformed, isolationist and politically motivated deepened a chasm over the issue, giving critics a rallying point and Republicans like Sen. Mitch McConnell an easy scapegoat.
► From Huffington Post — Forget the Senate; Obama's real problem on trade is in the House — The depth of distrust and animosity that core tea party voters have for the president makes allying with him politically risky for anyone in a sharply conservative district. Many House Republicans have spent years telling constituents the president lawlessly overreaches his authority, making a vote to give him more authority tricky. Conservative talk radio, meanwhile, has made opposition to the agreement a battle cry.
---
LOCAL
► In today's Bellingham Herald — Striking Bellingham healthcare workers: 'PeaceHealth can do better' — Holding up signs that read "affordable health care for all" and "patients before profits," hundreds of workers at PeaceHealth St. Joseph Medical Center and its labs went on strike Wednesday, May 13, for one day. The workers are members of SEIU Healthcare 1199NW, which has been wrangling with PeaceHealth over a three-year contract.
ALSO at The Stand — 900 strike at PeaceHealth in Bellingham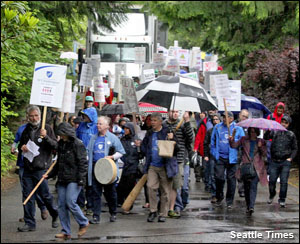 ► In today's Seattle Times — Green River faculty members ask their president to step down — Faculty members at Green River College are asking President Eileen Ely to step down over possible cuts to several trades programs and what faculty says is Ely's failure to consider staff input. Hundreds of faculty members and students held a rally on Wednesday afternoon and walked to Ely's office to deliver signatures from those who say they have no confidence in her leadership.
► In today's Yakima H-R — More Latinos file for Yakima council than ever before — A record number of Latinos will run for the Yakima City Council this year, the first under a new system ordered by a federal judge to comply with the Voting Rights Act.
► In today's News Tribune — IBEW Local 483 members donate 4,000 jars of peanut butter (photos)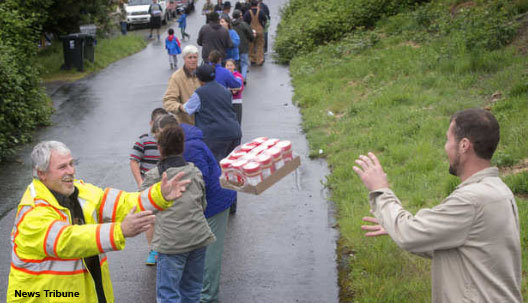 ► In today's Olympian — Minimum wage protest interrupts Thurston Chamber's annual meeting — The Thurston County Chamber of Commerce's 110th annual meeting was interrupted by a group of protestors, representing Working Washington, chanting things such as "Dignity, respect, put $15 in my check," and "When we fight, we win."
► From Seattle Eater — 6 restaurateurs weigh in on minimum wage moves made so far — "If businesses are going out of business over this, that's ridiculous: either their product is not good, or their business model is not good," says chef and proprietor Josh Henderson.
► In today's News Tribune — If Tacoma is to raise the minimum wage, do it the smart way (editorial) — The 15 Now campaign in Tacoma demonstrates about as much empathy for small businesses as Mao Zedong did.
► From IAM 751 — Retired IAM 751 activist to lead Northwest Labor History group — Retired IAM 751 activist Tom Lux has been elected president of the Pacific Northwest Labor History Association.
---
STATE GOVERNMENT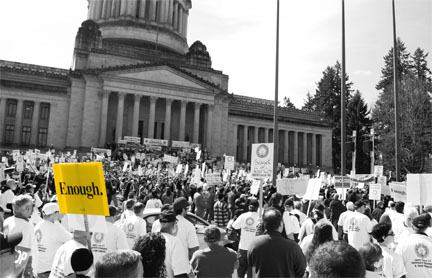 ► In today's Seattle Times — 'Horrific timing': 11.2% pay raise for Washington lawmakers — State legislators are on tap to get an 11.2 percent pay raise, courtesy of the state's independent citizen salary commission. It comes as legislators are halfway through a special session to negotiate a two-year state operating budget that is expected to include raises for state workers and teachers far short of 11 percent. Negotiated contracts, which must be approved by lawmakers, would raise most state worker pay by less than 5 percent over two years.
ALSO at The Stand — The timing would be less horrific if Sen. Andy Hill (R-Redmond) and other Senate Republican leaders weren't currently holding state employees' contracts and raises hostage to try to force through policy changes that otherwise would not have sufficient support to pass.
► In today's Columbian — Teachers rally for funding around Clark County — Large groups of teachers are rallying around Clark County on Wednesday in support of increased education funding and to vent their frustration with what they perceive as legislative inaction.
MORE teacher walkouts in Chimacum and on the Olympic Peninsula.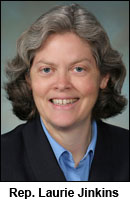 ► In today's Seattle Times — Washington is odd state out on a capital-gains tax (by Rep. Laurie Jinkins) — We have one of the most innovative, tech-savvy, forward-thinking states in the nation. Yet, Washington is one of just nine states in the country that does not have a capital-gains tax. Study after study has shown that Washington has the most unfair, backward and regressive tax system of any state in the country. We all benefit from a thriving economy, family-wage jobs, excellent schools, a healthy environment and a safe, efficient transportation system — so shouldn't we all pay our fair share?
► In today's (Everett) Herald — Amended cap-and-trade proposal could get another look (by Jerry Cornfield) — An AWB spokesman said members in the statewide business organization won't be baited into accepting a bad idea. "We're not going to do something that we think is bad for business because of a threat of a ballot measure," he said, adding that businesses are not afraid of making their case to voters. AWB might want to start making plans to do so.
► In today's Seattle Times — Recent breakdowns heighten concern about state's fragile ferry fleet — Electrical problems were quickly fixed after the ferries Tacoma and Elwha stalled last weekend, but the fleet remains short-handed in the event breakdowns occur this summer.
► In today's (Everett) Herald — Hey, Legislature, how ya doin'? (editorial) — It's been a couple of weeks since you went into your special session, and, well, you're halfway through and we haven't heard much. Just wondering: How's it going?
---
REPUBLICAN WAR ON UNIONS
► In today's NY Times — Missouri passes anti-union bill, but it isn't veto proof — The Republican-controlled Missouri General Assembly on Wednesday approved legislation that would enact a so-called right-to-work policy in the state, but it fell far short of the required number of votes to overcome a likely veto from Gov. Jay Nixon.
► From AP — Anti-union bill leads rare clash between business and labor in right-to-work Louisiana — A coalition of state and national business groups hopes to deliver a death blow to organized labor in Louisiana, pushing an anti-union bill that would ban automatically deducting membership dues from the paychecks of government workers. Unionized firefighters, police officers and teachers would be among those affected.
---
FEDERAL GOVERNMENT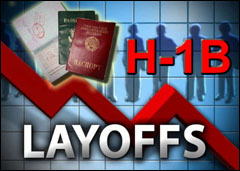 ► From Computer World — H-1B employees crowd out other workers, says study — The battle over the H-1B visa is mostly a battle of brute political muscle on Capitol Hill, coupled with campaign spending. But in the quieter academic sphere, the visa is a topic of ongoing research, and a new paper by three economists is challenging some of the assertions made by the tech industry that H-1B workers deliver economic gains. The paper's two strongest claims concern applying for patents and hiring. It found that winning additional H-1B visas has "an insignificant effect on patenting," and that "H-1Bs substantially crowd out employment of other workers."
► From The Hill — Amtrak funding cut approved a day after crash — Republicans in the House approved a funding cut for Amtrak on Wednesday over the objection of Democrats, who linked the proposed reduction to a deadly derailment near Philadelphia.
► In today's NY Times — Amtrak needs help (editorial) — Meager financing for America's rail system has left the network in disrepair as ridership has grown.
► From The Hill — Democrats find war footing on budget — Democrats on Wednesday fired the opening shots in what is expected to be a drawn-out fight with Republicans over how much defense spending to approve for fiscal 2016.
► From AP — Wisconsin's Feingold to run for U.S. Senate — Russ Feingold announced Thursday he will run to reclaim the U.S. Senate seat he lost five years ago to Republican Ron Johnson, fulfilling the hopes of Democrats who have been pushing for the liberal to return to the political arena.
---
TODAY'S MUST-READ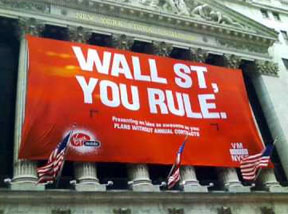 ► In today's NY Times — 5 big banks expected to plead guilty to felony charges, but punishments may be tempered — For most people, pleading guilty to a felony means they will very likely land in prison, lose their job and forfeit their right to vote. But when five of the world's biggest banks plead guilty to an array of antitrust and fraud charges as soon as next week, life will go on, probably without much of a hiccup.
The Justice Department is preparing to announce that Barclays, JPMorgan Chase, Citigroup and the Royal Bank of Scotland will collectively pay several billion dollars and plead guilty to criminal antitrust violations for rigging the price of foreign currencies. Yet as much as prosecutors want to punish banks for misdeeds, they are also mindful that too harsh a penalty could imperil banks that are at the heart of the global economy, a balancing act that could produce pleas that are more symbolic than sweeping… Behind the scenes in Washington, the banks' lawyers are also seeking assurances from federal regulators — including the SEC and the Labor Department — that the banks will not be barred from certain business practices after the guilty pleas. While the SEC's five commissioners have not yet voted on the requests for waivers, which would allow the banks to conduct business as usual despite being felons, the people briefed on the matter expected a majority of commissioners to grant them.
---
The Stand posts links to Washington state and national news of interest every weekday morning by 10 a.m.
Short URL: https://www.thestand.org/?p=40284
Posted by
David Groves
on May 14 2015. Filed under
DAILY LINKS
. You can follow any responses to this entry through the
RSS 2.0
. Both comments and pings are currently closed.