Professor of politics, Obama's bold sentence, listen to labor…
Monday, June 6, 2016
---
ELECTION 2016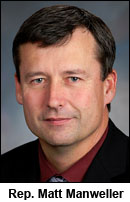 ► In today's Olympian — Controversial school-funding rulings prompt crowded Supreme Court races — State Rep. Matt Manweller (R-Ellensburg) was active in recruiting conservative challengers to run against incumbent justices. He said others who worked to recruit judicial candidates included former Republican U.S. Sen. Slade Gorton and former state Sen. Rodney Tom (R D R-Medina). Manweller said he thinks the mere threat of unseating a justice will make the court think twice about piling on more sanctions in the McCleary case.
EDITOR'S NOTE — Professor Manweller openly admits he is politicizing the court in the hope that justices will stop issuing decisions critical of him and his colleagues. He thinks that, rather than deciding issues solely on their merits and the law, justices on our state's highest court should worry about political payback from butthurt candidate-recruiting legislators like him. What else is this guy teaching at CWU? Oh, the humanities.
► In today's NY Times — Sanders vows fight to convention as Clinton wins another primary — Senator Bernie Sanders defiantly vowed again on Sunday to take his campaign to the Democratic National Convention this summer, even as Hillary Clinton edged closer to clinching the party's presidential nomination with a win in Puerto Rico.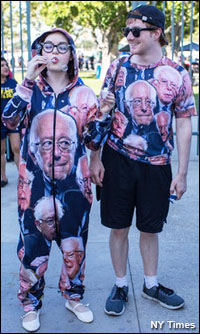 ► In today's NY Times — Sanders' chances of winning have faded, but his rallies haven't — Some are there in solidarity with his message, and others because they believe Sanders when he says, against the odds, that he can still snag the nomination at the party's convention in July. And then there are many who, regardless of their outlook on the race, are streaming in for what they believe may be their last glimpse of a political phenomenon.
► In today's Washington Post — GOP worries rise amid hostile Trump comments on Latinos, Muslims — A growing number of Republican lawmakers and strategists fear that Donald Trump's hostile remarks about minorities and his un­or­tho­dox strategy have imperiled his campaign.
---
LOCAL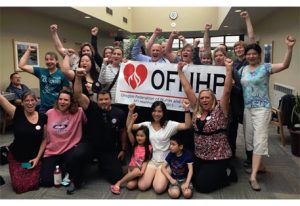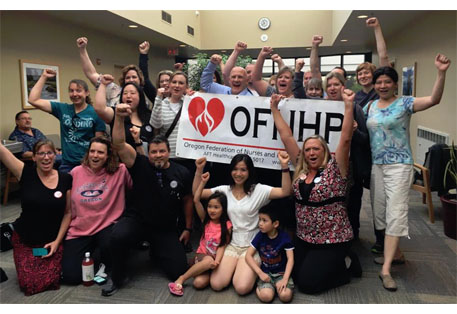 ► In The Columbian — New union OK'd at PeaceHealth Southwest — The PeaceHealth Southwest Caregivers United union was overwhelmingly voted into existence this week, with 211 licensed technical professionals voting for representation and 77 voting against. "It's overwhelming," said CT technologist Eric Quinn. "We sent the message that we wanted to send. We didn't just win — it was a blowout."
ALSO at The Stand — PeaceHealth techs win union in decisive vote
► In the Oregonian — Portland State graduate employees' union approved — Oregon's Employment Relations Board certified Portland State University's PSU's Graduate Employees Union this week, granting 800 administrative, teaching and research assistants on the Park Blocks the right to join a labor union (an AFT/AAUP affiliate).
► In the Seattle Times — Seattle weighs rules for work schedules — Seattle officials are considering new rules for another aspect of working life — scheduling. In retail and food service particularly, low-wage workers often face unpredictable schedules, say advocates.
► In the Spokesman-Review — Hundreds of apple jobs at risk as Oroville fruit co-op files for bankruptcy — One of Oroville's largest employers, Gold Digger Apples Inc., filed for bankruptcy last week in Spokane as U.S. Bank seeks repayment of an $18 million loan.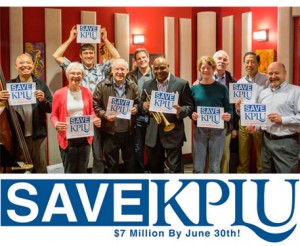 ► In the News Tribune — Stealth sale of KPLU looks to finish on sweet note (editorial) — KPLU's survival is worth celebrating because it affirms the value of independent news outlets. The cheers would ring even louder if the station would return to its South Sound news roots.
► In today's Seattle Times — Mosier, Ore., moves to halt traffic on rail line after derailment, oil fire — Union Pacific Railroad says it appears some sort of track failure caused the derailment of 16 oil tanker cars near Mosier, Ore., causing the fire and oil spill.
► In today's Seattle Times — Pleading guilty for lack of money (by Lorinda Youngcourt) — More than 50 years after the late Robert F. Kennedy called for bail reform, poor defendants still face all the travails of pretrial incarceration because they cannot post bail. King County needs to lead the way to reform.
---
STATE GOVERNMENT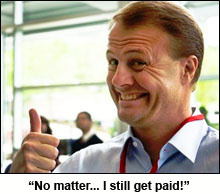 ► In today's (Everett) Herald — Eyman's games costing the taxpayer (editorial) — Along with I-1366's loss in court, Eyman was sanctioned by a Thurston County Superior Court judge and fined $600 after withdrawing I-1525, which sought to limit car tabs to $30. The judge had spent 90 minutes to two hours reading briefs from each side, only to learn moments before a hearing that Eyman had withdrawn the initiative. The $600 sanction was symbolic and doesn't begin to reflect the costs involved for opponents, the court or the Attorney General's Office and, ultimately, for the taxpayer, who Eyman claims to be watching out for.
► In today's Seattle Times — The very rich aren't likely to flee income-tax states — If Washington adopted an income tax, would our wealthiest residents flee the state? A new study shows that the wealthiest Americans tend to stay put, regardless of their home state's tax system. And when the rich do move, they are only slightly more likely than the general population to move from a high-tax state to a low-tax state.
---
FEDERAL GOVERNMENT
► In today's NY Times — Obama opposes privatization of Veterans Affairs Dept. — The president said that his administration had made progress modernizing the department and providing veterans with more timely care. Privatizing the agency would delay that progress, he said.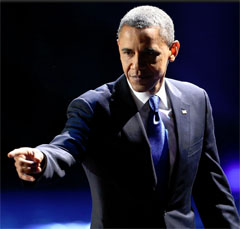 ► From Huffington Post — Obama's historic Social Security legacy (by Nancy Altman) — This week, with one bold sentence, President Barack Obama created an important, powerful, and lasting Social Security legacy. By calling for the expansion of Social Security, the President forcefully challenged the lie at the center of a destructive thirty-year, billionaire-funded campaign to dismantle Social Security. That campaign has sought to achieve its goal by convincing the American people that the United States cannot afford our Social Security program.
► In the Boston Globe — Overtime rule is a lifeline for middle class (editorial) — President Obama has repeatedly railed against the injustice of income inequality, but he stands no chance of coaxing Congress into doing anything meaningful about it. Recognizing that political reality, Obama wisely exerted his executive powers last month, unveiling a change in federal rules that govern who qualifies for overtime pay. The regulations mark a desperately needed win for lower-level employees who are paid by salary and don't receive a dime extra when they log more than 40 hours in a week.
► In today's Washington Post — Waiting for next president, confirmations of federal trial judges stall — An exodus of older judges has created a spike in vacancies at federal trial courts nationwide, intensifying complaints that election-year fights over ideological control of the bench now extend to lower-court appointments.
---
NATIONAL
► In today's NY Times — Panama Papers show how rich United States clients hid millions abroad — The documents show that the Mossack Fonseca firm did much more than simply create offshore shell companies and accounts. For many of its American clients, it offered a how-to guide of sorts on skirting or evading U.S. tax and financial disclosure laws.
---
TODAY'S MUST-READ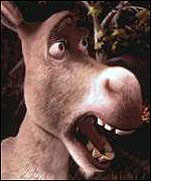 ► From The Nation — Democrats should listen a lot more to labor (by John Nichols) — Democrats should not make the mistake of compartmentalizing labor leaders in a way that misses a chance to tap their expertise on everything from education to healthcare to immigration and broadband policy…  At a point when many of the concerns that labor unions have been raising for decades — about income inequality, wage stagnation, failed trade policies, deindustrialization, automation, and the fair treatment of all workers — are at the center of the national debate, Democrats should be turning to labor leaders for counsel on a wide range of policy questions. This is smart politics, as it helps to counter the appeals of Republican Donald Trump to working families; but it is also smart policy-making, as unions leaders really do know the issues.
---
The Stand posts links to Washington state and national news of interest every weekday morning by 10 a.m.
Short URL: https://www.thestand.org/?p=49707
Posted by
David Groves
on Jun 6 2016. Filed under
DAILY LINKS
. You can follow any responses to this entry through the
RSS 2.0
. Both comments and pings are currently closed.