Boeing lessons, free trade is dead, Obama's favorite rapper…
Friday, June 17, 2016
---
BOEING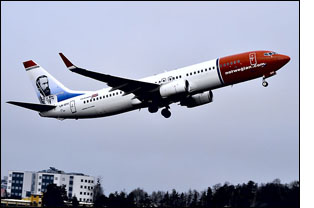 ► At BoeingWorkers.com — Boeing threatens workers on both coasts — A statement by Boeing posted on their anti-union website in South Carolina is drawing media scrutiny for suggesting that jobs in Washington state and South Carolina could be at risk if Congress doesn't bow to a Norwegian Airlines (NAI) proposal to operate as a low-cost carrier in U.S. markets. The facts in the NAI case are straight-forward…
► In the Washington Post — Potential Iranian deal for airliners thrusts Boeing into risky political debate — Boeing could hardly step into a more sensitive, touchy deal than the imminent agreement to sell about 100 passenger jets to the Islamic Republic of Iran. With the sale, Boeing faces unique political risks here in the United States — with potential blowback among Americans opposed to last year's agreement to limit Iran's nuclear program and possible snapback of international sanctions if Iran violates the nuclear pact.
EDITOR'S NOTE — Gather 'round kids for this week's lesson from The Boeing Co.: Whether it's undermining an entire industry's wages and working conditions while violating trade agreements, or whether it's partnering with what the House Financial Services Committee Chairman calls "the world's foremost state sponsor of terrorism"… do whatever it takes to sell another plane and make another buck.
---
TRANS-PACIFIC PARTNERSHIP
► From AP — U.S. trade deficit at highest level in 7 years — The trade deficit jumped 9.9 percent in the first quarter of 2016 to $124.7 billion. It was the biggest gap since a deficit of $152.5 billion in the fourth quarter of 2008, the height of the financial crisis.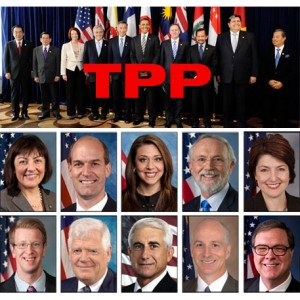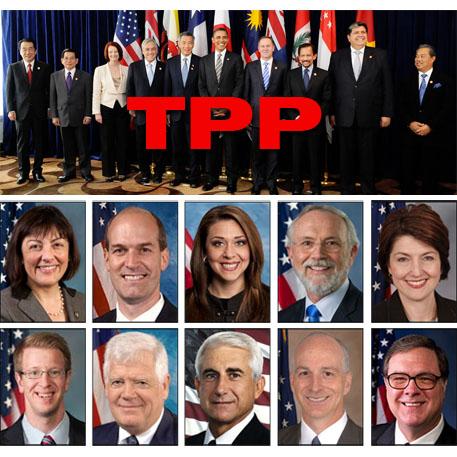 EDITOR'S NOTE — In the 22 years years since NAFTA and several other similar "free trade" agreements have been signed, there is abundant data documenting how this trade model has been disastrous for most U.S. businesses, farmers and workers. From 1994 to 2015 as these deals have been implemented, U.S. trade deficits, which drag down economic growth, soared more than 430 percent with our free-trade partners. In the same period, they declined 11 percent with countries that are not free-trade partners.
The Trans-Pacific Partnership will make that worse. Even the best-case projections by the U.S. International Trade Commission, which has made rosy projections about past free-trade deals, are that the TPP will increase the U.S. trade deficit even more by more than $21 billion per year and will harm employment in key industries.
That should come as no surprise to anyone who's been paying attention. After four years under the Korean "free trade" agreement that the Obama administration said was the template for the TPP, our trade deficit with Korea more than doubled , costing more than 100,000 U.S. jobs. President Obama had promised "more exports, more jobs" under the Korean deal. So, if you support trade in trade-dependent Washington state, why would you support another bad deal that keeps digging this hole?
Support trade! Reject and renegotiate the TPP!
Sincerely,
The Entire Staff of The Stand
► From Washington Monthly — Free trade is dead — It's possible that all this anti-free trade deal talk is just campaign hype and that orthodoxy will return to rule in Washington after the election. However, the fact that the top presidential candidates in both parties — conservative Senator Ted Cruz also opposes the TPP — have turned against policies upheld in bipartisan fashion since the end of World War II suggests otherwise. The public has spoken: polls show that opposition to current free trade arrangements is one of the few positions Democratic and Republican voters share.
► In today's Seattle Times — The trade winds are changing — here's more proof (by Jon Talton) — One of the biggest signs of the breakdown in consensus on American trade policy is when an eminent member of the establishment turns against it.
► From Rolling Stone — Tom Morello to headline tour kickoff protesting Trans-Pacific Partnership — Tom Morello will headline the kickoff show of what's being billed as "a nationwide uprising and concert tour" that will protest the signing of the Trans-Pacific Partnership. Anti-Flag, actress Evangeline Lilly (Lost, The Hobbit), Flobots and Downtown Boys will also perform at Denver's Summit Music Hall on July 23.
EDITOR'S NOTE — Will the tour come to Washington? The tour website reads: "Details for the Rock Against the TPP tour stops are still TOP SECRET. Line-ups and venues will vary in each city. Check back soon for updates!"
---
LOCAL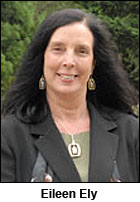 ► In today's Seattle Times — Green River College president resigns — Eileen Ely, the embattled president of Green River College and target of three no-confidence votes by the faculty, resigned Thursday, effective immediately. Her resignation was accepted unanimously by the college's board of trustees after the board met in executive session for about 40 minutes. Neither Ely nor the board discussed her resignation in public.
ALSO TODAY at The Stand — GRC president resigns, healing process begins
► From KPLU — Seattle workers, performers to present stories of struggling with erratic work schedules — Seattle's City Council has been working on possible ways to help employees who struggle with erratic work schedules. Thursday night, the labor group Working Washington and the news and politics blog Seattleish hosted a storytelling event with performances from a barista, a retail worker and writers.
► In today's (Longview) Daily News — Weyerhaeuser to sell Longview liquid packaging plant to Nippon — Weyerhaeuser announced that it will sell its Longview liquid packaging plant — a major portion of the Longview operations — to Nippon Paper Industries for $285 million. It's not clear whether there will be any layoffs.
► In today's News Tribune — Headed to Pierce ballot: Ban on county elected officials holding second public office — Pierce County voters will decide this fall whether to allow county elected officials to hold a second public office.
---
2016 ELECTIONS
► From KUOW — Washington Democrats aim to avoid Nevada-like meltdown at state convention — Washington state Democrats are confident they will avoid a Nevada-like meltdown at their state convention this weekend. Nevada's Democratic convention devolved into chaos after Bernie Sanders supporters felt the process was rigged.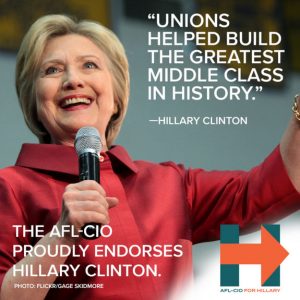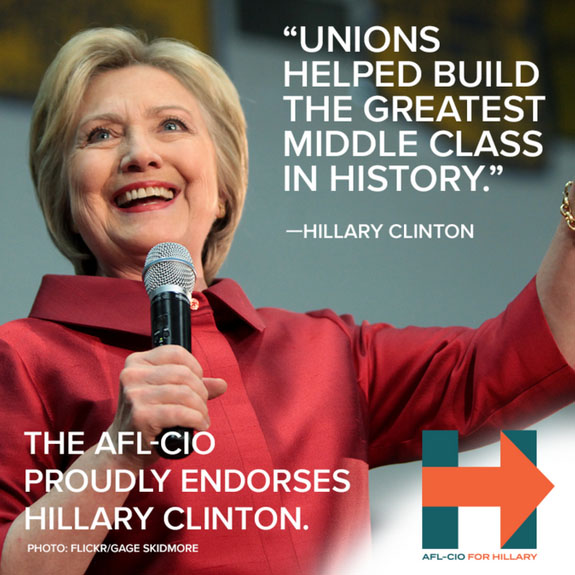 ► From AP — Clinton wins endorsement of the AFL-CIO — Hillary Clinton on Thursday won the endorsement of the AFL-CIO, the nation's largest labor federation, giving her a powerful voter turnout engine against Donald Trump. "Hillary Clinton is a proven leader who shares our values," AFL-CIO President Richard Trumka said in a statement. "Throughout the campaign, she has demonstrated a strong commitment to the issues that matter to working people, and our members have taken notice."
ALSO at The Stand — AFL-CIO endorses Clinton for President of the United States
► From The Hill — Sanders refuses to concede in speech to supporters — Sanders signaled an interest in reshaping the Democratic Party's platform in the coming weeks and doubled down on his pledge to help defeat presumptive Republican nominee Donald Trump.
► In today's Washington Post — Donald Trump's hope that union members will back him the way they did Reagan misses a critical point (by Philip Bump) — Trump probably won't replicate Reagan's 1980 win on the back of union members because there are a lot fewer of them, and they're a lot less likely to be white.
► From AP — Few if any minority senior execs in Trump's empire — There are few, if any, black executives in the upper ranks of the Trump Organization. Other minorities are also scarce at that level though Republican presidential nominee Donald Trump has employed scores of executives.
---
NATIONAL
► From Refinery 29 — Why it's time to close the gender gap in unions, too (by Kaelyn Forde) — The 12.5 million workers represented by the AFL-CIO include a growing number of women. However, men still make up the majority of union members and the AFL-CIO's own leadership. That's something the organization's first female secretary-treasurer wants to change.
► MUST-READ by Rogue Columnist — No, tax cuts don't help Arizona — The most authoritative study yet by the Tax Policy Center found no connection between cutting top income-tax rates and state growth. The researchers honed in on Kansas Gov. Sam Brownback's "real life experiment" in supply side economics for the Milken Institute. The Brownback cuts, enacted four years ago, have been a template for other Republican governors. But they have been a disaster and Kansas' economy is suffering. These GOP cuts also typically result in regressive sales taxes that fall heaviest on the working poor, widening inequality. Now let's look at Arizona specifically: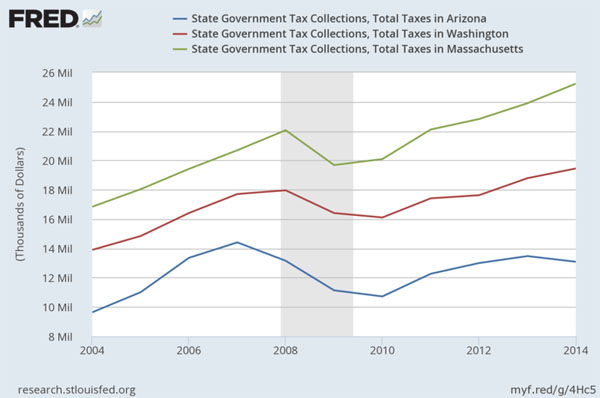 Above we see Arizona measured against two states with similar population, Washington and Massachusetts. Although the three have very different tax systems, only Arizona has done the full-on supply side tax cutting for years. Tax cuts have not generated more tax revenue, contrary to supply side religion. As a populous, highly urbanized state, Arizona suffers from far lower revenue than it needs.
► From BNA — Gawker purchase proposal threatens union contract — A proposed purchase of the bankrupt Gawker Media LLC would include the media company's assets but not its liabilities, potentially imperiling a collective bargaining agreement for nearly 100 editorial staffers.
---
T.G.I.F.
► Happy birthday to both Barry Manilow and Jello Biafra of the Dead Kennedys. Unfortunately, these two singers never collaborated on a song, so rather than play favorites, we will defer to the President of the United States in choosing today's TGIF birthday acknowledgement. Today is also the birthday of Barack Obama's favorite rapper. So The Entire Staff of the Stand wishes Kendrick Lamar a happy 29th and presents this live performance of our favorite song from his album, To Pimp A Butterfly. Enjoy!
---
The Stand posts links to Washington state and national news of interest every weekday morning by 10 a.m.
Short URL: https://www.thestand.org/?p=50079
Posted by
David Groves
on Jun 17 2016. Filed under
DAILY LINKS
. You can follow any responses to this entry through the
RSS 2.0
. Both comments and pings are currently closed.