Nothing right about RTW, 2-for-2, recalling Doug, our big muddy…
Friday, February 10, 2017
---
THIS WASHINGTON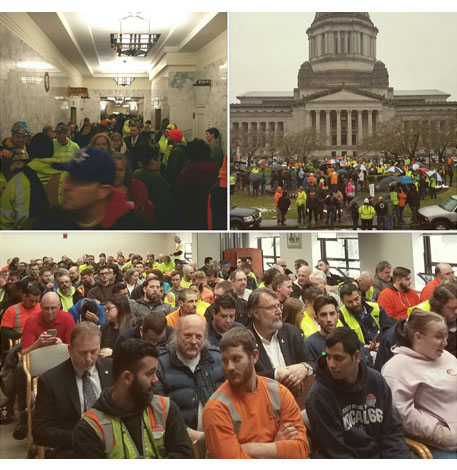 ► From KNKX — Attempt to make Washington next 'Right-to-Work' state met with hefty opposition — There's a movement sweeping states across the nation, known as the "Right to Work." State Senators in Olympia heard a bill Wednesday that would bring it to Washington. The bill isn't likely to pass, with its prime sponsor and committee chair, Republican Sen. Michael Baumgartner calling it a "heavy lift." And if the crowd of over 1,000 people who signed in to oppose the bill are any indication, he may be right. Much of the opposition echoed Dennis Lawson, president of the Washington Council of Firefighters. "There is nothing right about Right to Work," he said.
ALSO at The Stand — Washington workers: HANDS OFF OUR UNIONS!
► In today's Seattle Times — 'Boys in the Boat' movie should be made here, Washington lawmakers say — Lawmakers want to renew a $3.5 million incentive program to encourage the film industry to make movies in Washington. They've added another $3 million to lure production of "The Boys in the Boat" to the state.
ALSO at The Stand — WSLC urges renewal of film tax incentive creating jobs in state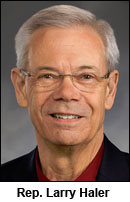 ► In today's Tri-City Herald — Hanford workers say claims for serious illnesses routinely denied — House Bill 1723, proposed by state Rep. Larry Haler (R-Richland), would make it much easier for Hanford workers to get L&I claims approved. Instead of workers having to prove that a condition was caused by a specific exposure, many conditions would be automatically assumed to be caused by working as little as one eight-hour shift at the Hanford nuclear reservation.
► In today's Seattle Times — Seattle property taxes would rise under GOP school-funding plan, state McCleary analysis shows — A GOP plan to fund Washington's K-12 schools would boost funding to every school district in the state, according to a new analysis. But Seattle, Bellevue, Mercer Island and Lake Washington would bear the brunt of property-tax increases.
► In today's Spokesman-Review — Betsy DeVos invited to Spokane by ESD superintendent — The leader of Washington's northeast education district has invited Education Secretary Betsy DeVos to visit and learn about "our ongoing hard work and abiding commitment to excellence for each of the young people we are privileged to serve."
---
MUSLIM TRAVEL BAN

► In today's Washington Post — Federal appeals court rules 3 to 0 against Trump on travel ban — A federal appeals panel has maintained the freeze on President Trump's controversial immigration order, meaning previously barred refugees and citizens from seven majority-Muslim countries can continue entering the United States.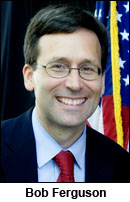 ► In today's Seattle Times — Washington '2 for 2' against Trump ban: State politicians react — Washington Attorney General Bob Ferguson had quite the comeback to President Trump's "SEE YOU IN COURT" tweet after a federal appeals court declined to reinstate the president's travel ban. "We have seen him in court twice, and we're 2 for 2," Ferguson said, referencing his appellate-court win on Thursday and the original stay to Trump's ban that was granted last week.
ALSO at The Stand:
— WSLC proudly supported suit against Trump's Muslim ban
— Trump's Muslim ban 'fans flames of racism, xenophobia'
— Attacking immigrants, refugees hurts us all, Trumka says
► From KNKX — Inslee vows 'resistance everywhere' approach to Trump administration — Gov. Jay Inslee is vowing to continue to resist policies from President Donald Trump. At a news conference Thursday, the Democrat said Washington has been "appropriately bold and protective" of its interests.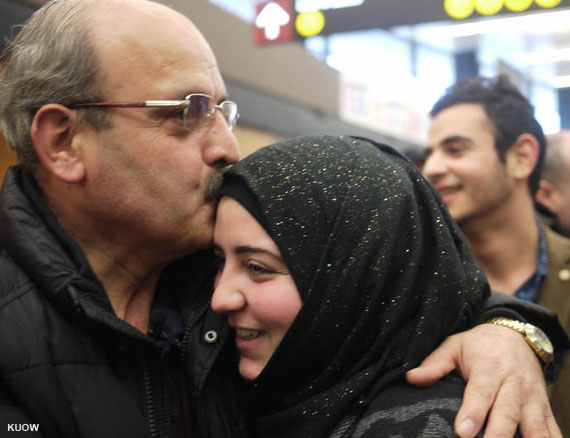 ► From KUOW — As Trump's travel ban lost again in court, a local Syrian family reunited at Sea-Tac — "This is the best day of my life," said Syrian refugee Jaiidaa Al Halabi, just minutes after she stepped off a plane at Sea-Tac Airport.
---
LOCAL
► In today's Seattle Times — Boeing Machinists get annual bonus of more than $2,000 — Boeing will pay out a total $66 million in annual bonuses next week to almost 32,000 employees in Washington, Oregon and California represented by the Machinists union, the company said Wednesday. In Washington state, 30,686 members of the International Association of Machinists union will receive a total of $63 million. Machinists will receive their bonuses on Feb. 16.
---
THAT WASHINGTON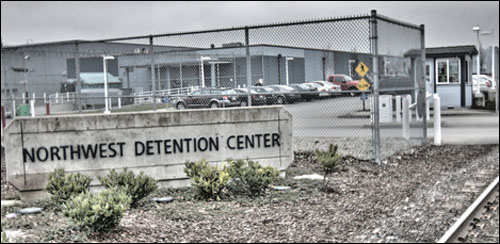 ► In today's Olympian — Trump's plan to lock up more immigrants could profit privately run detention centers — President Donald Trump's plans to lock up more immigrants who are in the U.S. illegally could aid large private companies such as The GEO Group Inc., which has a federal contract to run the Northwest Detention Center in Tacoma, one of the largest in the nation.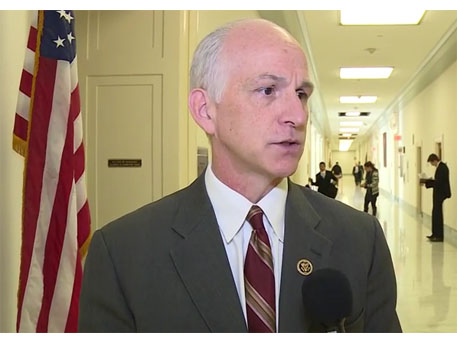 For years, Rep. Adam Smith (D-Wash.) has argued that jailing immigrants is too expensive and inhumane and that Congress should scrap a mandate that requires the federal government to fill 34,000 detention beds every day. He called it an "indiscriminate quota" that requires the government and companies such as GEO to detain immigrants even if they pose no threat.
► From The Atlantic — The real-life consequences of the federal hiring freeze — The collateral damage of the order is stress, anxiety, and confusion introduced into the lives of not just new hires at federal agencies, but also current employees, who have found themselves unable to transition into new positions or stuck in departments that are now semi-permanently short staffed.
ALSO at The Stand — Trump's federal hiring freeze is killing jobs, hurting vets
► In today's Washington Post — Republican town halls are getting very, very nasty — In November, Rep. Jason Chaffetz (R-Utah) won reelection to one of the most Republican districts in the nation, with 73 percent of the vote. On Thursday night, he found himself facing a very different picture. Thousands of people crowded in and outside of what was supposed to be a run-of-the-mill town hall in Utah to boo him and chant, "You work for us" and "Do your job!"
► In today's Washington Post — 'How can you die of asthma in this country?': In Idaho, an example of what could happen without Obamacare — When the fiercely independent state declined Medicaid expansion it created an insurance gap — two-thirds of those who can't afford care are working families — that lawmakers haven't found a way to close.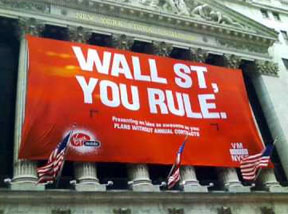 ► In today's NY Times — Consumer watchdog faces attack by House Republicans — The chairman of the House Financial Services Committee will move forward on legislation to neuter the Consumer Financial Protection Bureau and its power to crack down on predatory business practices, according to a leaked memo that emerged on Thursday and infuriated Democratic defenders of the bureau. The proposal was part of a broader set of policies that Republicans have been devising to roll back the Wall Street regulations known as the Dodd-Frank Act, which emerged from the 2008 financial crisis.
► In today's NY Times — 'Bad dude'? No, but deported anyway (editorial) — President Trump has promised to rid America of the immigrant threat. But Guadalupe García de Rayos was a threat to no one.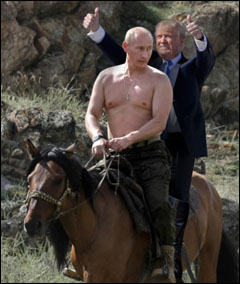 ► In today's Washington Post — National security adviser Flynn discussed sanctions with Russian ambassador, despite denials, officials say — National security adviser Michael Flynn privately discussed U.S. sanctions against Russia with that country's ambassador to the United States during the month before President Trump took office, contrary to public assertions by Trump officials, current and former U.S. officials said. Flynn's communications with Russian Ambassador Sergey Kislyak were interpreted by some senior U.S. officials as an inappropriate and potentially illegal signal to the Kremlin that it could expect a reprieve from sanctions that were being imposed by the Obama administration in late December to punish Russia for its alleged interference in the 2016 election.
---
BOTH WASHINGTONS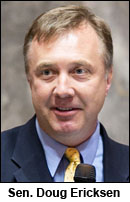 ► In today's Bellingham Herald — Residents begin recall effort of Sen. Ericksen, say he can't do State Senate work with D.C. job — A group of Whatcom County residents has started a recall effort against state Sen. Doug Ericksen, saying the Ferndale Republican can't do his job as a senator while serving on President Donald Trump's transition team in D.C. Ericksen called the recall a "frivolous PR stunt," and stressed that his Senate work is getting done.
ALSO at The Stand — Sen. Ericksen should resign as per our State Constitution (by John Burbank)
---
NATIONAL
► In the NH Union-Leader — New Hampshire legislative panel rejects Right-to-Work bills — A key House committee soundly rejected two Right-to-Work bills, setting up another fierce showdown before the full House of Representatives next Thursday. The 14-7 votes of the House Labor and Industrial Services Committee Wednesday were a setback for Gov. Chris Sununu, who has made it a priority to make New Hampshire the first Right-to-Work state in the Northeast.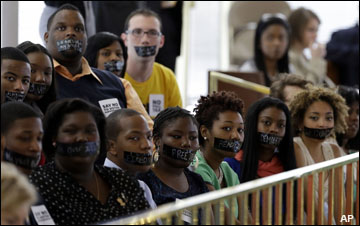 ► From AP — Republican state lawmakers push for restrictions on voting — As President Donald Trump hurls unfounded allegations of colossal fraud in last fall's election, lawmakers in at least 20 mostly Republican-led states are pushing to make it harder to register or to vote. Supporters say the measures are necessary to combat voter fraud and increase public confidence in elections. But research has shown that in-person fraud at the polls is extremely rare, and critics of these restrictions warn that they will hurt mostly poor people, minorities and students — all of whom tend to vote Democratic — as well as the elderly.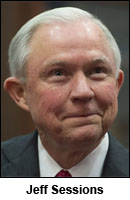 They fear, too, that the U.S. Justice Department, under newly confirmed Attorney General Jeff Sessions, will do little to intervene to protect voters.
► In today's NY Daily News — The workers win one at Momentive (editorial) — Thursday, after all hope felt cold, the almost 700 workers on strike at the Momentive chemical plant in upstate Waterford reached a tentative deal with management after nearly 100 days on the picket line. What threatened their jobs was not the foreign bogeymen of President Trump's fever dreams, but other powerful economic forces at work in contemporary American life. And what saved their jobs was not that same president swooping to the rescue, but good old-fashioned union pressure.
---
T.G.I.F.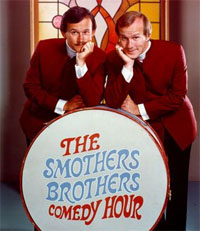 ► A week ago, The Entire Staff of The Stand read this fantastic New York Times article about the 50th anniversary of the premiere of the subversively funny Smothers Brothers Comedy Hour, their increasingly intense battles with CBS network censors of criticisms of the Vietnam War and other federal policies, and their abrupt cancellation after just two years even though they were Still winning the ratings battle in their time slot. Please read it!
Among their many triumphs, the Smothers brothers got CBS to break the 17-year-old network TV blacklisting of the folk singer Pete Seeger on Sept. 10, 1967. But censors cut his rendition of "Waist Deep in the Big Muddy," a powerful allegory of the Vietnam War. They allowed him to perform this version when he returned on Feb. 25, 1968.
"Every time I read the paper those old feeling come on," Seeger sings. "We're waist deep in the Big Muddy and the big fool says to push on." True dat. Enjoy.
---
The Stand posts links to Washington state and national news of interest every weekday morning by 10 a.m.
Short URL: https://www.thestand.org/?p=55376
Posted by
David Groves
on Feb 10 2017. Filed under
DAILY LINKS
. You can follow any responses to this entry through the
RSS 2.0
. Both comments and pings are currently closed.