Cathy's real family, RTW coming, too many people
Thursday, May 18, 2017
---
COUNTDOWN TO IMPEACHMENT

► In today's Washington Post — Deputy attorney general appoints special counsel to oversee probe of Russian interference in election — The Justice Department appointed a special counsel to investigate possible coordination between President Trump's associates and Russian officials. Robert S. Mueller III, a former prosecutor who served as the FBI director from 2001 to 2013, has agreed to take over the investigation as a special counsel.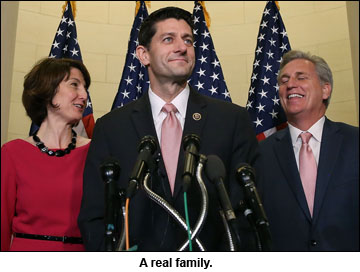 ► In today's Washington Post — House majority leader to colleagues in 2016: 'I think Putin pays' Trump — A month before Donald Trump clinched the Republican nomination, one of his closest allies in Congress — House Majority Leader Kevin McCarthy — made a politically explosive assertion in a private conversation on Capitol Hill with his fellow GOP leaders: that Trump could be the beneficiary of payments from Russian President Vladimir Putin. House Speaker Paul D. Ryan (R-Wis.) immediately interjected, stopping the conversation from further exploring McCarthy's assertion, and swore the Republicans present to secrecy, saying: "No leaks. . . . This is how we know we're a real family here."
EDITOR'S NOTE — Rep. Cathy McMorris Rodgers (R-WA) was part of this conversation on June 15, 2016.
► From The Hill — Trump campaign had at least 18 undisclosed contacts with Russians: report — Reuters reported that former national security adviser Michael Flynn, along with other advisers to Trump, had contact with Russians in at least 18 calls or emails during the last seven months of Trump's 2016 presidential campaign.
► In today's NY Times — Trump calls himself victim of 'witch hunt' — Says Trump: "This is the single greatest witch hunt of a politician in American history!" At the United States Coast Guard Academy on Wednesday, the president abruptly diverted from his uplifting theme to complain that "no politician in history" had been treated "more unfairly" than him.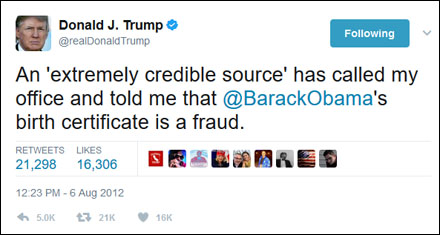 EDITORS' NOTE — TBT (Throwback Tweet)!
► Proving timing is everything, from NBC News — Pence creates PAC ahead of 2018, 2020 elections — Vice President Mike Pence filed the paperwork Wednesday for his own PAC — the "Great America Committee" — to aid his own future political interests. This is the first time a sitting vice president has formed such a separate political arm.
► In today's Washington Post — The worst job in Washington right now: Working for Trump — Some White House staffers have turned to impeachment gallows humor. Other mid-level aides have started contacting consultants, shopping their résumés. And at least one senior staffer has begun privately talking to friends about what a post-White House job would look like.
---
LOCAL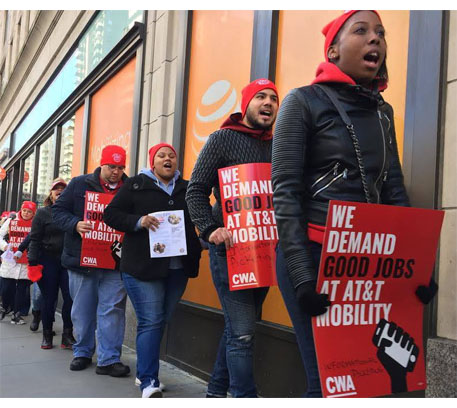 ► From Fortune — AT&T Wireless workers threaten strike this weekend — Some 21,000 workers in AT&T's wireless business (including here in Washington state)  threatened to go on strike for two days over the weekend if they do not reach a deal on a new contract by Friday afternoon.
ALSO at The Stand — AT&T Mobility faces strike Friday if contract deal not reached
► In today's Seattle Times — Seattle federal judge says government can't restrict legal help for immigrants — A federal judge in Seattle has temporarily blocked a Justice Department order that called on local nonprofit Northwest Immigrant Rights Project to stop some of its legal work. His ruling also applies to similar groups around the country.
ALSO at The Stand — Immigrant rights group sues DOJ after move to block legal aid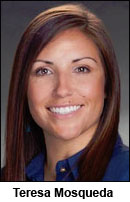 ► From the MLKCLC — Workers support Teresa Mosqueda! Workers to Social Alternative: WTF? (by Nicole Grant) — Workers support Teresa Mosqueda for election to the open Seattle City Council Position 8 this year. The M.L. King County Labor Council, representing over 100,000 union workers, made an ultra-early endorsement for Teresa last winter. She is one of us: a worker, a union member, and a powerful Latina leader who closes deals on issues that matter to workers: wages, healthcare, transit… Socialist Alternative's decision to ignore the candidate who workers have overwhelmingly chosen to endorse and instead go with a privileged man, who has already lost this race once, is an insult to the same labor movement SA clings to for credibility.
► From AP — Washington unemployment rate drops to 4.6 percent — The state's unemployment rate dropped last month to 4.6 percent, a rate that matches the state's historic low rate last reached in June 2007. The state added 1,200 jobs in that timeframe.
---
THIS WASHINGTON

► In today's News Tribune — All state politicians are getting raises — State lawmakers haven't finished an operating budget on time in eight years. They're about to get raises anyway. On Wednesday, a citizen commission that sets elected officials' salaries voted to increase Washington lawmakers' pay by 2 percent each of the next two years. That adds up to roughly $2,000 per legislator between now and September 2018.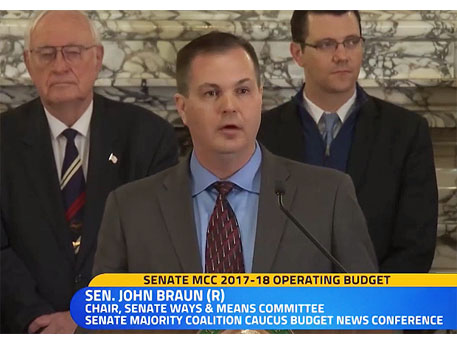 PREVIOUSLY at The Stand — Senate Republican budget plan short-changes state employees (March 21) — Although state employee contracts included 6 percent wage increases spread over two years, for most state employees, Senate Republicans are budgeting just $500 raises in each of the next two years.
► In today's Daily News — Inslee signs 'shot-clock' bill, puts deadline on environmental reviews — Industry groups often criticize the state for taking too long to permit major industrial projects, but a bill Gov. Jay Inslee signed Tuesday aims to speed the process.
► From the Seattle Transit Blog — Republicans set hearings on own incompetence — The state legislature set both the rate and method of motor vehicle depreciation, which did not change in ST3. If these state legislators would like to change what the voters approved, they must replace any transit funding they are cutting. Senator O'Ban's investigation into the bill he voted for is an act of bad faith.
---
THAT WASHINGTON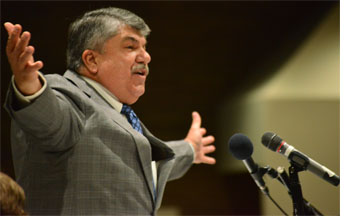 ► From Bloomberg — 'Infrastructure Week' spurs query on Trump's plan: Where is it? — Leaders from business, government, organized labor and trade associations gathered in Washington for an annual week-long discussion about improving the nation's infrastructure, with a message for President Donald Trump about his $1 trillion plan: let's see it. The officials urged Trump to produce his plan soon if he wants to tap bipartisan support for the improvements and start to navigate the ideological differences over how to pay for them. "My question to the White House and Congress is this: Where is the bill?" said AFL-CIO President Richard Trumka. "It's 'go' time. Bring legislation to the floor, and the labor movement will help you pass it.''
► In today's (Everett) Herald — Congress renews debate over fate of 30,000 FAA workers — The debate over whether to remove more than 30,000 air traffic controllers and engineers from the federal payroll got underway in Congress Wednesday with testimony that efforts to modernize the aviation system have fallen short.
EDITOR'S NOTE — Rep. Rick Larsen (D-WA), the top-ranking Democrat on the House Subcommittee on Aviation, took aim at glaring inconsistencies in a Republican proposal to privatize the nation's air traffic control system and called for focus on bipartisan agreement in the upcoming FAA reauthorization.
► In today's NY Times — The best replacement for Obamacare is Medicaid (by Michael S. Sparer) — Conservatives and liberals buy into negative myths about Medicaid. But the system works and we should be expanding it.
ALSO at The Stand — Federal, state Medicaid cuts are the real 'death panels' (by Brendan Williams)
---
NATIONAL
► From the NW Labor Press — 'Right to work' coming to the public sector — Public sector unions likely have between six to 13 months before paying anything at all to the union becomes strictly a voluntary decision for their members. Many public sector unions are getting ready by appealing to their fair share fee payers one-by-one to become full members.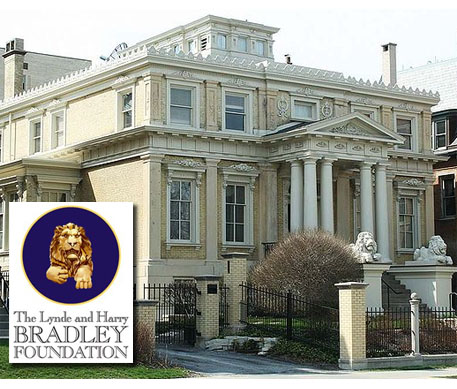 ► In the Milwaukee J-S — Expert: Bradley Foundation is walking fine line on politics — Internal records hacked from the Bradley Foundation server show that a couple of major grant recipients have listed as a goal to "defund" labor organizations, something one expert says could be problematic for the Bradley Foundation. Marcus Owens, who ran the IRS's tax-exempt organizations division in the 1990s, said union-busting doesn't count as a charitable purpose.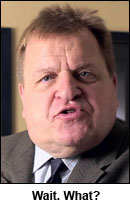 ALSO at The Stand — Bradley Foundation targets unions in Washington state — In Washington state, the Bradley Foundation granted $1.5 million over three years to the Freedom Foundation with the purpose of "defund[ing] Big Labor."
PREVIOUSLY at The Stand — Tax-exempt Freedom Foundation faces AG action over politicking (April 28, 2017)
► In the Chicago Tribune — More protests, tough questions at shareholder meeting of Oreo-maker Mondelez — It was deja vu all over again at the annual shareholder meeting Wednesday for Mondelez International, a global snack food company known for brands like Oreo cookies and Ritz crackers. Outside, union protesters again chanted their opposition to the company's decision to slash hundreds of jobs from the longtime Nabisco plant on Chicago's Southwest Side last year and move some production lines to Mexico.
► From the USA Today — Paid family leave is an elite benefit in the U.S. — While some of America's largest companies now provide paid family leave, a new report shows corporate employees benefit most. Millions of Americans aren't offered a single day off work following the birth or adoption of a child, and 1 in 4 new moms go back to work 10 days after childbirth.
► In today's Seattle Times — Chris Cornell, leading voice for Soundgarden and Seattle grunge, dies at 52
► Sexual predator news from The Hill — Roger Ailes, who built Fox News into a juggernaut, dies at 77
---
TODAY'S MUST-READ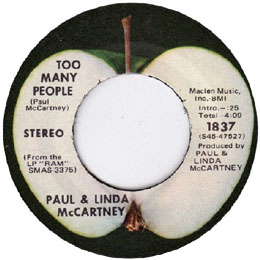 ► In today's Seattle Times — The economics of 7.5 billion people on one planet (by Jon Talton) — The latest estimate of the planet's population: 7.5 billion. At the turn of the 19th century, it was only 1 billion. It took more than another century to add another billion. Since then, the billions have been piling on with astonishing speed. The world held "only" a little more than 6 billion in 2000… Virtually every major problem, from climate change and wars to mass migrations and resource scarcity has its root in too many people. Economics are not immune. The lowered prospects of the politically potent white working class, for example, have much to do with millions overseas who can do the same jobs for a fraction of the cost… The most constructive response is to have societies where women have control over their bodies, including having access to birth control and abortion. Yet we have reached this population crisis at the same moment as religious fundamentalism has revived and, in many places, muscled out or exterminated moderate opposition. Women are considered little more than baby-making chattel in many nations.
---
The Stand posts links to Washington state and national news of interest every weekday morning by 10 a.m.
WASHINGTON IS A UNION STATE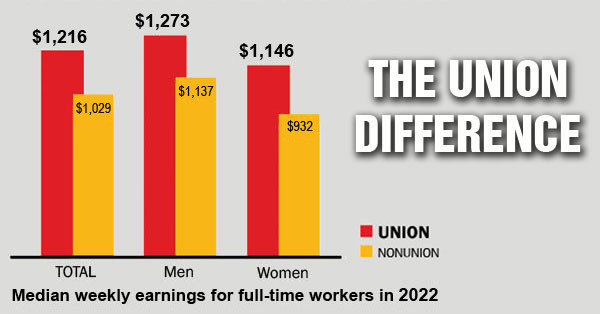 CHECK OUT THE UNION DIFFERENCE in Washington state: higher wages, affordable health and dental care, job and retirement security.
FIND OUT HOW TO JOIN TOGETHER with your co-workers to negotiate for better working conditions and respect on the job. Or go ahead and contact a union organizer today!