An appeal to Seattle school board, tax cuts made in China, Gimme Three Steps
Friday, October 20, 2017
---
LOCAL
► From KUOW — With a potential school bus strike looming, union pushes Seattle school board to help end dispute — The threat of a strike by school bus drivers in Seattle has many parents anxious. About 12,000 students in the district regularly use school bus service. Now, the union that represents the drivers is calling on the Seattle school board to put pressure on their vendor to resolve the labor dispute. The school bus drivers, who number about 400, belong to Teamsters Local 174. Their employer is called First Student, which is owned by a British company and has contracts across the U.S. for school bus service.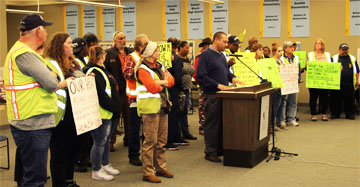 ► From Teamsters 174 — First Student Teamsters speak before the Seattle School Board — "The dispute has reached a boiling point, and this group is on the brink of a strike that would create havoc for Seattle families," said Teamsters Local 174 Senior Business Agent Abraham Taylor. "None of us want that to happen, and so we are asking for your help in resolving this situation as quickly as possible."
► In the Skagit Valley Herald — Send help to Puerto Rico (letter by Rich Austin) — While the Trump Administration claims that everything is going well in Puerto Rico, nurses who have volunteered to assist in the hurricane disaster relief describe a much different scene. They say FEMA's presence there is both sparse and ineffective… Contact your members of Congress. Demand immediate and effective disaster relief for the people of Puerto Rico.
---
THIS WASHINGTON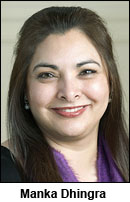 ► In today's Seattle Times — Former VP Joe Biden endorses Manka Dhingra in Eastside's Washington state Senate race — Both Dhingra, a prosecutor, and Biden have worked on domestic-violence issues. "I especially appreciate her efforts to reduce domestic violence and sexual assault, protect victims of crime, and advocate for improved mental health programs," Biden, who as a U.S. senator led the effort in 1994 to pass the Violence Against Women Act, said in the statement.
ALSO at The Stand — Got ballot? Check out labor's endorsements
---
TRUMPCARE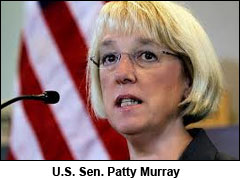 ► From TPM — ACA stabilization bill may have 60 votes, but it's far from a done deal — On Thursday afternoon, Senate Minority Leader Chuck Schumer (D-NY) announced that every single Senate Democrat would back a bipartisan bill to restore the subsidy payments to health insurance companies defunded by President Trump. Combined with the 12 GOP senators who officially co-sponsored the bill, that gives the measure a filibuster-proof supermajority if and when it comes to the floor for a vote. But with a powerful committee chairman and several other lawmakers in staunch opposition, hostility to the bill radiating from the House of Representatives, right-wing advocacy groups mobilizing against it, and a President who appears to hourly change his mind on the policy, there is no guarantee the bill will pass.
► In today's Seattle Times — Bipartisanship could help save the Affordable Care Act (editorial) — Thanks to Sen. Patty Murray, an ACA rescue plan is now possible, but citizens need to keep calling Congress to push it through.
► From The Hill — ACA allies fear deal won't mitigate Trump attacks — Affordable Care Act supporters are worried that President Trump's attacks on the law will depress enrollment and confuse consumers, inflicting damage that can't be fixed even if Congress comes up with a bipartisan health-care deal.
---
THAT WASHINGTON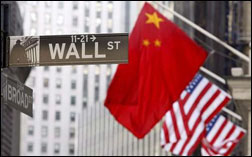 ► In today's Washington Post — Senate approves budget in crucial step for GOP tax cuts — The narrow 51-49 Senate passage of the Republican-proposed budget will let the GOP use a procedural maneuver to approve a tax bill in the Senate with just 50 or more votes, removing the need for Democratic support. The budget measure, which now moves to the House, is projected to expand the deficit by $1.5 trillion over 10 years. In doing so, they have abandoned long-standing party orthodoxy of deficit reduction and are seeking a political win after months of frustration on Capitol Hill.
EDITOR'S NOTE — The U.S. debt to China was $1.102 trillion as of May 2017. China is more than happy to own almost a third of the U.S. debt. Owning U.S. Treasury notes helps China's economy grow by keeping its currency weaker than the dollar. It keeps Chinese exports cheaper than U.S. products. China's highest priority is creating enough jobs for its 1.4 billion people. Rather than invest U.S. tax dollars in building crumbling infrastructure to create jobs here at home, Republicans want to borrow more money from China and give it to their international corporate benefactors and America's wealthiest families. It's not only short-sighted and greedy, it hurts American exports and kills jobs.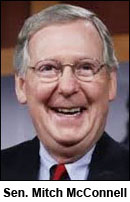 ► From Common Dreams — 51 GOP senators just voted to cut $1.5 trillion from Medicare, Medicaid to give super-rich and corporations a tax cut — Along strict party lines, the Republican-controlled Senate on Thursday night voted to pass a sweeping budget measure — one criticized as both "despicable" and "horrific" for providing massive giveaways to corporations and the super-rich while eviscerating funding for social programs, healthcare, education, and affordable housing.
► In today's NY Times — The self-dealing presidency of Donald Trump (editorial) — A federal court on Wednesday heard the first-ever lawsuit to accuse a president of violating the emoluments clauses of the Constitution.
---
NATIONAL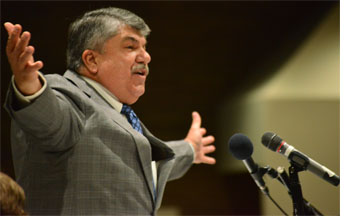 ► In today's St. Louis Post-Dispatch — Trumka talks unions' agenda as AFL-CIO convenes in St. Louis — The AFL-CIO is holding its 28th national convention at America's Center, where it will elect officers and adopt resolutions to guide the labor movement. More than a thousand members of the labor movement are expected to attend, representing 12.5 million employees who belong to more than 50 national and international unions. AFL-CIO President Richard Trumka, 68, said St. Louis was selected as a convention site after the Ferguson unrest in 2014. "St. Louis is a proud union town with a long history of activism," Trumka said, adding he and other union leaders traveled to Ferguson and the St. Louis region in the midst of protests to talk to community members about their concerns.
► La Jornada Mexico — U.S. response to Puerto Rico close to a 'violation of human rights' — The mayor of San Juan said that solidarity has been fundamental in this conjuncture, especially the response of the Puerto Rican diaspora and its allies in the United States. The delegation of more than 300 U.S. trade unionists (machinists, teachers, nurses, teachers and others from the AFL-CIO) arrived a few weeks ago to meet needs in more than 30 communities these days. That is the true spirit of American cooperation , not Trump's.
► From AAUP — University of Chicago graduate workers affirm union — University of Chicago graduate employees voted decisively and overwhelmingly for union recognition in a history-making vote. Founded in 2007, Graduate Students United (GSU) has worked together to enhance conditions on their campus. GSU will now be formally affiliated with the American Association of University Professors, the American Federation of Teachers and the Illinois Federation of Teachers.
► In today's Washington Post — Federal judge refuses to erase Joe Arpaio's conviction, despite Trump pardon — The judge said the pardon did not erase the fact that the former Arizona sheriff had been convicted of criminal contempt.
---
T.G.I.F.
► Forty years ago today, a plane carrying the southern rock band Lynyrd Skynyrd ran out of gas and crash landed in Mississippi. Killed on impact were lead singer Ronnie Van Zant, guitarist/vocalist Steve Gaines, backup singer Cassie Gaines (Steve's sister), a road manager, the pilot and co-pilot. The rest of the band suffered serious injuries. Lynyrd Skynyrd was at the peak of its popularity, having released the multi-platinum album Street Survivors three days earlier. A movie of the same name about the 1977 plane crash began production earlier this year, but in August a judge issued an extraordinary injunction blocking it at the request of Van Sant and Gaines' heirs.
FYI: The band's name is a mocking tribute to Leonard Skinner, a man The New York Times called "arguably the most influential high school gym teacher in American popular culture." Skinner was notorious for strictly enforcing the school's policy against boys having long hair. Watch this live performance and you'll see why this issue mattered so much to the band.
---
The Stand posts links to Washington state and national news of interest every weekday morning by 10 a.m.
Short URL: https://www.thestand.org/?p=61201
Posted by
David Groves
on Oct 20 2017. Filed under
DAILY LINKS
. You can follow any responses to this entry through the
RSS 2.0
. Both comments and pings are currently closed.