WA says Union Yes | Boeing's plateau | Trusting Mitch | 'Real' Rosie dies
Tuesday, January 23, 2018
---
LOCAL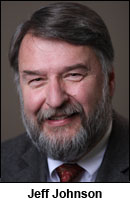 ► From The Stranger — Union numbers are stagnant nationwide, but growing a little in Washington — The percentage of workers who are union members nationwide didn't change from 2016 to 2017. But here in Washington state, 18.8 percent of workers are union members, up 1.4 percent between 2016 and 2017. Washington State Labor Council President Jeff Johnson said in a post on the council's website that the state numbers "demonstrate that, unless they are hindered by outdated or hostile labor laws, people will stand together and form unions."
ALSO at The Stand — State posts big gains in union membership — Union members earn higher wages, with median weekly earnings of $1,041 compared to $829 for nonunion, according to the new BLS report. With union wages averaging 25 percent higher than nonunion wages, full-time union members make more than $54,000 per year on average, which is $11,000 more than nonunion workers.
EDITOR'S NOTE — What are you waiting for? Contact a union organizer today about joining together with your co-workers to negotiate better pay and working conditions!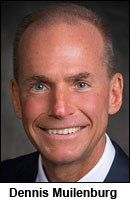 ► In today's Seattle Times — Boeing CEO Muilenburg discusses Seattle-area job outlook — In an exclusive interview at Boeing's Chicago headquarters, Chairman and CEO Dennis Muilenburg talked of heady growth plans, a company transformation around the next all-new jet, his push to acquire Embraer, his wooing of President Trump and the future of the Puget Sound region… As for the company's outlook in the Puget Sound area, Muilenburg offered some short-term good news: The steep decline in Boeing jobs over the past five years is finally coming to an end, he says, and "you're seeing us reach that more stable plateau."
► In today's Tri-City Herald — This man controls $3.4B of Tri-City area work. Here's what he says about Hanford — DOE undersecretary for science Paul Dabbar: "While a great deal of progress has been made by the workers at Hanford, we must remain focused on completing the remaining tasks."
► In today's (Longview) Daily News — Longview to host apprenticeship and trades fair — The Longview School District is hosting an apprenticeship and trades fair from 6 to 7:30 p.m. Wednesday at Mark Morris High School. The district is encouraging eighth- through 12th-graders and parents to attend and learn more about apprenticeship training and career opportunities in the trades.
► In today's Seattle Times — Ex-BNSF engineer claims he was wrongly fired after avoiding rail mishap in Portland — The former engineer claims in a federal whistleblower lawsuit that he was fired for damaging company property after he was forced to throw a runaway locomotive into reverse to avoid a potentially catastrophic accident in Portland in 2015.
---
THAT WASHINGTON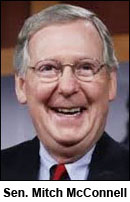 ► In today's Washington Post — Shutdown ends after Democrats agree to trust that McConnell will allow 'dreamer' vote — After three days of contentious negotiations and name-calling, Congress voted to end a government shutdown Monday when Democrats agreed to trust the word of Majority Leader Mitch McConnell. The pact came at a time when trust has been in short supply on Capitol Hill — and it unnerved liberal activists who weren't sure whether to believe McConnell.
► From AP — Trump casts doubt on reaching immigration deal by Feb. 8
► In today's Washington Post — Short-term spending agreement provides longer-term relief for CHIP — The short-term spending plan allowing the government to reopen solves a funding crisis for the Children's Health Insurance Program that has been ensnared for months in partisan budget fights. The spending bill provides six years of federal money for CHIP.
► In today's NY Times — Whiplash for federal workers: Go home! Wait! Come back! — On Monday afternoon, they fumed at both political parties, and said they were once again being made into sacrificial pawns in a badly played game of chess. "I blame everybody," said Billy Young, a federal correctional officer in Texas.
ALSO at The Stand — Shutdown over, AFGE hopes real governing can begin
► In today's Kitsap Sun — Furloughed federal employees in Kitsap head back to work on Tuesday — Navy Region Northwest spokesman said: "A government shutdown is a distraction we don't need, especially given the importance and tempo of our national-defense missions."
MORE local coverage in today's Peninsula Daily News.
► In today's (Longview) Daily News — Herrera Beutler telephone town hall focuses on shutdown, immigration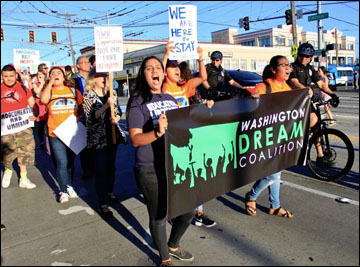 ► From HuffPost — Dreamers feel betrayed after Senate Democrats break their promises — Young undocumented immigrants watched on Monday as Senate Democrats did something many of them had promised not to: cast votes for government spending without securing protections for so-called Dreamers at risk of deportation. Dreamer activists felt betrayed.
► In today's NY Times — Hoping for a bargain in a swift surrender — Senate Democrats believe they are limiting damage from a political miscalculation by surrendering, but doing so has drawn a fierce backlash from the left.
► From Vox — Democrats didn't cave on the shutdown (by Ezra Klein)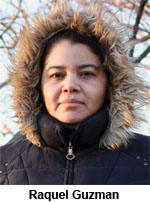 ► From HuffPost — These women have spent years cleaning up after senators who now want to deport them — Originally from El Salvador, Guzman has worked in the Senate for the last 10 years, scraping by as she and her husband, a janitor at Whole Foods, try to raise four children in suburban Washington. She has been working legally under what's known as temporary protected status. But the Trump administration announced Jan. 8 that it will end the TPS program for Salvadorans next year, meaning people like Guzman will lose their work permits and face deportation.
► From Reuters — Asia protests at U.S. solar, washer tariffs, fears more to come — China and South Korea condemned steep import tariffs on washing machines and solar panels imposed by U.S. President Donald Trump, with Seoul set to complain to the WTO over the "excessive" move.
---
TAX GIVEAWAY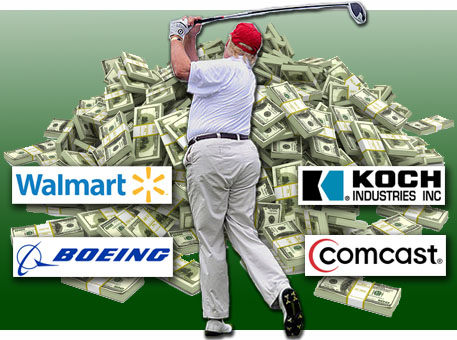 ► From CNBA — Few large US companies say they'll use tax savings to boost wages, CNBC survey finds — Despite a handful of high-profile announcements, the recent cuts in corporate taxes haven't yet had a meaningful impact on American companies' plans to boost investment or raise workers' pay, a CNBC survey of large companies found… Of the 100 biggest companies by market capitalization on Jan. 4, only 10 companies in the S&P 100 contacted by CNBC said they have specific plans to use some of the money saved from the corporate tax cuts to boost worker pay or invest in facilities or charitable causes.
► In today's NY Times — Will tax cuts mean pay raises? Bonuses don't tell us much — Companies are announcing bonuses as a result of the tax cuts, but it remains to be seen how much of that money will filter through to workers in the years to come.
► From Reuters — Kimberly-Clark to cut workforce by 12-13 percent, shut facilities —  Kleenex and Huggies maker Kimberly-Clark Corp said on Tuesday it expects to eliminate 5,000-5,500 jobs, or 12-13 percent of its workforce.
---
NATIONAL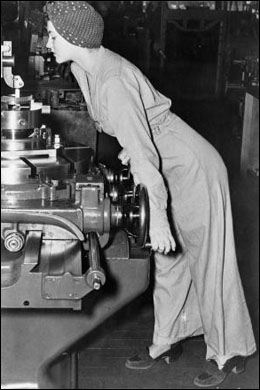 ► From CNN — The 'real' Rosie the Riveter dies at 96 — Naomi Parker Fraley was not recognized as the inspiration for the famous World War II era poster until 2015. During World War II, she was a factory worker at Alameda Naval Station. She was one of millions of women across the United States who filled the labor force during the war. While Fraley was working a press photographer approached her to take her picture. Over 60 years later, Fraley attended a convention for women who, like Rosie the Riveter, worked during the war. There, Fraley saw a photograph promoted as the likely inspiration behind the iconic image of Rosie the Riveter in the "We can do it" poster. She immediately recognized the picture as the one the photographer captured of her all those years ago.
► In today's Seattle Times — Job referrals may spur hires but also lead to less diversity and pay gaps, study finds — ob-candidate referrals from current employees may help companies hire faster, but a new industry study finds that relying on these suggestions can result in a less diverse workforce for businesses, and sometimes less money for new hires.
---
TODAY'S MUST-READ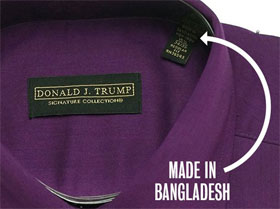 ► From AP — Top CEOs take just 4 days to make life earnings of Bangladesh worker, report says — A CEO from one of the world's top five global fashion brands has to work for just four days to earn what a garment worker in Bangladesh will earn in an entire lifetime, campaigning group Oxfam International said Monday. In the run-up to the World Economic Forum in the Swiss ski resort of Davos, Oxfam has sought to put inequality at the heart of this week's deliberations of the rich and powerful. "The billionaire boom is not a sign of a thriving economy, but a symptom of a failing economic system," said Winnie Byanyima, Oxfam International's executive director. "The people who make our clothes, assemble our phones and grow our food are being exploited to ensure a steady supply of cheap goods, and swell the profits of corporations and billionaire investors."
---
The Stand posts links to Washington state and national news of interest every weekday morning by 10 a.m.
WASHINGTON IS A UNION STATE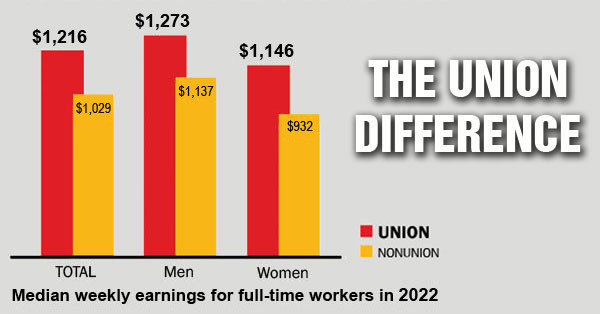 CHECK OUT THE UNION DIFFERENCE in Washington state: higher wages, affordable health and dental care, job and retirement security.
FIND OUT HOW TO JOIN TOGETHER with your co-workers to negotiate for better working conditions and respect on the job. Or go ahead and contact a union organizer today!