Union YES at Burgerville | NAFTA 2.0 | Women vs. Johns
Tuesday, April 24, 2018
---
LOCAL
► From Reuters — Wells Fargo CEO's pay details spark pushback by some employees — Wells Fargo's disclosure of how its chief executive's pay compares to the rest of its workforce has drawn criticism ahead of the scandal-plagued bank's annual shareholder meeting. Wells Fargo CEO Tim Sloan earned $17.6 million for 2017, an estimated 291 times the median of the annual total compensation of all the bank's workers.
ALSO at The Stand — Wells Fargo greed is killing American jobs; rally TODAY in Seattle — Join CWA, WA Fair Trade Coalition and other supporters of laid-off Wells Fargo call center workers today (April 24) from 11 a.m. to 1 p.m. at Seattle's Westlake Park, 401 Pine St.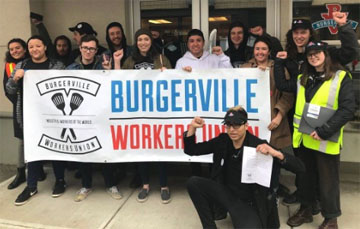 ► In today's Oregonian — Portland Burgerville workers approve federally recognized union — Burgerville workers at a Southeast Portland restaurant have officially voted to unionize, capping a two-year effort to become the first federally recognized fast-food union in the country. The Burgerville Workers Union will now represent hourly employees at the Portland store, enabling them to bargain for a raise to $15 per hour and better benefits. Workers voted 18 to 4 during the two-day vote, which ended Monday night.
► From the Oregon AFL-CIO — Oregon AFL-CIO congratulates Burgerville Workers' Union — Oregon AFL-CIO President Tom Chamberlain: "The struggle of the Burgerville workers is an inspiration to not just unions, but to all working people. The Burgerville Workers Union's successful vote and fight for union recognition has proven that when working people stand together, we will win."
EDITOR'S NOTE — You, too, can join together with your co-workers to negotiate a fair return for your work. Click here for more information.
---
THIS WASHINGTON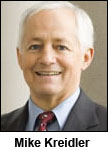 ► In the Seattle Times — Keep fighting for health insurance for all (editorial) — Insurance Commissioner Mike Kreidler is protecting Washington consumers against the Trump Administration's ill-conceived attempt to allow Americans to sidestep the requirements of the ACA… Kreidler should be commended for keeping this new threat from destabilizing Washington's successful health insurance market.
► In today's Seattle Times — Opioid-overdose deaths cost Washington state billions, study says — A study from a U.S. Senate committee, released as a prelude to new legislation by Sen. Patty Murray, says opioid-overdose deaths have cost the state $34 billion in four years.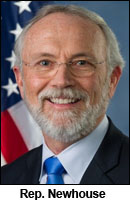 ► In the Columbia Basin Herald — Dan Newhouse announces bid for re-election — Newhouse has long espoused conservative principles and believes that with Donald Trump as president, the Republican Party is poised to pass legislation that has long been desired by right-leaning lawmakers and their constituents. "We now have a partner with a president in the White House who will help us take power away from Washington D.C. bureaucrats and give it back to we, the people, where it belongs," Newhouse said.
---
THAT WASHINGTON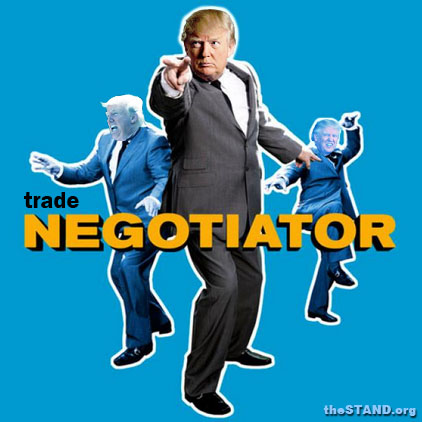 ► In today's LA Times — Trump is pushing hard to reach NAFTA agreement, both with trading partners and with Congress — With critical political deadlines fast approaching, the Trump administration is racing to strike a deal on a revamped NAFTA by early May — with an eye toward forcing a congressional vote on a new pact by the end of the year. After months of making little progress, recent statements from high-level trade officials meeting in Washington indicate that negotiations have been gaining momentum and that there's a fair chance of reaching an agreement in principle in weeks or even days.
► In today's Washington Post — Sanders to announce plan to guarantee every American a job — Sen. Bernie Sanders (I-Vt.) will announce a plan for the federal government to guarantee a job paying $15 an hour and health-care benefits to every American worker "who wants or needs one," embracing the kind of large-scale government works project that Democrats have shied away from in recent decades.
---
IMMIGRATION

► From Reuters — Trump's travel ban faces U.S. Supreme Court showdown — The first big showdown at the U.S. Supreme Court over President Donald Trump's immigration policies is set for Wednesday when the justices hear a challenge to the lawfulness of his travel ban targeting people from several Muslim-majority countries.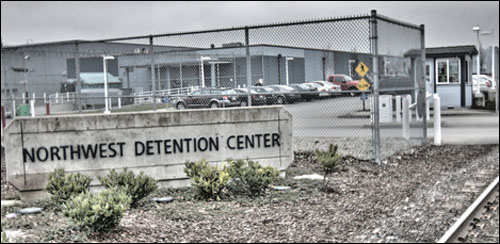 ► In today's News Tribune — ICE and the bitter fruit of dehumanization (by Michael Gerson) — During the last few years, there have been hundreds of accusations of sexual abuse, racial slurs, abusive strip searches and verbal harassment in ICE jails, prisons and detention centers. This is the bitter fruit of dehumanization — in a facility, in a system, in a country. It is unclear if Trump would even regard such a reputation as undesirable. He has effectively given permission for bullying. This is an issue ripe for more rigorous congressional oversight – even an independent commission to investigate charges of physical and sexual abuse in the ICE system. But this would require a critical mass of elected Republicans to give a damn about the rights and dignity of migrants. It is a distant dream.
► From HuffPost — Greyhound is choosing to let Border Patrol demand its passengers' papers — Border Patrol officers routinely board buses without a warrant, without specific people they're targeting, up to 100 miles from the border — and ask passengers for their papers. Greyhound, the nation's largest intercity bus line, lets the Border Patrol do it and doesn't plan to stop.
► In today's Seattle Times — 2020 Census citizenship question makes a mockery of our progress (editorial) — The citizenship question is likely to yield a systematic undercount of U.S. residents, which will harm any fast-growing state — Washington is one — that is home to an increasing population of immigrants.
---
NATIONAL
► From In These Times — Nearly 5,000 JetBlue flight attendants just voted to unionize, in a major win for airline labor — On April 18, nearly 5,000 JetBlue Airways flight attendants voted to form a union, notching a major victory for organized labor. The employees voted 2,661 to 1,387 to join the Transport Workers Union, a labor group that represents rail and airline workers, among others, and is affiliated with the AFL-CIO.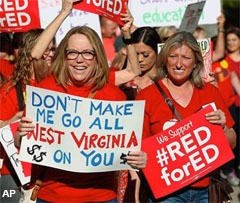 ► From Arizona Central — Republican lawmaker pitches $1 billion tax hike to prevent Arizona teacher walkout — More than 50 Arizona school districts — and counting — will close during Thursday's statewide #RedForEd walkout as educators push for higher pay and the restoration of $1 billion in cuts to education funding.
► From Arizona Central — Arizona's governor puzzled on why teachers want to walk out: 'We are delivering … what we believe they deserve'
► In today's NY Times — We don't need no education (by Paul Krugman) — At the state and local levels, the conservative obsession with tax cuts has forced the G.O.P. into what amounts to a war on education, and in particular a war on schoolteachers. That war is the reason we've been seeing teacher strikes in multiple states. And people like Kentucky Gov. Matt Bevin are having a hard time coming to grips with the reality they've created.
► In the Washington Post — Huge federal contractor 'failed' to pay workers $100 million in wages, union says —  In a complain filed by the CWA, one of the country's largest federal contractors has been accused of underpaying about 10,000 workers who run help hotlines for public health insurance programs, including the Affordable Care Act marketplaces, by up to $100 million over the past five years.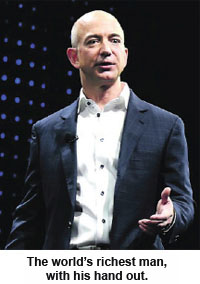 ► From The Intercept — Amazon gets tax breaks while its employees rely on food stamps, new data shows — Later this year, Amazon will begin accepting grocery orders from customers using the Supplemental Nutrition Assistance Program, the federal anti-poverty program formerly known as food stamps. This new revenue will effectively function as a double subsidy for the company: In Arizona, new data suggests that one in three of the company's own employees depend on SNAP to put food on the table. In Pennsylvania and Ohio, the figure appears to be around one in 10. Overall, of five states that responded to a public records request for a list of their top employers of SNAP recipients, Amazon cracked the top 20 in four.
► In the NY Times — What might happen to Amazon's profit if it paid its workers more? — Increasing Amazon's median pay number by 10 percent would bump the $28,466 up to $31,313, and the putative compensation expense would rise to $17.7 billion. Such an increase would have cut Amazon's $3.8 billion of pretax income in 2017 by 42 percent to $2.2 billion.
---
TODAY'S MUST-READ

► In today's NY Times — The leadership roles in America where women are outnumbered by men named John — Fewer Republican senators are women than men named John — despite the fact that Johns represent 3.3 percent of the population, while women represent 50.8 percent. Fewer Democratic governors are women than men named John. And fewer women directed the top-grossing 100 films last year than men named Michael and James combined. These comparisons come from our updated and expanded Glass Ceiling Index, in which we counted the women and men in important leadership roles in American life — including politics, law, business, tech, academia, film and news media.
---
The Stand posts links to Washington state and national news of interest every weekday morning by 10 a.m.
WASHINGTON IS A UNION STATE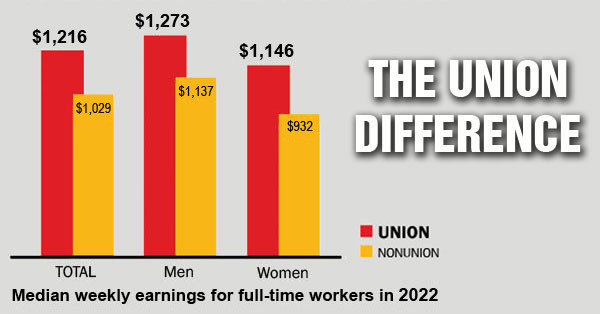 CHECK OUT THE UNION DIFFERENCE in Washington state: higher wages, affordable health and dental care, job and retirement security.
FIND OUT HOW TO JOIN TOGETHER with your co-workers to negotiate for better working conditions and respect on the job. Or go ahead and contact a union organizer today!