1,000 outside Swedish ● WA unions hold steady ● Last day to save apprenticeship
Monday, August 26, 2019
---
LOCAL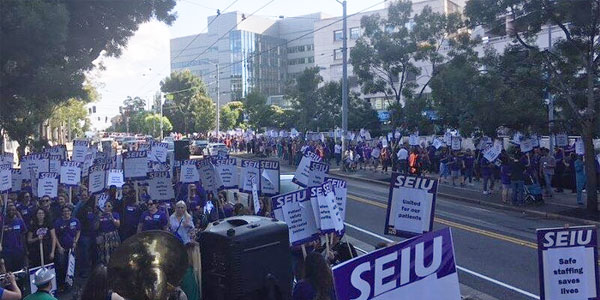 ► From The Stranger — A thousand health care workers picket outside Swedish Hospital — On Thursday organizers say close to 1,000 health care workers with SEIU Healthcare 1199 NW and other unions demonstrated outside Swedish's First Hill campus, following a day of informational picketing at all seven of Swedish's locations in Seattle. Since bargaining began last April, workers have been asking for better nurse-to-patient ratios, better wages and benefits, and more training and support for custodial staff. They point to high executive pay and the company's profitability as evidence that the money is there.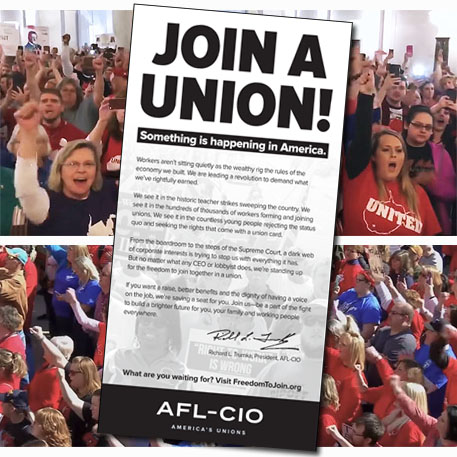 ► In today's Seattle Times — Seattle teachers get 11% pay raise over 3 years in draft of new contract — Seattle public school teachers and classified employees would get another double-digit raise over the next three years under a new draft contract given initial approval by the teachers union. Seattle Public Schools management and labor agreed on the terms of the contract late Saturday, skirting the suspense that surrounded last year's negotiations, when the union authorized a strike just days before school began to speed up a deal. The union's members will vote on the contract at a general membership meeting in downtown Seattle on Tuesday.
EDITOR'S NOTE — How does a double-digit pay raise sound to you? Get more information about how you can join together with co-workers and negotiate a fair return for your hard work. Or go ahead and contact a union organizer today!
► In the Columbian — La Center School District reaches tentative agreement — The La Center School District and La Center Education Association have reached a tentative new contract for teachers, meaning the school year should start on time.
► In the Tri-City Herald — Kennewick teachers make signs and plan rally as Monday's strike deadline looms — Kennewick teachers and administrators spent a fifth day in mediation talks on Sunday as Monday's end-of-day deadline for teachers to strike loomed. By late afternoon there was no word of any progress. Teachers planned to meet Sunday night to make signs.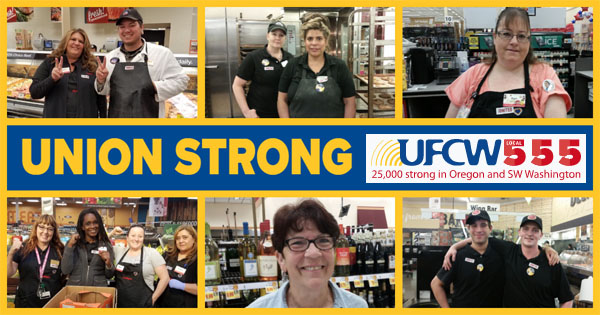 ► In the Oregonian — Grocery workers authorize strike against Oregon and SW Washington stores if negotiations fail — Grocery store workers (UFCW Local 555) in Oregon and Southwest Washington have voted to authorize a strike if the workers' union fails to reach a satisfying agreement with negotiators representing such stores as Fred Meyer, QFC, Safeway and Albertsons.
► From KATU in Portland — Activists to push for wage equality at Fred Meyer —  Demonstrations are planned statewide at Oregon Fred Meyer locations, as activists claim a wage disparity between male and female new hires at the grocery store chain.
► In the News Tribune — Tacoma grocery distribution center workers hit with layoffs amid UNFI Centralia move — In February, UNFI announced it would be closing a longtime Tacoma grocery distribution center with plans for a new Centralia site. The company at that time encouraged workers "to consider joining us at the new facility, and it is our hope they will do so." The warm overtures apparently have cooled in the months following that announcement. A labor dispute between UNFI and Teamsters Local Union 117 over terms of their contract is now in active arbitration, with a ruling expected in early October. In the meantime, the site's Tacoma workers were notified of layoffs Aug. 20. The layoffs will come in four phases, starting Sept. 28 going into December.
► In the News Tribune — Day of LNG hearing also to include rally, march — Puget Sound Energy's liquefied natural gas facility on the Tideflats faces a final public permit hearing on Tuesday, and both sides once again are ready to make their case for and against the project. The hearing, like the one held in October, is set to take place in two sessions: from 2 p.m. to 5 p.m. and from 6:30 p.m. to 10 p.m. Tuesday at Tacoma's Rialto Theater, 310 S. Ninth St.
---
THIS WASHINGTON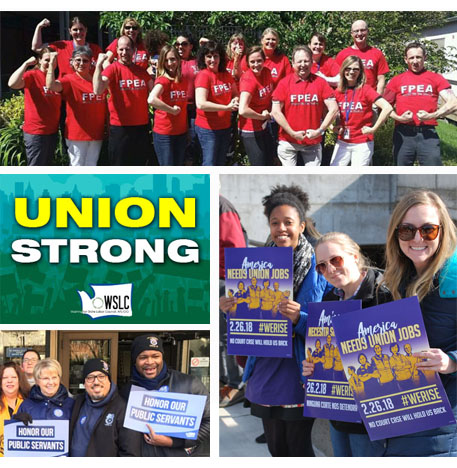 ► From The Columbian — Union membership steady in Clark County after ruling — Union opponents saw the Janus ruling's potential to reduce the power of public-sector unions, which they've blamed for bloated government. With unions traditionally being a key constituency of the Democratic Party, the ruling also had the potential to shift the political balance in labor-friendly states like Washington. A year after the ruling, data suggests that those scenarios haven't played out in Clark County or in Washington. Instead, the threat of the ruling has motivated to unions to engage their membership. "It did the inverse of what they were planning with Janus," said Randall Friesen, secretary-treasurer of the Southwest Washington Labor Council, an AFL-CIO affiliate that represents 7,800 workers. He said that workers realized that opting out of financially supporting their union would just mean weaker representation.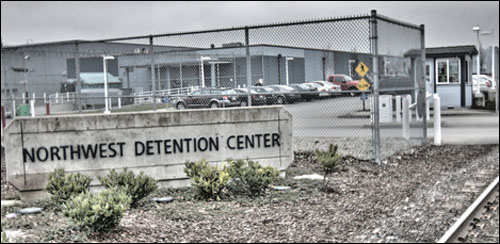 ► In the Spokesman-Review — DOJ: Immigration facility shouldn't have to pay minimum wage — The Trump administration is opposing Washington state's effort to make a privately run, for-profit immigration detention center pay detainees minimum wage for the work they do. Washington Attorney General Bob Ferguson sued The GEO Group in 2017, saying its Northwest Detention Center in Tacoma must pay the state minimum wage to detainees who perform kitchen, laundry, janitorial, maintenance and barbershop tasks. The lawsuit seeks to force GEO to turn over profits it gained by underpaying them – an amount that could reach into the millions. U.S. District Judge Robert Bryan has already issued some key rulings in the state's favor.
► From Crosscut — How Washington state turned blue: Three decades of data explain our partisan shift (by H. Stuart Elway) — In the latest Crosscut/Elway Poll, Democrats far outnumber Republicans. It wasn't always like this. The "blueing" of Washington appears to be a combination of the rightward tack of the GOP and the changing demographics of the state.
---
THAT WASHINGTON
ALSO at The Stand:
— Save veteran construction training programs (Aug. 19)
— Urge Labor Department to save state-registered apprenticeships (Aug. 1)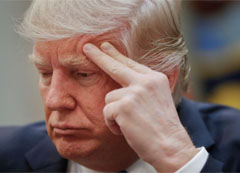 ► From Politico — Trump signals 'second thoughts' on escalating his trade war with China — Trump on Sunday signaled he might be having regrets about his deepening trade conflict with China, telling reporters less than 48 hours after he pledged to raise tariffs on Beijing that he has "second thoughts about everything." The comments marked the president's first public signal of regret about how he was fighting China through escalating tariffs.
► From Politico — Sen. Lindsey Graham: 'Accept the pain' of the U.S.-China trade war
---
NATIONAL
► From the Times Daily — AT&T communications union workers on strike — Members of CWA at AT&T Southeast went on strike at midnight Friday over AT&T management's unfair labor practices during negotiations for a new contract. The strike involves more than 20,000 technicians and others who install, maintain and support AT&T's residential and business wireline telecommunications network in Alabama, Florida, Georgia, Kentucky, Louisiana, Mississippi, North Carolina, South Carolina and Tennessee.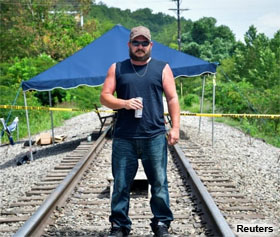 ► From CBC Radio — Unpaid Kentucky coal miners have been blocking a train track for 3 weeks — More than 1,100 miners in Kentucky, Wyoming, West Virginia and Virginia lost their jobs with no warning. They didn't get paid for their last week of work, and their paycheques from the previous two weeks bounced. So when the miners got word that Blackjewel was quietly shipping a trainload of coal, worth at least $1 million US, out of Black Mountain — coal the miners took out of the ground — they decided to take matters into their own hands.
► From HuffPost — A 'liberal sweatshop' is quashing its workers' efforts to unionize — Underpaid and overworked canvassers at one of the environmental movement's top fundraising groups (The Fund for the Public Interest) are accusing management of busting their attempt to unionize after the group shut down a North Carolina office where workers announced they had organized. People at the fund saw the closure as a warning to workers in the group's outposts in more than a dozen cities not to join unions.
► From Bloomberg — Google doesn't want staff debating politics at work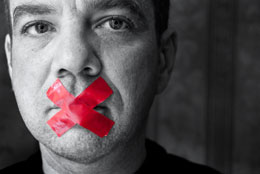 EDITOR'S NOTE — It was corporate America that weaponized the First Amendment for political reasons. First, they supported their own "personhood" in Citizens United so they could spend unlimited money to elect corporate-friendly politicians. But then they supported Janus by suggesting that any payment for services to unions was compelled political speech and should be restricted under the First Amendment. Now they are restricting their own employees' speech. What is it? Do free speech rights only apply when it is used to promote corporations and to weaken unions?
► A related story from the AP — Tech industry becomes hotbed for employee activism — Liz O'Sullivan, 34, considers herself part of a "growing backlash against unethical tech," a groundswell in the past two years in which U.S. tech employees have tried to remake the industry from the inside out — pushing for more control over how their work is used and urging better conditions, job security and wages for affiliated workers. While some speak out and others sign petitions, workers are collectively taking action like never before.
---
TODAY'S MUST-READ
► From The Atlantic — Why 2020 campaign workers are suddenly unionizing — A key part of the playbook for most successful Democratic presidential campaigns is courting the union vote. For candidates, that means touring union halls, trumpeting your solidarity with the labor movement, and making sure that the overpriced swag peddled by your campaign has an insignia certifying that it was made by American union workers. But what goes unmentioned on the campaign trail is that most of the staffers ferrying their bosses to union events and writing speeches reaffirming the candidates' support for labor aren't members of a union themselves. Or rather, that used to be the case. Since the spring, campaign staffers for multiple 2020 hopefuls have made a push to unionize — the first time in history any presidential campaigns have ever done so.
EDITOR'S NOTE — Are you a campaign staffer (or any other type of worker) in Washington state who wants a stronger voice on the job? Get more information about how you can join together with co-workers and negotiate a fair return for your hard work. Or go ahead and contact a union organizer today!
---
The Stand posts links to Washington state and national news of interest every weekday morning by 10 a.m.
Short URL: https://www.thestand.org/?p=79378
Posted by
David Groves
on Aug 26 2019. Filed under
DAILY LINKS
. You can follow any responses to this entry through the
RSS 2.0
. Both comments and pings are currently closed.