Teachers STRIKE ● IAM's Alaska contracts ● NAFTA 2.0: Fix it first
Tuesday, August 27, 2019
---
TEACHERS' CONTRACTS
► In today's Tri-City Herald — Kennewick classes canceled. Teachers to strike starting Tuesday. — Kennewick schools will not open Tuesday for the first day of the new school year. The school district announced at 7:30 p.m. that a tentative agreement had not been reached with the teachers union. The district faced a Monday evening deadline to reach an agreement with the Kennewick Education Association, which represents more than 1,200 teachers and certificated employees.
► In the Tri-City Herald — Blame the state's school funding 'fix' for Kennewick's stalled teacher salary talks (editorial) — We're not picking sides, but we do believe the state Legislature's inadequate attempt to fix inequitable school funding has hurt Kennewick more than many other school districts, including Pasco and Richland.
► In the (Longview) Daily News — Toutle Lake teachers set to strike Tuesday — Teachers in the Toutle Lake School District will go on strike Tuesday morning if a contract settlement has not been reached by then, according to union officials. However, negotiations aren't scheduled to resume until Tuesday morning. School is scheduled to open Wednesday, but classes will be delayed if the teachers strike, district officials said.

► From the WEA — WEA members may strike over competitive pay in at least two districts — Educators in Seattle and La Center reached tentative contract agreements with their districts over the weekend, while WEA members in dozens of other school districts continue negotiating. WEA union members in Kennewick and Toutle Lake have voted to strike if their district administrations fail to negotiate fair contracts on Monday. Competitive and professional pay for teachers and education support professionals continues to be a top issue in most districts.
► In today's Seattle Times — Tonight: Seattle teachers will vote on their new contract
► In the Daily Record — Ellensburg School District, teachers bring in mediator
---
LOCAL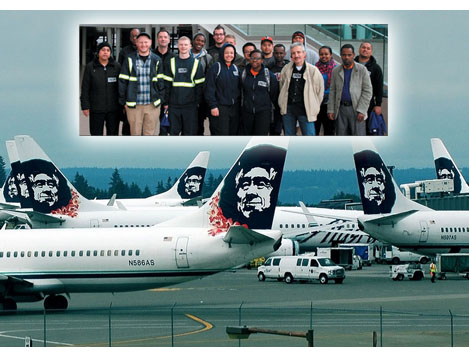 ► From the IAM — IAM members at Alaska Airlines overwhelmingly ratify new contracts — The International Association of Machinists and Aerospace Workers (IAM) today announced its Alaska Airlines membership overwhelmingly ratified two contracts covering 5,000 Clerical, Office, Passenger Service, Reservations, Ramp and Stores Workers at the Seattle-based carrier. The five-year accords run through September 2024 and provide pay increases between 10-16 percent on average, increases in 401 (k) contributions, work protection that extends beyond the lives of the agreements and decreased employee contributions toward health insurance premiums.
EDITOR'S NOTE — How do double-digit pay raises sound to you? Get more information about how you can join together with co-workers and negotiate a fair return for your hard work. Or go ahead and contact a union organizer today!
► In the (Longview) Daily news — Grocery store strike an option in Fred Meyer, Safeway contract negotiations –Thousands of grocery store workers in Oregon and Southwest Washington — including about 600 Kelso-Longview employees — authorized union leadership to call for a strike as part of their negotiating strategy against several big-name grocery stores. However, the union has no immediate plans for a walkout.
► From the AP — Russian firm sues Boeing over Max jet, open to settlement — A Russian aircraft leasing company says it has filed a lawsuit against Boeing over an order of 35 Boeing 737 Max jets, but that it's open to a settlement.
---
THAT WASHINGTON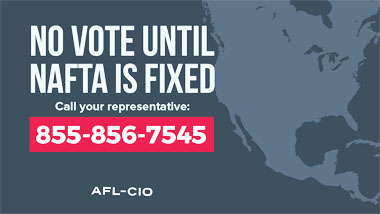 ► In the Houston Chronicle — Can Trump and Democrats actually come to terms on NAFTA 2.0? — Nine months after President Donald Trump joined with the leaders of Mexico and Canada to sign a new North American trade deal, supporters in Congress are preparing to make one last push to ratify the agreement before what is expected to be a bruising 2020 election campaign. But among increasing numbers of Democrats and Republicans, the steady outsourcing of jobs to lower-wage countries has brought into question the cost for America's working class of free trade deals at-large.
ALSO at The Stand:
— Democratic presidential hopefuls agree: Not this NAFTA (June 25)
— Making sense of NAFTA and its replacement (June 10 by Stan Sorscher)
— Tell Congress: No new NAFTA until it's fixed (April 16)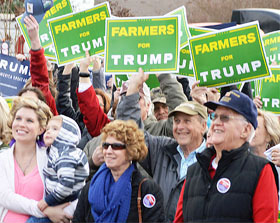 ► In today's NY Times — Farmers' frustration with Trump grows as U.S. escalates China fight — American farmers have become collateral damage in a trade war that Trump began to help manufacturers and other companies that he believes have been hurt by China's "unfair" trade practices. More than a year into the trade dispute, sales of American soybeans, pork, wheat and other agricultural products to China have dried up as Beijing retaliates against Mr. Trump's tariffs on Chinese imports. Lucrative contracts that farmers long relied on for a significant source of income have evaporated, with Chinese buyers looking to other nations like Brazil and Canada to get the commodities they need. Farm bankruptcy filings in the year through June were up 13 percent from 2018 and loan delinquency rates are on the rise.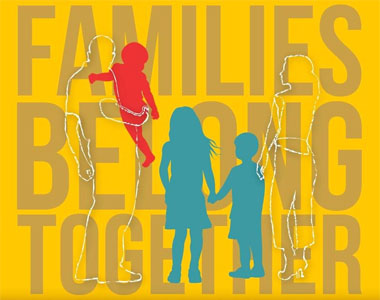 ► From ABC News — Kids left without either parent at home for 8 days after Mississippi ICE raid — U.S. immigration authorities took eight days before they realized they had detained both parents of two children in Mississippi earlier this month when it launched what became the biggest single-state workplace immigration raid in history, according to interviews with the family.
ALSO TODAY at The Stand — Employers weaponizing ICE against workers
► In the NY Times Magazine — How 'Medicare for All' went mainstream — In the last presidential election, the idea of abolishing private health insurance was confined to the far left of American politics. Now it's the central argument of the Democratic primary race.
► From The Hill — Nervous Republicans focus energy on protecting Senate 'firewall' — The GOP majority in the Senate is shaping up as a firewall for Republicans who are worried that Trump might falter and lose the White House next year.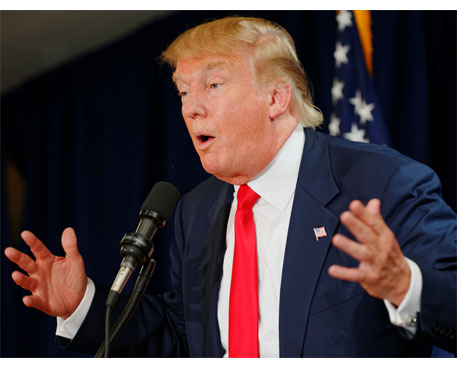 ► A related story in today's Washington Post — Trump gives a stunning display of incoherence at the G-7 (editorial) — The one subject on which Trump's intentions appeared unambiguous was his plan to steer the next G-7 summit, which the United States is due to host, to his own Doral golf resort near Miami — thereby injecting a huge stimulus into what has been a struggling business. When asked whether he was trying to use the presidency to enrich himself, Trump responded with the ludicrous claim that the presidency had cost him $3 billion to $5 billion. His scheme cries out for congressional intervention; if the emoluments clause of the Constitution means anything, it must forbid such blatant self-dealing.
► From The Onion — David Koch pumps billions of dollars into campaign to secure Antonin Scalia a seat in the Holy Trinity— "Over the years, Antonin has proved himself to have a strict originalist approach to scripture and God's commandments, and he is the only logical choice to get Heaven back on track," said Koch after arriving in the afterlife. "This is the first step of many to ensure that one day, the Holy Trinity has a conservative majority."
---
NATIONAL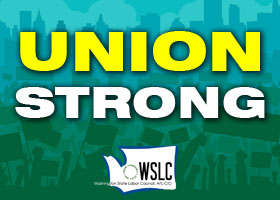 ► In the Pittsburgh Post-Gazette — One year since a court ruling threatened public sector unions, leaders say they're in good shape — Some experts predicted the Janus ruling would cause a mass exodus of members from unions representing millions of teachers, health workers and other government employees — devastating those unions' finances. But one year out, union leaders around Pittsburgh say that they're in good financial shape, and that membership has held steady or even ticked up a bit .
ALSO at The Stand:
— A year after Janus, state's unions are stronger (June 27)
— Freedom Foundation keeps spending, failing (June 18 by Peter Starzynski)
► From The Atlantic — The next recession will destroy millennials — The trade war is dragging on. The yield curve is inverting. Investors are fleeing to safety. Global growth is slowing. The stock market is dipping. The Millennials are screwed. Recessions are never good for anyone. A sputtering economy means miserable financial, emotional, and physical-health consequences for everyone from infants to retirees. But the next one—if it happens, when it starts happening—stands to hit this much-maligned generation particularly hard. For adults between the ages of 22 and 38, after all, the last recession never really ended.
---
The Stand posts links to Washington state and national news of interest every weekday morning by 10 a.m.
WASHINGTON IS A UNION STATE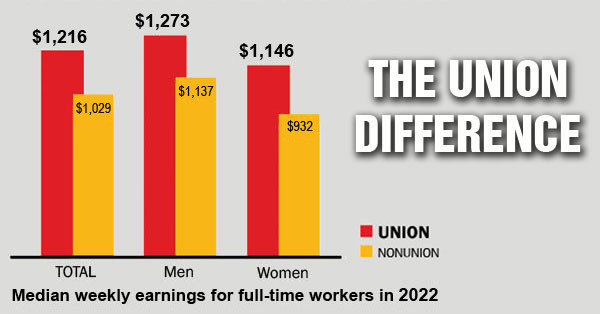 CHECK OUT THE UNION DIFFERENCE in Washington state: higher wages, affordable health and dental care, job and retirement security.
FIND OUT HOW TO JOIN TOGETHER with your co-workers to negotiate for better working conditions and respect on the job. Or go ahead and contact a union organizer today!