'Best contract I've seen' ● Kaiser strike vote ● Union approval at 50-year high
Wednesday, August 28, 2019
---
TEACHERS' CONTRACTS
► TODAY at The Stand — Teachers STRIKE in Kennewick, Toutle Lake
► In today's Tri-City Herald — No school again Wednesday in Kennewick. Teachers to return to picket lines. –Kennewick schools will be closed again Wednesday after a state mediator sent exhausted negotiators home about 7 p.m. Tuesday. The strike will keep 19,000 students on summer vacation for a second day while schools in Richland, Pasco and other communities opened Tuesday.
► In today's (Longview) Daily News — Toutle teachers strike Tuesday morning while talks continue —  Toutle teachers went on strike at 8:30 a.m. Tuesday and picketing outside school grounds along Spirit Lake Memorial Highway Tuesday morning. The district and teacher's union resumed talks at 10:30 a.m., and bargaining continued into the evening past TDN press time. Wednesday classes for the first day of school already were cancelled Tuesday morning. Contract talks have bogged down over teacher pay.
► From KAPP-TV — Ellensburg teachers may go on strike — Ellensburg teachers are planning to take a vote to decide whether or not they will go on strike at the beginning of the school year on Sept. 3.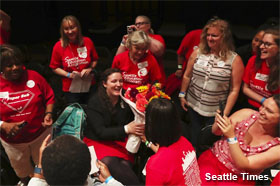 ► In today's Seattle Times — 'The best contract I've seen': With teacher approval of new contract, Seattle educators could make from $63,000 to $124,000 — It wasn't everything they wanted, but it was close enough. Seattle educators approved their new contract with Seattle Public Schools (SPS) Tuesday evening, avoiding a drawn-out period of negotiations leading right up to the start of school Sept. 4. Eighty-eight percent of them voted yes. The three-year agreement with the district, reached over the weekend, awards another round of double-digit raises to the union's 6,000 members. By 2022, salaries will increase by 11.1% for certificated teachers and by 12.1% for classified employees, such as instructional assistants, who make significantly less on average.
EDITOR'S NOTE — How do double-digit pay increases sound to you? Get more information about how you can join together with co-workers and negotiate a fair return for your hard work. Or go ahead and contact a union organizer today!
► In today's Columbian — La Center teachers, district agree to 3-year contract — The La Center Education Association voted unanimously to ratify a new contract Tuesday afternoon, which was approved later in the day by the school board
---
LOCAL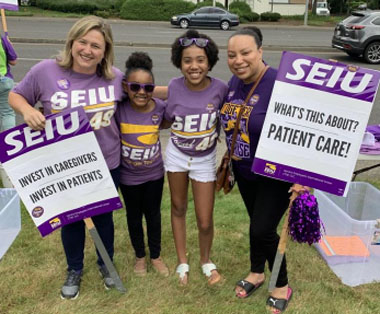 ► In today's (Longview) Daily News — SEIU-represented Kaiser employees set to strike in October — An overwhelming majority of union workers at Northwest Kaiser Permanente facilities voted to allow their union bargaining team to call for a strike if necessary in contract negotiations. Employees aren't expected to walk out until early October, when the existing contract expires, according to union officials. However, union officials said they expect other Kaiser employees involved in the national contract talks to walk out, meaning the strike, whenever it begins, could balloon to 85,000 employees.
► In the Lund Report — Kaiser Permanente union-represented staff vote to strike — A majority of 4,500 employees at Kaiser Permanente hospitals and clinics in Oregon and Southwest Washington have voted to authorize a strike.  The union said it has balked at Kaiser's proposal to cut pay for new workers and is concerned that the company has shifted its focus from providing high-quality care to beefing up its bottom line.
► In today's News Tribune — 'Affront to human rights' or 'step in right direction'? LNG fight rages one more time — The two sides were gathered for Tuesday's hearing held by Puget Sound Clean Air Agency. The agency is considering an approval order for the LNG project's facility construction permit. The agency in July said it had completed a review of the project's Notice of Construction Application and had made "a preliminary determination that the proposal meets all the requirements of Agency Regulations I, II and III and should be approved."
► From Crosscut — WA farmers and laborers are struggling under the H-2A guest worker program — and it may get worse — Farms in the state are part of the fourth largest guest worker program in the nation, but growers say they can't keep up with the costs and advocates say local workers are being left behind.
---
THIS WASHINGTON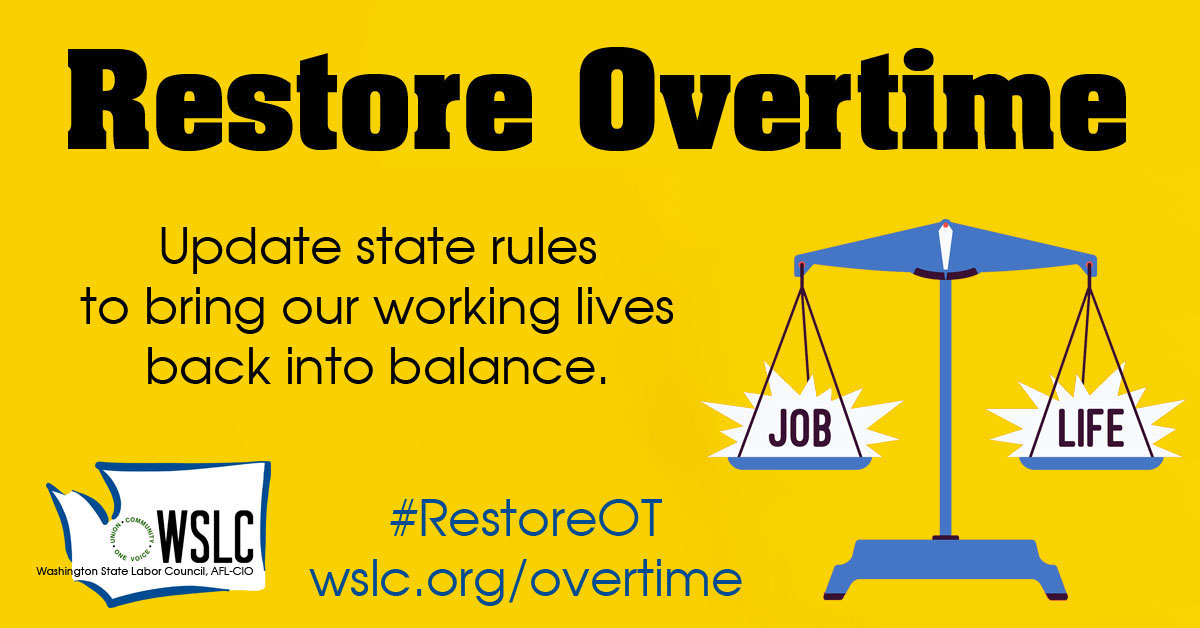 ► In the Skagit Valley Herald — Changes proposed for overtime pay rules — More workers in the state would be eligible for overtime pay under new rules proposed by the state Department of Labor & Industries. Starting in July 2020, employers would have to start paying overtime to some salaried employees who were previously exempt from overtime. The change would impact about 250,000 workers over six years, according to L&I… Ethan Shutt, a representative of SEIU 775, a union for caregivers, said the changes will help restore work-life balance: "It isn't right that entry-level employees should be forced to give up all their time without reasonable compensation."
EDITOR'S NOTE — L&I's comment period on the proposed rule ends on Friday, Sept. 6, 2019. Click here for more information.
► In today's Seattle Times — It gets better? Nope, for Washington state GOP, it just keeps getting worse. (by Danny Westneat) — "The gap right now between the parties is the largest we've ever recorded," says pollster Stuart Elway. "It's 20 points — that's a huge number for Washington state… It could get worse, too. With Trump at the top of the ticket, I don't know how they are even going to field a team in the next election."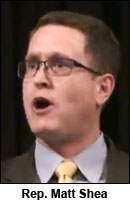 ► A related story from The Inlander — Why Matt Shea was asked not to attend a census-count committee meeting — "We told her that we're not comfortable with him being present, and that we would prefer he not be involved with the census committee [if he was]," said Larry Valadez, with the Hispanic Business/Professional Association. "I told her, 'That is not a problem if you want to invite him. But if he comes, we're not going to stay. We're going to seek out other affiliations'."
EDITOR'S NOTE — How long will the State Republican Party continue to stand by their man when people don't feel comfortable even being in the room with him? Discuss.
---
BOEING
► In today's Seattle Times — Canceled flights, wrecked vacations and leaky planes: Passenger frustrations rise as airlines struggle — Delays, cancellations and angry passengers peaked this summer as American Airlines saw its fleet squeezed by the grounding of Boeing 737 MAX jets and a dispute with union mechanics that a federal judge said was responsible for taking more planes out of service. Passenger horror stories spread through angry Twitter rants and distressing posts on Facebook.
---
THAT WASHINGTON
► From The Hill — Poll: Support rises for 2020 Democrats favoring 'Medicare for All' — Democratic presidential candidates who favor a "Medicare for All" health care system are garnering more support from voters, according to a Politico/Morning Consult poll. The nationwide survey found that net support among Democratic voters climbed to 52 percent, from 35 percent in January.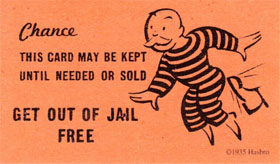 ► In today's Washington Post — 'Take the land': President Trump wants a border wall. He wants it black. And he wants it by Election Day. — Trump is so eager to complete hundreds of miles of border fence ahead of the 2020 presidential election that he has directed aides to fast-track billions of dollars' worth of construction contracts, aggressively seize private land and disregard environmental rules, according to current and former officials involved with the project. He also has told worried subordinates that he will pardon them of any potential wrongdoing should they have to break laws to get the barriers built quickly, those officials said.

► From KUOW — As Puerto Rico braces for storm, feds to move $271 million to border operations — As a major storm heads for Puerto Rico, the Department of Homeland Security and its Federal Emergency Management Agency said Tuesday they will move $271 million in funds to support Trump's border enforcement efforts.
---
NATIONAL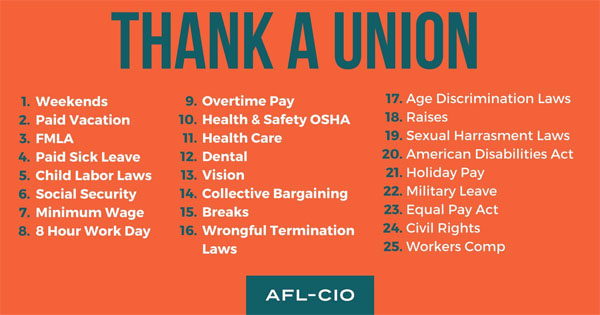 ► From Gallup — As Labor Day turns 125, union approval near 50-year high — Sixty-four percent of Americans approve of labor unions, surpassing 60% for the third consecutive year and up 16 percentage points from its 2009 low point. This comes 125 years after President Grover Cleveland signed a law establishing the Labor Day holiday after a period of labor unrest in the U.S.
EDITOR'S NOTE — Get more information about how you can join together with co-workers and negotiate a fair return for your hard work. Or go ahead and contact a union organizer today!
► In the Post and Courier — Strike over labor practices by AT&T workers in SC, 8 other states, is ending — A strike by AT&T workers in South Carolina and eight other southern states is ending. The CWA said it decided to end the walkout over alleged unfair labor practices early Wednesday. The union's members are scheduled to return to work at 1 p.m.

► In today's LA Times — Grocery workers give supermarkets a Sept. 9 deadline in labor contract talks — Saying little progress has been made in contract talks with supermarket chains, Southern California grocery workers' union leaders have set a deadline of Sept. 9: On that day, workers will start voting on whether to ratify — or reject — the companies' latest contract offer. The deadline was set after four days of talks that concluded Sunday with no agreement reached. A new round of negotiations is scheduled to start Sept. 4 and go through Sept. 8, but UFCW union locals decided late Sunday that it was time to hold a vote by their members on a specific contract proposal. Some 46,000 unionized employees of Ralphs, Albertsons, Vons and Pavilions stores from north of Santa Maria to the U.S.-Mexico border are still working under a three-year contract that expired March 3.
► In the Chronicle of Higher Education — Strikes at colleges are at a 7-year high as unions rebound — Last year saw the most strikes across colleges since 2012, a new study found — more than double the number in 2017. More unions have formed in the same period.
► From Business Insider — 'I was working like a slave' — Exhausted Popeyes employees describe a harrowing situation amid chicken-sandwich chaos, including working 60-hour weeks and shifts with no breaks.
---
TODAY'S MUST-READ
► From the Economic Policy Institute — How well is the American economy working for working people? — The nation's unemployment rate has been at or below 4% for the past year and a half. But while a single 18-month stretch of sub-4% unemployment is a good start on an improving labor market, it's far from sufficient to undo the damage done by a decades-long policy assault on the economic leverage that workers can exert.
---
The Stand posts links to Washington state and national news of interest every weekday morning by 10 a.m.
WASHINGTON IS A UNION STATE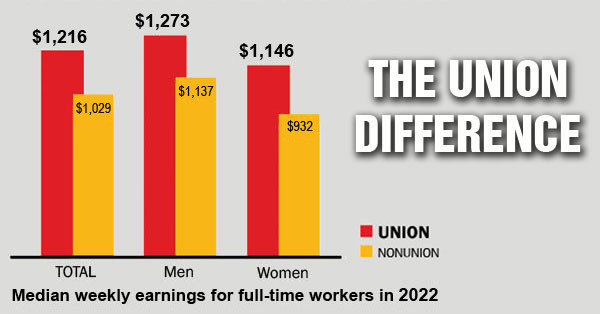 CHECK OUT THE UNION DIFFERENCE in Washington state: higher wages, affordable health and dental care, job and retirement security.
FIND OUT HOW TO JOIN TOGETHER with your co-workers to negotiate for better working conditions and respect on the job. Or go ahead and contact a union organizer today!