Clawback comeback? ● UFCW ready to walk ● 'A fierce pain and a fierce joy'
Friday, September 6, 2019
---
THIS WASHINGTON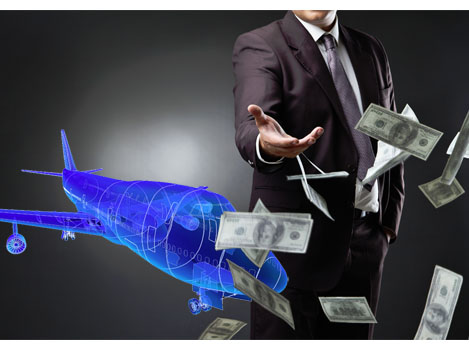 ► In today's (Everett) Herald — Clawback could make a comeback in aerospace tax break debate — Aerospace companies that save bundles of dollars through tax breaks — billions in the case of the Boeing Co. — rallied Thursday against renewed calls for knitting a firm's receipt of those perks with the number of people they employ. Executives of Boeing and several firms voiced concerns at a public hearing on a report examining whether the tax breaks enacted in 2003 and extended in 2013 were doing what lawmakers wanted them to do — namely cut business costs, preserve the industry, ensure good-paying jobs, and "maintain and grow" the aerospace workforce. That analysis by the state legislative auditor found costs are lower and workers are earning good wages, but there is no clear link between the tax breaks and job creation. There are more aerospace workers in Washington now than in 2003, but fewer than in 2013, it found. Moreover, the auditor couldn't find clear evidence that the tax break extension influenced Boeing's decision to build the 777X in Everett.
► From Crosscut — Lawsuit claims affirmative-action opponents are misleading voters — but court doesn't intervene — Supporters of I-1000, an affirmative-action initiative in Washington state, went to court Thursday to try to block the distribution of voter-pamphlet statements they say are false and will mislead voters who are being asked to approve the policy this November.
ALSO at The Stand — Approve R-88 – Opportunities For All coalition backs I-1000
► In today's Spokesman-Review — 'Liberty' state proponents push plan to secede from Washington — Proponents of a plan to split Washington into two states held a news conference as an attempt, they said, to clear up misconceptions about the movement and counter criticism of its most prominent leader, state Rep. Matt Shea, who was not in attendance.
EDITOR'S NOTE — Why not "West Alabama"?
---
LOCAL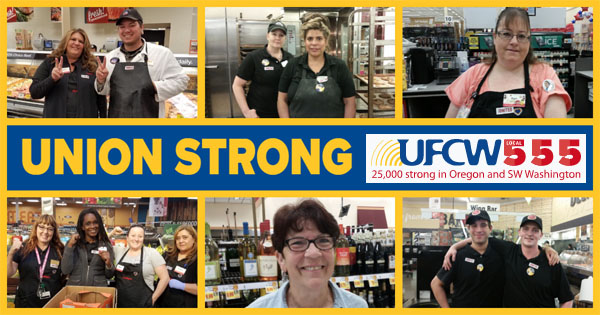 ► In the NW Labor Press — Grocery workers ready to walk in 3 states — In a series of strike votes over the summer, members of UFCW in Oregon, Washington, and California voted overwhelmingly to authorize strikes if contract bargaining with big grocery chains fails to produce acceptable union contracts. On one side are 20,000 members of UFCW Local 555 in Oregon and Southwest Washington, (and another 30,000 members of nine UFCW locals in Southern California.) On the other side are two massive grocery companies that own multiple grocery chains: Kroger (which owns chains including Fred Meyer and QFC in the Northwest and Ralph's in California) and Albertsons (which owns Safeway, Albertsons, and 18 other chains). The grocers bargain together as an employer group. "They're offering nickels and dimes, and we're asking for dollars," says UFCW Local 555 bargaining team member Tena Burch-Wolski, who works as a cashier at a Fred Meyer store in Vancouver.
► In today's Spokesman-Review — Spokane teacher's union gets new leader — Three weeks ago, Jeremy Shay was prepping his science classroom for the first day of school at Ferris High School, just as he'd done for the last dozen years. Then came the call from Katy Henry, president of the Spokane Education Association. She offered Shay her congratulations. "What for?" asked Shay, who learned that Henry was resigning and that he was now in charge of the state's largest teachers' union east of the Cascades.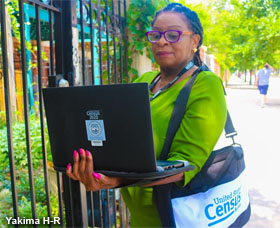 ► In today's Yakima H-R — Knock, knock: Address canvassing underway for 2020 census in Yakima County — The Census Bureau recently kicked off address canvassing efforts, a process by which census workers confirm the location of houses, apartments, shelters and other lodging to ensure census lists are complete and accurate… The Supreme Court decided in June to block the citizenship question, a positive development for Yakima's immigrant populations, said Dori Peralta Bakerof the Yakama-Yakima el Censo 2020 coalition. "With the citizenship question deleted from the census form, our immigrant population will be more receptive to responding to Census information," Baker said. But she added it's important to help spread the word about legitimate census activities.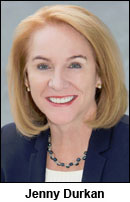 ► In today's Seattle Times — What U.S. workers need most (by Seattle Mayor Jenny Durkan) — First, workers must be paid fair wages. Second, we must move quickly to create a workforce ready for jobs that don't exist today but will be commonplace by 2030. Next, we must come together around a national plan to create more affordable housing. Finally, we need to build in financial fairness for gig-economy workers, most of whom are independent contractors. This large (and growing) group of workers, like ride-hailing drivers, often work long hours to enrich companies that currently are not providing minimum wages, sick leave, retirement or health care benefits. Unchecked, these new employment models will destroy what's left of the covenant between labor and management that built the American middle class.
EDITOR'S NOTE — Did a word search for "union." Zero results.
---
THAT WASHINGTON
► From the AP — Mexican president promises AFL-CIO head new labor policy — Mexican President Andres Manuel Lopez Obrador has met with the head of the largest U.S. labor group, the AFL-CIO. Lopez Obrador's office said Wednesday he promised AFL-CIO President Richard Trumka that Mexico will enforce new, stricter labor laws. He also called for ratification of the U.S.-Mexico-Canada free trade agreement.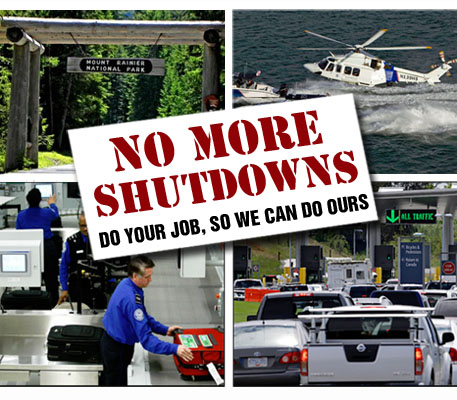 ► Déjà vu today from The Hill — House to vote on stopgap spending measure to prevent shutdown — The House is slated to vote on a short-term measure to fund the government and prevent a shutdown in mid-September. House Democrats passed 10 of 12 annual appropriations bills over the summer for the next fiscal year, but the Republican-controlled Senate has yet to even approve any of its versions out of committee.
► From Politico — Republicans to scrap primaries and caucuses as Trump challengers cry foul — The moves, which critics called undemocratic, are the latest illustration of the president's total takeover of the GOP apparatus.
► In today's Washington Post — Former Starbucks chief executive Howard Schultz announces he will not run for president — Schultz, a billionaire, said in January that he was considering a nonpartisan bid, describing himself as a "centrist independent outside the two-party system."
ALSO at The Stand — Union-buster Howard Schultz quitting day job, mulling politics
---
NATIONAL
► From Splinter News — Uber, Lyft drivers say they want to change ridesharing's 'predatory business model' — California appears to be on the verge of passing AB5, a bill that would make it much harder for companies to classify employees as "independent contractors"—and a bill that scares Uber and Lyft to death. Drivers from those companies wrote in to tell us how being a real live employee would change their lives.
► In the Morning Call — Seeking better pay, benefits, treatment, hundreds of Advance Auto Parts workers at Pennsylvania warehouse go on strike — Many of the 550 workers (LIUNA Local 1310) picketed Wednesday, frustrated by what they say is the company's unwillingness to reach a labor deal. "The pay is no good," said Orlando Laboy, a 10-year worker. "The medical program is worse, and we're trying to exercise our rights. That's why we're out here as a group."
---
T.G.I.F.
► Fifty years ago this summer, the Harlem Cultural Festival — also known as "Black Woodstock" — was held. Most people have never heard of this series of free Sunday concerts, even though they featured the likes of B.B. King, Sly & the Family Stone, Gladys Knight and the Pips, Stevie Wonder, Mahalia Jackson, Moms Mabley, and The Staple Singers. "The festival was a way to offset the pain we all felt after (the assassination of) MLK," the Rev. Jesse Jackson, who spoke at the festival in 1969, tells Rolling Stone in this great new article. "The artists tried to express the tensions of the time, a fierce pain and a fierce joy."
But sure enough, the world lionized what happened that summer at Woodstock in upstate New York, and promptly forgot about Harlem. Here is the incredible Nina Simone performing at the Harlem Cultural Festival. Enjoy some history, and a song that remains relevant. "The only way that we can stand, in fact, is when they get their foot off our back."
---
The Stand posts links to Washington state and national news of interest every weekday morning by 10 a.m.
Short URL: https://www.thestand.org/?p=79760
Posted by
David Groves
on Sep 6 2019. Filed under
DAILY LINKS
. You can follow any responses to this entry through the
RSS 2.0
. Both comments and pings are currently closed.