Border boondoggle ● Protect domestic workers ● Unaccountable Amazon
Thursday, September 5, 2019
---
BORDER BOONDOGGLE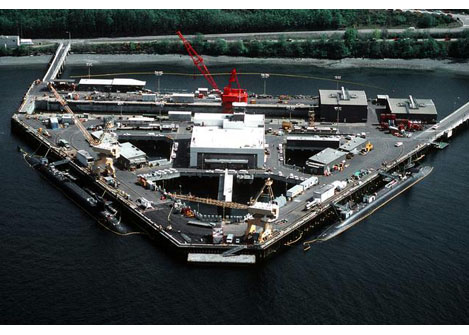 ► In today's Seattle Times — Pentagon takes $89 million from Navy pier project at Bangor to help fund border wall — The Defense Department is diverting funding for an $89 million pier project at Naval Base Kitsap in Bangor to help build $3.6 billion in fencing and barriers along the U.S. border with Mexico.
ALSO at The Stand — Trump's border-wall military cuts hit home
► From Politico — Trump defends cash grab for border projects as lawmakers lash out — Trump on Wednesday stood by his administration's efforts to divert billions of dollars from different corners of the federal government for various initiatives along the U.S.-Mexico border, despite a bipartisan outcry from members of Congress.
► From AP — Border wall funding pulled from schools, defense projects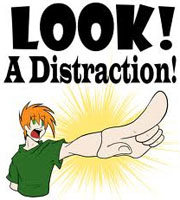 EDITOR'S NOTE — Remember when Trump promised Mexico would pay for his border wall?
Meanwhile, much much more news coverage and commentary today is being devoted to Trump's Sharpie-edited weather map and his tweet disparaging actress Debra Messing.
---
THIS WASHINGTON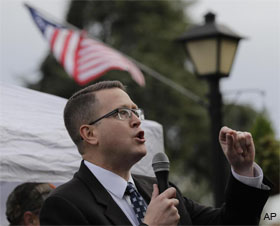 ► In the Spokesman-Review — Rep. Matt Shea loses more support from corporate donors — Boeing, Allstate, the timber company Weyerhaeuser and the Washington Health Care Association have joined the list of corporate donors saying they will no longer contribute to state Rep. Matt Shea's re-election campaigns.
► ICYMI from yesterday's Seattle Times — Now corporate donors are abandoning Washington Rep. Matt Shea? They knew he was an extremist for years (by Danny Westneat) — Shea is under some official scrutiny now for palling around with extremist groups and fantasizing about waging a holy crusade to make everyone obey biblical law. But what rings so hollow about the belated corporate denunciations is that their lobbyists, for many years, have all known Shea is a far-right extremist with delusions of apocalyptic grandeur. They didn't care — they gave him money anyway… It's politics at its most transactional. It makes no difference to the companies if you're a fringe religious zealot who imagines yourself carrying a sword into a new Christian civil war. If they imagine needing your vote on some matter, they'll seek to influence it.
---
DOWN SOUTH

► From KATU — Initiative looks to limit number of self-checkout machines in Oregon stores — A ballot initiative looking to limit the number of self-checkout machines in Oregon stores will be moving forward on Thursday. The Oregon AFL-CIO, will submit signatures of people backing "The Grocery Store Service and Community Protection Act."
---
THAT WASHINGTON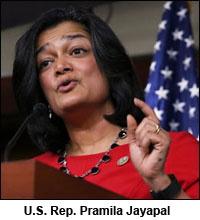 ► From Crosscut — The time is now for a federal Domestic Workers Bill of Rights (Pramila Jayapal and Teresa Mosqueda) — In the 1930s, domestic workers were intentionally left out of New Deal labor protections because lawmakers were unwilling to equalize the wages of mostly female African American workers. When civil rights protections were created for other workers in the 1960s, people employed in workplaces with 15 workers or fewer were left out, which meant domestic workers were excluded from protection against harassment and discrimination. Thankfully, and largely because of the advocacy of housekeepers, nannies and caregivers, state and city lawmakers have finally begun to correct these injustices. Last year, Seattle became the first city in the country to pass a domestic workers bill of rights, joining eight other states in providing basic protections to domestic workers. The bill was crafted over six months with a broad coalition of workers, labor unions, community advocates and supportive employers.
► In today's NY Times — Three North Carolina judges step in where the Supreme Court refuses (editorial) — The Supreme Court's conservatives said partisan gerrymandering was not a matter for courts, leaving the job of protecting democratic self-rule to state judges… But state courts shouldn't have been saddled with this job in the first place. As Justice Kagan wrote in June: "What do those courts know that this court does not? If they can develop and apply neutral and manageable standards to identify unconstitutional gerrymanders, why couldn't we?"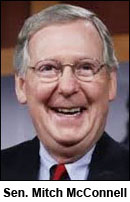 ► In today's (Everett) Herald — Nation needs campaign finance watchdog on the job (editorial) — A recent resignation from the Federal Election Commission, which reduced its independent oversight panel to three members instead of the mandated six members — eliminating its quorum and its authority for many of its responsibilities — means the campaign finance watchdog for federal elections is not on the job… With little urgency shown by (President Donald) Trump or (Senate majority Leader "Moscow Mitch") McConnell, this could be a long wait: weeks, months or even well into — if not past — the 2020 election season, which most readers will recall, will determine the next president and control of the Senate and House.
---
NATIONAL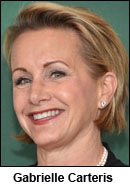 ► From the AFL-CIO — 'State of the Unions' podcast: Humble courage and 90210 — The latest episode of "State of the Unions" podcast, co-hosts Julie Greene and Tim Schlittner talk to SAG-AFTRA President Gabrielle Carteris about the future of work, sexual harassment and her journey from young actor to labor leader.
► From Bloomberg — America's chicken industry accused of conspiring to keep immigrant wages down — Companies producing more than 90% of America's chicken have conspired to depress wages for a largely immigrant work force in some of the nation's most dangerous jobs, according to a lawsuit.
---
TODAY'S MUST-READ

► From the NY Times — The human cost of fast, free Amazon shipping — In January, the 9-month-old Gabrielle Kennedy was killed when a driver delivering Amazon.com packages crashed a 26-foot rented box truck into the back of her mother's Jeep. The baby was strapped into a car seat in the back. The delivery driver, a subcontractor ferrying pallets of Amazon boxes from suburban Boston to five locations in Maine, said in an interview that he was running late and failed to spot the Jeep in time to avoid the crash. If Gabrielle's parents, who have hired lawyers, try to hold Amazon accountable, they will confront a company that shields itself from liability for accidents involving the drivers who deliver its billions of packages a year.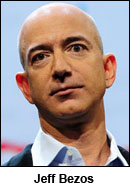 Amazon has built a huge logistics operation in recent years to get more goods to customers' homes in less and less time. As it moves to reduce its reliance on legacy carriers like UPS, the retailer has created a network of contractors across the country that allows the company to expand and shrink the delivery force as needed, while avoiding the costs of taking on permanent employees. But Amazon's promise of speedy delivery has come at a price, one largely hidden from public view. An investigation by ProPublica identified more than 60 accidents since June 2015 involving Amazon delivery contractors that resulted in serious injuries, including 10 deaths. That tally is most likely a fraction of the accidents that have occurred: Many people don't sue, and those who do can't always tell when Amazon is involved, court records, police reports and news accounts show.
---
The Stand posts links to Washington state and national news of interest every weekday morning by 10 a.m.
Short URL: https://www.thestand.org/?p=79714
Posted by
David Groves
on Sep 5 2019. Filed under
DAILY LINKS
. You can follow any responses to this entry through the
RSS 2.0
. Both comments and pings are currently closed.