I-976 mayday ● Falling feces ● ERA Now? ● Scab shaming
Thursday, November 7, 2019
---
ELECTION
► In today's Seattle Times — Affirmative-action measure Referendum 88 continues to trail. but many King County votes still to be tallied — Washington voters continue to reject an affirmative-action measure, with Wednesday's vote count showing statewide Referendum 88 still trailing. But with an estimated 277,000 votes still to be tallied in King County — where the measure was passing by 22 points — supporters of affirmative action hope to find enough votes to reverse the trend.
---
TRANSPORTATION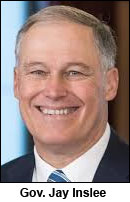 ► In the PS Business Journal — Inslee halts transportation projects as fallout from I-976 comes into focus — The governor on Wednesday directed the Washington State Department of Transportation to postpone projects not yet underway and requested other agencies that receive state transportation funding defer nonessential spending.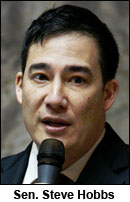 ► From Crosscut — 'The ship's going down': After I-976, Washington officials fear for the future of transportation — Steve Hobbs is preparing for a mess following Tuesday's election. As chair of the Transportation Committee in the Washington State Senate, the Lake Stevens Democrat now expects having to cut hundreds of millions of dollars from the state's transportation budget over the next couple of years.  "Basically, I kind of view this as a sinking ship, and I have to do what I can to try to save most of the people on the ship — but the ship's going down," he said.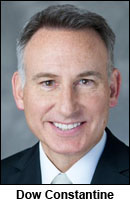 ► In today's Seattle Times — Seattle, King County to sue over Eyman car-tab initiative; bus cuts to be determined — King County Executive Dow Constantine said Wednesday he had asked the county Prosecuting Attorney's Office to "prepare a lawsuit to challenge the constitutionality of I-976." Seattle Mayor Jenny Durkan's office called the measure "unconstitutional" and said "the city will pursue litigation to block" it. Sound Transit Board Chair John Marchione said that agency is likely to sue, too.
EDITOR'S NOTE — From Constantine's statement released Wednesday:
"Our state's tax system is inefficient, unfair, volatile, inadequate, and bad for business. Local governments have few tools at their disposal to provide all of the infrastructure and services on which successful communities and a thriving economy depend. Today, our economy is generating unprecedented prosperity, while at the same time governments are forced to cobble together transit and road systems from antiquated, inadequate and unpopular funding sources. We can and must do better.

"We in King County – where Sound Transit 3 was overwhelmingly approved and I-976 was overwhelmingly defeated – we are going to keep pushing ahead, building a transportation system and economy that gives every person access to a better future."
► In today's (Everett) Herald — Questions remain after voters demand $30 car tabs (editorial)
► In today's News Tribune — Pierce County is cynical about transportation funding. I-976 results prove it. But there's a ray of hope (editorial) — In Gig Harbor, a city that leans conservative and is historically reluctant to raise taxes, a strong 56-percent majority of voters Tuesday supported an additional 0.2-percent sales tax to fund a transportation benefit district. That means the fast-growing city can finally tackle a long list of traffic improvement projects.
---
THIS WASHINGTON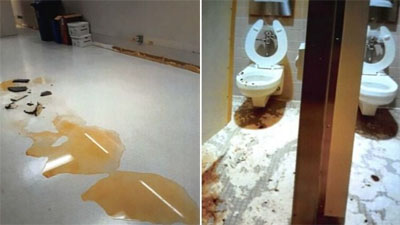 ► From KIRO 7 — Forced to work in filth? Employees concerned about flooding inside state hospital — Multiple employees at Western State Hospital have come forward to raise concerns about flooding inside the buildings on campus. "Feces … human feces, falling from the ceiling," is how one employee described the problem. She asked that her identity be protected fearing retaliation for speaking out. "It's never been this bad, this is so bad you can hardly describe it; when it's literally falling from the ceilings."
► From KING 5 — Elevator inspection backlog violates Washington law, audit finds — Washington state law requires the Department of Labor and Industries to inspect every elevator and escalator in the state annually. But a state investigation found that is not happening… L&I blamed the backlog on a building boom generating more elevators and escalators in need of annual inspections. Also, the state has also had a hard time keeping its inspectors from taking better-paying jobs with construction firms.
► In today's Spokesman-Review — Spokane native Debra Stephens to be next state Supreme Court chief justice –Spokane native Debra Stephens was selected by other members of the state Supreme Court to serve as chief justice starting in January. Stephens, who has served on the court for 11 years, will finish the final year of the term of Chief Justice Mary Fairhurst, who is retiring from the court as she focuses on treating recurring cancer.
---
BOEING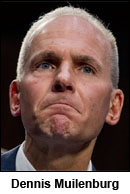 ► In the PS Business Journal — Boeing CEO considered resignation, regrets not meeting with crash victim families sooner — "It's fair to say I have thought about it," Muilenburg said at the New York Times DealBook Conference. "But to be frank, that's not what's in my character. These two accidents, they happened on my watch at Boeing. I feel obligated … to see it through. We owe the world safe flight. As long as the board allows me to serve in this role, I'm going to serve in it and I'm going to put everything into it that I can."
► From the AP — Grounded Boeing jet hits another pothole in path to return — Regulators are asking Boeing to revise documentation of its proposed fixes to software on the 737 Max jet, and the company said Wednesday that it is too early to know whether the request will further delay the return of the grounded plane.
---
THAT WASHINGTON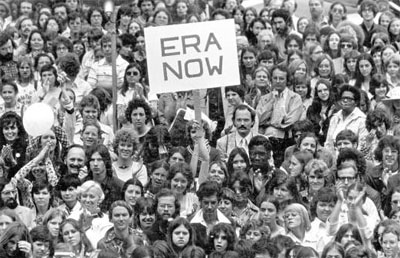 ► In today's NY Times — The Equal Rights Amendment may pass now. It's only been 96 years. — Of all the things that Virginia may pass now that Democrats have won control of the state legislature, none have been so long in the making as the Equal Rights Amendment. First proposed almost a century ago and passed by Congress in 1972, the constitutional amendment — whose main clause reads, "Equality of rights under the law shall not be denied or abridged by the United States or by any State on account of sex" — has sweeping implications. For women, it would bolster pay equity, domestic violence laws and pregnancy discrimination protections, among many other things. It could also affect men, such as by guaranteeing paid paternity leave equal to maternity leave. Virginia will likely be the elusive 38th state to ratify the amendment. The Supreme Court could decide what happens next.
► In today's Washington Post — China hints at progress in U.S. trade talks, raising hopes of a breakthrough — China's Commerce Ministry said Thursday that U.S. and Chinese negotiators have agreed in principle to roll back tariffs in simultaneous stages if their trade talks advance. A ministry spokesman did not say a "phase-one" agreement had already been reached, nor give a timetable for when one could happen, but he said the two countries have held "earnest and constructive" talks.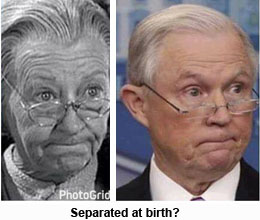 ► In today's Washington Post — Jeff Sessions, ex-attorney general forced out by Trump, plans to run for former Senate seat in Alabama — It sets the stage for a potentially contentious Republican primary with Trump at the center and control of the Senate possibly at stake.
---
IMPEACHMENT
► From Politico — Impeachment transcripts reveal a consistent, damaging narrative for Trump — Rudy Giuliani was Trump's enforcer, circumventing official channels and bewildering professional diplomats as he pressured Ukraine to target Trump's political opponents. Along the way, career foreign service officers became collateral damage — and questions of a Trump-authorized quid pro quo emerged, blowing up into a scandal that now imperils the Trump presidency. Those are the unchallenged details revealed so far in five transcripts of depositions released this week as part of the House impeachment inquiry… The witness testimonies released so far are all aligned, offering Democrats a powerful political weapon in public hearings next week.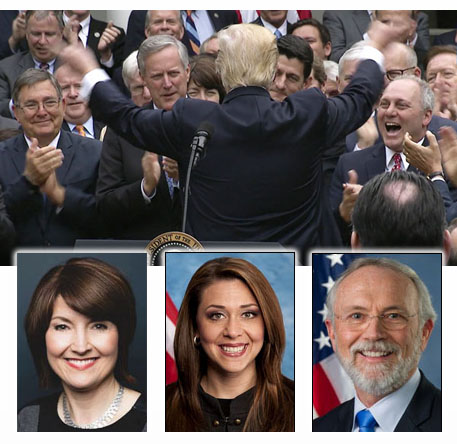 ► From Politico — House Republicans want to call whistleblower to testify in public impeachment hearings — Republicans, including Trump, have spent weeks assailing the whistleblower as politically biased, even though the person's basic account of Trump's handling of Ukraine has been corroborated — and expanded upon — by more than a dozen high-level witnesses with more direct knowledge of the episode.
EDITOR'S NOTE — Efforts to name and assail the whistleblower are a coordinated attempt to discourage others who witness criminal activity from coming forward. As Sen. Mazie Hirono (D-HI) explained on the Senate floor, "Donald Trump has made clear that he will use the full power of his office to bully, intimidate and threaten anyone who dares to stand up to him or speak out against him." Apparently, some House Republicans are on board with that. History will remember their complicity in the corrupt Trump regime.
---
NATIONAL
► In today's NY Times — Flint's children suffer in class after years of drinking the lead-poisoned water — The city's schools, stretched even before the lead crisis, are struggling with demands for individualized education programs and behavioral interventions for children with high lead exposure.
---
TODAY'S MUST-READ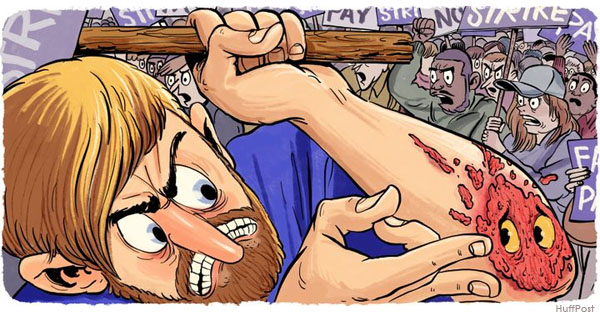 ► From HuffPost — We're all scabs now (by Claire Fallon) — Amid a resurgence of labor organizing and class consciousness, the word "scab" seems to have been revitalized and re-mainstreamed. In the process, it even seems to have evolved into something more capacious by default. Recently, the word has been flung at all perceived class traitors — not just strikebreakers but also customers who cross picket lines and people who espouse anti-labor sentiments. For a new generation of union enthusiasts and leftists, "scab" holds both the power of social shame and the flexibility to stigmatize all types of working-class treachery… Calling someone a scab may not always be the kindest or most tactical choice. It's certainly not enough to build a labor movement on. But even though it's only one weapon in the arsenal, it's a natural outpouring of that passion, of a righteous and emotional conviction in the idea of workers standing together against owners and bosses. And for an ascendant labor movement, that passion is surely indispensable.
---
The Stand posts links to Washington state and national news of interest every weekday morning by 10 a.m.
Short URL: https://www.thestand.org/?p=81590
Posted by
admin
on Nov 7 2019. Filed under
DAILY LINKS
. You can follow any responses to this entry through the
RSS 2.0
. Both comments and pings are currently closed.