Donate unused masks ● Senate GOP's 'utter disgrace' ● You're not alone
Friday, March 20, 2020
---
LOCAL
► LIVE from the Seattle Times — Coronavirus daily news update, March 20 — The state Department of Health announced 189 new cases Monday, bringing the state total to 1,376 cases, including 74 deaths. The bulk of cases remain in King County.
► From KUOW — Here's how Washington state health care workers are collecting medical equipment donations — Washington state can't fill all the medical supply orders it's getting from health care providers. Now, health workers and their labor unions are collecting them instead. Washington state health care workers are launching an online drive to collect donations of much-needed personal protective equipment, such as N-95 masks, gloves, and medical gowns. They're reaching out to other industries for help. "We know there is a shortage in this state and felt like there are people out there who work in construction trades, dentist's offices, insulation companies who might have the kind of masks and gloves that health care workers desperately need in this moment on the front lines," said Sarah Cherin, Chief of Staff of UFCW21, a union that represents many health care workers across the state.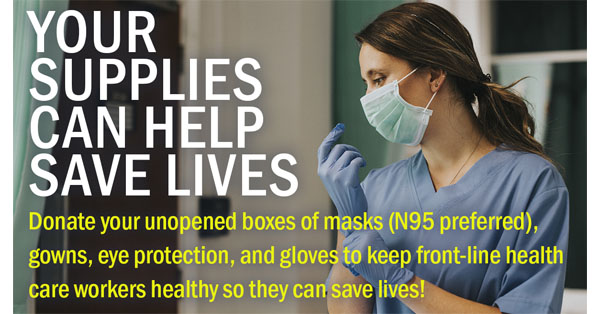 EDITOR'S NOTE — Donate your unused masks and help save lives.  Do you work at or own a construction company, medical or dental office, or other organization with an inventory of potentially life-saving personal protective equipment? Donate your unopened boxes of masks (N95 preferred), gowns, eye protection, and gloves to keep front-line health care workers healthy so they can save lives!
► From ProPublica — As doctors, nurses grow desperate for protective gear, they fear they're infecting patients — The CDC and hospitals have put medical providers and patients at risk as they fail to address national supply shortages. One emergency room doctor who did not have proper equipment and learned he had COVID-19 said, "I'm sure I exposed everyone I saw."
► From Bloomberg — Hospital workers are making masks from office supplies because the coronavirus pandemic has caused a shortage — Hospital workers in Washington state have been making protective medical gear out of office supplies and other run-of-the-mill materials as they deal with a severe shortage of equipment needed to care for patients who may have COVID-19. Among the supplies coming in handy: clear vinyl sheets to make face shields.
► In the Yakima H-R — Yakima Valley hospitals, clinics rationing supplies
► In the Seattle Times — Doctor decries Bellingham hospital's coronavirus response, saying it puts health care workers at risk — While taking some precautionary steps, PeaceHealth St. Joseph Medical Center has lagged behind other emergency facilities in preparing for what could quickly become a crush of patients needing critical care from COVID-19 sickness, says Dr. Ming Lin, an emergency room doctor with experience in health crises such as the 9/11 terror attacks.
► In the (Everett) Herald — 4 Community Transit bus drivers positive for coronavirus — The transit agency is now making all of its buses free. There are no plans to shut down operations.
► In the Columbian — Virus doesn't slow down C-Tran — Transit agency sees dip in ridership but continues to maintain routes; COVID-19 doesn't worry passengers.
► In the Seattle Times — Amazon confirms COVID-19 case as workers say they're not checked for coronavirus symptoms — Amazon confirmed its first U.S. case of an hourly employee with COVID-19 in New York while workers at two of the company's major fulfillment centers in the Seattle area said they were not being screened for coronavirus symptoms as recently as Wednesday.
---
THIS WASHINGTON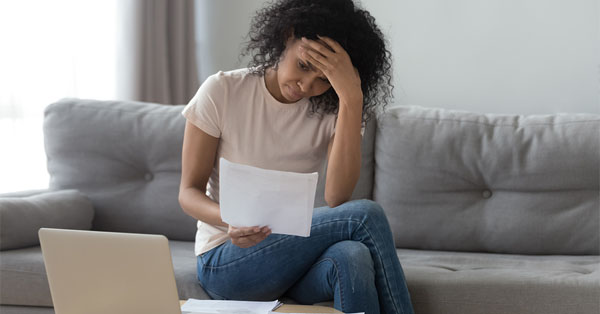 ► In the Seattle Times — Washington's unemployment system flooded with claims as coronavirus fallout grows — Statewide, 14,846 unemployment insurance claims were filed during the week that ended last Saturday. That's more than double the number from a week earlier. Claims have surged even faster since Sunday, when Gov. Jay Inslee mandated closures of many public-facing venues, including gyms, entertainment venues, and many bars and restaurants. "This week, every day, the new claims we are receiving are at the level of the peak weeks during the 2008/2009 recession," said Employment Security Department commissioner Suzan LeVine.
EDITOR'S NOTE — (From the WSLC's COVID-19 Resources for Workers) If you have been laid off or had your hours reduced, you may be eligible for unemployment benefits, which is partial wage replacement from the state. Under the new emergency rules, benefits are also available to workers who have been quarantined due to exposure or are self-quarantined because they are immune-compromised. The Washington State Employment Security Department is where you apply for these benefits. Here is their easy-to-read comparison guide explaining the most common scenarios and what benefits that may apply. Learn more here.
► From KNKX — Reykdal: School year likely won't extend into July or August because of funding issues — State Superintendent Chris Reykdal said if school continues deep into the summer, that would create a cash-flow problem for districts. His office recently said the school year should go until June 19, though he said that date could change.
► In the Columbian — Clark County school districts develop pay plans — What that looks like depends on each individual district, but the message from area superintendents has largely been the same: Educators' days will look a little different, but they're still available for work and will, therefore, be paid during the closures.
► In the Seattle Times — Funerals prohibited in Washington state
► In the Spokesman-Review — Inslee restricts medical, dental procedures to save supplies
► In the (Everett) Herald — Celebrate effort of 'bureaucrats' fighting outbreak (letter)
► In the Spokesman-Review — Cyrus Habib retiring as Washington lieutenant governor to become a Jesuit — Lt. Gov. Cyrus Habib, who presided over the Senate for the past three years as part of his duties as the state's No. 2 elected official, will not seek re-election, his office announced this morning.
---
BOEING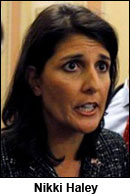 ► In the Washington Post — Nikki Haley quits Boeing board, citing disagreement with company's bailout request — Nikki Haley, the former ambassador to the United Nations and former South Carolina governor, said in a letter to Boeing's chief executive that she does not believe it is the federal government's role to give financial assistance to some companies and industries and not others… Trump said at a news conference Tuesday that he supports a bailout for Boeing, which has been reeling from the combined economic fallout of the global coronavirus pandemic and a prolonged safety crisis involving its flagship commercial jetliner.
EDITOR'S NOTE — Good riddance to Haley, who was invited to join the board in recognition of her notorious union-busting as a public official. And of course, like the rest of Boeing's board, Haley had no problem squandering the company's cash reserves to boost its stock price. (Boeing, which is now seeking a $60 billion buyout, spent $43 billion over the past six years buying back its own shares.)
► In the (Everett) Herald — Aerospace suppliers: If Boeing halts production, so will we
► From Reuters — 'Strings attached': Governments offer financial lifelines to airlines, at a price — Shattered airlines were left counting the cost of government support as countries from the United States to New Zealand set out conditions for bailouts. They include provisions that loans may convert to government equity stakes, while U.S. airlines cannot increase executive pay or provide "golden parachutes" for two years. Air New Zealand's bailout also depends on the company suspending its dividend and paying interest rates of 7% to 9%.
---
THAT WASHINGTON
► From Bloomberg — NLRB suspends all union elections indefinitely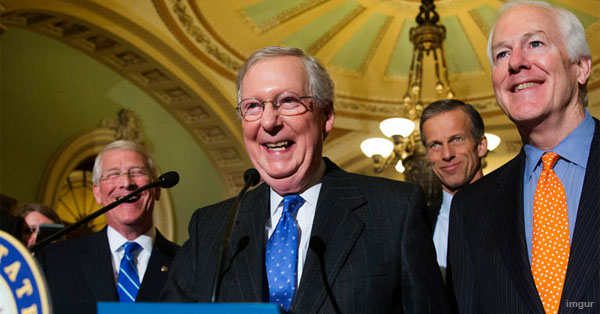 ► From The Hill — Democratic leaders criticize GOP stimulus bill as too pro-business — Sen. Ron Wyden (D-Ore.), the senior Democrat on the Senate Finance Committee, criticized the legislation for favoring corporations over workers: "The pandemic is spreading, economic collapse is looming, and Republicans seem to be prioritizing the corporate tax wish list over the economic well-being of people who are losing their livelihoods at this very moment. Their proposal would do nothing to expand unemployment assistance for those who have lost their jobs overnight."
The Senate GOP package is an utter disgrace. It gives free money to corporations, ignores the health crisis and does nothing to keep people working or help the unemployed. The labor movement will oppose this Main St bailout of Wall St with everything we have. #COVID19

— Richard Trumka (@RichardTrumka) March 20, 2020
► From The Hill — McConnell defends GOP crafting plan without Democrats
► From Politico — Lobbyists make a mad dash to shape stimulus package
► In the NY Times — 'We're petrified': Immigrants afraid to seek medical care for coronavirus — Trump administration policies that discourage immigrants from coming forward could hamper efforts to contain the epidemic.
EDITOR'S NOTE — (From the WSLC's COVID-19 Resources for Workers) Immigrant workers face unique challenges amid the coronavirus outbreak, including some fearful of seeking medical attention or help because of the Trump administration's anti-immigrant "pubic charge" rules. The City of Seattle's Office of Immigrant and Refugee Affairs, along with El Comite and Northwest Immigrant Rights Project, have answers to frequently asked questions posted here.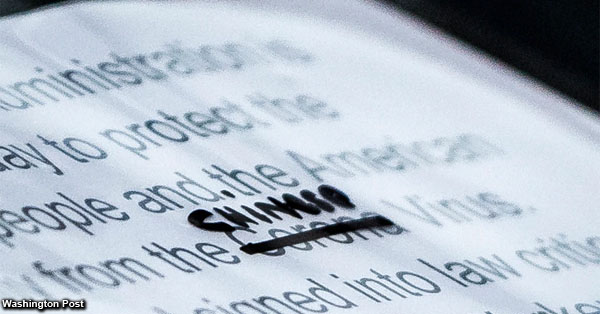 ► In the Washington Post — Trump takes direct aim at China as known U.S. infections double and criticism mounts — The president dug in on his use of the term "Chinese virus" to describe the novel coronavirus that was first detected in Wuhan, China, late last year and did not rule out directing economic retaliation toward Beijing. Trump's use of the term has become a point of pride among some White House aides and supporters, and the president has used it more as his handling of the public health emergency has been increasingly faulted. A Washington Post photographer captured an image of a printed copy of Trump's remarks that had the word "corona," a medical term for a family of viruses, crossed out and the word "Chinese" put in its place with a black marker.
► ICYMI in the Washington Post — Trump is stoking xenophobic panic in a time of crisis (by Rep. Ted Lieu) — Trump's repeated insistence on calling coronavirus the "Chinese virus" is more than just xenophobic; it causes harm both to Asian Americans and to the White House's response to this life-threatening pandemic… Trump's rhetoric adds fuel to the growing fire of hatred being misdirected at Asian Americans. The fact that he is the president of the United States, who is responsible for the well-being of all Americans, only makes his rhetoric even more disturbing.
► From ProPublica — Senator dumped up to $1.7 million of stock after reassuring public about coronavirus preparedness — Senate Intelligence Chair Richard Burr's (R-NC) selloff came around the time he was receiving daily briefings on the health threat.
► From The Hill — Four senators sold stocks before coronavirus market crash — Sen. Kelly Loeffler (R-Ga.) and her husband, who is the chairman of the New York Stock Exchange, sold at least $355,000 in stocks between Jan. 24 and 31, after the coronavirus briefing hosted by the Senate Health and Foreign Relations committees.
EDITOR'S NOTE — Even as she cashed out…
There's no denying that @POTUS's economy is on fire, bringing more jobs & opportunity for all Georgians & Americans:

✔Wages are ⬆️
✔7.3 million jobs added since 2016
✔3.6% unemployment rate
✔Dow Jones hits record high

We can't let the Left stop this economic boom.

— Senator Kelly Loeffler (@SenatorLoeffler) February 11, 2020
---
NATIONAL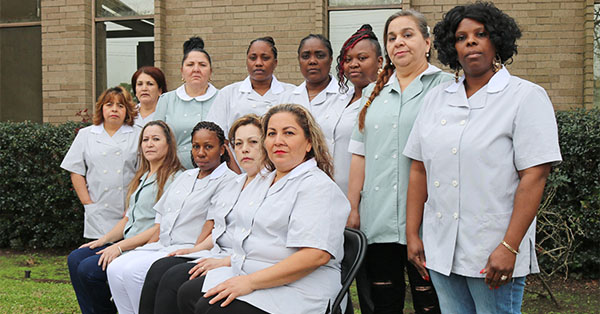 ► From ABC News — Hospitality labor union projects 90% of members could lose jobs over coronavirus — UNITE HERE, the leading labor union for hospitality workers, said that it expects 80% to 90% of its 300,000 members to be out of work due to the COVID-19 outbreak. "Workers face potential loss of their health care, they will be food insecure, they'll face housing insecurity," UNITE HERE International President Donald "D." Taylor said. "Workers generally still don't have sick leave available to them." The majority of the union's members are women who tend to work in hotels, airports and casinos — businesses hit hard by government-mandated shutdowns across the country.
ALSO TODAY at The Stand — Virus outbreak decimating hospitality jobs
► In the Washington Post — As layoffs skyrocket, the holes in America's safety net are becoming apparent — Laid-off workers are struggling to apply for unemployment aid as government websites crash and phone lines have hours-long waits. Then some are finding they do not even qualify for help.
► From The Hill — Grocery store workers in Minnesota classified as emergency workers — They will now have access to free child care.
The Stand (March 18) — Grocery workers stepping up to challenge
---
T.G.I.F.
► "Sometimes everything is wrong. Now it's time to sing along… No, no, no, you're not alone."
---
The Stand posts links to Washington state and national news of interest every weekday morning by 10 a.m.
WASHINGTON IS A UNION STATE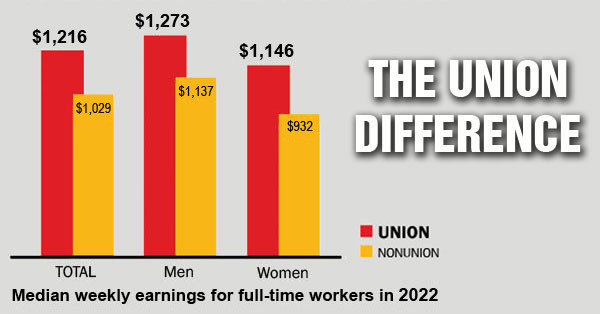 CHECK OUT THE UNION DIFFERENCE in Washington state: higher wages, affordable health and dental care, job and retirement security.
FIND OUT HOW TO JOIN TOGETHER with your co-workers to negotiate for better working conditions and respect on the job. Or go ahead and contact a union organizer today!