1199NW targets masks ● IAM steward at Boeing dies ● Toxic xenophobia
Monday, March 23, 2020
---
LOCAL
► BREAKING from the Seattle Times — Boeing suspends Puget Sound production operations
► LIVE from the Seattle Times — Coronavirus daily news update, March 23 — The state Department of Health announced 203 new cases Sunday, bringing the state total to 1,996 cases, including 95 deaths. The bulk of cases remain in King County.

► From SEIU Healthcare 1199NW — Unions enter into Memorandum of Agreement with MultiCare Health System — SEIU 1199NW Healthcare, the Washington State Nurses Association and UFCW 21, collectively, entered into a Memorandum of Agreement with MultiCare Health System regarding guarantees to wages and benefits for healthcare workers during the COVID-19 crisis. Tomorrow, MultiCare will announce new Regional Labor Pools that will allow caregivers to float outside of their departments or to other MultiCare facilities during this national crisis. We negotiated pay guarantees for float workers, as well as pay and other benefits for quarantined workers.
► In the Seattle Times — 'Our warehouse is empty': Washington state epidemiologist describes severe shortage of medical supplies — "We have health care workers wearing bandannas at this point," Dr. Scott Lindquist told The Seattle Times on Friday. "Our warehouse is empty. Literally, we don't have any [equipment] to be given out. And when we do get it, we give it out right away."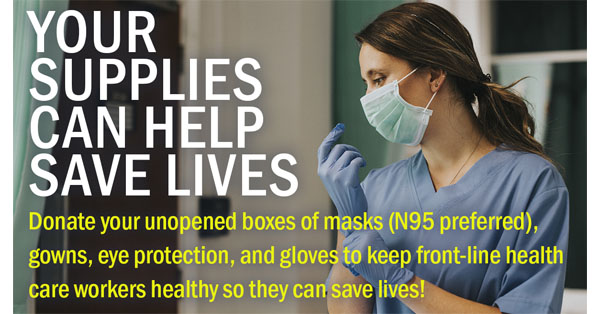 The Stand (March 19) — Your supplies save lives: Donate unused personal protective gear
► In the Seattle Times — Stop sending health care workers into the coronavirus battle without armor (by Naomi Ishisaka) — It has gotten so bad that hospital workers are now making their own masks… For health care workers, the masks, gloves and gowns they need to stay safe on the job are an urgent necessity. PPE shortages create risks not just for workers themselves, but for their families, patients and the already overburdened health care system.
► In the Spokesman-Review– With state facing a mask shortage, STA contravenes guidance and makes stockpile available to drivers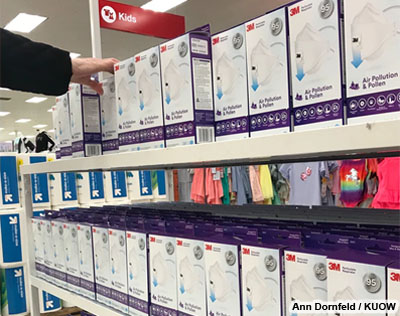 ► From KUOW — N95 masks spotted at Target in Seattle, and politicians swoop in to divert them to hospitals — When KUOW reporter Ann Dornfeld went to Target in West Seattle on Saturday morning to buy toilet paper, she was shocked to see rows of N95 protective masks for sale — $6.79 for two. Dornfeld returned to her car with toilet paper, but was so disturbed she decided to go back in and take a photo. She posted the photo to Twitter and drove home. Seeing Dornfeld's tweet, Lindsey Grad, a lobbyist for SEIU Healthcare 1199NW, and therefore painfully aware of the shortages, bee-lined to the Target for a one-woman sit-in. Public officials at every level – Seattle Mayor Jenny Durkan, County Executive Dow Constantine, Gov. Jay Inslee – took note and by 1:30 p.m. the masks were off those shelves. Target agreed immediately to donate the masks and later apologized.

► In the Seattle Times — New data shows where coronavirus crisis has hit workers the hardest — Hotel and restaurant workers, education services employees, and artists and entertainers all saw sharp increases in unemployment claims filed last week, while tech workers, finance and insurance workers, and managers filed relatively few, according to data released Friday by the state Employment Security Department.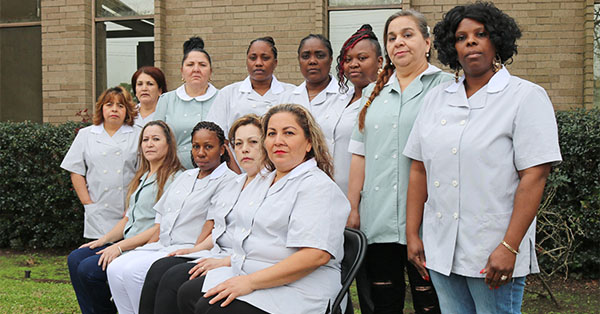 The Stand (March 20) — Virus outbreak decimating hospitality jobs — With up to 90 percent of members out of work, UNITE HERE calls for a "bailout of the American worker."
► In the Tri-City Herald — Most Hanford workers to stay home over coronavirus concerns. No word on for how long.
► In the Yakima H-R — Yakima Health District issues stay-at-home-order Sunday night — According to the order, county residents must remain at home except when going out for necessary food, medicine and medical care.
► In the (Everett) Herald — Everett's stay-at-home directive begins Monday — The measure is the strictest in Washington but includes a few dozen exceptions, including Boeing.
---
BOEING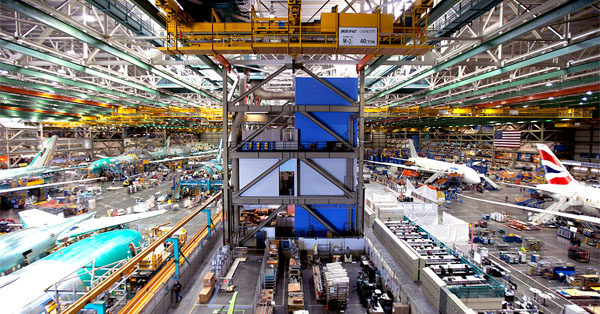 ► In the (Everett) Herald — An infected worker reportedly dies, but Boeing stays open — A worker at the Boeing plant in Everett has died from COVID-19, becoming the first known Boeing employee to succumb to the deadly virus. On Saturday, a man posted on Facebook that his brother, who had worked at Boeing for 27 years, was on life support. He later posted that his brother had died from the illness. "Boeing Everett plant, please close your doors and shut down," the grieving man said on Facebook.
► In the Seattle Times — Boeing worker at Everett plant dies from coronavirus infection — The man, whose name is being withheld until his family is informed, was a shop steward in the International Association of Machinists (IAM) union. Many workers in the Everett plant have been expressing anger at management for keeping the factory open as coronavirus infections have risen. Some workers who fear for themselves or loved ones have chosen to stay home without pay.
► In the Seattle Times — Lawmakers call protecting jobs the priority in any bailout for Boeing and aviation industry — "The money has to be used for the continued operation of the company," said Rep. Rick Larsen, D-Everett, who chairs the Aviation Subcommittee of the U.S. House Transportation and Infrastructure Committee. "It's not to be used for anything else. Executives don't get bonuses. Shareholders don't get dividends. There are no share buybacks."
---
THAT WASHINGTON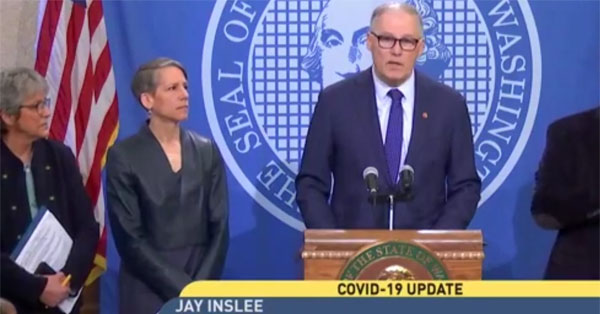 ► In the Seattle Times — Trump approves Washington emergency declaration, says he would activate National Guard — On Sunday, Trump issued a "major disaster" declaration for Washington state over the novel coronavirus crisis, freeing up some federal assistance — but Gov. Jay Inslee countered that the president's announcement was not enough to bolster the state's fight against the pandemic. Crisis counseling, which will be made available under Trump's order, was only one of Inslee's requests. Other areas where the governor sought federal help included: disaster unemployment assistance, disaster legal services, disaster case management, individual and household program assistance, voluntary agency coordination, plus mass care and emergency assistance. Aside from crisis counseling and mental-health training, Inslee spokesperson Mike Faulk said, the rest of the governor's requests "remain under review by the White House."
► In the News Tribune — State jobless claims soar in wake of COVID-19 outbreak — Jobless claims for the week that ended March 14 rose 116 percent to 14,154 from 7,606 the previous week. Unemployment claims tied to restaurants and bars, plus schools — two industry sectors that have been closed during the outbreak — showed the greatest increase, according to the ESD data.
► In the WSJ — Trump administration asks states to keep quiet about jobless figures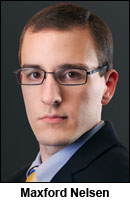 ► From the NW Accountability Project — The Freedom Foundation's cruel and dangerous opposition to paid sick leave — It's more critical now than ever that workers can stay home when they're sick without losing the ability to put food on the table, and in this time of crisis, the sheer cruelty of the billionaire-funded opposition to this life-saving policy by groups like the Freedom Foundation is all the more disturbing. The Freedom Foundation has long argued against paid sick leave policies for working people, writing them off as ineffective and burdensome. Their Director of Labor Policy Maxford Nelson went as far as to declare that life-saving paid sick leave policies are a cure "worse than the disease."
---
THAT WASHINGTON
► From The Hill — Senate Democrats block mammoth coronavirus stimulus package — Senators voted 47-47 on advancing a "shell" bill, a placeholder that the text of the stimulus legislation would have been swapped into, falling short of the three-fifths threshold needed to advance the proposal. Sen. Chris Van Hollen (D-Md.) called the GOP bill "bad news" and said it was focused on "bailing out the biggest corporations."
► From The Hill — Dems block McConnell from holding Monday morning vote
► From Politico — Pelosi pushes forward with her own emergency package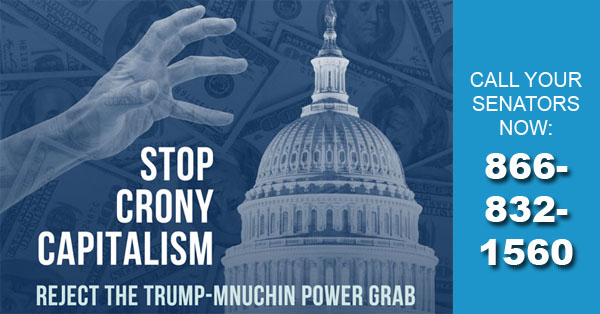 ALSO TODAY at The Stand — Call Senate today: Reject this power grab
► From Bloomberg — Unions mobilize to press for worker focus in virus-relief bill — Labor leaders said Senate Republicans' $1.3 trillion stimulus package to aid businesses reeling from the coronavirus pandemic would face heavy opposition from unions because there's no guarantee money would flow to workers. AFL-CIO President Richard Trumka, head of the country's largest federation of labor unions, called the proposal "an utter disgrace."
► In the NY Times — Under the virus's cloak, Trump pursues long-sought policies — From border controls to anti-union efforts, the Trump administration is using the coronavirus to seek policies that the president wanted before the pandemic.
► From HuffPost — Trump declines to promise his own company won't get bailout money
► In the Washington Post — Fed announces unlimited bond purchases in unprecedented move to help U.S. economy weather coronavirus meltdown — "It has become clear that our economy will face severe disruption," the Fed said Monday.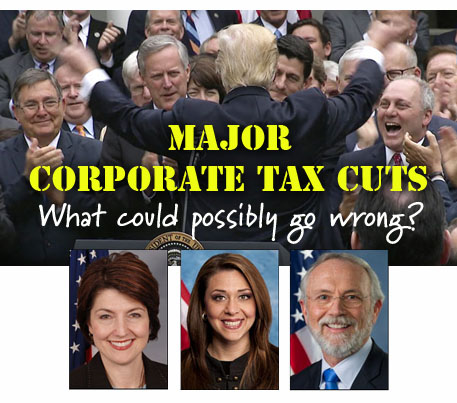 ► In the Seattle Times — 'Freedom payments?' The coronavirus exposes the fraud of the anti-government movement. (by Danny Westneat) — That decision in December 2017 — to slash taxes and predictably cause an eruption of red ink during an economic boom — is one of the two most reckless federal government actions of my lifetime. The other was going to war over weapons of mass destruction which turned out not to exist (a war that — trend alert — we also didn't pay for). The beginning of a pandemic is no time for the government to get frugal. People and businesses need help. But with deficits already so high, and interest rates near zero, there just aren't a lot of economic tools left to deal with the coronavirus fallout. This ought to make every American angry, from the tea partyers to the socialists. The stated premise of the Tax Cuts and Jobs Act of 2017 was to goose the economy, which it didn't do (annual growth was exactly the same in the two years prior to passage as in the two years after — 2.4%). So it didn't make America stronger.
► From Politico — Sen. Rand Paul tests positive for coronavirus and more GOP senators quarantine — Five Republicans missed the key Sunday vote because they're infected or self-quarantining.
► From The Hill — Sinema criticizes Paul for alleged behavior ahead of coronavirus test results: 'Absolutely irresponsible' — Sen. Kyrsten Sinema (D-Ariz.) blasted reports that Sen. Rand Paul (R-Ky.) attended the Senate gym and swam in the pool while awaiting his COVID-19 test results, which later came back positive.
► From The Hill — Trump after hearing Romney is in self-quarantine: 'Gee, that's too bad'
► From TPM — Rep. Ben McAdams hospitalized over coronavirus infection
► In the Washington Post — Members of Congress are facing a potential crisis of government. They were warned. (by Norman Ornstein and Thomas Mann) — Two members of Congress have already tested positive for covid-19. Imagine if 250 members of the House or 55 members of the Senate contracted the disease and were hospitalized or quarantined. Or if members were to return home but were unable to make it back to the Capitol because of travel restrictions. Neither chamber would be able to meet the Constitution's requirement for a quorum to do official business. The legislative branch of our government would cease to function at a critical moment. Given that these are people who are disproportionately older, who reflexively shake hands and who work in close proximity to one another, a coming crisis of government is not implausible. But don't say they weren't warned.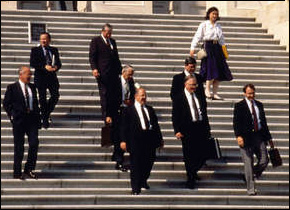 ► From The Hill — Coronavirus sets off industry scramble for aid from Washington, D.C. — The calls for aid started with airlines, quickly followed by the tourism and entertainment industry, and others who are being hit hard as officials close public events and spaces and urge Americans to stay home. The long list of industries seeking help has exploded to include associations representing restaurants, retailers, manufacturers, alcohol distributors and casinos. CEOs from major trade groups and representatives for companies like Boeing are now aggressively lobbying Congress for relief checks for often staggering amounts.
► From HuffPost — As corporations plead for taxpayer bailouts, Goldman Sachs gives CEO 20% pay bounce — David Solomon gets $27.5 million in cash and stock for his work last year.
So will Carnival Cruises be applying for a bailout in Panama, since that's where its parent company is legally incorporated to escape US taxes?

— John Cassidy (@JohnCassidy) March 23, 2020
---
NON-VIRAL NEWS

► From the JOC (paywall) — ICTSI Portland rejects $19 million award against ILWU — ICTSI rejects the $19 million award against the ILWU, which a Portland judge had reduced from $96 million, further delaying resolution of a saga that has dragged on since 2012.
EDITOR'S NOTE — This means ICTSI will be granted a new trial by federal district court judge Michael Simon, who lowered the jury award from $93.6 million, that will focus solely on determining the right amount of damages.
The Stand (Dec. 13, 2019) — ILWU president: Our union will survive this challenge
► In the NW Labor Press — At Portland icon Voodoo Doughnuts, workers announce they've formed a union — Workers at the downtown location of Voodoo Doughnut announced today that they've formed a union, affiliated with the Portland chapter of IWW. They're unionizing in response to low wages and unsafe and stressful working conditions, says Voodoo Doughnut employee Samantha Bryce.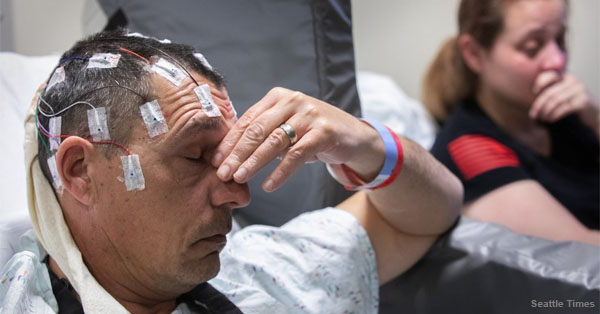 ► In the Seattle Times — Hanford workers were given leaky respirators at contaminated job site, contractor's documents reveal — Evans was one of an estimated 560 workers at the Plutonium Finishing Plant between 2012 and October 2016 who wore respirator gear that may have leaked, according to documents obtained by The Seattle Times. The project contractor, CH2M Hill Plateau Remediation Company, told workers on the job site about the safety lapse, which was also detailed in a November 2016 letter to be placed in affected workers' medical files. But the contractor did not directly reach out to workers, like Evans, who had already left the job, according to a spokesman for CH2M Hill. The letter ended up in the files of only 150.
► In the News Tribune — Tacoma firefighters (not firemen) answer call for coronavirus crisis and much more (editorial) — Heroes aren't defined by gender but by courage, writes the TNT Editorial Board, and renaming Fireman's Park in Tacoma will help acknowledge that.
► In the Seattle Times — Old-fashioned retirement Defined-benefit pension protects Seattle ironworker and his wife during market sell-off — When David O'Meara arrived in Seattle from Boston in 1978, he followed his dad's advice and joined a union. O'Meara was an ironworker for 20 years, then became a union organizer in the construction industry. He has defined-benefit pensions from the Ironworkers Union, Glaziers Union and Painters Union.
---
NATIONAL
► In the NY Times — 1,200 airport workers in NYC area abruptly laid off with no severance — Amid the spreading pandemic, thousands of employees of businesses in the airports around New York City may have their benefits cut off.
EDITOR'S NOTE — This is happening at airports throughout the country. They are treating these workers as disposable, and they are disposing of them. That's why the Senate must pass  coronavirus legislation that puts workers first, not corporations.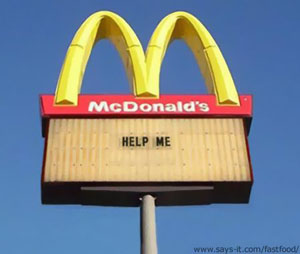 ► From The Guardian — 'If you're sick, they don't care': pandemic forces fast-food industry to review its policies — With only 15% of food workers guaranteed paid sick leave, employees are reluctant to take time off for illness.
► From Variety — SAG-AFTRA President Gabrielle details union's coronavirus response
---
TODAY'S MUST-READ
► In the NY Times — Spit on, yelled at, attacked: Chinese-Americans fear for their safety — As the coronavirus upends American life, Chinese-Americans face a double threat. Not only are they grappling like everyone else with how to avoid the virus itself, they are also contending with growing racism in the form of verbal and physical attacks. Other Asians-Americans — with families from Korea, Vietnam, the Philippines, Myanmar and other places — are facing threats, too, lumped together with Chinese-Americans by a bigotry that does not know the difference. In interviews over the past week, nearly two dozen Asian-Americans across the country said they were afraid — to go grocery shopping, to travel alone on subways or buses, to let their children go outside. Many described being yelled at in public — a sudden spasm of hate that is reminiscent of the kind faced by Muslim-Americans after the terrorist attacks of Sept. 11, 2001.
But unlike 2001, when President George W. Bush urged tolerance of Muslim-Americans, this time Trump is using language that Asian-Americans say is inciting racist attacks. Trump and his Republican allies are intent on calling the coronavirus "the Chinese virus," rejecting the World Health Organization's guidance against using geographic locations when naming illnesses, since past names have provoked a backlash. Trump has dismissed concerns that his language would lead to any harm.
EDITOR'S NOTE — See APALA's response to COVID-19: Protecting Asian American and Pacific Islander Working People — Asian American workers are speaking up on how xenophobia and racism interact with America's inadequate healthcare system and outdated labor laws to endanger workers and hinder disease prevention. Over 2 million Asian American and Pacific Islanders work in healthcare, transportation and service industries–these workers are facing xenophobic and racial discrimination in the workplace in addition to increased exposure to communicable diseases.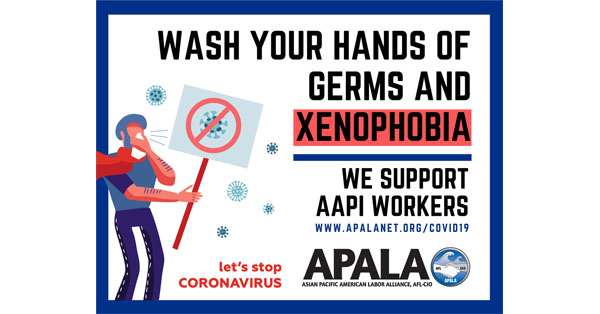 ---
The Stand posts links to Washington state and national news of interest every weekday morning by 10 a.m.
WASHINGTON IS A UNION STATE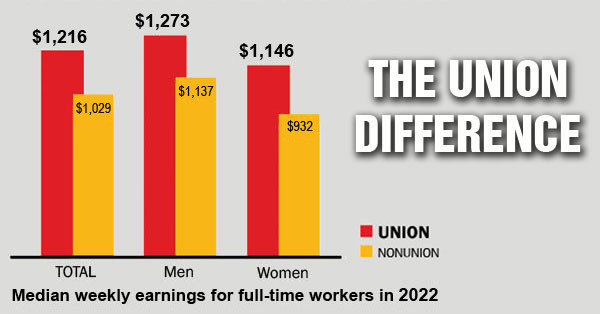 CHECK OUT THE UNION DIFFERENCE in Washington state: higher wages, affordable health and dental care, job and retirement security.
FIND OUT HOW TO JOIN TOGETHER with your co-workers to negotiate for better working conditions and respect on the job. Or go ahead and contact a union organizer today!