Trump panics ● Inslee wins big ● And, oh yeah… COVID-19
Wednesday, November 4, 2020
---
PRESIDENTIAL ELECTION
► From the Washington Post — Race for White House hangs in balance as votes in key states are still being tallied — With millions of votes still being counted, the outcome of the race between Trump and Joe Biden remained in flux, with the possibility that the winner would not be known for days.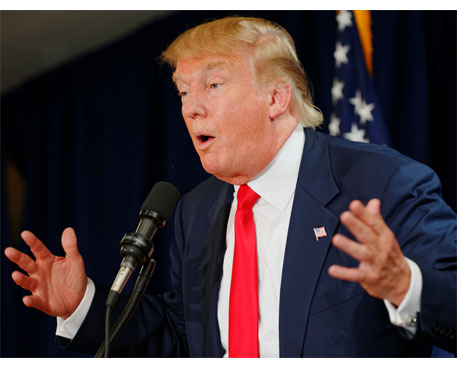 ► From the NY Times — As America awaits a winner, Trump falsely claims he prevailed — The president made his unfounded claim even though no news organizations declared a winner and a number of closely contested states still had millions of mail-in ballots to count, in part because state and local Republican officials had insisted that they not be counted until Election Day. Trump said, without offering any explanation, that "we'll be going to the U.S. Supreme Court," and added: "We want all voting to stop."
EDITOR'S NOTE — These are the actions of someone who knows he's losing. Here's the truth: even if all states stopped counting ballots right now (as I'm writing this), Joe Biden would win Michigan, Missouri and Nevada and would win the presidency. But that's not how a democracy works. We count the votes — every one.
► From the Washington Post — Here's what we know about key states that are still counting ballots — As predicted, the flood of mail ballots in many states has delayed results.
EDITOR'S NOTE — Votes cast on election night favored Trump and those cast beforehand via mail-in ballots favor Biden, as expected. In states like Wisconsin, Pennsylvania and Michigan, where early votes are counted last, we will see vote totals potentially shifting by winning margins to Biden.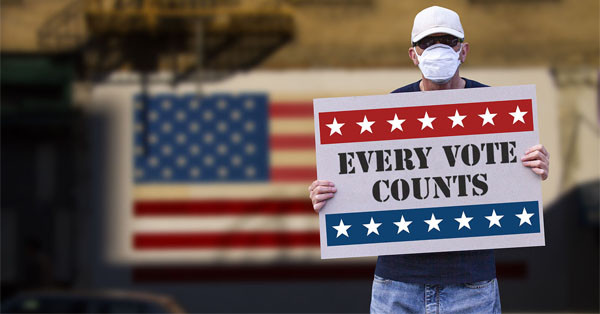 ► From the AFL-CIO — Every vote must be counted — AFL-CIO President Trumka: Democracy is rising in America. Despite the worst pandemic in a century, voters came out in record numbers to exercise our rights as citizens, and now those ballots must be counted. As we said in our statement with business and faith leaders today, this is a moment "to exercise patience with the process and trust in our system, even if it requires more time than usual." Joe Biden's growing national lead reflects a country ready to turn the page on the dysfunction and division of the Trump era, and we are confident that when all the votes are counted, the Electoral College will render the same verdict. In the days to come, America's labor movement will defend our democratic republic and ensure our next president will be the person who is the choice of the citizens of the United States. Simply put, voters must decide—not courts, not legislators and certainly not one of the candidates.
► From the AFL-CIO — AFL-CIO, Chamber of Commerce, national faith leaders call for votes to be counted — U.S. Chamber of Commerce CEO Thomas J. Donohue, National Association of Evangelicals President Walter Kim, AFL-CIO President Richard L. Trumka and National African American Clergy Network Co-Convener Dr. Barbara Williams-Skinner called for all votes to be counted in accordance with applicable laws:
"It is imperative that election officials be given the space and time to count every vote in accordance with applicable laws. We call on the media, the candidates and the American people to exercise patience with the process and trust in our system, even if it requires more time than usual. It is important to remember that challenges are a normal part of every election. We are confident our country and its institutions can rise to this historic moment."
► From the Washington Post — What's more important than a timely election result: Counting all the votes (editorial) — The Trump campaign was planning court challenges to slow or stop the counting of votes — a sign that it does not anticipate a legitimate election victory. It will likely seek to reverse a decision by the Pennslvania Supreme Court requiring that ballots that arrive between Wednesday and 5 p.m. Friday be counted. The U.S. Supreme Court chose not to intervene in the case before the election, and it should not do so now. Nor should responsible Republican leaders abet any attempt by Trump to disrupt the lawful counting of legitimate ballots, or cast doubt on the results. It is time for them to support U.S. democracy against Trump's threats to undermine it.
---
WASHINGTON ELECTIONS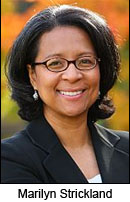 ► From the Olympian — Strickland leads race for Washington's 10th CD — Strickland had 136,002 votes (50.2%) and fellow Democrat Beth Doglio had 97,357 (35.9%) in early returns. Strickland would be the first Korean-American woman in Congress and the first African American elected to Congress from Washington state, if Tuesday's tallies hold.
► From the Columbian — Herrera Beutler leads Long in 3rd CD race — Rep. Jaime Herrera Beutler (R-Battle Ground) appears to have prevailed in defending her seat against Democrat Carolyn Long for the second time, though the race could still shift if remaining uncounted ballots diverge from the current trend.
► From the Wenatchee World — Schrier leading Jensen in 8th CD — Incumbent Rep. Kim Schrier (D-Sammamish) was leading Republican challenger Jesse Jensen. Schrier was ahead with 183,527 votes (53.6%), leaving Jensen with 158,729 votes (46.4%).
► From the (Everett) Herald — Larsen, DelBene, Jayapal cruising toward re-election
► From the MI Reporter — Incumbent Adam Smith wins 9th CD
► From the Kitsap Sun — Kilmer coasts to 5th term in Congress
► From the Spokesman-Review — McMorris Rodgers wins 9th term
► From the Tri-City Herald — Newhouse appears set to serve 4th term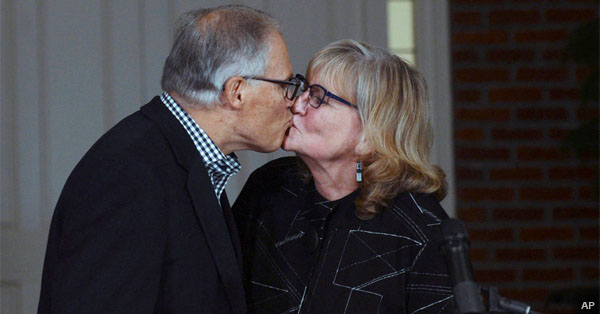 ► From the (Everett) Herald — Inslee surges to big win as he secures a rare third term — Schools chief Chris Reykdal winning. Secretary of State Kim Wyman was locked in tight race.
► From the Spokesman-Review — Denny Heck will be Washington's next lieutenant governor
► From the Seattle Times — Sex education Referendum 90 passes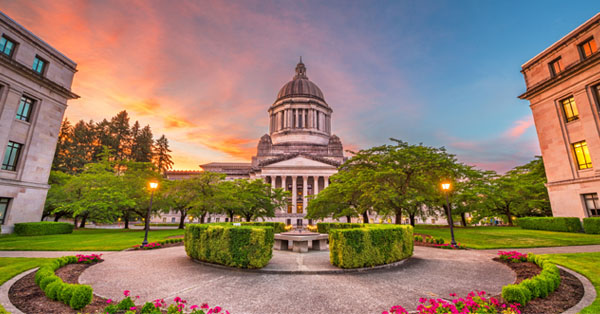 The Stand (Nov. 3) — Dems poised to gain more seats in Olympia — In the key races for Washington State Legislature, labor-endorsed Senate challengers Ingrid Anderson (D-5th), Helen Price Johnson (D-10th), and T'wina Nobles (D-28th) are all leading Republican incumbents, but Sen. Dean Takko (D-19th) appears to have lost his race for re-election. Meanwhile, several labor-endorsed challengers appear poised to increase the Democratic majority in the state House. The next major update in election results will be after 4 p.m. on Wednesday.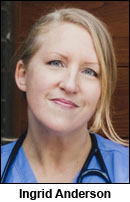 ► From the Seattle Times — Ingrid Anderson leads Sen. Mark Mullet in 5th LD — In a high-profile intraparty fight in the Eastside's 5th Legislative District, Mullet trailed fellow Democrat Ingrid Anderson, 48.4% to 49.7%.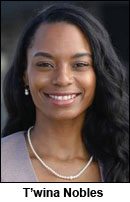 ► From the News Tribune — Lakewood-area Senate race neck-and-neck; slim lead could flip longtime red seat blue — Democratic candidate T'wina Nobles is holding a slim lead over Republican incumbent Sen. Steve O'Ban in the 28th LD. Early results show a 2,177-vote lead by Nobles, who has 30,985 votes (51.75%) and O'Ban has 28,808 (48.11%).
► From the Skagit Valley Herald — Price Johnson holding early lead over Muzzall for Senate
…plus — Homola leads 10th LD House race — Incumbent Paul holds lead in 10th LD, Pos. 2
► From the (Aberdeen) Daily World — 19th District Sen. Dean Takko defeated
► From the (Longview) Daily News — Blake, McEntire race for 19th LD House neck-and-neck
► From the Bellingham Herald — 42nd District state House trending blue after first results are posted in Whatcom County — Blaine Councilwoman Alicia Rule (D) is leading Rep. Luanne Van Werven (R) for House position 1 and Rep. Sharon Shewmake (D) leads Jennifer Sefzik (R) for House position 2
► From the Columbian — Races too close to call for Washington's 17th District — Sen. Lynda Wilson (R) has a narrow lead over Daniel Smith (D); Challenger Tanisha Harris (D) leads incumbent Rep. Vicki Kraft (R).
EDITOR'S NOTE — Meanwhile, south of the border….
► From the Oregonian — Voters reject Metro's payroll tax to fund billions in transportation projects
---
LOCAL ELECTIONS



► From the Seattle Times — Measure to expand, renovate Harborview Medical Center passes in King County election results — A proposition to issue more than $1.7 billion in bonds for upgrades at Harborview Medical Center in Seattle passed on Tuesday night. King County Proposition No. 1, which would help the public hospital build a new medical tower, renovate labs and improve behavioral health services, among other things, was leading with a little under 78% of the Tuesday night count. Per state law, bond measures need 60% approval to pass.
► From the Seattle Times — Seattle sales tax to fund transit wins overwhelmingly
---
NATIONAL ELECTIONS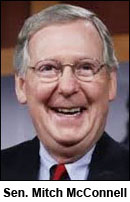 ► From the Washington Post — Republicans clinging to Senate majority — Republicans defeated well-funded Democratic challengers in South Carolina, Iowa and Montana while seizing a lead in the key battleground of North Carolina. Democrats defeated Republican Sens. Cory Gardner in Colorado and Martha McSally in Arizona, although the GOP picked up a seat of its own in Alabama and appeared to diminish the prospects of a Democratic majority as results continued to roll in Wednesday morning.
► From Politico — Democrats keep the House, but unclear if they will gain seats
► From The Hill — California voters approve measure exempting Lyft, Uber from labor law — The passage of Proposition 22 is a huge win for gig economy companies that spent more than $200 million to aid its passage. As employees, ride-share drivers would gain basic worker protections such as a minimum wage, health care access and a right to organize.
► From HuffPost — Colorado voters pass paid family leave
► From HuffPost — Florida voters approve $15 minimum wage — It will rise $1 per year until it hits $15 in 2026.
---
COVID-19
► LIVE from the Seattle Times — Coronavirus daily news update, Nov. 4 — The latest count of COVID-19 cases in Washington totals 110,011 infections (7-day average of new infections per day: 776) and 2,400 deaths (7-day average of deaths per day: 8)
► From the Seattle Times — Don't give in to COVID-19 fatigue (editorial) — No matter what happens with the election, we all need to double down and get back to basics: Wear a mask, wash your hands, limit your contact with extended family and friends. As state public health officials warned last week, COVID-19 case counts, hospitalizations and transmissions are on the uptick throughout the state.
---
THAT WASHINGTON
► From Reuters — U.S. formally exits Paris Climate Accord amid election uncertainty — The United States has formally withdrawn from the global pact — but the outcome of the presidential election could determine the country's future in the agreement.
---
AEROSPACE
► From the PS Business Journal — Sources: Boeing corporate yacht Daedalus sold for $13M
EDITOR'S NOTE — Oh, great! That's cover about 20% of the $62 million golden parachute the company gave to Dennis Muilenburg, the fired CEO who oversaw the 737 MAX debacle.
---
The Stand posts links to Washington state and national news of interest every weekday morning by 10 a.m.
Short URL: https://www.thestand.org/?p=92949
Posted by
David Groves
on Nov 4 2020. Filed under
DAILY LINKS
. You can follow any responses to this entry through the
RSS 2.0
. Both comments and pings are currently closed.