Let's help workers stand up for their rights in Washington
Worker Protection Act (HB 1076) empowers whistleblowers, promotes fair enforcement of state labor standards. Hearing on Friday.
OLYMPIA (Jan. 21, 2021) — Washington has built a statewide network of strong health and safety, minimum wage and anti-discrimination laws that protect the essential workers who keep our businesses running and our economy strong. But laws only work when they're enforced. Right now, enforcement is uneven and irregular, and it's hard for workers to get justice.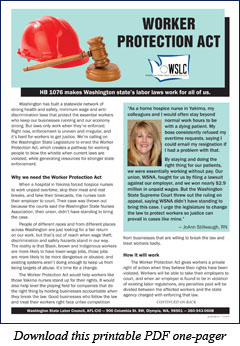 That's why, as part of its 2021 Workers Recovery Agenda, the Washington State Labor Council, AFL-CIO is calling on the Washington State Legislature to enact the Worker Protection Act (HB 1076). Sponsored by Rep. Drew Hanson (D-Bainbridge Is.), the Worker Protection Act would create a pathway for working people to blow the whistle when current laws are violated, while generating resources for stronger state enforcement. The bill is scheduled for a hearing at 8 a.m. Friday in the House Labor and Workplace Standards Committee.
TAKE A STAND — Download the WSLC's one-pager on the Workers Protection Act and submit written comments in support of HB 1076. Here's how: Go to the House Remote Testimony page, use the drop-down menu to select the Labor & Workforce Standards Committee, then select the 1/22 meeting, select HB 1076, and either submit written testimony or simply have your/your organization's position noted for the legislative record. Then you can watch the hearing at 8 a.m. Friday here.
---
Why we need the Worker Protection Act
When a hospital in Yakima forced hospice nurses to work unpaid overtime, skip their meal and rest breaks, and fake their timecards, the nurses took their employer to court. Their case was thrown out because the courts said the Washington State Nurses Association, their union, didn't have standing to bring the case.
People of different races and from different places across Washington are just looking for a fair return on our work, but that's out of reach when wage theft, discrimination and safety hazards stand in our way. The reality is that Black, brown and Indigenous workers are more likely to have lower-wage jobs, those jobs are more likely to be more dangerous or abusive, and existing systems aren't doing enough to keep us from being targets of abuse. It's time for a change.
The Worker Protection Act would help workers like those Yakima nurses stand up for their rights. It would also help level the playing field for companies that do the right thing by holding businesses accountable when they break the law. Good businesses who follow the law and treat their workers right face unfair competition from businesses that are willing to break the law and treat workers badly.
---
How it will work
The Worker Protection Act gives workers a private right of action when they believe their rights have been violated. Workers will be able to take their employers to court, and when an employer is found to be in violation of existing labor regulations, any penalties paid will be divided between the affected workers and the state agency charged with enforcing that law.
●  First, a worker files a notice with the state agency describing the violation.
●  The agency can investigate the claim and take steps to resolve the case before anything is filed in court.
●  If the agency opts not to investigate, or does not respond, the worker can go to court to collect penalties on behalf of the state and all affected workers. People who fear retaliation can authorize a union or nonprofit organization to represent them.
●  If a judge finds that the company broke the law and imposes a penalty, most of the penalty revenues go to the agency to help boost enforcement. And a portion goes to the whistleblower and the other workers injured by the violations.
This proposal gives people a way to enforce laws that businesses are already supposed to be following to ensure workers are safe and paid fairly for the work they're doing. We also know it will work—the Worker Protection Act uses a proven process that was used to help stop Medicaid fraud, saving taxpayers money by making it easier to catch people who were trying to cheat the system.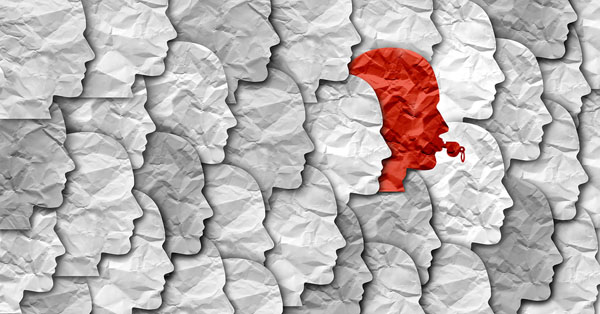 ---
What the Worker Protection Act Does
By creating a pathway for workers to blow the whistle when laws are violated, the Worker Protection Act:
EMPOWERS PEOPLE
●  Workers may enforce existing workplace and discrimination protections on behalf of the state.
●  Empowers workers at all level of employment – workers do not need to perform a sophisticated analysis to know if their work place is unsafe, or their wages have been stolen.
●  Enables workers to fix systematic workplace issues by bringing claims that impact all of their coworkers.
●  Protects workers and whistleblowers from retaliation.
USES SUCCESSFUL PROCESS
●  This type of action, also known as qui tam, is successfully used elsewhere in government to enforce the law and prevent fraud.
●  Washington Medicaid Fraud False Claims Act is used by the Attorney General to root out fraud and abuse in Medicaid.
●  Federal False Claims Act protects whistleblowers in federal contracting.
PROVIDE COST-EFFECTIVE ENFORCEMENT
●  Enforcing our laws helps make our state safer and the worker protection act generates revenue to help with future enforcement of our laws.
●  As part of our protection laws, our state has authorized penalties to deter corporations from breaking the law – today, low enforcement means the state rarely collects these penalties.
●  Under the WPA, if an agency does not investigate, 60% of the penalty goes to the state to help with future enforcement; 40% to the workers. If an agency does step in and take on the case, the state receives 80% of the penalty, while 20% goes to workers.
●  From 2012 to 2016, the Washington Medicaid Fraud False Claims Act recovered $6.1 million, amounting to a 3-to-1 return on enforcement investment.
●  In 2017, the Federal False Claims Act was used to recover $3.7 billion, including $125 million at the Hanford site.
---
What the Worker Protection Act Doesn't Do
●  It does NOT create any new labor rights.
●  It does NOT expand authority for state agencies.
●  It does NOT create any new mandates for employers.
---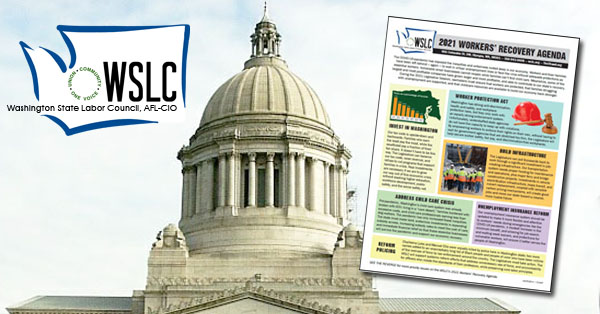 Learn more about the WSLC's 2021 Workers' Recovery Agenda.
Short URL: https://www.thestand.org/?p=94697
Posted by
David Groves
on Jan 21 2021. Filed under
STATE GOVERNMENT
. You can follow any responses to this entry through the
RSS 2.0
. Both comments and pings are currently closed.