Expanding eligibility | Everett's last 787 | Silk Sonic
Friday, March 5, 2021
---
COVID-19
► LIVE from the Seattle Times — Coronavirus daily news update, March 5 — The latest count of COVID-19 cases in Washington totals 343, 090 infections (7-day average of new infections per day: 806) and 5,032 deaths.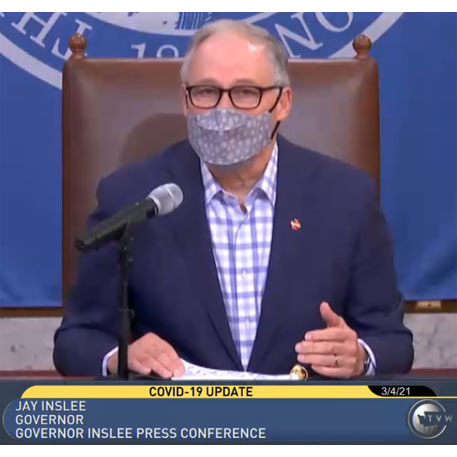 ► From the Spokesman-Review — Inslee announces new vaccine priority groups; next phase to start March 22 — Grocery store employees, agriculture workers, firefighters, public transit workers and law enforcement officers are among those in the next round of COVID-19 vaccine eligibility, Gov. Jay Inslee announced Thursday. The latest vaccination eligibility comes shortly after Inslee said teachers could get immunized, a statement that followed President Joe Biden's directive to prioritize educators for shots as he announced there would be enough supply for all American adults to get vaccinated by the end of May. In an updated distribution timeline, the state is expecting to move into the next phase of vaccination eligibility by March 22, assuming vaccine supply continues to increase.
► From the News Tribune — More eligible for COVID vaccine as Gov. Inslee expands tier — Larry Brown, President of the Washington State Labor Council, AFL-CIO, thanked Gov. Inslee after Thursday's announcement: "This is good news not just for the affected workers who face on-the-job coronavirus exposure every day, it's good news for all Washingtonians who rely on the critical services these workers provide."
TODAY at The Stand — WSLC thanks Inslee for vaccine expansion — As supplies increase, WSLC continues to press for ALL essential workers to be eligible for vaccination.
► From the Yakima H-R — Agricultural industry, farmworker advocates encouraged by vaccine announcement — Getting farmworkers vaccinated as quickly as possible will be key to reverse the disproportionately negative impact COVID-19 has had on farmworkers in the past year, said the UFW's Elizabeth Strater.
MORE coverage from the Associated Press, KUOW and the Seattle Times.
► From the AFL-CIO — Labor movement fighting anti-Asian racism in all forms — The continued anti-Asian racism that has skyrocketed during the coronavirus pandemic is a stain on our nation. The labor movement again condemns this vile behavior and will continue to fight these injustices. AFL-CIO President Richard Trumka said:
"The entire labor movement is appalled by the continued rise in anti-Asian racism across the country. Acts of physical violence, yelling of racial slurs and intimidation tactics used against our Asian American friends, family and communities must be called out and stopped. Anti-Asian rhetoric is only hurting our nation more during this pandemic, and we all must stand up and condemn in the strongest terms possible that racism in any form is unacceptable."
---
AEROSPACE
► From the (Everett) Herald — Last Everett-built Boeing 787 rolls off the assembly line — The last Everett-built Boeing 787 Dreamliner has rolled off the assembly line at the Paine Field factory, marking the end of the model's manufacture in Washington. Production of the 787 is being consolidated in South Carolina this month… Jon Holden, president of the International Association of Machinists and Aerospace Workers District 751, said the union still believes the decision is wrong. "The statement we issued after Boeing announced their decision on October 1 is the same way we feel today," Holden said in a statement on Thursday:
"We feel strongly that Boeing would benefit from keeping both lines open. Our members have sacrificed a lot to ensure the success of the 787 program. Our members were intricate in developing and launching the 787 program and helped create funding for this program. What is disappointing is our efforts seem to be forgotten during this process and Boeing fails to capitalize on the strengths of our workforce."
► From the P.S. Business Journal — Boeing-backed Aerion reveals supersonic jet deal with NetJets, $10B order backlog — Boeing-backed Aerion said Wednesday that NetJets, the business aviation company owned by Warren Buffett's Berkshire Hathaway, has acquired rights to buy 20 of its AS2 supersonic jets, giving the startup a growing backlog as it moves towards a 2023 production start.
---
LOCAL

► From the Seattle Times — Seattle teachers union votes to continue teaching remotely as some educators are called back to classrooms next week — Seattle Education Association union leaders voted Wednesday to continue teaching remotely, a show of opposition to the school district's move to summon 700 Seattle Public Schools educators back to their school buildings on Monday. The two sides have not yet reached an agreement to expand in-person learning.
► KNKX — Highline school board votes to authorize possible legal action against its teachers union — The board's action came in the wake of a vote by the Highline Education Association. Union members rejected a tentative agreement to start bringing some students back to classrooms next week.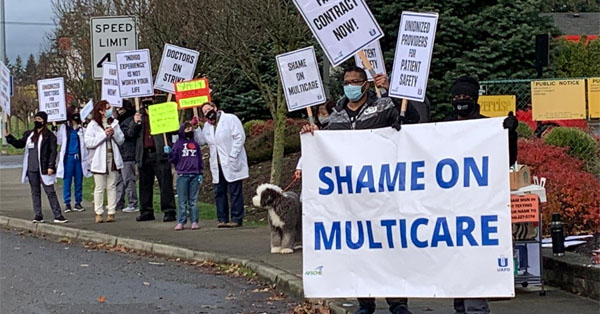 ► From the News Tribune — MultiCare fined again for COVID-19 safety violations, this time at Puyallup hospital — Another medical facility within the MultiCare system has received a citation and fine from the state Department of L&I for multiple COVID-19 safety violations. MultiCare Good Samaritan Hospital in Puyallup was issued a citation and notice of assessment Feb. 19. The violations were same in kind and number to those issued in February to a MultiCare Indigo Urgent Care clinic in Puyallup.
The Stand (Nov. 30, 2020) — MultiCare Indigo docs in region strike for safer conditions
► From The Stranger — Seattle could finally resume transit projects paused for the pandemic and Tim Eyman — The Seattle DOT has proposed restoring nearly $24 million into a wide range of services and improvements that were previously cut. The proposal was unanimously approved during yesterday's Transportation & Utilities Committee, so now it heads to the full Seattle City Council.
► From the Yakima H-R — Yakima child care provider and SEIU 925 union representative Lorena Miranda offers advice for future providers (video)
---
THIS WASHINGTON

► From PubliCola — Capital gains tax opponents received taxpayer-funded aid — Public records reveal that at least 58 of the companies who signed the letter opposing SB 5096 received nearly $34 million in funding from PPP loans, a program established by the federal CARES Act meant to help small businesses stay afloat during the pandemic.
EDITOR'S NOTE — SB 5096 could come to a vote as soon as this weekend! Call the Legislative Hotline TODAY at 1-800-562-6000 and leave a message for your senator and representatives: Please vote YES on Senate Bill 5096, a tax on extraordinary profits from the sale of stocks and bonds.
The Stand (Feb. 17) — Senate panel advances capital gains tax to fund child care

► From the Seattle Times — 55,000 in Washington state may have to pay back thousands in jobless benefits — The Employment Security Department said it will be working with the 55,000 claimants who've received repayment notifications after failing to respond to agency requests for information and being ruled ineligible for benefits already received. In some cases, claimants may not be required to repay benefits. Senate Labor, Commerce & Tribal Affairs Committee chair Karen Keiser (D-Des Moines) said the overpayment notices often hit workers who are still unemployed — "and they're suddenly being told they have to pay back $12,000, and they're just in panic mode."
► From the Seattle Times — Don't click on it: Unemployment scams flooding text and social media in Washington state — The fraudulent text claims to be from the state's WA eServices and says the recipient's account needs "immidiate" attention. Don't click on it!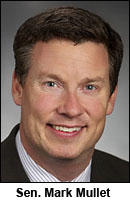 ► From the KIRO — Seattle NAACP among dozens of groups now supporting full ban on credit scoring in insurance — SB 5010 was written this session to ban insurance companies from using credit scoring. But Sen. Mark Mullet (D-Issaquah) pushed a substitute bill that allows credit scores, but would freeze them for three years. At least 35 community groups, including the AARP of Washington, Catholic Community Services, and the Washington State Labor Council —  along with the NAACP — have signed letters asking for the original version to be passed.
► From Crosscut — Prescription prices could push Washington state into the drug business — Responding to federal inaction on pharmaceutical costs, lawmakers appear poised to give the state broad authority to buy or make generic drugs.
---
THAT WASHINGTON
► From the AFL-CIO — NEW POLL: Reeling from economic crisis, Americans want Biden to take aggressive pro-worker actions — A nationwide poll of likely voters that found widespread support for executive actions addressing key issues impacting working people, including employee misclassification, union-busting and federal purchasing power.
► From The Hill — Democrats under pressure to deliver on labor's 'litmus test' bill — Labor groups are putting pressure on Democrats to deliver on their top legislative priority this year: a pro-union bill that targets state right-to-work laws. The legislation, known as the PRO Act, has been introduced before, only to hit a wall with Republicans in the Senate. This time around, unions want to see an all-out effort from Democrats, one that extends to the White House.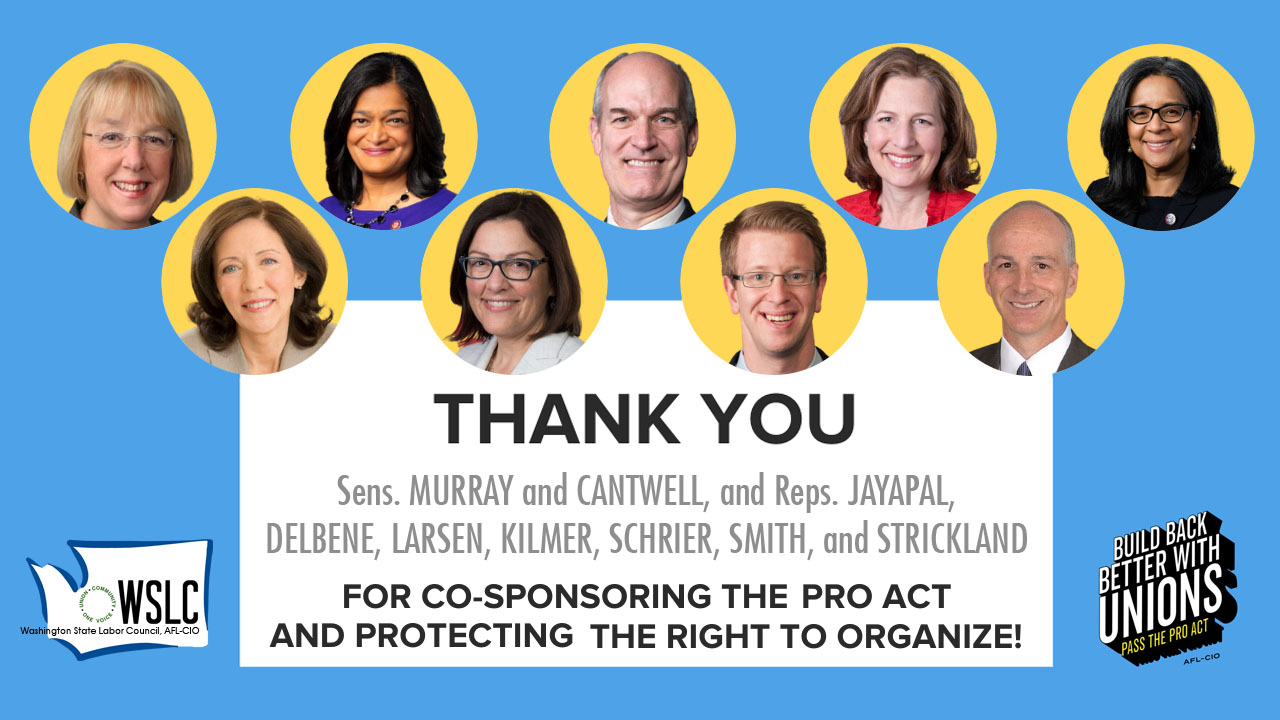 The Stand (Feb. 11) — Washington Democrats step up for workers on PRO Act — Both U.S. senators, all seven Democratic representatives sponsor bill to build back better with unions.
► From Politico — AFL-CIO to explore taking a stance on eliminating filibuster — The AFL-CIO's executive board will meet next week to determine its position on eliminating the filibuster, according to AFL-CIO President Richard Trumka. Two of organized labor's highest priorities for the Biden administration, the PRO Act and the Raise the Wage Act, are both unlikely to garner the 60 votes needed for passage in the Senate.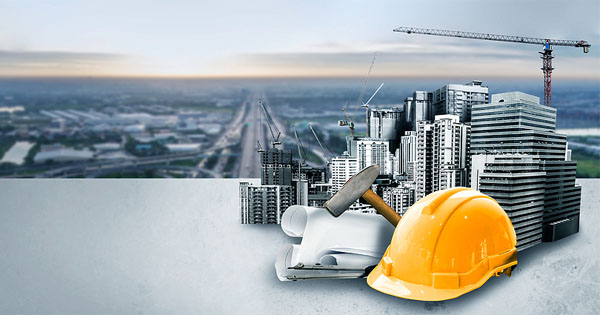 ► From The Hill — Biden turns focus to next priority with infrastructure talks — Biden met with Transportation Secretary Pete Buttigieg and a bipartisan group of lawmakers on the House Transportation and Infrastructure Committee for over an hour on Thursday afternoon, his second bipartisan meeting with the group over the past month.
The Stand (March 2) — Invest in our nation's crumbling infrastructure, Buy American
► From the LA Times — After two presidents failed, can Biden actually get infrastructure done? — "We're at a crossroads. Inaction will only worsen the suffering that working people have weathered over the past year," said Richard Trumka, president of the AFL-CIO. "But if we commit to rebuilding our communities on an unprecedented scale, we can get through this crisis stronger than before."
► From the AP — Senate will vote on COVID relief bill Friday, following a half-day delaying tactic by Republican Ron Johnson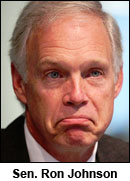 ► From The Hill — Ron Johnson grinds Senate to halt, irritating many — Sen. Ron Johnson (R-Wis.) is grinding the gears of the Senate to a halt as it seeks to move forward with President Biden's $1.9 trillion COVID-19 relief bill. His delaying tactics won't sink the bill, and some colleagues have been puzzled over what his endgame is.
► From the Washington Post — Republicans' rhetoric on H.R. 1 is apocalyptic. Are they that afraid of democracy? (editorial) — To hear Republicans tell it, a bill that the House passed late Wednesday night would spell the end of the republic. The bill that has these politicians frothing is H.R. 1, a long piece of legislation with a noble purpose: making it easier for Americans to vote and encouraging the government to be more responsive to the people. Republicans' apocalyptic rhetoric is so wildly disproportionate to the contents of the bill, one must wonder what they are really worried about.
The Stand (March 4) — AFL-CIO hails voting rights bill, urges swift Senate action
---
NATIONAL
► From the Washington Post — The economy added 379,000 jobs in February as unemployment drops slightly — The U.S. economy added 379,000 jobs in February, a level that surpassed analysts' estimates but remains below the rate needed to regain the more than nine million jobs lost since last year.
► From the NY Times — 'I really loved my job': Why the pandemic has hit these workers harder — People with disabilities are disproportionately employed in industries that have suffered in the pandemic.
---
T.G.I.F.
► Bruno Mars and Anderson .Paak have teamed up in a new band called Silk Sonic. On Thursday they released their first single, this retro smooth jam. We like! Mars says he and .Paak are "pouring our heart and soul into these songs" on a new album that will feature "special guest host Bootsy Collins" and should be released soon. Enjoy.
---
The Stand posts links to Washington state and national news of interest every weekday morning by 10 a.m.
Short URL: https://www.thestand.org/?p=96262
Posted by
David Groves
on Mar 5 2021. Filed under
DAILY LINKS
. You can follow any responses to this entry through the
RSS 2.0
. Both comments and pings are currently closed.