AFL-CIO hails voting rights bill, urges swift Senate action
WASHINGTON, D.C. (March 4, 2021) — Democrats in the U.S. House of Representatives passed sweeping voting, campaign finance disclosure and ethics legislation Wednesday over unanimous Republican opposition, and advanced to the U.S. Senate what would be the biggest overhaul of the U.S. election law in decades.
AFL-CIO President Richard Trumka hailed the passage of H.R. 1, the For the People Act, as necessary to protect free and fair elections amid continuing right-wing efforts to undermine confidence in elections and erect barriers to voting.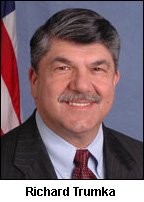 "For years, the rich and powerful have worked to suppress working people's right to freely cast a ballot," he said in a statement. "And in January, we were wounded by one of the most brazen anti-democratic attacks in our history. This sustained assault on our democracy is far from over, as right-wing politicians across the country continue their effort to curb our voting rights."
He urged to Senate to quickly approve the landmark legislation.
"If we fail to take action, our most fundamental freedoms will continue to be eroded," Trumka said. "Yesterday's passage of the For the People Act is a critical step forward, and the labor movement calls on the Senate to quickly send this bill to President Biden's desk."
H.R. 1 would require states to automatically register eligible voters, offer same-day registration, require 15 days of early voting and allow no-excuse mail balloting. It would restrict states from purging registered voters from their rolls, restore former felons' voting rights, and mandate that nonpartisan commissions handle the redistricting process rather than partisan state legislatures, among other provisions.
In addition, the legislation would force the disclosure of donors to "dark money" political groups, through which anonymous wealthy interests currently buy political influence.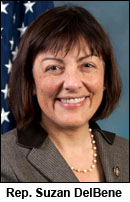 "This historic pro-democracy reform bill will curb the influence of dark money in campaign finance, hold our elected officials to a higher standard, and implement crucial voting rights protections," said Rep. Suzan DelBene (D-Wash., 1st). "With state legislatures spearheading anti-democratic voter suppression laws and partisan redistricting efforts, we need to pass this legislation immediately. I call on my colleagues in the Senate to take up this measure and help restore faith in our government."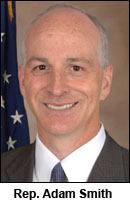 "These protections will ultimately empower citizens and ensure their representatives remain transparent and accountable to them," said Rep. Adam Smith (D-Wash., 9th). "H.R. 1 paves the way to restoring the Voting Rights Act and pushing back on the Supreme Court's misguided Citizens United ruling. Renewing the public's confidence in our democracy and accountability requires a comprehensive approach. I am proud to support this important step in reforming our electoral process to increase transparency and integrity in our democratic process."
Trumka said American democracy itself is at stake.
"The American people are in a desperate struggle to preserve our right to free and fair elections, and this landmark legislation will give us the tools we need to defeat those seeking to gain power through intimidation, coercion and suppression," he said.
For more information about H.R. 1, see the policy fact sheet here.
Also, watch this Vox primer on voter suppression and the erosion of voting rights since passage of the Voting Rights Act of 1965.
PREVIOUSLY at The Stand — Join the virtual Selma Bridge Crossing Jubilee on March 5-7 — On "Bloody Sunday," March 7, 1965, then-25-year-old activist John Lewis led more than 500 marchers across the Edmund Pettus Bridge in Selma, Alabama. They faced brutal attacks by state troopers, and footage of the violence collectively shocked the nation. Two weeks later, the Rev. Martin Luther King, Jr. and 3,200 civil rights protesters marched the 49 miles from Selma to the state capital, Montgomery — an event that galvanized support for Congress to pass the Voting Rights Act.
Short URL: https://www.thestand.org/?p=96237
Posted by
David Groves
on Mar 4 2021. Filed under
NATIONAL
. You can follow any responses to this entry through the
RSS 2.0
. Both comments and pings are currently closed.