COVID's 4th wave | Fund America | Broken Horses
Friday, April 2, 2021
---
COVID-19
► LIVE from the Seattle Times — Coronavirus daily news update, April 2 — The latest count of COVID-19 cases in Washington totals 365,672 infections (7-day average of new infections per day: 921) and 5,262 deaths.
► From the Seattle Times — A possible fourth wave of COVID: Washington state's pandemic outlook — The possibility of a fourth wave of infections now looms large for health officials. Cases fell dramatically over winter, then plateaued, and now could be headed in the wrong direction.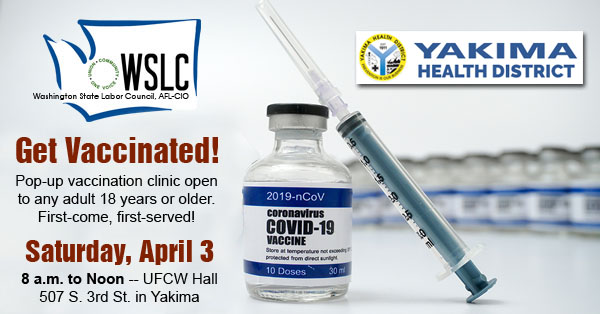 TODAY at The Stand — WSLC hosts vaccination clinic Saturday at Yakima UFCW Hall — This vaccination opportunity is open to all adults (18 and older) — regardless of their status on the state's tiered eligibility system — because the vaccines will expire if they are not used Saturday.
---
LOCAL
► From the Seattle Times — Seattle school district, teachers union reach deal to expand in-person learning for middle and high school students — tarting April 19, middle and high school students enrolled in Seattle Public Schools would be welcomed back to their schools for two half-days a week, under a tentative agreement reached this week between the district and Seattle Education Association union.
► From the Seattle Times — Seattle's tuition-free community college program sees record application numbers despite pandemic — Manny Dubinsky is one of 2,100 seniors — more than 50% of Seattle Public Schools' class of 2021 — who applied to the Seattle Promise program this year, reflecting a 19% increase from last year. Of those, about 66% were students of color.
---
THIS WASHINGTON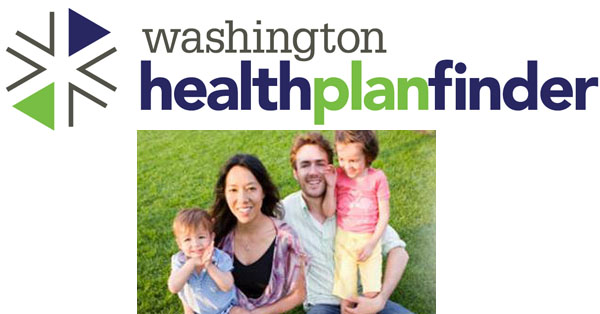 ► From the Seattle Times — Washington's health insurance exchange extends special enrollment period — The Washington Health Benefit Exchange has pushed its special open enrollment through Aug. 15 in response to changes in federal law. The current enrollment period was set to close May 15. The American Rescue Plan Act, recently passed by Congress, increases tax credits for people enrolled through the exchange. The new law also extends tax credits to middle-income people who previously weren't eligible, and gives additional tax credits to those receiving at least one week of unemployment compensation this year. (Visit WAHealthPlanFinder.org.)
► From the AP — State Senate passes first draft of $59 billion spending plan — The Washington Senate on Thursday passed its two-year budget spending proposal that lawmakers said focuses on helping those hit hardest by the coronavirus pandemic. The budget passed the Democratic-led chamber on a 27-22 vote. The House, also led by Democrats, is expected to vote on its own similar plan Saturday. A final plan will then be negotiated and passed before the end of the 105-day legislative session April 25.
► From the Inlander — Washington DNR hopeful proactive wildfire management money will pass Legislature — The most recent revenue forecast appears to have given both chambers of the Legislature the wiggle room needed, as both have included $125 million for the Department of Natural Resources in their budget proposals to pay for wildfire response, forest restoration and community resilience projects.
► From Crosscut — Strong environmental justice mandates stripped out of HEAL Act — The environmental proposal in the state Legislature was designed to protect communities of color, but will it make a difference?
► From the Spokesman-Review — 'Long overdue': Many in Spokane say state Juneteenth bill is appreciated, but only a first step — With a bill to designate Juneteenth as a paid state legal holiday, the state Legislature is hoping to honor those who were slaves, celebrate the end of slavery and make a first step toward improving the knowledge of Black history in the state. But many in Spokane say it is only the beginning.
---
POLICE ACCOUNTABILITY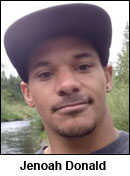 ► From the Columbian — Investigation continues into fatal police shooting of Black man in Hazel Dell — Law enforcement tasked with investigating the fatal police shooting of a 30-year-old Black man in Hazel Dell say they anticipate they'll finalize their findings within the next week. Jenoah Donald, of Battle Ground, died Feb. 12, eight days after he was shot once in the head by Clark County sheriff's Deputy Sean Boyle, according to investigators and his family's attorney. Deputies responding to a neighborhood call had stopped Donald for a bad taillight.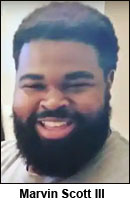 ► From the Washington Post — He died in jail hours after a minor pot arrest. Now 7 corrections officers have been fired. — Marvin Scott III was inside a sprawling outlet mall in Allen, Tex., last month when police searched him and allegedly found less than two ounces of marijuana. They arrested him and eventually took him to the local jail. Hours later, the 26-year-old was dead. Now, seven Collin County, Tex., detention officers have been fired for their role in allegedly restraining Scott, blasting him with pepper spray and placing a hood over his head as he suffered through what his family has described as a mental health emergency.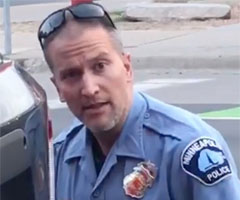 ► From the Washington Post — Kneeling on George Floyd's neck sent a message to everyone who saw it (by Eugene Robinson) — Evidence presented this week in Derek Chauvin's trial on charges that he murdered George Floyd showed a national audience how the former Minneapolis police officer saw his alleged victim: as a dangerous, "sizable" Black man who had to be controlled, subdued and forced to submit. The message Chauvin sent with his actions wasn't intended for Floyd alone, and it's one Black Americans have heard for centuries… When I see that look Chauvin gave the onlookers, I see more than heartlessness. I see arrogance and superiority. I see him teaching an old lesson about who has power and who does not, about whom the law protects and whom it doesn't. I see Chauvin demonstrating that he, not Floyd, got to decide whether Floyd was allowed to breathe.
The Stand (June 3, 2020) — Labor decries George Floyd's murder, urges action on racism
---
VOTING RIGHTS



► From the NY Times — What Georgia's voting law really does — The New York Times analyzed the state's new 98-page voting law and identified 16 key provisions that will limit ballot access, potentially confuse voters and give more power to Republican lawmakers.
► From The Hill — Backlash grows against Georgia voting rights law — Georgia lawmakers are on defense as prominent companies and business executives have come out in opposition to legislation signed into law by Gov. Brian Kemp (R) that has been criticized as an effort to stifle minority voters.
► From the AP — Corporate criticism of GOP-led voting bills spreads to Texas — American Airlines, which is based in Fort Worth, came out against restrictive voting measures in Texas.
► From the AP — AP poll: Majority in U.S. back easier voter registration
---
THAT WASHINGTON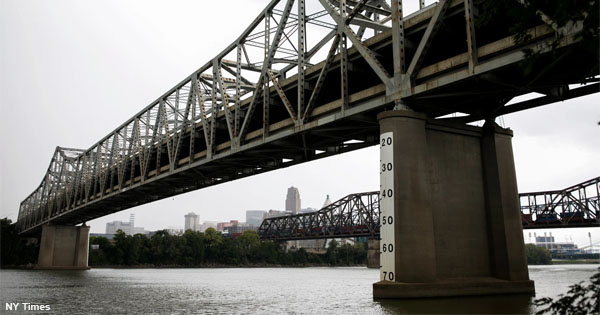 ► From the NY Times — Old tunnels and rusting bridges: America's creaking infrastructure — The Biden administration has pledged a $2 trillion investment in the nation's infrastructure. With century-old water systems and schools vulnerable to earthquakes, there is no shortage of need. But the plan faces opposition from Republicans and business groups, who point to the enormous cost and the higher corporate taxes that Biden has proposed to pay for it. Still, leaders in both parties have long seen infrastructure as a possible unifying issue. Urban and rural communities, red and blue states, the coasts and the middle of the country: All are confronting weak and faltering infrastructure.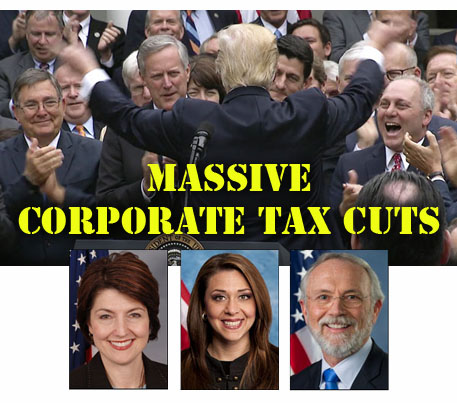 ► From the NY Times — No federal taxes for dozens of big, profitable companies — Just as the Biden administration is pushing to raise taxes on corporations to pay for his infrastructure plan, a new study finds that at least 55 of America's largest paid no taxes last year on billions of dollars in profits. The sweeping tax bill passed in 2017 by a Republican Congress and signed into law by President Trump reduced the corporate tax rate to 21 percent from 35 percent. But dozens of Fortune 500 companies, including FedEx, Duke Energy and Nike, were able to further shrink their tax bill — sometimes to zero — thanks to a range of legal deductions and exemptions that have become staples of the tax code, according to the analysis.
EDITOR'S NOTE — Today's GOP: Defund America!
► From the AP — Biden's 'Jobs Cabinet' to sell infrastructure as GOP resists
► From the Washington Post — Biden jobs plan seeks $400 billion to expand caretaking services as U.S. faces surge in aging population — Biden's jobs plan proposes a massive investment in home care for the elderly and people with disabilities, as America's caretaking system faces strain from the nation's looming demographic challenges.
► From Politico — Unions demand Biden cancel student debt for public service workers — A wide range of unions representing teachers, fire fighters, health care workers and government employees on Thursday called on Education Secretary Miguel Cardona to fully erase the debt of borrowers who have worked for more than a decade in public service jobs. The unions say the relief is needed because the Education Department's existing Public Service Loan Forgiveness program has been plagued by problems and mismanagement.
---
NATIONAL
► From the Washington Post — The U.S. economy added 916,000 jobs in March as recovery gains steam again — The U.S. economy added 916,000 jobs in March, the highest level in months, as vaccine distribution and declining caseloads helped accelerate a recovery in the labor market.
► From WBRC — UMWA issues strike notice at Alabama's Warrior Met Coal — The United Mine Workers of America issued an unfair labor practice strike notice at Warrior Met Coal, Inc., to begin on April 1. The notice covers more than 1,100 workers at all of the company's operations.
► From WGA East — Writers strike at ABC's The Chase (ITV America) — Writers at The Chase, a television quiz and audience participation show from ITV America, and broadcast on ABC, went on strike March 24 after the companies refused to agree to cover writers' work under the Writers Guild of America's Minimum Basic Agreement.
► From the NY Times — The pandemic hit the working class hard. The colleges that serve them are hurting, too. — The community colleges largely serving low-income, Black and Latino students are reeling, and experts worry that inequality in education will increase.
► From the Washington Post — Wall Street's fixation on quick profits wreaking havoc in the 'real' economy, report says — A conservative think tank found that American businesses are prioritizing shareholder profits over long-term investments, depressing economic growth and exacerbating inequality.
EDITOR'S NOTE — Ya think?
---
T.G.I.F.
► Our longtime readers know that The Entire Staff of The Stand will never pass up an opportunity to promote the incredible work of the Pride of Ravensdale, Brandi Carlile. Well, her latest is her new memoir Broken Horses, about which none other than Elton John writes: "Brandi's story is about perseverance, humor, forgiveness, and manifestation. I absolutely loved it." (Pre-order it from Powell's union bookstore!) And check out Brandi's great New York Times interview about the book. On her voice, the Times' Amanda Hess writes, "If you've never been struck down by it before, start with 'The Story,' 'The Mother' and 'The Joke' and then pick yourself up off the floor." OK, now that you're off the floor, here are three more from Brandi and The Twins (Phil and Tim Hanseroth) to knock you back down, from their great 2012 album Bear Creek.
---
The Stand posts links to Washington state and national news of interest every weekday morning by 10 a.m.
WASHINGTON IS A UNION STATE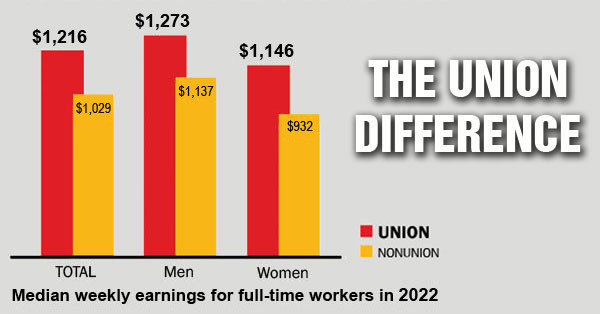 CHECK OUT THE UNION DIFFERENCE in Washington state: higher wages, affordable health and dental care, job and retirement security.
FIND OUT HOW TO JOIN TOGETHER with your co-workers to negotiate for better working conditions and respect on the job. Or go ahead and contact a union organizer today!