Nursing crisis | Don't burn it down | Here they go again
Friday, September 3, 2021
---
COVID
► From the Olympian — WA fifth COVID-19 wave could plateau soon, but holiday weekend might threaten progress — During the same news conference Thursday to reassure parents of the school year's start amid the pandemic, state health officials made clear the state's fifth wave of COVID-19 isn't over. "We're seeing hospitalization rates at numbers we have never seen before," said Dr. Scott Lindquist, the state's acting health officer, adding that they are driven by the Delta variant and unvaccinated people.
► From the Tri-City Herald — Local COVID deaths have doubled; new cases tripled
► From the AP — More than 100 cases linked to NW Washington Fair in Lynden
MORE local coverage of rising COVID case, hospitalization and death rates in today's Bellingham Herald, (Everett) Herald, (Longview) Daily News, Peninsula Daily News, (Spokane) Spokesman-Review. (Tacoma) News Tribune, (Vancouver) Columbian, and the Wenatchee World.
► From the AP — Idaho hospitals nearly buckling in relentless COVID surge — Idaho hit a grim COVID-19 trifecta this week, reaching record numbers of emergency room visits, hospitalizations and ICU patients. Medical experts say the deeply conservative state will likely see 30,000 new infections a week by mid-September.
► From The Hill — More than 20% of weekly cases by end of August were children — The high number of cases comes as many children return to in-person classes at school. Children under 12 are not currently eligible for the vaccine.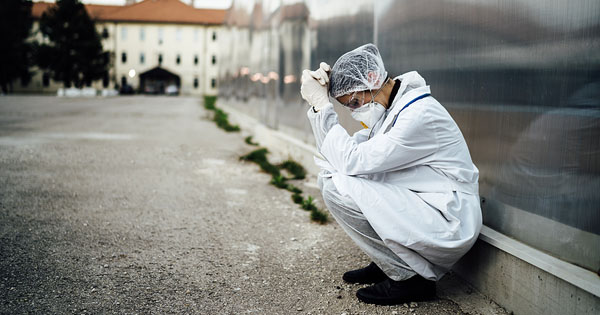 ► From the AP — Pandemic sparks nurse staffing crisis at U.S. hospitals — The COVID-19 pandemic has created a nurse staffing crisis that is forcing many U.S. hospitals to pay top dollar to get the help they need to handle the crush of patients this summer. The problem, health leaders say, is twofold: Nurses are quitting or retiring, exhausted or demoralized by the crisis. And many are leaving for lucrative temporary jobs with traveling-nurse agencies that can pay $5,000 or more a week.
EDITOR'S NOTE — Is there a plan for the layoffs (which have already begun) of hundreds of Washington nurses who fail to get fully vaccinated by the Oct. 16 deadline? Whether you support or oppose the governor's mandate, the loss of even a relatively small percentage of frontline healthcare workers in Washington will likely exacerbate the public health crisis we all face. Discuss.
---
MASK AND VACCINE MANDATES

► From the Seattle Times — King County to require masks at large outdoor gatherings, regardless of vaccination status — Masks will soon be required at all outdoor events in King County with 500 or more people, regardless of attendees' vaccination status, the county's top health official announced Thursday.
► From Cheddar News — AFL-CIO's first woman president supports vaccines, but workers should have a say — The AFL-CIO, the nation's largest labor union, recently named its first-ever woman president in Liz Shuler. She joined Cheddar's Closing Bell to talk about the groundbreaking election and her thoughts on the future of the labor movement. As a COVID vaccine mandate in the workplace remains a focal point of discussion, Shuler said the union supports vaccinating employees but that every worker should still have a say in how that's implemented. "Every workplace is different," she said. "That's the beauty of what we bring to the table is the ability to sit in a bargaining environment with our employers to bring a worker voice to that discussion."
The Stand (Aug. 9) — WSLC outlines position on vaccine mandates — As labor continues to support vaccination, WSLC says workers must have a voice in employers' vaccine policies.
The Stand (Sept. 2) — Vaccine mandate deadlines fast approaching — To comply with governor's order, first shots are needed as soon as Sept. 6.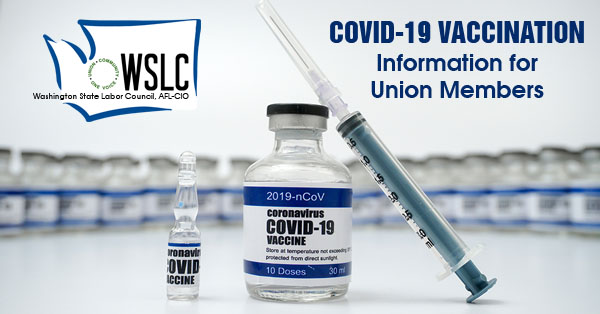 EDITOR'S NOTE — For more information about the safety and efficacy of these vaccines, see the Washington State Labor Council's COVID Vaccine Information page. When you're ready to get vaccinated, visit Washington state's Vaccine Locator to find appointments near you.
► From the LA Times — 'Religious' exemptions add legal thorns to looming vaccination mandates — No major religions denounce vaccination. That hasn't kept individual churches from providing religious "cover" for those seeking to avoid jabs.
► From the Seattle Times — Alaska Airlines pushes employees toward vaccination — Like Southwest, American and Delta, Alaska is stopping short of requiring vaccination as a condition of employment, the step taken by United Airlines. Instead, its new policy will monetarily reward those who are vaccinated and penalize those who refuse.
► From the AP — Tyson Foods workers get paid sick leave; 75% vaccinated — Tyson Foods is offering its front-line workers paid sick leave for the first time, part of an agreement that secured union support for its mandate that all U.S. employees get vaccinated against the COVID-19 virus.
---
LOCAL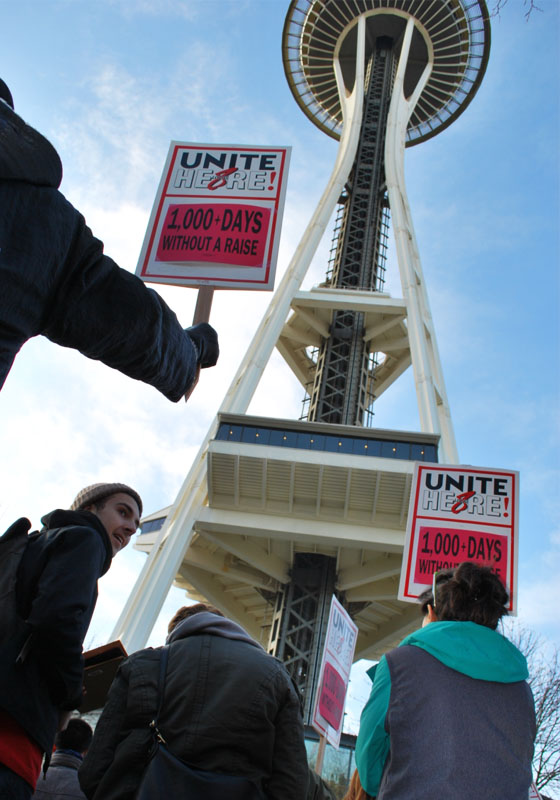 ► From the Seattle Times — Watch Seattle to see the future of organized labor in America (by Jon Talton) — For this Labor Day, let's consider Seattle and Washington as a pivot for labor's present and future. A total of 18.6% of Washington workers were represented by unions this past year, among the highest rates in the country. Unions here are powerful in local politics. The International Association of Machinists Local 751 and the Society of Professional Engineering Employees in Aerospace Local 2001, which represent Boeing and other aerospace workers, swing a big bat in Washington. Some of Seattle's more successful progressive initiatives, such as the $15-an-hour minimum wage, came with heavy union support. Here, unions are relevant and have some of their former power. Paradoxically, two major companies based here (Starbucks and Amazon) are at the heart of the roadblocks unions face and perhaps their opportunities.
TODAY at The Stand — Celebrate Labor Day safely, join campaign to pass the PRO Act
► From Working WA — State investigation finds severe health & safety violations at Dick's Drive-In — Many months after workers filed formal complaints and over a year after workers first raised concerns about health and safety violations at Dick's Drive-In — including frequent burns, poor sanitation practices, exposure to dangerous chemicals, and failure to comply with COVID safety guidelines — the state Department of Labor and Industries has issued 12 formal citations for health and safety violations at Dick's. The findings include 7 citations for serious violations.
---
THIS WASHINGTON



► From the Seattle Times — 120,000 in Washington will lose federal jobless benefits next week. Here's what the state says — Just in time for Labor Day, 120,000 jobless Washingtonians will lose their unemployment benefits as a federal pandemic program expires — and state officials still aren't stepping up with funds to soften the loss. Saturday marks the last day to file claims for two emergency federal benefit programs that targeted people who'd lost jobs in the pandemic but didn't qualify for regular state unemployment benefits.
The Stand (Sept. 2) — Expanded jobless benefits expire this week. Here's what to know.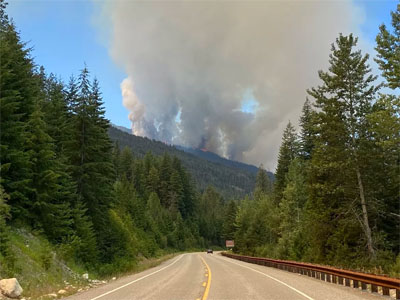 ► From KIRO — State DNR: 70% of all acres burned in 2020 were from wildfires started over Labor Day weekend — The fires ravaged the town of Malden and burned 283 homes and more than 600,000 acres. Smoke from the wildfires temporarily gave Western Washington the worst air quality in the world. To avoid a repeat of last year, Commissioner of Public Lands Hilary Franz is asking for the public's help to prevent wildfires over the holiday weekend.
► From the Spokesman-Review — Subsidies, special enrollment led to more than 57,000 Washington residents getting health insurance — The Washington Health Benefit Exchange opened a special enrollment period from February to August, and more than 57,000 Washington residents took advantage of the opportunity to get health insurance.
The Stand (Sept. 1) — COVID aid boosted healthcare coverage, affordability in state — Under American Rescue Plan Act, some in Washington now get health coverage for $1 per month or less. Nearly half of all Exchange customers pay less than $100 per month.
► From the Olympia — Former state Senator Dan Swecker dies at 74
---
THAT WASHINGTON
► From Vox — The staggering implications of the Supreme Court's Texas anti-abortion ruling — If Texas can avoid a court order blocking its anti-abortion law by delegating enforcement of the law to private bounty hunters, so can any other state. Indeed, nothing in the Court's order prevents another state from passing a law banning all abortions — provided that the law is enforced using SB 8-style private lawsuits. Some states, including Florida, are already considering legislation similar to SB 8. Allowing a law to stand that violates the Supreme Court's 1992 Planned Parenthood v. Casey decision means that the constitutional right to an abortion is effectively dead… The Court has now signaled that it will permit states to enact laws that were intentionally drafted to frustrate judicial review, at least if a majority of the Court agrees with what that law is trying to accomplish. And it handed down one of the most monumental decisions of our era — a decision effectively overturning Roe v. Wade — in a shadow docket order that offers virtually no reasoning.
EDITOR'S NOTE — With the 2019 passage of Resolution #31, "the Washington State Labor Council, AFL-CIO, affirms that reproductive rights are workers' rights and will defend and support efforts to obtain and maintain health care for working people covering all reproductive rights choices."
► From the — Pelosi announces vote on bill to codify Roe v. Wade — The House speaker said she's responding to the Supreme Court's decision to greenlight Texas' extreme anti-abortion law.
► From The Hill — Progressives prepare to launch counterattack in tax fight — Progressive groups are gearing up to promote Biden's proposals on tax hikes for wealthy individuals and corporations as Democrats in Congress move forward with drafting a multitrillion-dollar social spending package.
► From The Hill — Progressives hit Manchin after he calls for 'pause' on Biden's $3.5T plan
---
NATIONAL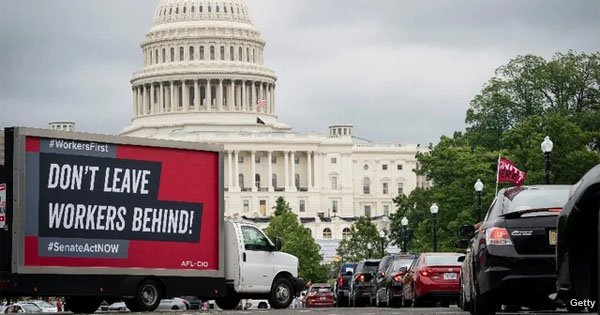 ► From The Hill — Americans' approval of labor unions hits near 60-year high: Gallup — Sixty-eight percent of Americans approve of labor unions, according to a Gallup poll released Thursday. Gallup found that 90 percent of Democrats approve of unions, the best mark in two decades. Two-thirds of independents and 47 percent of Republicans approve of unions, the highest percentage in recent years, according to the poll.
TODAY at The Stand — Approval of labor unions highest since 1965 — Labor leaders urge Congress to respond to public will and pass the PRO Act.
► From the AFL-CIO — UNITE HERE ramps up campaign to save daily housekeeping at Hilton Hotels — Hilton recently announced the end of automatic daily housekeeping, threatening the travel experience and housekeepers' livelihoods. UNITE HERE is pushing for hotel rooms to be cleaned every day because that's the standard of service guests have come to expect and love. Travelers say cleanliness is a top priority in poll after poll, and they should not have to request this standard service at a full-service hotel.
TAKE A STAND — Join this effort by:
●  Signing UNITE HERE's petition telling Hilton that hotel rooms should be cleaned every day.
●  Insisting on daily housekeeping throughout your hotel stay. If you're an individual, visit or call the front desk and ask that your room be cleaned every day of your stay. If you're booking for an organization, include automatic daily housekeeping in your contract. You can find model contract language here.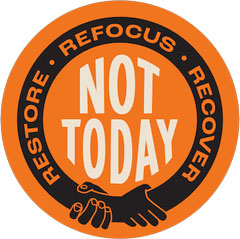 ► From the Northwest Labor Press — Construction industry confronts suicide in the ranks — The numbers are jolting. Construction workers commit suicide at three times the national average. More American construction workers die by suicide than from job site injuries or accidents. Construction has the second highest suicide rate of any industry. Hoping to prevent more suicides, a number of local unions have lately joined forces with construction companies. The project is called the Construction Suicide Prevention Partnership. The effort starts by teaching union reps, supervisors, and co-workers to recognize the warning signs of suicide, and how to get help for someone in crisis.
► From the People's World — Teamsters presidential hopefuls spar in first debate — Teamsters presidential hopefuls Steve Vairma and Sean O'Brien sparred Sept. 1 over a range of issues in the first of three debates between the men running to succeed 22-year incumbent Jim Hoffa.
► From Reuters — FedEx faces labor union challenge over billionaire CEO's pay — FedEx Corp. shareholders should reject founder and CEO Fred Smith's $54 million pay package because the logistics company gave him stock options after scrapping a cash bonus in the wake of the COVID-19 pandemic, only to reinstate it later, the Teamsters labor union said on Friday.
► From Reuters — Soaring COVID-19 infections restrain U.S. job gains in August
► From the AP — GM, Ford halt some production as chip shortage worsens
---
T.G.I.F.
► We've got some good news and bad news (you choose which is which).
The Stand will be on hiatus for the next two weeks as its Entire Vaccinated Staff travels to the filming site of Mamma Mia: Here We Go Again, the classic 2018 sequel celebrating the music of ABBA: Croatia! In apparent celebration of our imminent arrival there, it was announced yesterday that ABBA will reunite for its first album in 40 years and begin a "virtual concert residency" at a custom-built arena in East London beginning May 27, 2022. The show will run six nights a week and will feature holograms — known as "ABBAtars" — and a 10-piece live band playing 22 of the Swedish superstars' greatest hits. Love 'em or hate 'em, there's no denying that ABBA is one of the most commercially successful acts in the history of popular music, because of songs like this. Enjoy and we'll be back in a fortnight.
---
The Stand posts links to Washington state and national news of interest every weekday morning by 10 a.m.
Short URL: https://www.thestand.org/?p=101725
Posted by
David Groves
on Sep 3 2021. Filed under
DAILY LINKS
. You can follow any responses to this entry through the
RSS 2.0
. Both comments and pings are currently closed.