Left at the door to die | Carpenters strike | Tentative deal at Nabisco
Thursday, September 16, 2021
---
COVID
► LIVE from the Seattle Times — Coronavirus daily news update, Sept. 16 — The latest count of COVID-19 cases in Washington totals 613,670 infections (14-day average of cases per day: 3,378) and 7,089 deaths.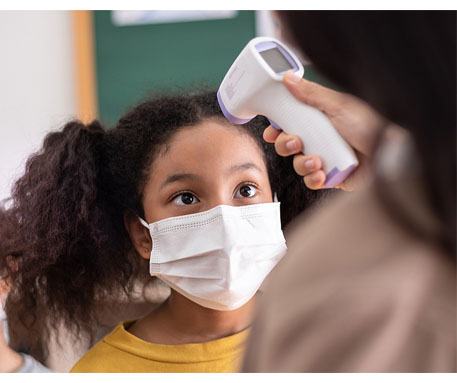 ► From the Tri-City Herald — 315+ Tri-Cities students, staff out sick with COVID last week. Hundreds more quarantined — Tri-Cities school districts continue to be hard hit by COVID — both with students and employees who are sick and hundreds who are having to quarantine the second week of the school year.
► From the News Tribune — Delta surge might be slowing, but WA hospitals still struggling. 'They are overfilled' — As much as the state and its residents are moving on from the pandemic with the return of school, the state fair and sporting events, state health officials Wednesday warned of dangerous levels of COVID-19 caseloads still confronting hospitals, mostly involving the unvaccinated.
► MUST-SEE from KXLY — Inside the ICU: An exclusive look inside Providence Sacred Heart Medical Center's intensive care unit
The Stand (Sept. 14) — Hospitals on the brink of unprecedented crisis — WSNA, SEIU 1199NW and UFCW 21: Preexisting staff shortages have reached critical levels; nurses, healthcare workers and patients need immediate action from hospitals in Washington state.
??? A sea of 650,000 white flags – one for every person who died from coronavirus in the US – is taking shape in front of the Washington Monument at the National Mall.

"In America: Remember" by @sbfirstenberg will be on display from Sept. 17 to Oct. 3.#COVID19 pic.twitter.com/waYJDaSKdJ

— Michael Knigge (@kniggem) September 15, 2021
► From the Washington Post — 1 in 500 Americans have died of COVID-19
► From Vox — Americans are dying because no hospital will take them — America, the richest country in the world, is not supposed to be a place where patients are left at the door to die. Yet that is exactly what's happening now — 18 months into the pandemic.
---
VACCINE MANDATES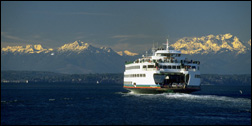 ► From the Seattle Times — Staffing shortages disrupt ferry service near Anacortes — A WSF spokesperson said dozens of crew members were out because of COVID-19 diagnoses, quarantining and getting vaccinations. Gov. Jay Inslee has ordered all state employees, including ferry workers, to be fully vaccinated by Oct. 18. State Ferries does not have an estimate of the number of workers who have been fully vaccinated. Warr said some employees have not yet submitted proof of vaccination, and have until Sept. 24 to do so.
The Stand (Sept. 2) — State vaccine mandate deadlines are fast approaching
► From KXLY — Durham School Services says workers are quitting over vaccine requirement — National Express, the owner of Durham School Services, says the school bus contractor has seen several Spokane-area resignations because of the vaccine mandate. That includes four already this week, they said, with about 10 percent of its workforce saying they want to find another job.
► From the AP — More Americans are using religion to avoid COVID-19 vaccine requirements — An estimated 2,600 Los Angeles Police Department employees are citing religious objections to try to get out of the required COVID-19 vaccination. In Washington state, thousands of state workers are seeking similar exemptions.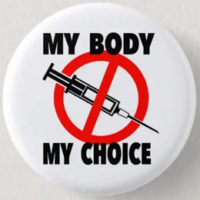 ► From The Hill — Pandemic frustrations zero in on unvaccinated Americans — The growing frustration with the ongoing pandemic is boiling over, with all eyes turned to the unvaccinated as the key to getting through the COVID-19 crisis. As cases approach winter levels, the U.S. has been left to decide how to deal with and treat the millions who still haven't received their shots, months after they became widely available. Federal public health officials have repeatedly labeled the surge a "pandemic of the unvaccinated" as a vast majority of hospitalizations and deaths occur among those who never got a shot. But the vaccinated population has been impacted too, as breakthrough cases rise.
► From The Guardian — 'Fascist and tyrannical': U.S. vaccine mandates induce right-wing hysteria — When Joe Biden announced sweeping federal coronavirus vaccine requirements for 100 million Americans, the White House was braced for objections from Republican opponents. But this being 2021, the right-wing backlash has gone way beyond mere political debate into the realm of incendiary language that, analysts fear, could translate into direct and violent action.
► From the Seattle Times — New Hampshire lawmaker switches parties, joining Democrats because of GOP views on vaccines, masks — He said his tipping point was when New Hampshire House Republicans organized a rally Tuesday opposing Biden's new vaccine mandates.
---
LOCAL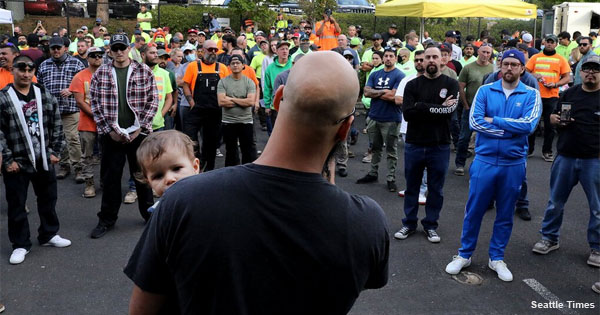 ► From the Seattle Times — Seattle-area carpenters on strike, slowing construction projects across the region — For the first time in nearly two decades, hundreds of Washington carpenters walked off the job Thursday, slowing work at job sites and calling for better pay. With a 56% to 44% vote during the weekend, members of the Northwest Carpenters Union rejected a tentative contract deal and authorized a strike. Picket lines were planned for early Thursday morning. The strike is expected to halt carpenters' work at hundreds of construction projects across the region, ranging from sites with a few carpenters to large projects, according to the union. The affected sites will include Microsoft office projects on the Eastside and Vulcan's Block 38, a Seattle mixed-use office project at Westlake Avenue and Mercer Street. However, the effects of the strike may appear muted to the general public. Most of the city's biggest projects, such as Climate Pledge Arena and Sound Transit light rail construction, have agreements in place preventing a strike. At those sites, union carpenters will keep working. About 2,000 of the union's roughly 12,000 members work at sites where they can strike, according to the union.
EDITOR'S NOTE — The Carpenters Union is not affiliated with the AFL-CIO or the Washington State Labor Council.
► From the Spokesman-Review — Massive cryptocurrency mining operation planned at former Ponderay Newsprint mill — The new owners of the shuttered Ponderay Newsprint in Usk, Wash., have formally requested enough power to restart the mill and build what could be one of the largest cryptocurrency mining operations in the country.
---
AEROSPACE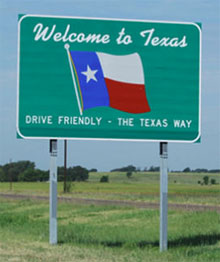 ► From the Seattle Times — Boeing moving 150 jobs from Washington and California to Texas — The affected nonunion jobs are in the company's global parts distribution unit and will be relocated to buildings near Dallas-Fort Worth International Airport… "Questions from employees regarding the repressive stance Texas has taken on women's rights and voting rights were ignored and not addressed during the Q&A," said an employee who attended one of the staff meetings and who asked for anonymity to protect his job.
---
THIS WASHINGTON



► From the AP — Washington August jobless rate was 5.1%; 16,800 jobs added — "But the uncertainty around the Delta variant is likely to result in an uneven labor market recovery," said state economist Paul Turek.
► From the Spokesman-Review — Expanding workforce training, industry collaboration key to growing manufacturing industry, observers say — Lisa Brown, the state's commerce director, was among four panelists who spoke Wednesday at the Davenport Grand Hotel about boosting manufacturing jobs.
---
PRESCRIPTION DRUG PRICES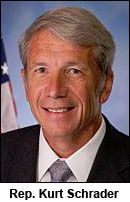 ► From the AP — Rep. Kurt Schrader of Oregon helps kill drug pricing bill, endangering Biden infrastructure plan — A House committee dealt an ominous if tentative blow Wednesday to President Joe Biden's huge social and environmental infrastructure package, derailing a money-saving plan to let Medicare negotiate the price it pays for prescription drugs. U.S. Rep. Kurt Schrader of Oregon cast one of the key Democratic votes against the drug pricing plan.
► From HuffPost — House Democrats opposed to Biden agenda actually hail from safe seats — Corporate donations, not electoral fears, appear to be motivating obstructionist Democrats. Their objections to Medicare drug price negotiations are a case in point.
► From the NY Times — Democrats' stumble on drug prices shows power of industry — The United States pays higher prices for prescription drugs than any of its peers — about 250 percent of the price paid on average by other Organization for Economic Cooperation and Development countries, according to a recent report… The drug industry has spent years donating to political campaigns, lobbying members of Congress, and developing allies in the business community. They are now urgently leveraging those relationships. PhRMA announced a "seven-figure" advertising buy on Wednesday, and published an open letter in several Washington publications, adding to television ads running on national news programs and football broadcasts.
► A related story from In These Times — U.S. says it supports a COVID vaccine patent waiver, but document reveals it is dragging feet at WTO — Global health advocates say a patent waiver would ease access to COVID vaccines, but the U.S. declined to support as-is a proposal to greenlight the waiver, a summary of a September 14 WTO meeting shows.
---
THAT WASHINGTON
► From NPR — The Capitol faces its biggest security test since Jan. 6 on Saturday — A demonstration is planned in support of defendants charged after a pro-Trump mob stormed the Capitol. The FBI says there's no specific threat, but security officials say they're ready no matter what.
► From Roll Call — Retirement plan advisers expect Labor Department rules to boost ESG options — As the Labor Department mulls a proposed rulemaking on environmental, social and governance investment options by retirement plans, advisers say the rules are likely to temper a "chilling effect" caused by the prior administration's guidance.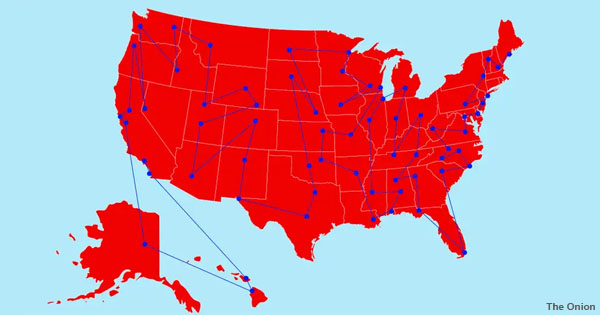 ► From The Onion — Democrats face new hurdle after Republicans gerrymander all left-leaning voters into single House district — "The mapmakers behind this new district insists its drawing was done in a nonpartisan fashion," said FiveThirtyEight founder Nate Silver. "But you can certainly see how Republicans might exploit the 434-1 advantage to move the legislature in a conservative direction."
---
NATIONAL
► From the BCTGM  — BCTGM reaches tentative agreement for Nabisco workers — Bakery, Confectionery, Tobacco Workers and Grain Millers International Union (BCTGM) International President Anthony Shelton issued the following statement following negotiations between the BCTGM and Nabisco/Mondelez:
"Very late (Tuesday) night, BCTGM negotiators reached a tentative agreement with Nabisco/Mondelez on a new contract. In the coming days, the Local Union officers on the bargaining committee will present the tentative agreement to their respective memberships who will then vote on the agreement. I want to thank and commend all of the members of the bargaining committee for their many, many hours of extremely hard work to reach this tentative agreement. As always in our Union, the members will have the final say on the contract."
► From the Chicago Sun-Times — Striking Nabisco workers to vote on contract offer — A ratification vote by union members will occur in a few days, once information about the proposal is circulated. Picketing will continue until an agreement is ratified. A striking worker in Chicago said a vote might occur Friday.
► From the People's World — California unions cheer big Newsom win — California unions, which went all-out to defeat a right-wing recall campaign/coup attempt against Democratic Gov. Gavin Newsom, cheered the landslide vote against his ouster. And their foot soldiers and ground game were a big reason for Newsom's runaway.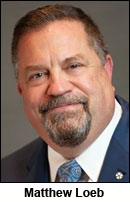 ► From the LA Times — IATSE turns up heat on Hollywood producers; talks at 'critical juncture' — Relations between the International Alliance of Theatrical Stage Employees and the major studios took a turn for the worse Wednesday, as the head of the union issued an unusually blunt warning to employers over their handling of contract negotiations. Since a deadline lapsed Friday night, talks have reached a critical juncture, the union's international president, Matthew Loeb, said in a statement Wednesday. The IATSE's general executive board unanimously voted to resource and support any actions necessary to win an agreement in negotiations with the Alliance of Motion Picture and Television Producers, AMPTP, he said.
► From KWQC — Union members picket outside of John Deere headquarters — Union Auto Workers who work for John Deere came with signs in hand Tuesday to picket outside the John Deere Headquarters in Moline, Ill. One union member says he's participating to highlight some of the issues employees are faced with in the company.
► From The Hill — After years of pressure, U.S. women's soccer team gets offer of equal pay — Equal pay in the U.S. Soccer Federation (USSF) could be a reality after the league said it drafted identical contract proposals to the players' associations for men's and women's national teams. In addition to the new and identical contracts, the governing body of the USSF said that it will refuse World Cup prize money if it is not equal… In May 2020, the women's team had its lawsuit for equal pay dismissed by a judge, with an appeal pending.
► From the Seattle Times — Will the bus driver ever come? Or the substitute teacher or cafeteria worker? — Across the country, school districts are desperate to fill jobs. Some are struggling to retain counselors, teachers and principals, but a more urgent need seems to be for employees who have traditionally operated behind the scenes — cafeteria workers, bus drivers and substitute teachers. School districts have for years struggled to recruit and retain workers because of the low pay, sparse benefits and erratic schedules.
---
The Stand posts links to Washington state and national news of interest every weekday morning by 10 a.m.
WASHINGTON IS A UNION STATE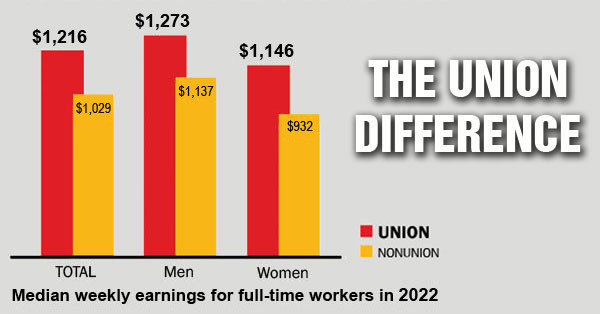 CHECK OUT THE UNION DIFFERENCE in Washington state: higher wages, affordable health and dental care, job and retirement security.
FIND OUT HOW TO JOIN TOGETHER with your co-workers to negotiate for better working conditions and respect on the job. Or go ahead and contact a union organizer today!