Give them a break | We just want a say | The Captain's hip
Friday, September 17, 2021
---
COVID
► From the Columbian — Appreciate workers by slowing virus's spread (editorial) — It's time to give them a break. Remember in the early days of the coronavirus pandemic, when health care workers were greeted by cheering crowds outside hospitals? When they were routinely lauded as heroes? When our appreciation for them knew no bounds? Well, we are 18 months into the pandemic, and health care workers are still fighting on the front lines against the disease. They are working to provide comfort and treatment for those afflicted with COVID-19, working in clinics to prevent the spread of the virus, working to keep our community safe and clear a path to recovery. That community too often has responded by ignoring common-sense measures to stem the tide of the disease and by eschewing vaccines that are necessary for making coronavirus an afterthought rather than a daily concern.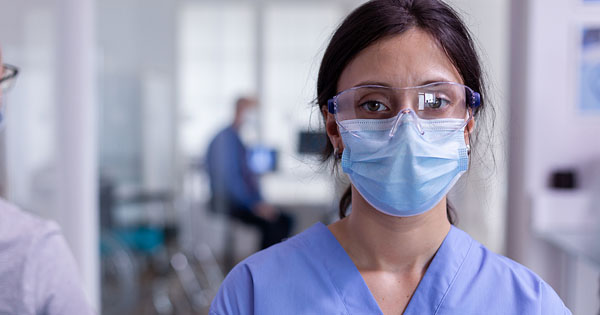 The Stand (Sept. 14) — Hospitals on the brink of unprecedented crisis — WSNA, SEIU 1199NW and UFCW 21: Preexisting staff shortages have reached critical levels; nurses, healthcare workers and patients need immediate action from hospitals in Washington state.
► From the Yakima H-R — Yakima Memorial has more patients than licensed beds
► From the News Tribune — 20-plus people infected with COVID were at WA State Fair during first 2 weeks, officials say — Nearly two weeks after the start of the Washington State Fair, there are a number of COVID-19 contact tracing investigations involving fair workers and local people who attended the event.
► From the Seattle Times — COVID-19 kills Moses Lake couple, orphans their 8-year-old after visit to the Grant County Fair
► From the Spokesman-Review — 'I need surgery, and I don't know when I am going to get it': COVID's impact on other vital health care — Emily Wynne needs a high-grade tumor in her left breast removed. It will be the start of her breast cancer treatment, before the chemotherapy and the radiation. But because her surgeon's entire medical team has been called to COVID wards instead, Wynne waits, along with other community members whose procedures have been postponed. The fifth wave of COVID cases, largely preventable, has sent shock waves through the entire health care system.
► From the AP — COVID-19 surge forces health care rationing in parts of West — In another ominous sign about the spread of the delta variant, Idaho public health leaders on Thursday expanded health care rationing statewide and individual hospital systems in Alaska and Montana have enacted similar crisis standards amid a spike in the number of unvaccinated COVID-19 patients requiring hospitalization.
---
VACCINE MANDATES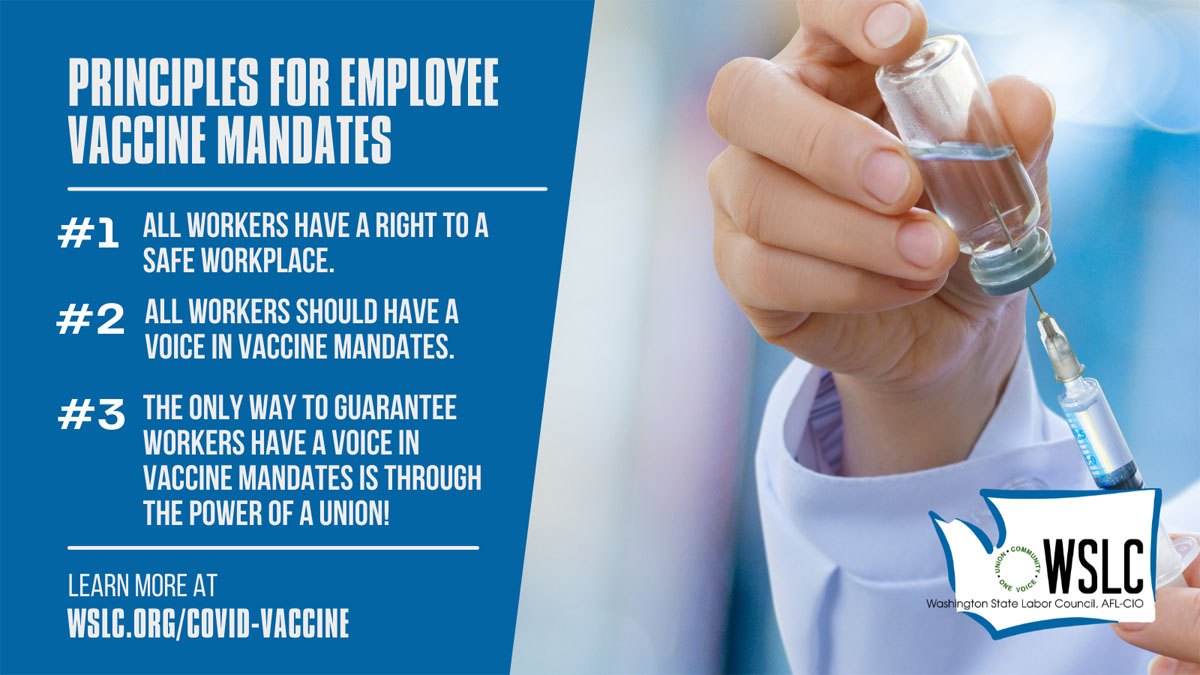 ► From the Washington Post — Unions aren't against vaccines. They just want a say. (by Terri Gerstein) — Earlier this month, Tyson Foods and the UFCW announced that Tyson meatpacking workers will, for the first time, be entitled to paid sick leave, as long as they're vaccinated. They'll also get paid time off for vaccinations and for any side effects. The deal resulted from a negotiation between the multinational and the UFCW in relation to the company's new vaccination mandate. Given that lack of paid sick days is an impediment to vaccination, the deal is a great example of how union negotiation over vaccine mandates can lead to better outcomes for workers and for public health. Recently, though, a misleading narrative has been circulating — the notion that unions are a major problem when it comes to getting people vaccinated.
The Stand (Sept. 13) — WFSE members ratify agreement on vaccine mandate — The agreement provides an additional leave day, a retirement option, vaccine access and education on work time, and a fair, equitable and consistent process for employees seeking a medical or religious exemption.
The Stand (Aug. 9) — WSLC outlines position on vaccine mandates — As labor continues to support vaccination, WSLC says workers must have a voice in employers' vaccine policies.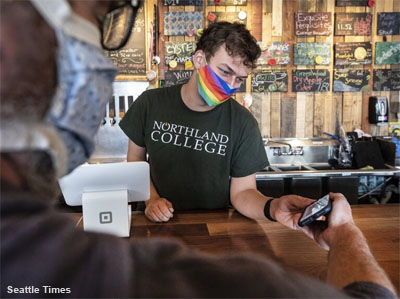 ► From the Seattle Times — King County customers of restaurants, theaters, gyms must show proof of COVID-19 vaccination or negative test — In King County, eating at a restaurant indoors, seeing a movie in a theater or working out at a gym will require proof of a coronavirus vaccination or a negative test beginning next month, county leaders and health officials announced Thursday. The order applies to most restaurants and bars, indoor recreational venues regardless of size, and outdoor events with 500 people or more.
► From the Oregonian — Federal vaccine mandate will impact more than 2,000 large employers in Oregon — The mandate will impact 2,045 private sector employers in Oregon who employ 100 or more workers, according to Oregon Employment Department data. About 80 million workers will be subject to the requirement nationwide.
► From the Washington Post — Biden accuses Republican governors of risking lives as 24 states threaten legal action — President Biden accused some Republican governors on Thursday of "the worst kind of politics" by using their powers to push back against vaccination and testing requirements.
---
LOCAL

► From the Oregonian — Strike at NE Portland Nabisco bakery may end after tentative agreement reached — A tentative contract agreement reached between snack company Mondelez and striking union workers could end a walkout that began last month. It was uncertain when a vote will take place.
► From SEIU 1199NW — Focused on improving patient care, nurses at Logan Health secure first union contract — The 650 registered nurses at Logan Health in Kalispell, Mont., voted to ratify their first union contract Wednesday night, an agreement that includes a stronger voice in staffing decisions, wages, and benefits that workers say will help recruit and retain staff during a nationwide nursing shortage.
► From the Spokesman-Review — School bus driver shortage hits critical stage in Spokane — The school bus driver shortage hit home Thursday afternoon in Spokane. Ten minutes before the final bell at Linwood Elementary School, the intercom blared the news that Bus 152 wouldn't be showing up – at all. Dozens of affected kids were reassigned to different buses, but many were still stuck at Linwood for another half hour. Speculation in the hallway was that the driver had simply quit – a reasonable conclusion these days. The wheels on the school bus are turning slowly this fall because of a critical shortage of drivers.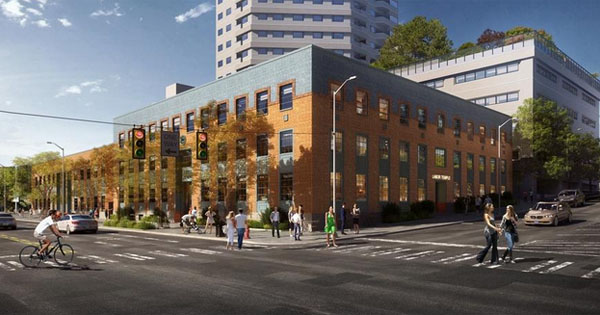 ► From the PS Business Journal — Seattle developer lands financing to turn historic Labor Temple into offices — Seattle-based developer Faul is turning the three-story property at 2800 First Ave. into a multi-tenant office building with 67 suites plus private meeting rooms on each floor. A courtyard, fitness center and roof deck are part of the project, which Faul said boutique technology companies are eyeing. The project is expected to be finished in November. For over 75 years, the Labor Temple was home of Seattle's labor trades' activities. The art deco-style building was built in 1942, and received historic designation from the city Landmarks Preservation Board in 2010.
---
THIS WASHINGTON



► From the Seattle Times — These are the thousands of Washingtonians who just lost pandemic benefits — According to ESD estimates, more than 120,000 people — around 3% of Washington's labor force — will lose a weekly benefit that for many was their sole financial support. The full effects of this pandemic benefits "cliff," as some call it, won't be known for some time. In coming months, economists and policymakers will be closely watching for increases in hiring but also for indicators such as rising applications for food assistance and increased evictions. (The state's eviction moratorium ends Sept. 30).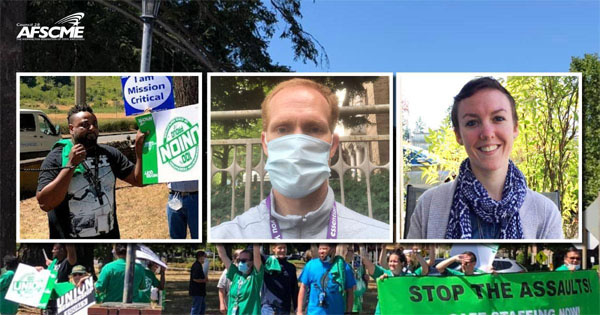 ► From WFSE — Big win for safety at Western State Hospital — Western State Hospital is considered one of the most violent workplaces in Washington state. A cycle has developed: assaults on staff lead to burnout which leads to staff shortages and then more assaults. One of the few bright spots over the last several years is the Violence-Reduction Team (VRT), a multidisciplinary team that has developed a unique, four-phased intervention that reduces patient violence across the hospital. Which is why VRT members were shocked when they received an email this May informing them that their jobs were going to be cut. But then, WFSE members used their union rights as a tool to save the VRT.
---
AEROSPACE
► From the PS Business Journal — Seattle aerospace companies see 'unprecedented' demand for cargo planes — The pandemic has taken a toll on both long-haul passenger jet traffic and maritime cargo routes through the world's busiest ports, spurring demand for air freight. That's meant more orders for brand-new freight aircraft out of Everett for the Boeing Co. and an acceleration of freight-conversion programs for Puget Sound manufacturers.
---
THAT WASHINGTON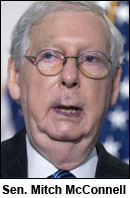 ► From the AP — White House warns that debt limit showdown could hurt states — The White House is warning state and local governments about severe cuts to disaster relief, Medicaid, infrastructure grants, school money and other programs if Congress fails to raise the U.S. debt limit. President Joe Biden has insisted so far on bipartisan backing to increase the cap on debt that was almost entirely accrued before he took office, but Senate Republican leader Mitch McConnell (R-Ky.) has been unmoved and has repeatedly said that Democrats must act on their own.
EDITOR'S NOTE — Fun fact: McConnell's Kentucky is the second most dependent state on federal money. Every year, it receives tens of billions of dollars more from the federal government than its citizens pay in taxes.
► From The Hill — Failed drug vote points to bigger challenges for Democrats — The defection of three moderate conservative House Democrats on drug pricing legislation highlights the steep challenge the party faces in pushing their $3.5 trillion package through Congress.
► From the NY Times — Ohio House Republican, calling Trump 'a cancer,' bows out of 2022 — Rep. Anthony Gonzalez, one of the 10 House Republicans who voted to impeach Donald Trump, is the first of the group to retire rather than face a stiff primary challenge.
---
NATIONAL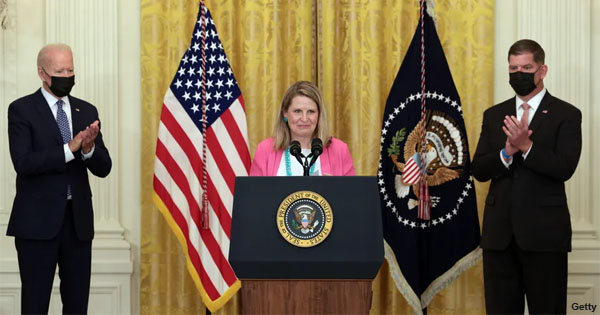 ► From the Chicago Sun-Times — We need a modern labor movement that brings good jobs (by AFL-CIO President Liz Shuler) — Each day, millions of Americans go to work, thankful to be employed. But we can and should do so much better. A good job is what we want for ourselves and our kids. A good job can be life changing: it joins people together, builds families, and launches careers. A good job, made possible by unions, is arguably the most powerful social tool ever invented. It is the surest way to build human dignity, unify communities, boost our economy, strengthen our democracy and reduce inequality. That's the mission of a modern labor movement.
► EXCLUSIVE from Reuters — Teamsters organizing workers' unions at 9 Amazon.com facilities in Canada — The Teamsters workers' union has launched campaigns to organize employees in at least nine Canadian facilities of U.S. e-commerce company Amazon.com, according to Reuters interviews with union officials. The influential union took the first step earlier this week to organize employees at one of Amazon's Canadian facilities, and the interviews reveal it is widening such efforts across the country, where the e-commerce company employs about 25,000 workers and plans to add 15,000 more.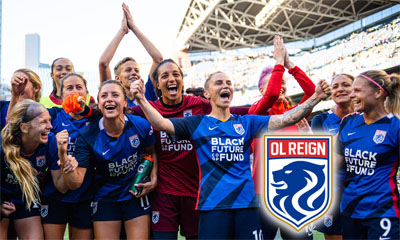 ► From the AFL-CIO — AFL-CIO welcomes National Women's Soccer League Players Association as 57th affiliate — The NWSLPA represents players who make up the 10 teams in the league, advocates for them as they navigate their careers, and champions the growth of the league and the women's game. The NWSLPA, which represents some 200 players, is deep into its #NoMoreSideHustles campaign, calling for fair pay and bringing attention to the athletes' experiences having to work side jobs to make ends meet.
► From the USA Today — Social Security could get biggest cost-of-living increase in 40 years amid COVID-19-related inflation surge — After years of puny increases in their Social Security checks, older Americans will likely get the equivalent of a big raise next year. The 68 million people — including retirees, disabled people and others – who rely on the benefits are likely to receive a 6% to 6.1% cost-of-living adjustment next year because of a COVID-19-related spike in inflation, according to the Senior Citizen League.
► From Vice — HelloFresh workers unionize to improve brutal working conditions — Now 1,300 HelloFresh workers—intent on improving dire circumstances—are unionizing two HelloFresh factory kitchens in Colorado and California. On Tuesday, UNITE HERE, the national hospitality and service industry union, filed a petition with the NLRB asking to authorize a vote by workers at the kitchen factory in Aurora, Colorado. HelloFresh workers at the Richmond, California, facility in the Bay Area are signing up for the union in droves, according to UNITE HERE.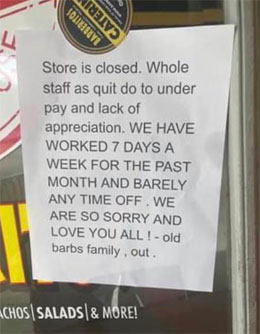 ► From The Hill — Entire staff of restaurant quits, posts sign in window explaining why — Staff at a Georgia restaurant reportedly resigned in protest over working conditions and left customers a note explaining their case. The staff at a Barberitos in Macon said in a note posted on the restaurant's front entrance, and then to Facebook by a local customer, that they had worked for nearly a month straight.
EDITOR'S NOTE — Remember: Great jobs are made by people who REFUSE to quit, and instead, join together to demand better working conditions and a fair return for their hard work. Get more information about how you and your co-workers can do this. Or go ahead and contact a union organizer today!
---
T.G.I.F.
► The first LP that The Entire Staff of The Stand ever purchased with our own money was Captain Fantastic and the Brown Dirt Cowboy by Elton John in 1975. In a 2006 interview with Cameron Crowe, Elton said, "I've always thought that Captain Fantastic was probably my finest album because it wasn't commercial in any way." Of course, he was so popular at the time that the album was certified gold before it was even officially released. This week, we read that The Captain had to postpone his farewell tour due to a hip injury, so we went back and listened to that album — start to finish — and were reminded how truly great it is. Here's a rare live performance of the album's title track. Enjoy.
---
The Stand posts links to Washington state and national news of interest every weekday morning by 10 a.m.
Short URL: https://www.thestand.org/?p=102005
Posted by
David Groves
on Sep 17 2021. Filed under
DAILY LINKS
. You can follow any responses to this entry through the
RSS 2.0
. Both comments and pings are currently closed.