Inslee's confident | Boeing HQ ghost town | IATSE speaks for us all
Thursday, October 7, 2021
---
COVID
► LIVE from the Seattle Times — Coronavirus daily news update, Oct. 7 — The latest count of COVID-19 cases in Washington totals 672,782 infections (14-day average of cases per day: 2,827) and 7,917 deaths.
MORE local coverage today from the (Aberdeen) Daily World, Bellingham Herald, and Tri-City Herald.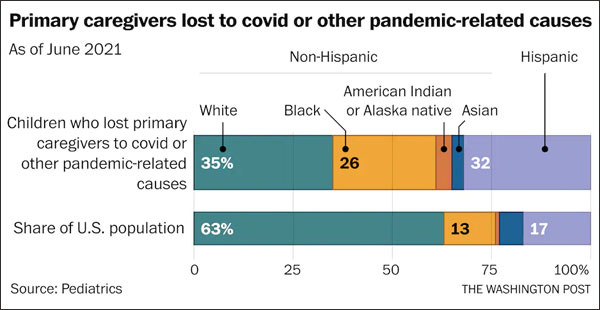 ► From the Washington Post — 'This is a crisis': Tens of thousands of children affected by pandemic-related deaths of parents — New study estimates 140,000 children have experienced the death of a primary caregiver due to COVID or other causes in excess of what occurs in a typical year. The data also reveal vast disparities by race and ethnicity — even more skewed toward an overrepresentation of minority communities than COVID deaths.
---
VACCINE MANDATES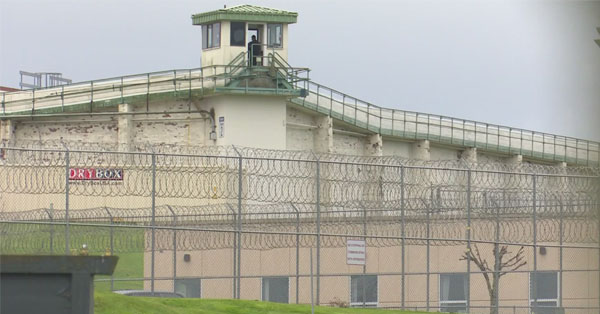 ► From the Walla Walla U-B — Inslee expresses confidence in vaccination requirement during visit to Walla Walla — Though recent data shows that as few as 48 percent of corrections staff at the Washington State Penitentiary are fully vaccinated against the coronavirus, there is not expected to be any interruptions to service at the prison, Gov. Jay Inslee said. "I have had discussions with our leadership at the DOC and we're confident we will not have to release prisoners or otherwise damage the system," Inslee said.
► From the Seattle Times — Washington State Patrol's COVID vaccination rate jumps to 93% as state deadline nears — The Washington State Patrol said Wednesday that 93% of its employees have been vaccinated against COVID-19 under Gov. Jay Inslee's mandate for state workers. That's a striking turnaround for an agency that recently lagged behind other state agencies in vaccination rates as part of Inslee's order that Washington employees get their shots or lose their jobs.
► From KING 5 — Some Washington workers prepare to leave jobs over COVID-19 vaccine mandate — Some state agencies are reporting COVID-19 vaccination rates above 90%, but there are still some employees who are choosing to leave their jobs instead.
► From the Spokesman-Review — Spokane firefighters, state employees sue Inslee over vaccine mandate — Twenty state employees and Spokane firefighters filed a lawsuit Wednesday against Gov. Jay Inslee and agency heads over the vaccine mandate in Washington. The lawsuit alleges the governor exceeded his authority, deprived them of their freedoms and violated their due process.
► From the Oregonian — Early arguments against Oregon's vaccine mandate have slim chance of success, Appeals Court says (subscribers only) — A small group of employees opposed to getting vaccinated against COVID-19 didn't fare well before the Oregon Court of Appeals this week.
---
LOCAL

► From the PS Business Journal — Carpenters back on the job as union, AGC reach tentative pact — Members of the Northwest Carpenters Union returned to work Wednesday after three weeks of picketing after the union said it had reached a tentative agreement with the AGC of Washington. Under the deal, members will work until the latest contract proposal is put to a vote and ratified. Electronic voting will begin Thursday and end at 6 p.m. Saturday, when the union expects to announce the results.
► From the (Everett) Herald — Carpenters union strikes a deal, and members are set to vote
The Stand (Oct. 6) — Carpenters reach tentative deal to end strike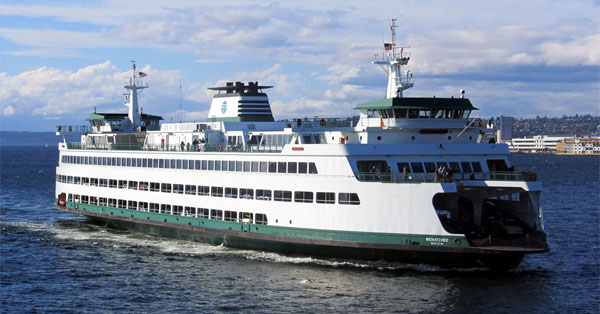 ► From the Seattle Times — Washington State Ferries cancels many San Juan Islands sailings Thursday — Crew shortages have forced WSF to cancel a number of sailings to and from the San Juan Islands, starting Wednesday and continuing through Thursday afternoon. A WSF spokesperson said the crew shortages are not due to the state's vaccine mandate, but are the consequences of long running difficulties attracting new staff to replace retiring workers.
► From the News Tribune — Tacoma facing shortage of substitute teachers. They're boosting pay to hire hundreds. — The district confirmed this week that the basic daily pay for certified substitutes has been raised to $200 per day, up from about $150 per day.
► From the Seattle Times — Majority of King County Council denounces member Kathy Lambert's campaign mailer as racist — The usually genteel council, where members are loath to criticize each other, erupted on Wednesday over a political mailer from Councilmember Kathy Lambert that a majority of her colleagues denounced as racist.
► From the Tri-City Herald — Dozens of school buses to converge on Pasco in memory of slain driver — Dozens of buses are expected to parade through Pasco on Saturday morning in memory of Dick Lenhart, 72, who was stabbed to death on Sept. 24 in front of a busload of children at Longfellow Elementary School. He had been a driver with the district since 2016.
---
AEROSPACE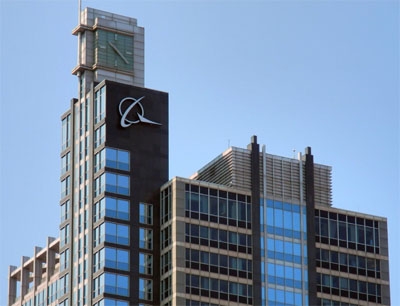 ► From Reuters — Boeing's Chicago HQ a 'ghost town' as priorities shift — A new crop of top executives based mainly on the coasts are managing industrial and safety certification problems at its major divisions and the lingering fallout from the 737 MAX and coronavirus crises. At the same time, tax incentives heaped on Boeing by Chicago and Illinois run out at year-end. Once the symbol of a new Boeing, the vision of a corporate epicenter rising above its constituent parts has fallen at odds with the imperative of recapturing engineering dominance and repairing relationships with customers and federal regulators. Chief Executive Dave Calhoun, for example, spent the beginning of the year at Boeing's factory in South Carolina dealing with production-related defects that have hobbled the program.
► From the PS Business Journal — Tech giants overtook Boeing during pandemic as state's largest employers — Microsoft Corp. and Amazon.com Inc. have become Washington's two largest employers since the beginning of the COVID-19 pandemic, according to Business Journal research. The two tech giants overtook the Boeing Co., which held the top spot for decades.
---
THIS WASHINGTON



► From KNKX — Closing of ICE detention center in Tacoma in limbo after passage of private prison ban — Ever since Washington state banned private prisons, there's been a lot of back and forth about exactly when the ICE detention center in Tacoma should shut down. A new court case in Washington state could determine if the ICE facility must close its doors years before lawmakers expected.
---
THAT WASHINGTON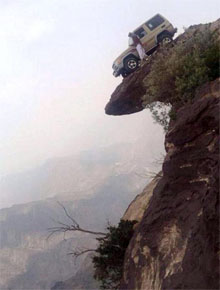 ► From the Washington Post — Senate leaders announce short-term deal to raise debt ceiling $480 billion into December — Senate Democratic and Republican leaders said Thursday morning they had clinched a short-term deal to raise the country's debt ceiling, setting Congress on track to avert a government default on its debts in roughly 11 days.
► From the AP — Judge orders Texas to suspend new law banning most abortions — A federal judge ordered Texas to suspend the most restrictive abortion law in the U.S., calling it an "offensive deprivation" of a constitutional right by banning most abortions in the nation's second-most populous state since September. The order Wednesday by U.S. District Judge Robert Pitman is the first legal blow to the Texas law known as Senate Bill 8, which until now had withstood a wave of early challenges.
► From Yahoo Finance — White House labor task force meets Thursday to discuss key report that boosts unions — Vice President Kamala Harris and Labor Secretary Marty Walsh will convene a second meeting on Thursday of the White House labor task force, a group of cabinet secretaries and top aides that aims to boost union membership in the country. The group will discuss recommendations for a report commissioned by President Biden in April on ways existing policies can promote labor organizing in the federal government, new policies that are needed and associated regulatory challenges. The report is due in late October.
► From The Hill — Democrats downplay deadlines on Biden's broad spending plan — Democrats are already skeptical that they'll be able to hit new deadlines for getting a sweeping two-part spending package to President Biden's desk as they ramp up haggling over deep divisions.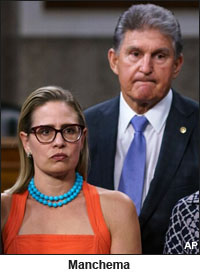 ► From the NY Times — Americans strongly favor raising taxes on the rich. Why are Democrats struggling to do so?
EDITOR'S NOTE — Because of these two.
► From the Washington Post — Secret trove illuminates the lives of billionaires: Buying influence and avoiding taxes — While cash may be the traditional means of providing untraceable gifts to politicians, the very wealthy often turn instead to the offshore world to produce an alternative currency: companies registered in secrecy havens and stuffed with valuable assets. The world's wealthiest are among the most avid users of offshore companies, a new cache of documents known as the Pandora Papers shows, and they turn to tax and secrecy havens for a variety of reasons.
► From the Washington Post — Senate report gives new details of Trump efforts to use Justice Dept. to overturn election — A Senate report on President Donald Trump's efforts to overturn the 2020 election offers new details about an Oval Office confrontation between Trump and the Justice Department, revealing the extent to which government lawyers threatened to resign en masse if the president removed his attorney general.
---
NATIONAL
► From the Guardian — 'Death of 1,000 cuts': Kellogg's workers on why they're striking — About 1,400 Kellogg's workers at four U.S. plants have gone on strike after their current union contracts expired and amid accusations that the cereal giant is offshoring jobs. Trevor Bidelman, president of BCTGM Local3G and a fourth-generation employee at the Kellogg's plant in Battle Creek, Mich., explained workers are on strike against a proposed two-tier system for current and new employees proposed by Kellogg's. Bidelman said Kellogg's wants to not offer pensions to new employees, remove cost of living provisions, and make changes in holiday pay and vacations.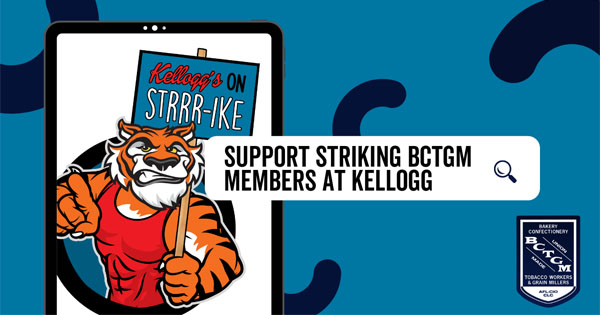 ► From the AFL-CIO — Support BCTGM Kellogg members on strike — Kellogg is making these demands as they rake in record profits, without regard for the well-being of the hardworking men and women who make the products that have created the company's massive profits.
► From ABC News — Fed up by pandemic, U.S. food workers launch rare strikes — A summer of labor unrest at U.S. food manufacturers has stretched into fall.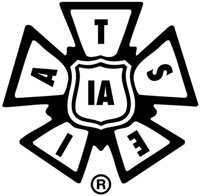 ► From Deadline — IATSE, AMPTP return to bargaining for Day 2 of last-ditch efforts to avert a strike — These last-ditch negotiations come after 53,000 IATSE members voted almost unanimously to give their president, Matthew Loeb, the authority to call a strike if he and AMPTP president Carol Lombardini cannot come to terms on a new deal. The two sides have been bargaining, on and off, since May 18, but this week's latest round of talks will be the last before a deal is reached or a strike is called. A strike, if it comes to that, would be the first nationwide strike in the union's history.
The Stand (Oct. 5) — IATSE members authorize strike in near-unanimous vote
► From Axios — Workers strike back — The pace of strikes slowed when the pandemic hit. Now there are signs picket lines are bouncing back amid fresh worker angst.

► From the Guardian — NWSL players halt play mid-game to protest against alleged abuse in league — Players stopped on the field in the sixth minute of Wednesday night's National Women's Soccer League games and linked arms in a circle to demonstrate solidarity with two former players who came forward with allegations of sexual harassment and misconduct against a prominent coach. "Tonight, we reclaim our place on the field, because we will not let our joy be taken from us," the NWSL Players' Association said in a statement. "But this is not business as usual."
► From KING 5 — Megan Rapinoe, fellow OL Reign players speak about allegations of sexual harassment in the NWSL
► From Reuters — 'Containergeddon': Supply crisis drives Walmart and rivals to hire their own ships — The aim is to bypass log-jammed ports and secure scarce ship space at a time when COVID-19, as well as U.S.-China trade ructions, equipment shortages and extreme weather, have exposed the fragility of the globe-spanning supply lines we use for everything from food and fashion to drinks and diapers.
---
TODAY'S MUST-READ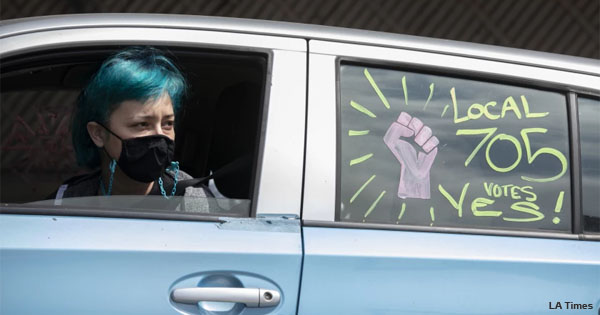 ► From the LA Times — With the IATSE strike vote, film and TV crews are saying what is on a lot of other workers' minds (by Pulitzer Prize-winning columnist Mary McNamara) — What they want: days that are closer to 10 hours than 16, time off each week to recuperate and live their lives, adequate health insurance and a work environment that doesn't endanger them physically, mentally or financially… After a year and a half of plague, protest, climate catastrophes and political mayhem, a big ol' Hollywood shutdown seems absolutely on brand. Consider the general mood of all sorts of American workers, many of whom have also had it with the notion that they must somehow earn the right to a 40-hour work week, decent healthcare and a living wage. IATSE's strike vote comes at a time when millions are feeling burned out and fed up, when wage-earners up and down the pay scale are pushing back against a work culture that increasingly demands too much, often for too little.
EDITOR'S NOTE — If you're tired of being taken advantage of by your employer, get more information about how you can join together with co-workers and demand a fair return for your hard work. Or go ahead and contact a union organizer today!
---
The Stand posts links to Washington state and national news of interest every weekday morning by 10 a.m.
WASHINGTON IS A UNION STATE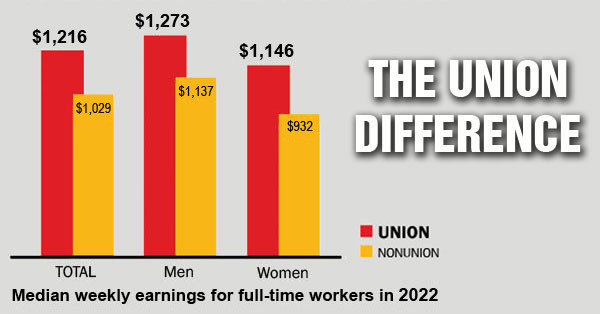 CHECK OUT THE UNION DIFFERENCE in Washington state: higher wages, affordable health and dental care, job and retirement security.
FIND OUT HOW TO JOIN TOGETHER with your co-workers to negotiate for better working conditions and respect on the job. Or go ahead and contact a union organizer today!