Mandate fallout | Eyman again | Powerful Pramila | Tears for Years
Friday, October 8, 2021
---
COVID
► From the (Longview) Daily News — At least 56 Cowlitz County residents died from COVID-19 in September — Cowlitz County recorded its highest number of COVID-19 deaths per month in September, with 56 as of Wednesday.
MORE local coverage from the Bellingham Herald, Columbia Basin Herald, Peninsula Daily News, and the union-busting (Vancouver) Columbian.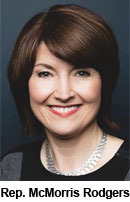 ► From KOMO — Rep. Cathy McMorris Rodgers announces positive COVID diagnosis — Since she had been vaccinated, her case is considered a breakthrough event, which is fairly scarce in Washington state.
► From the AP — Idaho hospital says crush of COVID patients getting worse — The Northern Idaho hospital that was the first in the state to institute health care rationing due to surging COVID-19 cases says the situation is growing worse. Kootenai Health reported a record 150 coronavirus inpatients on Wednesday, with 43 requiring critical care, 17 on ventilators, and two patients under the age of 18.
---
VACCINE MANDATES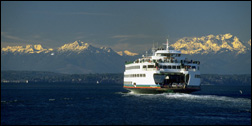 ► From KING 5 — Unvaccinated employee exodus could 'cripple' Washington state ferry system –Around 250 Washington State Ferries (WSF) employees are still unvaccinated against COVID-19 as Gov. Jay Inslee's vaccine mandate deadline is less than two weeks away, according to information relayed to Ferry Advisory Committee members. State employees are required to be vaccinated by Oct. 18 or risk losing their jobs. Experts worry a significant loss of employees could create major problems for WSF. Crew shortages, mechanical issues and canceled crossings have become commonplace during the pandemic. At least 30 crossings were canceled on Thursday, and dozens more were canceled or delayed on Friday due to a "lack of Coast Guard documented crew."
► From KING 5 — Some Edmonds students may lose bus service due to driver shortage from vaccine mandate — The Edmonds School District is anticipating losing between one and 22 bus drivers due to a state mandate that all education employees be vaccinated against COVID-19.
► From the (Everett) Herald — Community Transit issues vaccine requirement for employees — It starts with new hires this week, a vaccine or weekly negative test by Oct. 18, and full compliance by Jan. 1.
► From the Kitsap Sun — Kitsap commissioners eye $500 COVID-19 vaccine incentive for county employees
► From the Wichita Eagle — Spirit AeroSystems employees will be required to be fully vaccinated against COVID — This comes after President Joe Biden mandated all federal contractors receive a COVID-19 vaccine. To maintain Spirit employment, workers must be fully vaccinated by Dec. 8, according to the email obtained by McClatchy. This was the date set in Biden's Executive Order.
---
THIS WASHINGTON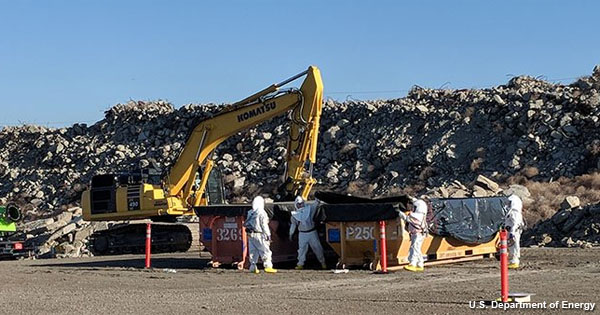 ► From the Tri-City Herald — State Democrat, GOP lawmakers agree. Both sides protest appeal of Hanford worker law. — Washington state legislators who passed a bill to make it easier for ill Hanford site workers to qualify for state workers' compensation are protesting the Biden administration's challenge to the new law. Some 66 state legislators, including Democrats and Republicans and representatives and senators, signed a letter objecting to a challenge of the law filed with the U.S. Supreme Court.
The Stand (Oct. 7) — A bipartisan call for Biden to end challenge of Hanford law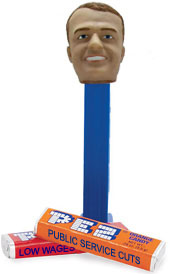 ► From The Stranger — Tim Eyman is coming for the capital gains tax, and progressives are taking him seriously this time — Tim Eyman, who was convicted last year of over 100 campaign finance violations and banned from handling the money for political committees, is back out collecting signatures. This time he is teaming up with far-right state Rep. Jim Walsh (R-Aberdeen, last seen wearing a Star of David patch while comparing vaccine passports to the Holocaust) on Initiative 1408, a Frankenstein mish-mash of dead legislation from the state's most tight-fisted fiscal conservatives. The initiative would prohibit the state, counties, and cities from imposing or collecting taxes based on personal income, and repeal a tax on certain sales of long-term capital assets. In effect, this would end the capital gains tax and Seattle's JumpStart payroll tax, the biggest progressive-tax wins in recent history.
---
THAT WASHINGTON
► From The Hill — Senate approves short-term debt ceiling increase — The Senate on Thursday approved a deal to increase the debt ceiling and keep the country solvent into December, moving to stave off a default expected to occur in a matter of days.
► From Vox — The debt ceiling fight is far from over — Get ready to do this all again in December.
► From the AP — The AP Interview: Jayapal pushes Biden for $3T spending bill — Rep. Pramila Jayapal (D-Wash.), the head of the Congressional Progressive Caucus, says she has pushed President Biden to hold the line and keep his ambitious social spending plan closer to $3 trillion instead of the $2 trillion range that he has floated to Democrats in recent days.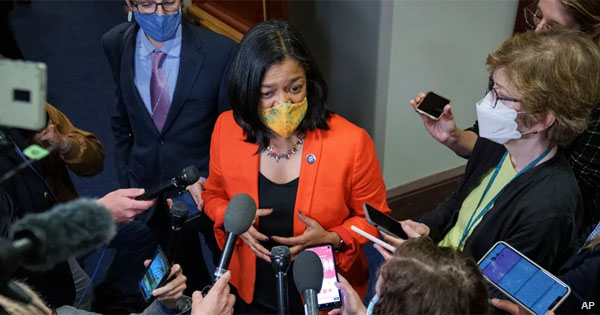 ► From HuffPost — How Rep. Pramila Jayapal turned the Progressive Caucus into a powerful force — The House's 96-person progressive bloc was once dismissed as too large and ideologically inchoate to wield real power. But a unique confluence of events, plus years of organizing, prepared the CPC to become an influential bloc on par with any other faction in the party. "It's just been an amazing show of collective force," CPC Chair Pramila Jayapal (D-Wash.), the architect of progressives' power play, told HuffPost. "I think people are really feeling the power of working as a collective and seeing the pride that comes in putting the Build Back Better bill back on the table where otherwise it would have been dead."
► From the NY Times — 'Long overdue': Liberal voters hold firm to Biden's stronger safety net — In the bluest congressional district in the Pacific Northwest, Democrats range from liberal to even more liberal. So as their party moves toward passing a watered-down version of Biden's domestic agenda, voters in Washington's Seventh District, which includes most of Seattle, wrestled this week with a range of feelings. Anger at holdout Democrats in the Senate. Staunch support for bold social spending. And a strong desire for their newly high-profile representative, Pramila Jayapal, to play hardball, as well as a fingers-crossed hope that she knows just how far to push things.
---
NATIONAL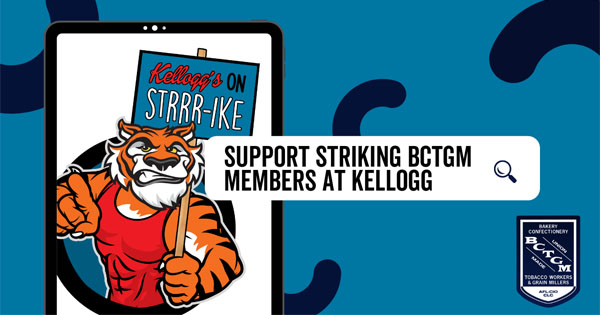 ► From Yahoo Finance — Kellogg's workers strike isn't about 'me', it's about 'we': BCTGM Local Union President — Trevor Bidelman, BCTGM Local Union President:
"This fight is really about the future. They want to make a two-tier benefited system that does not include the premium health care that we have, nor the pensions that we have. They want to take that away from a portion of our current workforce that already has that coming, and they want to make sure that any future workforce does not have that.

"And at this point, we finally have to kind of dig in. I believe this is something that's been going on really across the board for years, is workers and labor continue to get less, as the companies continue to take more. So we're out here kind of standing to fight to keep that from happening."
TAKE A STAND — Support BCTGM Kellogg members on strike — Kellogg is making these demands as they rake in record profits, without regard for the well-being of the hardworking men and women who make the products that have created the company's massive profits. Add your name and pledge your support to the striking BCTGM Members at Kellogg.
► From WIVB — Mercy Hospital CWA workers hold candlelight vigil on seventh day of strike — Hundreds of CWA Mercy Hospital workers wrapped around the outside of Mercy Hospital in Buffalo, N.Y., picketing Thursday as the Catholic Health strike stretched into day seven.
► From the Washington Post — U.S. economy added 194,000 jobs in September, another weak month heading into final stretch of 2021 — The U.S. economy added just 194,000 jobs in September, the Department of Labor reported Friday, a disappointing month that reflects how severely the delta variant is hampering the country's recovery.
---
T.G.I.F.
► Back in the 1980s, when new wave synth-pop was king, two British guys named Roland Orzabal and Curt Smith hit it big as Tears for Fears, a name inspired by primal therapy. They had a few #1 hits in 1985 that made them inescapable on the radio. Since then, they've had an acrimonious breakup, dissolved the band for more than a decade, and reunited mostly to tour/cash in on the old hits. This week, the band released its first new music in 17 years. If you remember this band like we do, and you want to feel really old, watch the new Tears for Fears video. The song's fine, but… jeesh. We prefer to remember them in a suspended state of youth, kinda of like we imagine ourselves, so here's that version. Enjoy.
The Entire Staff of The Stand will be out all next week, so our next update will be Monday, Oct. 18. See you then!
---
The Stand posts links to Washington state and national news of interest every weekday morning by 10 a.m.
Short URL: https://www.thestand.org/?p=102672
Posted by
David Groves
on Oct 8 2021. Filed under
DAILY LINKS
. You can follow any responses to this entry through the
RSS 2.0
. Both comments and pings are currently closed.