Opting to get fired | Who earned your vote? | Shuler on Striketober
Monday, October 25, 2021
---
COVID
► LIVE from the Seattle Times — Coronavirus daily news update, Oct. 25 — The latest count of COVID-19 cases in Washington totals 710,511 infections (14-day average of cases per day: 2,263) and 8,451 deaths.
► From the Tri-City Herald — 10 more COVID deaths in Tri-Cities area. More have died this year than all of 2020 — In the past week, 10 more residents of the Tri-Cities area have died of COVID-19, the youngest a Franklin County woman in her 30s. The overwhelming majority of deaths this year have been in unvaccinated people, with just 7% of deaths in vaccinated people, said Dr. Amy Person, health officer for Benton and Franklin counties.
► From KIMA — COVID-19 outbreaks continue in Yakima County
► From NPR — Thousands of workers are opting to get fired, rather than take the vaccine — Across the country, employers are firing workers for refusing to comply with vaccine mandates. Some people are opting to quit their jobs rather than take the shot. These workers represent only a tiny fraction of overall employees, not even 1% in some workplaces. But it can add up to thousands of people in many states.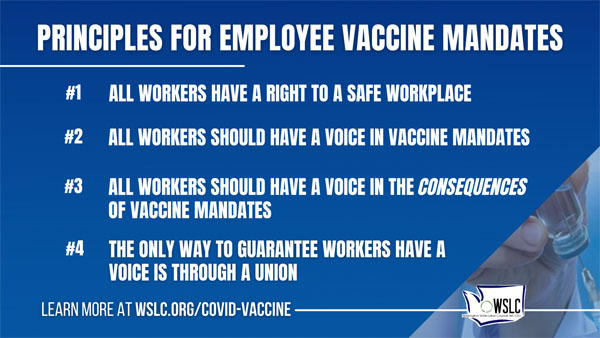 The Stand (Oct. 18) — WSLC updates position on vaccine mandates — Labor council adds that workers must have a voice in the consequences of vaccine mandates.
► From KUOW — Seattle employees may be exempt from vaccine mandate, but they still might not keep their job — Workers under the order had to verify their vaccination status by Monday, or make a case for why they can't be vaccinated for medical or religious reasons. We don't yet know how many more city employees will ultimately be fired. About 95% of the more than 11,000 executive city employees were vaccinated as of Thursday night, according to the Mayor's Office.
► From Politico — Biden's vaccine mandate has cargo giants in a pre-holiday panic — The trade association for UPS, FedEx and others has written the Office of Business and Management warning about further supply chain disruptions.
---
LOCAL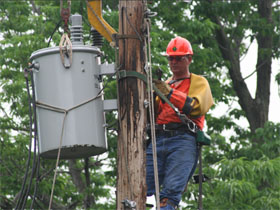 ► From the Seattle Times — More than 60,000 in Washington without power after Sunday windstorm — More than 60,000 customers remained without power Monday morning after a windstorm downed power lines and trees throughout the region on Sunday.
EDITOR'S NOTE — A big thank you to all the IBEW utility crews working 24/7 to restore power. Be safe!
► From the AFL-CIO — Alaska Airlines pilots to airline CEO: 'Do the right thing' and value your pilots — Alaska Airlines pilots, represented by the Air Line Pilots Association, delivered a letter Monday to Ben Minicucci, the chief executive officer of Alaska Air Group, the parent company of Alaska Airlines, asking him to stop stalling contract negotiations and come to the table willing to bargain an industry-standard contract. Capt. Will McQuillen, chairman of ALPA's Alaska Airlines Master Executive Council, wrote:
"Alaska pilots stepped up during the pandemic to do the right thing and help keep the airline operating. Now we're asking Alaska management to live the company's core value and 'do the right thing' by valuing our contributions to the airline and making basic quality-of-life and job security improvements that our peers at major airlines have enjoyed for years."
► From KBOO — Kaiser nurses are ready to strike — Tonight at 6 p.m., Hannah Winchester and Sarina Roher, local leaders of the Oregon Federation of Nurses and Health Professionals, explain why their members recently voted 96% to authorize a strike against Kaiser Permanente and how the community can support safe staffing and quality health care.
---
ELECTION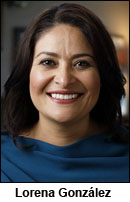 ► From Crosscut — What González and Harrell's council votes say about their mayoral bids — As city council members, Lorena González and Bruce Harrell frequently voted on the same side, except on a few key issues. Harrell's vision of government is one that partners with private businesses and philanthropic organizations, mining them for expertise and voluntary financial support. He supports state-level reform of the tax system, but has not committed to exploring new local taxes. On homelessness, he's fiercely optimistic that Seattle and suburban cities can unite to solve the problem. González, on the other hand, is skeptical of relying on private partnerships to solve deep-seated problems, arguing that, at the end of the day, it's the government's duty to write lasting and effective policy. Her experiences with business groups while on the council has convinced her that asking for donations won't work. She is committed to a regional response to homelessness, but has deeper concerns about how those efforts have unfolded so far.
EDITOR'S NOTE — MLK Labor has endorsed Lorena González for mayor of Seattle. Find out which candidates have earned your local Central Labor Council's support in these critical local and county government races. And then fill out and return your ballot!
---
THIS WASHINGTON



► From the Public News Service — Free college plan out in Congress, but WA students still have options — Congress has abandoned plans for two free years of community college in its expansive spending bill. But low and middle income families in Washington state still have an option to make college more affordable. Lawmakers approved the Washington College Grant in 2019. Michael Meotti, executive director of the Washington Student Achievement Council, called it one of the most generous financial aid programs in the country.
---
THAT WASHINGTON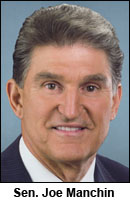 ► From the AP — AP source: Manchin agreeable to wealth tax for Biden plan — Pivotal Democratic Sen. Joe Manchin appears to be on board with White House proposals for new taxes on billionaires and certain corporations to help pay for President Joe Biden's scaled-back social services and climate change package.
► From Roll Call — Budget package taking shape as Democrats eye aggressive schedule — Democrats ended the legislative week Friday without a "framework" agreement on their partisan spending and tax package, but leaders said they'd continue negotiating through the weekend on a handful of unresolved issues. Optimism was so high that Speaker Nancy Pelosi told reporters the House may vote on the budget reconciliation package next week.
► From The Hill — Democrats ready to put a wrap on dragged-out talks — Even once Democrats lock in a framework, they'll likely still have days of drafting and ironing out details. But, after days of patience wearing increasingly thin, lawmakers are eager to take the first step and show that they and Biden can deliver on the massive spending package.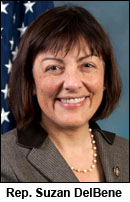 ► From HuffPost — 'New Democrats' break with their anti-welfare past and back Biden's agenda — There is an organized group of 95 moderate House lawmakers known as the New Democrat Coalition. Their chairwoman, Rep. Suzan DelBene (D-Wash.), is a former Microsoft executive first elected to Congress in 2012. She exudes professionalism and eschews the kind of ultimatums that have plagued the legislative process lately. DelBene is one of the most prominent House supporters of the child allowance Democrats created this year by taking the child tax credit and turning it into a monthly advance refund. Payments of as much as $300 per child started in July for all households earning less than $150,000, which is the vast majority. The policy represents a radical break from the past, and has already slashed child poverty.
► From the NY Times — OSHA, citing COVID failures, moves to strip three states of workplace safety authority — The Occupational Safety and Health Administration said Tuesday that it was taking steps that could strip three states — Arizona, South Carolina and Utah — of their authority to regulate workplace safety, citing shortcomings in policies on coronavirus protection.
---
NATIONAL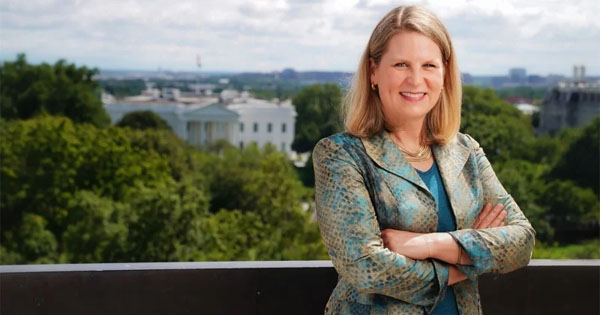 ► From Time — What the labor movement needs to keep 'Striketober' going, according to new AFL-CIO leader Liz Shuler — "They've had enough," Shuler says of the season, which many have dubbed "Striketober." But as ripe as the current labor market conditions are for successful strikes, the current moment is also a critical juncture for the future existence of the very labor unions that make such revolts possible. Private sector union membership has fallen and stands to decline even more as older generations—who are more likely than younger ones to be in unions—near retirement age. "This is the challenge of our time. Something like 10,000 people a day are retiring," Shuler says, "and that silver tsunami is about to hit us." Shuler spoke with TIME about what the workers participating in this historic wave of strikes are fighting for, how union membership can help them get it, and what the AFL-CIO is doing to bolster its ranks—especially with young people—to preserve its collective bargaining power in the decades to come.
► From the Progressive — Overworked and underpaid: Inside the Kellogg's strike — In the current contract negotiations, BCTGM aims to do away with the two-tier system, which the union calls a "devious way for employers to slowly, but surely, take power from union members, their contract, and their union." Transitional workers make roughly $12 less per hour than regular full-time employees, with higher insurance premiums, less vacation time, and no retirement benefits. When negotiations reached a standstill, nearly 1,400 hourly workers at the four Kellogg's plants went on strike on October 5.
► From the Louisville Courier-Journal — Heaven Hill Distillery reaches 5-year contract with union workers after weekslong strike — The new contract includes "key priorities, such as preserving affordable health care, increasing pay, maintaining overtime provisions and strengthening retirement security," UFCW local chapter 23D said in a statement.
EDITOR'S NOTE — Affordable health care. Raises. Retirement security. How do those things sound to you? Get more information about how you can join together with co-workers and negotiate a fair return for your hard work. Or go ahead and contact a union organizer today!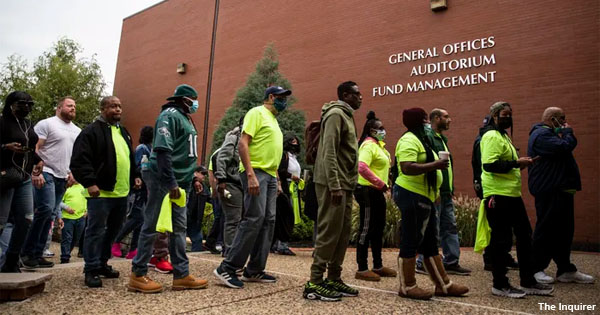 ► From the Philadelphia Inquirer — SEPTA workers vote to authorize a strike — "We don't want to strike. We're going to do everything we can to keep the system running. But if things break down, we'll do what we have to do," said Willie Brown, president of TWU Local 234.
► From the AP — Film crew voiced complaints before fatal on-set shooting — Hours before actor Alec Baldwin fired a fatal gunshot from a prop gun that he had been told was safe, a camera crew for the movie he was filming walked off the job to protest conditions and production issues that included safety concerns.
► From IATSE — IATSE mourns Sister Halyna Hutchins
► From the AP — New NY law lets workers propose hours cut instead of layoffs — Workers facing layoffs in New York state now have a right to ask their employers instead to trim all workers' hours and have unemployment insurance help offset the losses for everyone, under a law that Gov. Kathy Hochul signed Saturday.
---
TODAY'S MUST-READ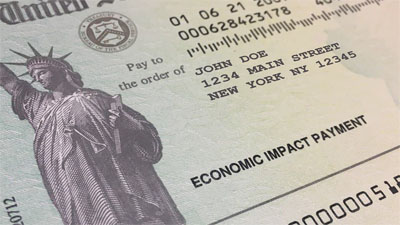 ► From Business Insider — Economic aid during the pandemic got many Americans' backs off the wall for the first time in years — and they're not going back against it without a fight — While it may be comforting to assign blame for problems on one villainous party — lazy workers, greedy business owners, overspending government — the real story is far more complex and interesting than any one of those reductive explanations. Given the precariousness of so many Americans' financial situation in 2019, the effect of relief and stimulus money was more subtle and important than many observers fully appreciated while these programs were underway. It's not that working American's were suddenly willing to quit a job they loved over a $1,200 check (or three). It's that for the first time in a generation, they finally felt like they had a choice to quit a job they hated. "It gave me the power to walk away from what was a toxic work environment at the time," said Joey Holz, who was working for a charter boat company in Florida when the pandemic hit. "Then I was able to start pursuing interests that were better suited to my future." Holz told Insider his initial stimulus check lasted about a month, allowing him to pay rent and groceries while he sought out a new opportunity. "Most people don't even have a day to figure that out, so that little tiny bit of breathing room was all it took," he said.
► A related story fro The Beaverton — Restaurant industry failing to attract workers who love low pay, terrible conditions and inconsistent hours
---
The Stand posts links to Washington state and national news of interest every weekday morning by 10 a.m.
WASHINGTON IS A UNION STATE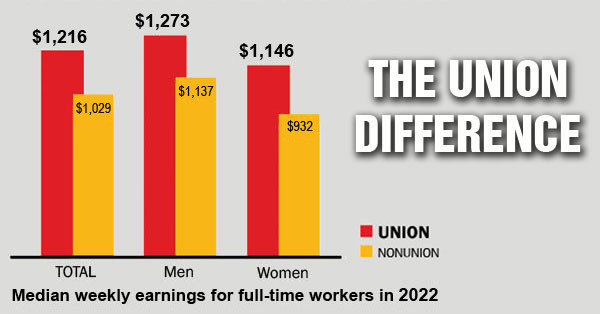 CHECK OUT THE UNION DIFFERENCE in Washington state: higher wages, affordable health and dental care, job and retirement security.
FIND OUT HOW TO JOIN TOGETHER with your co-workers to negotiate for better working conditions and respect on the job. Or go ahead and contact a union organizer today!