National mandate | Nurses picket in Tacoma | It takes two to tangle
Thursday, November 4, 2021
---
COVID
► LIVE from the Seattle Times — Coronavirus daily news update, Nov. 4 — The latest count of COVID-19 cases in Washington totals 730,108 infections (14-day average of cases per day: 2,099) and 8,659 deaths.
► From The Hill — Just 12 percent in new poll rate public health issues like coronavirus a top national priority — That percentage is down from 20 percent in February, showing a gradual shift in focus toward other issues. The new poll showed 73 percent of adults want political leaders to focus on job and economic growth, according to the news service.
► From the Seattle Times — Washington state urges parents to be patient as COVID vaccine supply for kids 5-11 won't meet demand at first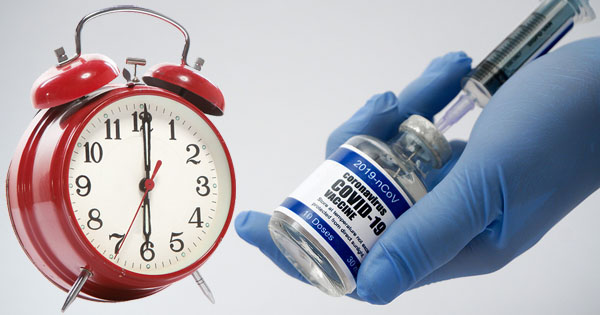 ► From the USA Today — Workers face Jan. 4 deadline as Biden rolls out COVID-19 vaccine rules for large businesses — Workers at larger businesses will have to get vaccinated for COVID-19 by Jan. 4, 2022, or face regular testing under new federal rules being released Thursday. Workers who choose the testing option may have to bear the cost. They also will be required to wear a face mask on the job, beginning on Dec. 5. The rules fill in the details for the vaccination requirement President Joe Biden announced in September for businesses with 100 or more employees.
► From the USA Today — Employer COVID-19 vaccine and testing mandate will protect workers and boost U.S. economy (by Labor Secretary Marty Walsh and Jeff Zients, the White House COVID-19 response coordinator) — COVID-19 continues to hold back our workforce and our economy – and it will continue to do so until more Americans are vaccinated.
The Stand (Oct. 18) — WSLC updates position on vaccine mandates — Washington State Labor Council, AFL-CIO: Workers must have a voice in the consequences of vaccine mandates.
► From the Seattle Times — City of Seattle employees, departments feeling strain from vaccine mandate-related staffing — Seattle's vaccine mandate has left hundreds of exempted unvaccinated city employees on leave for over two weeks, exacerbating staffing shortages in major departments and drawing criticism from impacted employees.
► From the Spokesman-Review — New numbers show Eastern Washington lags in teacher COVID-19 vaccination rates — Some of the lowest rates were found in rural districts, which also showed the highest rates of employees seeking – and almost always receiving – a medical or religious exemption.
► From KNKX — A lone holdout. Why Washington's secretary of state says she didn't impose vaccine mandate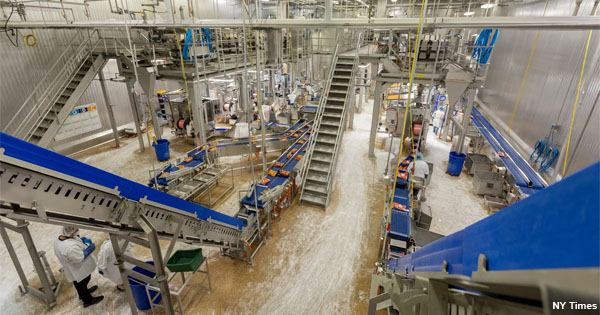 ► From the NY Times — How Tyson Foods got 60,500 workers to get the coronavirus vaccine quickly — The meatpacking giant, which was criticized for failing to do enough to protect its workers from COVID-19 last year, has become a leader on corporate mandates. The vaccines brought a new tool to protect employees — while keeping the company's plants open. "This was a business decision," Stuart Appelbaum, president of the Retail, Wholesale and Department Store Union, which represents thousands of workers at Tyson's poultry plants, said of the mandate. "There isn't enough of a supply of workers to take the place if a large number of workers are getting sick."
---
LOCAL

► From the News Tribune — Nurses picket outside Tacoma medical center to highlight staffing, safety issues — Nurses represented by the Washington State Nurses Association at Tacoma's St. Joseph Medical Center, part of Virginia Mason Franciscan Health, took to the picket lines Wednesday after failing to make progress in bargaining talks after 10 sessions in two months. The nurses seek improved staffing levels, higher pay and safer conditions to and from parking lots, among other issues.
► From KIRO 7 — Health care workers at St. Joseph Medical Center picketing over working conditions
Hundreds of @myWSNA nurses from St. Joe's Tacoma and supporters from the community came together this morning at an informational picket to stand up for improved staffing, safety inside and outside the hospital, and wages that will make nurses want to stay. pic.twitter.com/ZXAkmGaiAy

— WSNA (@myWSNA) November 4, 2021
The Stand (Oct. 20) — Healthcare unions: WA hospitals must mitigate staffing crisis — Short-sighted and costly stopgap measures are only a Band-Aid; hospitals have the tools and resources to alleviate burnout nightmare.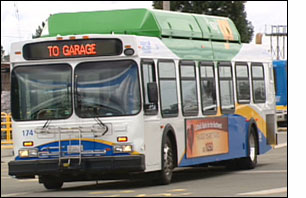 ► From the News Tribune — Pierce Transit, Sound Transit to reduce bus service this month — Sound Transit and Pierce Transit both announced temporary reduced bus service next week because there aren't enough drivers to staff routes, the agencies said Wednesday. Pierce Transit normally has 510 bus drivers. Currently, about 12 percent of those positions are empty or in training. Pierce Transit currently has the largest driver recruitment campaign in its history underway. Annual salaries currently top out at $66,000.
---
STATE GOVERNMENT

► From the Seattle Times — Cannabis is Washington's 4th most valuable crop, industry report says — Apples ($2.1 billion), wheat ($949 million), potatoes ($753 million), cannabis ($653 million), cherries ($562 million) and hay ($501 million).
► From the (Everett) Herald — Honor Wyman; make secretary of state nonpartisan (editorial)
---
AEROSPACE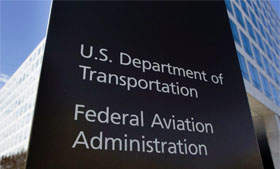 ► From the Seattle Times — U.S. senators grill FAA chief over safety reforms and impact of vaccine mandate — FAA chief Steve Dickson defended his agency's direction at a U.S. Senate hearing Wednesday against criticism that it's been too slow to implement aviation safety reforms and fix its oversight of Boeing. He also rejected suggestions from a few Republican senators that the COVID-19 vaccine mandate has caused the recent rash of U.S. flight cancellations and threatens to destabilize the country's aviation system.
► From Reuters — FAA refers 37 unruly airline passengers to FBI for criminal review — U.S. airlines have reported a record number of disruptive and sometimes violent incidents this year, and the FAA has pledged a "zero tolerance" approach. The FAA and Justice Department said the "increased coordination is part of a broader effort to prevent dangerous unruly passenger incidents."
---
THAT WASHINGTON
► From the Washington Post — Biden urges swift action as Democrats scramble to deflect voter anger — President Biden urged Democrats on Wednesday to swiftly pass his domestic agenda after an off-year electoral wipeout highlighted the fragile state of the party's electoral majorities in the House and Senate. But a new round of bitter recriminations threatened to dash Democratic hopes of quickly moving past the stinging defeats.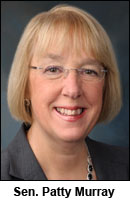 ► From the Seattle Times — We can rebuild child care in America (by Sen. Patty Murray) — What we are doing is rebuilding a badly broken child care industry from the ground up. I'm a former preschool teacher, so I know how much work goes into high quality child care, and I know we've got to get this right. That's why, for the first three years, my plan will invest significantly to help states build more child care providers and raise provider wages. During that time, families will start getting the support they need to afford child care — subsidies would be available to families immediately and gradually expand eligibility to additional families each year, ensuring families who make less get help first. Families will pay less, child care workers will earn higher wages and child care providers will be able to increase the number of children they can serve, so child care finally does what it's intended to: Allow working parents to do their jobs knowing their kids are safe and taken care of.
► From the NY Times — Republicans block a second voting rights bill in the Senate — Democrats hope that a filibuster of a measure named for former Rep. John Lewis (D-Georgia), the civil rights icon, will help build momentum for a change in Senate rules.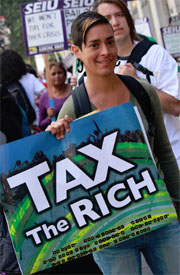 ► From HuffPost — Democrats salvaging tax agenda from state and local tax hang-up — The Build Back Better Act may partially restore the state and local tax deduction, but Bernie Sanders wants to make sure millionaires don't benefit.
► From the Washington Post — Weren't the Democrats supposed to raise taxes on the rich? (editorial) — House Democrats released Wednesday a new draft of their big social spending and climate bill — tucked inside of which was a massive new payoff to wealthy people. The Democrats' bill is supposed to make the nation fairer and more competitive. This cynical, wasteful policy should have no place in it.
► From ProPublica — How these ultrawealthy politicians avoided paying taxes — IRS records reveal how Gov. Jim Justice, Gov. Jared Polis, former Education Secretary Betsy DeVos and other wealthy political figures slashed their taxes using strategies unavailable to most of their constituents.
► From Crosscut — WA's new federal judges signify reversal of Trump-era influence — The Senate's recent confirmation of three federal judges in Washington reveals a deliberate effort to increase diversity in the courts.
► From the Guardian — Democratic governor Phil Murphy is New Jersey's first to win re-election in 44 years — The tight race was viewed as a referendum on Murphy's – and more broadly, Democrats' – leadership throughout the pandemic.
► From the AFL-CIO — Working people re-elect pro-worker champion in New Jersey
---
STRIKES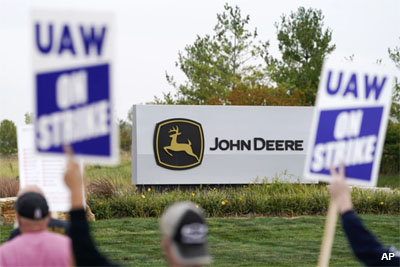 ► From the LA Times — Why unions are striking — and winning more public support than in 50 years (by Steven Greenhouse) — Workplace experts generally point to two reasons for this surge. First, after working so hard and often risking their lives during the pandemic, many workers believe that they deserve better pay and treatment. Second, American workers — especially long-underappreciated essential and low-wage workers — are suddenly feeling empowered because of today's labor shortage. These factors have certainly helped cause the wave of walkouts, but there's another huge but often overlooked factor behind the strikes: It takes two to tangle. The companies that have faced strikes have often been stubborn and stingy — they're part of a backward-looking group that is clinging to corporate America's philosophy of recent decades: Squeeze your workers and battle your unions.
► From the Des Moines Register — John Deere officials say latest proposed contract, rejected by UAW strikers, was 'best and final offer' — A Deere & Co. official says United Auto Workers members should not expect a bigger offer after voting down a new contract this week.
► From WNEP — Scranton teachers walk picket lines — After working years without a contract or pay raise, teachers in one of the area's largest school districts hit the picket line. Hundreds of Scranton School District teachers and paraprofessionals went out on strike Wednesday. Teachers have been without a contract since 2017, and those Newswatch 16 spoke to say enough is enough.
► BREAKING from NYC…
BREAKING: @MineWorkers President Cecil Roberts and five others have been arrrested outside the HQ of BlackRock. #minersagainstBlackRock #Strikesgiving pic.twitter.com/2nt4xILWIb

— AFL-CIO ? ? #Strikesgiving (@AFLCIO) November 4, 2021
► From Reuters — Kellogg warns of earnings hit as workers' strike drags on
► From Jacobin — Tens of thousands of Kaiser Permanente workers are prepared to strike — As negotiations continue between Kaiser Permanente and the Alliance of Health Care Unions, which represents 50,000 workers at the company, Kaiser's workforce is preparing to strike. Tens of thousands have authorized a stoppage, should bargaining stall.
EDITOR'S NOTE — Nearly 3,400 workers from Kaiser Permanente in Oregon represented by OFNHP/AFT Local 5017 are among those who have voted to authorize a strike.
---
NATIONAL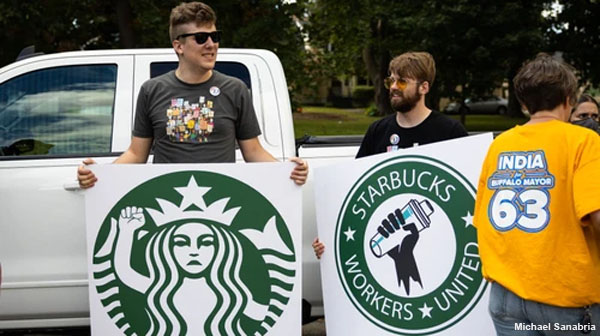 ► From Quartz — A union vote at Starbucks could be a rare success for organizing franchise workers — Starbucks baristas in New York state are looking to unionize. If workers vote in favor of organizing, they would form the first Starbucks union in the US — and could encourage other efforts to unionize the food service industry. The vote at three Starbucks locations in the Buffalo area will be held via a mail-in election with ballots due Dec. 8, with the vote count the following day.
► From Reuters — Amazon takes another swipe at union as Alabama rematch looms — Over the past few weeks, Amazon has ramped up its campaign at the warehouse, forcing thousands of employees to attend meetings, posting signs critical of labor groups in bathrooms, and flying in staff from the West Coast.
► From HuffPost — New York City cabbies rescued from debt crisis in 'new dawn' for iconic taxis — New York City taxi drivers, crushed by debt after years of exploitative loan practices, will be rescued under a new deal announced by state officials on Wednesday, a major win for drivers amid a days-long hunger strike demanding help.
EDITOR'S NOTE — Tired of being disrespected? Get a union! Find out more information about how you can join together with co-workers and negotiate a fair return for your hard work. Or go ahead and contact a union organizer today!
---
TODAY'S MUST-READ
► From the WSJ — Where are all the truck drivers? Shortage adds to delivery delays — Trucks haul more than 70% of domestic cargo shipments. Yet many fleets say they can't hire enough drivers to meet booming consumer demand as the U.S. economy emerges from the pandemic. The freight backup has intensified longstanding strains in the industry over hours, pay, working conditions and retention. "Really, it's all about drivers," said the chief executive of one trucking company. "We can't find enough people that want to do the job."
EDITOR'S NOTE — And yet, when truckers vote to unionize, they get fired. Trucking companies can't find people willing to do the job because they've busted what was once a unionized industry and created horrible working conditions where, as one driver points out in the article:
"The shippers, they treat us like criminals, basically. Don't use the bathroom, don't get out of your truck," Foster said. "The port-a-potty's in the yard, but it's 25 degrees out."
Once again, there's not a labor shortage in the trucking industry, there's a shortage of jobs that pay livable wages and have decent working conditions. The union-busting trucking and shipping companies have created this mess. Hiring bonuses aren't going to fix it.
---
The Stand posts links to Washington state and national news of interest every weekday morning by 10 a.m.
WASHINGTON IS A UNION STATE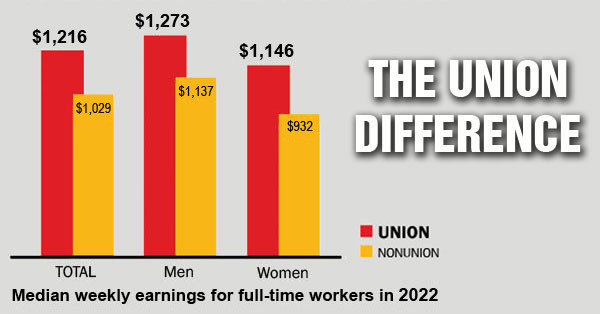 CHECK OUT THE UNION DIFFERENCE in Washington state: higher wages, affordable health and dental care, job and retirement security.
FIND OUT HOW TO JOIN TOGETHER with your co-workers to negotiate for better working conditions and respect on the job. Or go ahead and contact a union organizer today!