Vaccination exemptions | Stay safe out there | Oliver on union busting
Monday, November 15, 2021
---
COVID
► From the Wenatchee World — COVID-19 cases declining but hospitalizations still high — The total count of COVID-19 hospitalizations in Chelan and Douglas counties has not dropped below 30 since Aug. 16. On Friday, 30 of the 32 total hospitalized COVID-19 patients were unvaccinated.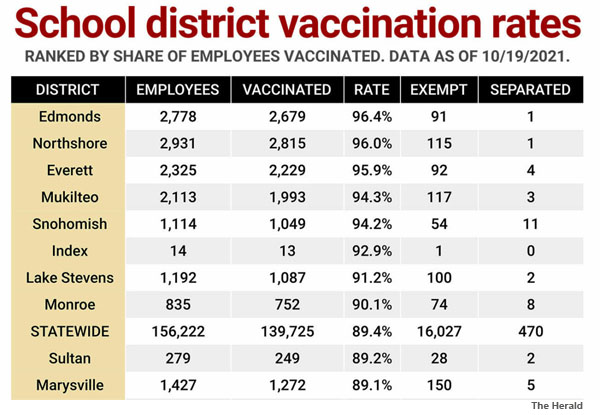 ► From the (Everett) Herald — Many public school employees are exempt from getting vaccine — Districts gave exemptions to hundreds with sincerely held religious beliefs ahead of last month's deadline.
► From The Olympian — Most Thurston County workers have complied with new COVID-19 vaccine policy
► From the Seattle Times — Large events in Washington state now require proof of COVID vaccination or a recent negative test — Concerts, sporting matches and other large events will now require proof of vaccination or a recent negative COVID-19 test for indoor events with 1,000 people or more, or for outdoor events with more than 10,000 people.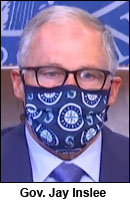 ► From the Seattle Times — Inslee prods, orders amid latest COVID pandemic surge: 'We can get on top of this virus' — Now, Inslee and state health officials are considering new rounds of measures, such as possible requirements for private businesses and a COVID vaccine requirement for children to be in school.
► From the Washington Post — Federal appeals court halts Biden administration's vaccine requirement, delivering policy a major blow — A federal appeals court in New Orleans has halted the Biden administration's vaccine or testing requirement for private businesses. A three-judge panel of the conservative U.S. Court of Appeals for the 5th Circuit issued the ruling Friday, saying the rule "grossly exceeds OSHA's statutory authority." It is not clear whether the 5th Circuit will determine the fate of the mandate. The Biden administration had asked the 5th Circuit to hold off on ruling until a judicial lottery can take place next week to consolidate several challenges to the mandate before a single appeals court.
► From the Seattle Times — Sen. Doug Ericksen tests positive for COVID-19 while in El Salvador, seeks medical help from lawmakers — State Sen. Doug Ericksen (R-Ferndale) is stranded in El Salvador after testing positive for COVID-19 there, and has sought help from fellow Republican lawmakers to send him monoclonal antibody treatments.  It's unclear if the senator, who has been a fierce critic of Gov. Inslee's emergency pandemic orders, was vaccinated against the virus. It was unclear Friday why Ericksen visited El Salvador — but it's not his first visit to that country or others in recent years. Ericksen in 2019 registered with the U.S. Department of Justice as a foreign agent to conduct lobbying work on behalf of the Cambodian government, scoring a $500,000 contract for his new firm. That contract came after Ericksen traveled to Cambodia to observe — and ultimately praise — the country's widely condemned 2018 elections.
---
LOCAL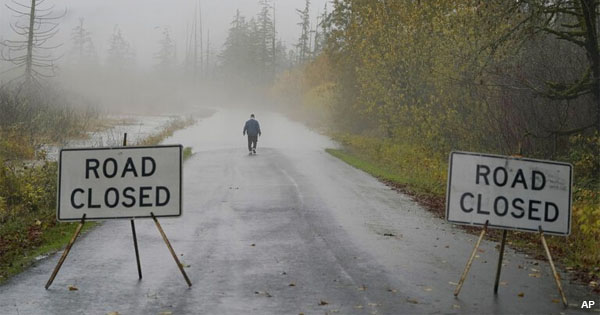 ► LIVE from the Seattle Times — Weather updates: Heavy rain, strong winds, power outages and flooding expected — With the Seattle area in for another round of gusty rain and heavy winds, the region faces potential power outages and flooding today. The National Weather Service has issued a wind advisory through 4 p.m. for Seattle, Bremerton, Tacoma and areas of the Hood Canal. The strongest winds, which could reach 60 mph, are expected near the Strait of Juan de Fuca and the shores of Snohomish, Skagit and Whatcom counties. Several flood warnings are in effect throughout the region.
EDITOR'S NOTE — To all the electrical, transportation and public safety workers out there working overtime to protect the rest of us: THANK YOU and please stay safe out there.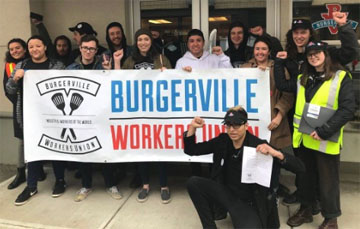 ► From the union-busting Columbian — Vancouver-based Burgerville, union reach tentative agreement — Vancouver-based Burgerville USA announced Friday that it has come to an agreement on a first contract with a labor union that represents employees at some of its Oregon locations. Terms of the contract — which apply to all Burgerville employees, union or nonunion — include wage increases for all hourly employees until the starting wage is $15. Burgerville's starting wage is currently $14.25. The agreement also ensures tipping in all restaurants, which gives an average increase of more than $2 an hour to hourly employees' income. Also, the contract includes improved working conditions, including expanded sick leave, vacation benefits and paid parental leave. The contract awaits union member ratification and Burgerville leadership approval.
EDITOR'S NOTE — As the Oregonian reports, it took three years to reach this first tentative agreement. That's ridiculous and should be illegal union busting.
► From the Yakima H-R — Yakima city corrections officer in critical condition after police say inmate attacked him — Edward Opsahl, a 20-year-veteran corrections officer, was transferred to Harborview Medical Center in Seattle after first being taken to Yakima Valley Memorial Hospital with head injuries, according to a police probable cause affidavit.
► From the Seattle Times — A King County nonprofit raises all staff salaries to $70,000 minimum. Will more organizations follow? (by Naomi Ishisaka) — About a week ago, Choose 180, a Burien-based youth diversion nonprofit, raised all its staff salaries to a minimum of $70,000 a year. For some of the organization's 24 staff, the pay hikes amounted to a $20,000 annual raise in an instant, using existing funds.
EDITOR'S NOTE — If your nonprofit — or for-profit, for that matter — isn't stepping up to pay a livable wage, get more information about how you can join together with co-workers and negotiate a fair return for your hard work. Or go ahead and contact a union organizer today!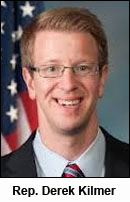 ► From the Kitsap Sun — Here come the funds: Navy inks contracts to bring billions to Puget Sound Naval Shipyard — The Navy is slated to sink its first $8 billion into its plans to revitalize the Puget Sound Naval Shipyard and other docks and facilities in the Pacific. Five companies have inked contracts to compete for a decades' worth of work aimed at modernizing the docks, wharves and other infrastructure the Navy uses in Puget Sound to maintain its fleet. About 40% of the work entailed in the contracts will occur at the Bremerton shipyard. "Making investments in our public shipyards is all about jobs and about having the backs of the brave women and men who serve our country," said Rep. Derek Kilmer (D-Wash., 6th). "Seeing these contracts being awarded by the Navy is a good step forward as we work to get these critical updates to Puget Sound Naval Shipyard underway."
---
AEROSPACE

► From the Seattle Times — Boeing 'encouraged' by signs China may soon clear MAX to fly — Boeing is optimistic that it will soon be logging Chinese orders and deliveries of its 737 MAX after the nation's regulator signaled it is close to ending a more than 2 1/2-year grounding of the single-aisle workhorse.
► From the PS Business Journal — Boeing poised for breakthrough order of 80 Maxes in India — The Boeing Co. could be about to break through in a stronghold market for rival Airbus with an order that will mean added production work in Renton.
---
THAT WASHINGTON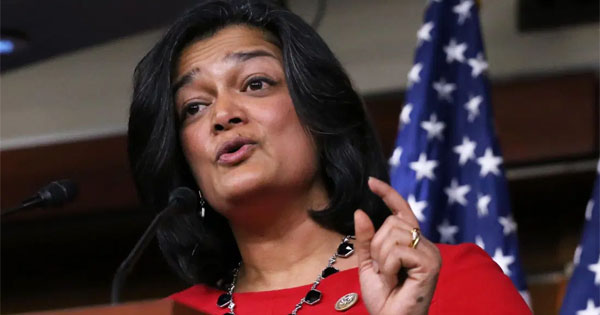 ► From KUOW — Jayapal trumpets infrastructure bill passage, predicts success for Build Back Better — Congress passed a long-awaited infrastructure package to the tune of $1.2 trillion. Washington State will receive more than $8.5 billion in dedicated funds for things like roads and bridges, and also mass transit and broadband access. But, there won't be any money for paid family leave or fighting climate change. That separate, massive social spending package that President Biden campaigned for is still being worked on.
The Stand (Nov. 10) — Sen. Murray: Build Back Better will cut child care costs in half
The Stand (Nov. 8) — Infrastructure bill passes; Build Back Better package next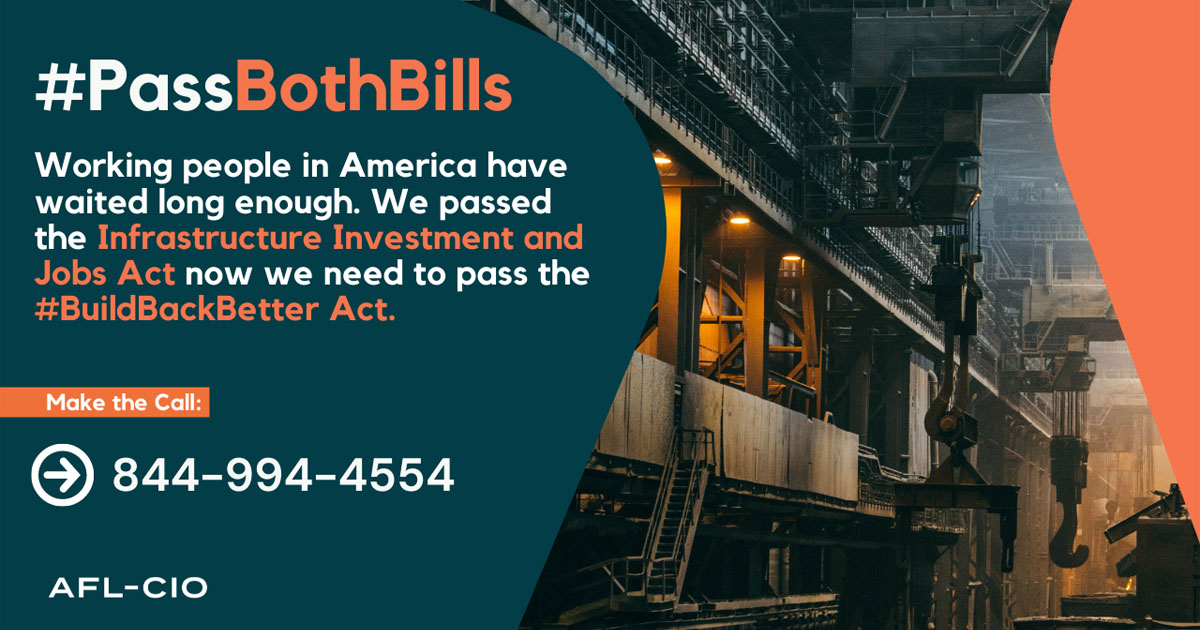 TAKE A STAND — With the passage of the historic $1.2 trillion Infrastructure Investment and Jobs Act, the AFL-CIO is calling on union members and community supporters to contact their member of Congress and urge them to finish the job by immediately passing the Build Back Better Act. This is a $1.75 trillion investment not only in child care, but also in home care, clean energy jobs, health care, tax fairness, immigration improvements and support for worker organizing. Take action today!
► From The Hill — Democrats expect to pass $1.75T Biden package this week — House Democrats are racing this week to pass Biden's $1.75 trillion social and climate spending package, which would give the party a burst of momentum heading into the Thanksgiving recess. Negotiations will continue in the Senate, which is unlikely to take action on the measure before December. Centrist Sens. Joe Manchin (D-W.Va.) and Kyrsten Sinema (D-Ariz.) — whose arguments have helped whittle the once $3.5 trillion package in half — have yet to formally back the measure, and more changes are possible.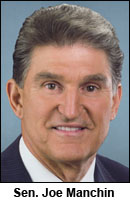 ► From Roll Call — Top areas of House budget package that could see changes — They include paid leave (the program would cost about $194 billion over a decade and that's too much spending for Sen. Joe Manchin III (D-W.Va.) and immigration (the latest attempt to convince the Senate parliamentarian to allow changes is a set of provisions in the revised House bill that would offer "parole" status — typically granted for urgent humanitarian or "significant public benefit reasons" — of up to five years initially.)

► From Roll Call — Manchin opposes additional EV tax credit tied to unions — Democrats hit a major speed bump Thursday in their plan to supercharge new electric vehicle tax credits for cars and trucks built by domestic, unionized workers when Sen. Joe Manchin III, a key swing vote, said he opposes that kind of preferential pro-labor treatment.
► From the Washington Post — The polls are clear: Democratic holdouts are killing Biden (by James Downie) — Just 35 percent of voters say Biden has accomplished much during his first 10 months, while only 31 percent believe he's keeping his campaign promises. Both are worse scores than Bill Clinton, Donald Trump and Barack Obama received ahead of midterm drubbings two years into their presidencies. Enter the bipartisan infrastructure deal and the Build Back Better social spending bill. The former has 63 percent support in The Post-ABC poll, including an even split among Republicans and nearly 2-to-1 backing from independents. The latter — supposedly the more politically "risky" of the two — does almost as well, with 58 percent backing overall, and a similar level of support from independents. If both are signed into law, it will markedly strengthen Biden's list of accomplishments.

► From Politico — Dems' bitter pill: Popular health provisions won't kick in until after the midterms — Democrats are close to making good on long-held promises to lower prescription drug costs and make health care more affordable. The rub? Voters won't feel much of it until after the 2022 elections. They're hoping voters will reward them regardless.
► From the NY Times — Republicans gain heavy House edge in 2022 as gerrymandered maps emerge — On a highly distorted congressional map that is still taking shape, the party has added enough safe House districts to capture control of the chamber based on its redistricting edge alone.
► From the AP — Trump ally Bannon taken into custody on contempt charges
---
NATIONAL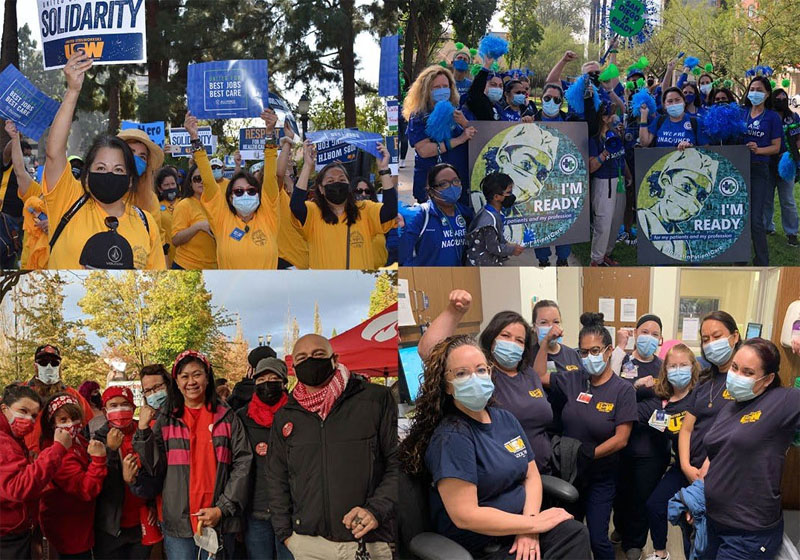 ► From the LA Times — Strike at Kaiser Permanente averted two days before deadline — Hospital workers and management at Kaiser Permanente, one of the nation's largest healthcare systems, reached a labor agreement Saturday, two days before nearly 32,000 employees were set to strike over a proposed pay system for future hires. The strike would have been one of the largest in the American healthcare industry in recent years, affecting more than 350 facilities in Southern California and other locations in Northern California, Oregon, Washington and Hawaii.
TODAY at The Stand — Strike averted as Kaiser unions reach deal
► From the NY Times — Liz Shuler: Seeing a bigger role for women in the labor movement — What advice would you have for young women making careers in big organizations today?
"Try everything. And don't be afraid to fail. I have lived my entire career in a state of discomfort in the sense that I was kind of pushing myself beyond what I thought my limits were. Women often feel like they're underqualified for a new role and talk themselves out of it. We should not do that because inevitably there is a man standing right next to you who is less qualified than you are but is willing to step up and say, 'I was born for this role.'"
► From CNBC — American Airlines pilots union rejects holiday bonus pay, seeks permanent changes — American Airlines pilots union has rejected the company's offer of as much as double pay for working trips around the holidays, a measure aimed at avoiding a repeat of recent mass flight cancellations.
► From KSTP — Minneapolis school bus drivers unanimously vote to authorize strike — Nearly 100 Minneapolis Public Schools bus dispatchers and drivers represented by the Teamsters Local 320 union voted to strike if a state-facilitated mediation is unable to resolve key issues, including pay and safety concerns.
► From The Hill — Southwest employee hospitalized after alleged assault by passenger — A Southwest Airlines passenger "verbally and physically" assaulted a female operations agent, who was hospitalized after the incident on Saturday. It happened during the boarding process for a flight from Dallas to New York City's LaGuardia Airport.
---
TODAY'S MUST-WATCH
► From Last Week Tonight — Union busting — John Oliver discusses the mechanics of union busting, why the companies who do it face so few consequences, and what it really means when your manager wants to talk to you about "your attendance."
---
The Stand posts links to Washington state and national news of interest every weekday morning by 10 a.m.
WASHINGTON IS A UNION STATE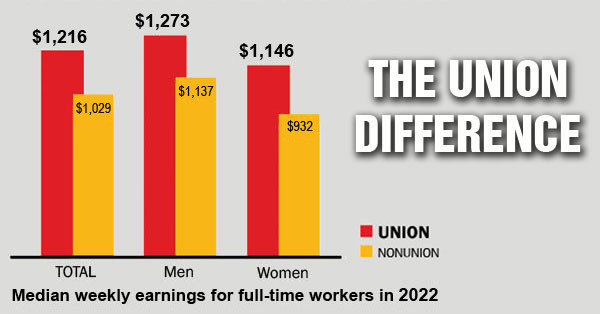 CHECK OUT THE UNION DIFFERENCE in Washington state: higher wages, affordable health and dental care, job and retirement security.
FIND OUT HOW TO JOIN TOGETHER with your co-workers to negotiate for better working conditions and respect on the job. Or go ahead and contact a union organizer today!